February 19, 2018 / Volume 110
TOP STORY:
Epson Fashion Show Highlights Digital Printing
HOW TO:
Deal With Press Downtime
SPONSORED:
Get Your FREE College Apparel Sales Study Guide
ADVERTISEMENT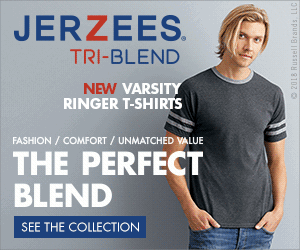 NEWS:
Under Armour Announces Financials
CASE STUDY:
Branded Gear Abounds at Tattoo Convention
ANALYSIS:
Rise in Music
Merch Presents Opportunity
NEWS BRIEFS:
Cotswold Offers Cloud Cover Stitch


Join The Conversation
Catch up with Wearables staffers on social media to see our behind-the-scenes antics, get the latest news and trends, and be wowed by some impressive decorated apparel. Follow us, and let us know what's on your mind.

INSTAGRAM
@wearablesmag This is a clever way to show off variations of a print. #screenprinting #tshirt #regram from @thinkinktees
PINTEREST
Pitch this V-neck top (CW23) to athletic teams and yoga studios. They'll love the wicking jersey fabric and UPF 50+ rating; championlocator.com.