March 6, 2017 / Volume 60
VIDEO:
Rules for Risk-Taking
PODCAST:
Setting a Strategic Plan
SPONSORED:
Win Sales With These Premium Athleticwear Insights
ADVERTISEMENT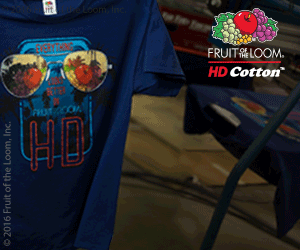 POLL:
Are You a Social-Selling Pro?
HOW TO:
Foil Small Business Stagnation
PEOPLE ON THE MOVE:
Pro Towels Welcomes Marketing Director
NEWS BRIEFS:
M&R Hosts Screen-Printing Class


Join The Conversation
Catch up with Wearables staffers on social media to see our behind-the-scenes antics, get the latest news and trends, and be wowed by some impressive decorated apparel. Follow us, and let us know what's on your mind.

INSTAGRAM
@wearablesmag Tiny embroidered doll dresses from @indie.dolls. I almost can't handle this level of cuteness! #embroidery #regram
PINTEREST
Japanese textile artist Junko Oki calls her work Woky Shoten meaning "free movement of the line to make a simple repetition of work." #embroidery