December 12, 2016 / Volume 50
TOP STORY:
American Apparel, Creditors Clash on Auction Sale Date
PODCAST:
Coach Carter Explains Power of Positivity
NEWS:
Fruit of the Loom Tabs New CEO
ADVERTISEMENT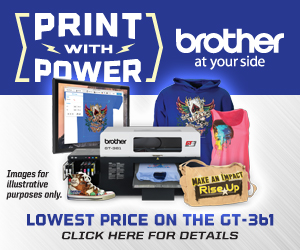 CASE STUDY:
Alaska Screen Printer Takes Eco-Friendly Steps
COMMENTARY:
Why Trade Shows Are Important
PEOPLE ON THE MOVE:
SanMar Hires Human Resources VP
NEWS BRIEFS:
Roland Launches Year-End Promotions


Join The Conversation
Catch up with Wearables staffers on social media to see our behind-the-scenes antics, get the latest news and trends, and be wowed by some impressive decorated apparel. Follow us, and let us know what's on your mind.

INSTAGRAM
@wearablesmag These duds are not duds! More winning pieces waiting to be shot for the Wearables Apparel Design Awards. #decoratedapparel
PINTEREST
Mixed-media hand-embroidered bee and honeycomb.