November 21, 2016 / Volume 47
TOP STORY:
American Apparel to be Acquired by Gildan
PODCAST:
I Took the 30-Day Challenge!
AWARDS:
Vote Your Favorite Apparel Design Finalists Now
ADVERTISEMENT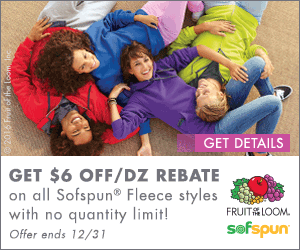 TECH:
Facebook Launching Combined Inbox With Instagram
NEWS:
California Voters Uphold Plastic Bag Ban
PEOPLE ON THE MOVE:
Bag Makers Adds Manager
NEWS BRIEFS:
SanMar Holds Fundraiser


Join The Conversation
Catch up with Wearables staffers on social media to see our behind-the-scenes antics, get the latest news and trends, and be wowed by some impressive decorated apparel. Follow us, and let us know what's on your mind.

INSTAGRAM
@wearablesmag Schiaparelli evening jacket from 1937, featuring #embroidery and beadwork. Love the whimsy of it.
PINTEREST
Another step in our 30-Day Shop Challenge. See all the steps here.