June 27, 2016

/ Volume 26
WEARABLES PLAYBOOK:
Go Beyond Order Taking
TREND:
Cool Factor Key for Festival Apparel
POLL:
Do You Keep up With Fashion Trends?
ADVERTISEMENT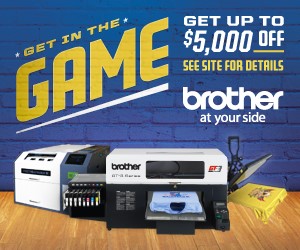 HOW TO:
Break into the Wellness Market
SPONSORED CONTENT:

5 Hot Markets for Selling T-shirts
PEOPLE ON THE MOVE:
Pro Towels Hires Controller
NEWS BRIEFS:
Royal Apparel Upgrades Website


Join The Conversation
Catch up with Wearables staffers on social media to see our behind-the-scenes antics, get the latest news and trends, and be wowed by some impressive decorated apparel. Follow us, and let us know what's on your mind.

INSTAGRAM
@wearablesmag Lovely #embroidery on this one-of-a-kind wedding dress. Thanks for sharing, @ricomahq. #regram
PINTEREST
For the patriotic, Transfer Express offers its flag pack. These sleeve-size transfers come in two processes: Stretch Litho for 100% poly performance wear and Goof Proof, which adheres to cotton, polyester and blends.