VIDEO
Charlie Taublieb Assesses Screen-Printing Shop
ANALYSIS:
What Readers Know About Copyright
FASHION FACEOFF:
Meet the Judges
ADVERTISEMENT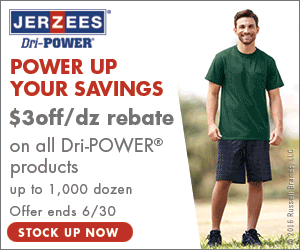 NEWS:
HanesBrands Acquires Pacific Brands
TECH:
Virtual Reality a Hit at Canton Fair
PEOPLE ON
THE MOVE:
Fruit of the Loom Makes Hire
NEWS
BRIEFS:
InkSoft Relocates



Join The Conversation
Catch up with Wearables staffers on social media to see our behind-the-scenes antics, get the latest news and trends, and be wowed by some impressive decorated apparel. Follow us, and let us know what's on your mind.

INSTAGRAM
@wearablesmag These branded erasers are making me dizzy! #promoproducts #healthfair
PINTEREST
Utterly charming embroidered collar from Loly Ghirardi (aka Señorita Lylo), a Barcelona-based designer and embroiderer.