March 28, 2016 / Volume 13
Expert Secrets
Decorators Need the Right Pricing Model to Succeed
PODCAST
Succeeding in the Era of Digital Disruption
TREND
New Scrubs Block Fluids, Odors in Comfort
ADVERTISEMENT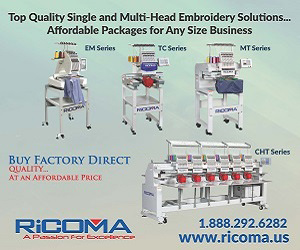 NEWS
American Apparel Offers On-Demand Delivery
NEWS

Cintas Releases Third-Quarter Financials
HOW TO

Add Value With a Custom-Built Hoodie
TECH
Researchers Develop Stretchy Circuitry
PEOPLE ON THE MOVE
Charles River Welcomes Execs
NEWS BRIEFS
Wilflex Adds Non-PVC Ink


Join The Conversation
Catch up with Wearables staffers on social media to see our behind-the-scenes antics, get the latest news and trends, and be wowed by some impressive decorated apparel. Follow us, and let us know what's on your mind.

INSTAGRAM
@wearablesmagSweet metallic puff #embroidery from
@rowboat_creative. #regram
PINTEREST
This simple, screen-printed shirt says it all: Eat More Kale. We talked to the guy who's been making them for the last 15 years in the April/May issue of Wearables.