SPONSORED BY


VIDEO

Behind the Scenes
Our annual style fashion shoot is always a stunner, but what about all the work behind the scenes to make it a success? Wearables Editor C.J. Mittica answers some of the most pressing questions to show how it all comes together. Click here to watch the video.

What did you think of this video? Send your feedback to cmittica@asicentral.com.
Trend Alert: Burnt Colors
ADVERTISEMENT

This autumn, ASI suppliers and high-end designers alike are looking to the coming foliage for inspiration. Alpha Shirt (asi/34408) currently offers a children's sweatshirt in burnt orange, perfect for channeling the fall season as they pick pumpkins and rake leaves with Dad. The company also has a men's cotton/polyester t-shirt in the same color. Hit Promo (asi/61125) has a washed cotton twill cap in mustard yellow and American Apparel (asi/35297) offers basic tees, pants, shorts and hoodies in deep reds, muddy oranges and mustard yellows.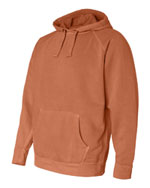 The Comfort Colors sweatshirt (1565) from S&S Activewear (asi/84358) is made of a 10 oz., 80/20 cotton/poly blend and features a jersey-lined hood, matching drawstring, front pouch pocket and double-needle stitched seams.

S & S Activewear (asi/84358) offers sweatshirts, sweatpants, T-shirts and select activewear items in these colors. "They have been popular lately across the board," says Ashley Adams, marketing coordinator at the company. "Customers don't seem to be relying on just black or navy as their constant standby colors."

Adams says that the demand for burnt orange picks up every fall in the Texas market when the Longhorns start up their football season. "We sell T-shirts, hoodies and athleticwear in burnt orange for booster clubs and student groups," she says. She adds that the burnt colors seem to be more popular with men than with women, and that overall there is a higher demand for them among adults than children. "This is because burnt colors aren't always offered in as many youth styles," she says. "It also depends on what the customer is using the product for, like sports teams, fall promo, etc."

The fascination with burnt colors is trickling down from the higher end of fashion. Burberry, for example, is featuring burnt reds and oranges in its fall 2011 collection for men and women. Designer Acne released an open-backed mustard yellow women's sweater, while retailer Zara has similar hues coming up for their seasonal line. And in their 2011 City Wear Lookbook, Mango features burnt orange graphic tops, pants and skirts.

Look for burnt colors in bohemian styles, such as long, flowing peasant skirts and blouses that hearken back to the 1970s. Plus, with an emphasis on brighter colors this season, burnt hues will play nicely off of traditional tans and grays. Shades like burnt orange, which represent an easy way to transition into the autumn following the coral that was all the rage this summer.
Apparel Design Awards Nominations Now Open
Wearables is pleased to announce that we are taking submissions for our annual Apparel Design Awards. You've worked hard at creating the best apparel in this industry – why not be honored for it? All you need to do is take a few minutes of your time and nominate some of your best products. The contest is open to suppliers, decorators and distributors. E-mail Editor C.J. Mittica at cmittica@asicentral.com for further details.
Q&A: Cutter & Buck



This new 3-in-1 jacket is part of Cutter and Buck's (asi/47965) new brand initiative, "Genuine Spirit of the Pacific Northwest." It's available in both men's (MCO00871BL) and women's (LCO01184BL).

In conjunction with the rollout of its Spring 2012 apparel lines, Seattle, WA-based supplier Cutter & Buck (asi/47965) is embracing its regional heritage with a new brand identity dubbed "Genuine Spirit of the Pacific Northwest." The brand initiative incorporates the introduction of a denim-based fashion line, as well as the unveiling of a modernized logo. Brad Moxley, a corporate sales associate at Cutter, filled Wearables in on a line that represents Cutter's ethos to the core.

Q: What is the inspiration behind the "Genuine Spirit of the Pacific Northwest" initiative?
Brad Moxley: Cutter & Buck was established in Seattle in 1989, so our home is the Pacific Northwest. It's a land of ever-changing weather, rich in contrasts. Here crashing surf meets rugged coastline, sophisticated cities meet unspoiled wilderness, environmentalism meets entrepreneurship, old-fashioned values meet progressive ideals. Like all Pacific Northwesterners, we are a proud product of our landscapes and lifestyles—adaptable, easy-going, independent, pioneering. Because of this, our products seamlessly integrate the urban and outdoor lifestyle. We honestly believe in our clothes, and we are inspired by the real people who wear them.

Q: What new items are you launching?
BM: We are launching more new items in our Classics Collection than ever. All of our new styles feature details that correspond with our brand message of "The Genuine Spirit of the Pacific Northwest." Our new Medina Tonal Stripe Polo and Around the World Jacket have a classic look that was inspired by what is worn at the local Seattle harbors. Our DryTec Edge Full Zip and Astute Windshirts were designed to be worn out on the golf course, while walking along the coast, or in a meeting at work. The 3-in-1 Jacket is stylish enough for a windy day in the city, but rugged enough for a hike in the mountains. Overall, our Classics Collection has more retail- and fashion-inspired styles that are sure to make a statement about the new brand.

Q: What are your goals for the line?
BM: In the 1990s we were seen as trailblazers because our classic clothing looked and felt just as right on the golf course as off it. And because we took the utmost pride in every detail of each garment we made, we became known for quality. This has never changed and it never will. Our mission will continue to be to provide our discerning clients with seamless transitions between heading off to work, getting about a busy day, saving time for a little play, stepping out at night, and heading off for the weekend.

Nominate the SGR Supplier Sales Rep of the Year!
Supplier Global Resource, the industry's only magazine dedicated to ad specialty suppliers, is holding its 2nd annual Supplier Sales Rep of the Year contest to recognize outstanding performance, exemplary service and top-notch professionalism.

Distributors, do you work with a supplier sales rep who's gone above and beyond for you this year? Do you have a supplier partner who always puts you and your customers' needs first and has a "do whatever it takes" attitude to make you shine? If you know the perfect contender, e-mail the nominee's name and details regarding what makes him or her award-worthy to Michele Bell (mbell@asicentral.com), editor of Supplier Global Resource, by Friday, September 16, 2011. The winner will be profiled in ASI's magazines and get to bask in his or her own fabulousness for the year!

Sales Challenge: The Education Market


With school bells ringing in the return of class across the country, now is a good time to look at strategies for selling to the education market. Here are some tips for making the grade with schools:

Use Your Contacts: A great way to get your foot in the door with schools is by networking in through your current connections. There is a chance you know a school employee or a person who can put you in touch with one. Once you have a foothold, identify the appropriate people to talk to about bidding on school apparel jobs. The owners of A&P Master Images of Yorkville, NY, drew on their community ties to win senior class apparel orders for their high school alma mater. "They know that we're alumni, and they know we do quality work," says co-owner Amanda Potter.

Think Outside the Box: Often, you have to bid to land work from schools. This process can be time-consuming, and there's a chance you'll get none, or only a portion of, the work you seek. "You may bid to do baseball, basketball and hockey, but only get baseball," says Potter. While you have to make competitive bids, you can also develop out-of-the-box strategies for snatching school business. For A&P, that creative approach involved forming a partnership with a local retailer, Herb Philipson's. The retailer contracts A&P to supply shirts and hoodies that are decorated with the names of local high schools and designs that would appeal to teens. Philipson's then sells the apparel in its seven stores. Last year, A&P generated upwards of $15,000 in business through this deal. This year's revenue could be even more, with an initial order of $6,000 likely to be followed with additional orders. "When they sell out, they come back to us for more," says Potter.

Deliver Quality and Service: Once you're doing work for a school, you have to deliver outstanding service to keep it. When developing designs for senior class apparel programs, A&P meets with students and advisors to discuss embellishment options. "You have to get to the kids and find out what they want or they're not going to wear it," says Potter. These meetings helped A&P develop a T-shirt for Proctor High School that featured two fingers making the "V" peace sign next to the numbers "20." Seen on the shirt, the design looks like "2011" – the year of the graduating class. The added bonus, which students loved, is that the peace sign was created in glow-in-the dark ink. "They thought it was the coolest thing," says Potter. Delivering quality and service also helped ProGraphix Inc. (asi/700302) in Winter Haven, FL maintain school clients, even though the firm was not the lowest bidder for the work. "I called my schools and said, 'Why did you choose me?' " says owner Deanna Morris. "And they said 'Because we know you do quality work and we've never had any problems with you.' "

Fleece Boyfriend Pant


Here come the rain and snow! As the autumn and winter months approach, customers want apparel that's warm, comfortable and en vogue. To that end, Boxercraft (asi/41325) is now offering a comfy juniors' cut fleece Boyfriend Pant (K13). These extra-soft bottoms are made of a ringspun, 7 oz., 60/40 cotton/poly blend, which makes them soft and fuzzy both inside and out. They feature pockets, imprintable taping and a fitted cut with a slightly flared leg. Boxercraft is now offering them in adult sizes XS to XXL and youth sizes YS to YL, as well as in black, heather, fuchsia and navy, with five additional colors to be added in the next several months.

Selling Tip: School is back in session, so these pants would be a fantastic decorated giveaway for girls for an extended class trip.

The Advertizing Solutions Ink (asi/32261) has joined ASI as a supplier decorator.

Boxercraft (asi/41325) has announced that, in celebration of Bring Comfort To Your Community Day on September 1, the company will donate more than 7,000 new garments to the 10 winners of its charity contest. The winners will donate the items to their chosen charity as part of Boxercraft's give-it-forward event.

Broder Bros. Co. (asi/42090) announced it is taking its Selling What Sells educational series on a three-part, nationwide tour of events focused on educating customers about sales presentations and selling more apparel. The first leg of Selling What Sells Live On Tour events will be hosted in the following cities:



Northeast: Boston, Providence, Hartford
Southeast: Orlando, Tampa, Miami
Southwest: Houston, New Orleans, Baton Rouge
Midwest: Indianapolis, Louisville, Cincinnati
West Coast: Sacramento, San Francisco, San Jose

Brother International Corporation has introduced a host of new products and software, including the launch of the Quattro 2, the Entrepreneur Pro PR1000e (a 10-needle home embroidery machine) and the PR650e (a six-needle home embroidery machine). The company has also helped give a dream sewing room to a child suffering from Cystic Fibrosis through the Children's Wish Foundation International.

Cap America (asi/43792) announced that Incentives West is now the company's representative for the Northwest territory, including Alaska, Idaho, Montana, Oregon and Washington.

CYA International, ex-multiline reps turned marketing consultants, announced that it is now offering services to help U.S. suppliers navigate into the Canadian marketplace. For more information, go to www.CYAinternational.com.

Fields Manufacturing (asi/54100) has acquired the assets of Target Industries (asi/90640). Target will continue to operate out of its location in Owosso, MI, and will maintain a separate catalog and customer service group.

LogoSportswear.com (asi/255448) announced that it has been recognized by the Connecticut Technology Council and Inc. magazine as one of the fastest-growing companies in mass-customized sportswear.

Oeko-Tex Connects will present a Standard 100 certification seminar on Wednesday, Sept. 21 noon EST.

PromoShop (asi/300446) announced that it has been named one of the top 20 Hispanic-owned businesses in Los Angeles, CA, by HispanicBusiness.com. The company, which garnered the number nine ranking of
Hispanic-owned businesses, also ranked 155th of 500 for minority businesses in the Los Angeles area.

SANITIZED AG has announced that it will provide performance apparel technology to the Levi's Commuter series, designed for urban commuter cyclists, which is now available in selected stores.

SanMar (asi/84863) is releasing its 2011 Holiday Gift Guide this week. An online gift finder, a video with tips for marketing holiday products and a Facebook catalog app will supplement the catalog.

SnugZ USA (asi/88060) announced that Inc. magazine has ranked SnugZ USA on its 30th annual Inc. 500|5000 list, a ranking of the nation's fastest-growing private companies.

Vitronic Promotional Group (asi/93990) has announced the launch of its 12-page Gift Flyer for the holiday season. Products in the flyer include totes, bags, umbrellas and business accessories. A PDF of the flyer can be found at www.vitronicpromotional.com.





Band (Rocap): A separate band of body fabric sewn on and turned down so the attaching seam is not visible. Inside the band is a separate lining and interlining.

Chevron: Term applies to herringbone weaves or prints in zigzag stripes.

Faille: A glossy, soft, finely-ribbed silk-like woven fabric made from cotton, silk or manufactured fibers.