SPONSORED BY


PODCAST 

On Tuesday's ASI Internet Radio Show, the hosts interviewed Phil Immordino, president of the Golf Tournament Association of America, to find out how distributors can improve their sales to golf tournaments. Wondering what products work best for events on the links? Looking to expand your business from golf tournaments? Listen to this clip from the show.

Click here to listen to the golf tournament interview from Tuesday's show.

 
Trend Alert: It Bags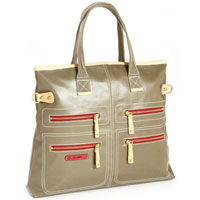 This army green canvas tote (77-1002) from Clava American (asi/45335) is part of the 2010 Carina Collection.
Devotees of the tabloids, runways and celebrity gawking know about the "It Bag" – a designer handbag that is deemed the must-have item of the moment as a result of star usage, clever marketing techniques, superior quality and its ability to represent the mood of the season. Generally produced as limited editions, these bags have unique qualities about them and can be spotted from across the avenue, thanks to designer logos being plastered all over them.
This season, the staple designers of the It Bag epidemic – Chanel, Marc Jacobs, Fendi, Yves Saint Laurent and more – are focusing on updating their simple, classic styles. They're using darker colors with silver or gold hardware to match the autumn scenery and add sophistication to any ensemble.
Industry suppliers are capitalizing on these trends and providing bags that imitate the high-end totes seen on television and in magazines. "Our Carina line bags are our best-selling items right now," says Kirsten Logan, vice president of sales and marketing at Clava American (
asi/45335
). "They are made of coated canvas, which creates a fresh, sophisticated look, and they have contrasting zippers with beautiful heavyweight hardware."
While most paparazzi pictures show celebrities carrying their thousand-dollar bags with the famous elbow hold, everyday users require fashion and function – not only with how these bags hold up but also how they are held. "The straps are made so that they can be carried by hand, on the shoulder or in the elbow crease," Logan says.
As for the hot colors: Like any trend, the darker hues come out in the fall and winter. Stone, white and other lights are out, and black, browns, blues and dark greens are in.
Listen to ASI Internet Radio
Be sure to tune in each week as a team of ASI editors takes to the airwaves for the ASI Internet Radio show. For a half-hour each Tuesday, we debate the most important topics facing the industry, as well as offer an off-beat look at the market.

If you missed any of our shows, don't worry. Recordings are available at asicentral.com/radio. And, don't forget to join us every Tuesday morning at 10:30 a.m. Eastern time when we broadcast our radio show live. We'll be taking calls from the audience, so please call us at (215) 953-4979 to hear your voice on the air.
Fall Color Palette



Vantage Apparel's (asi/93390) Omega Tech Polo (2600) comes in the jewel-tone color of Island Blue, a new shade available in mid-December.

Want to be on the cutting edge of color? Check out these predictions on the hottest color trends for the rest of 2010.

Jewel tones. Often popular during the fall and winter months, jewel-tone-inspired colors will trend in 2010. "Vantage has added orange, deep maroon and purple to our Soft Blend Pique and Omega Tech Polos for fall/winter," says Gina Barreca, marketing director for Vantage Apparel (asi/93390). "Deep jewel tones are hot colors for this upcoming winter and spring," says Jessica Levine, marketing associate for Boxercraft (asi/41325). "Dark purple and turquoise especially are growing in popularity."

Autumn favorites. "Look stunning in hues of red, orange, pink, yellow and blue," says Michelle Swayze, marketing director for In Your Face Apparel (asi/62494). Red, orange and yellow mimic the colors of the changing leaves in late fall, and red especially will carry over into the holiday season, along with black as a more formal neutral. A few seasonal colors from summer, like American Apparel's (asi/35297) summer peach, will continue into fall, as well

Earthy neutrals."People can stay warm in our favorite colors over the winter – brown, black and beige," says Swayze. Michael Schreiber of Latico Leathers (asi/66575) says,"Of course, black and brown are always very popular cold-weather colors" for bag and accessory options for winter. Pairing these earthy neutrals with bright late-autumn colors is a great way to create a sophisticated look. Latico is also offering its neutral bags in "three metallic shades that are selling briskly from our fall/winter collection: metallic brown, metallic olive and metallic copper," says Schreiber.

Tech. "Tech-inspired grey colors are trending for fall and winter," says Barreca. "This is especially true in fleece and outerwear." Grey is a great neutral that can easily be combined with your client's corporate colors for a sophisticated look that doesn't distract from their brand messaging.

Important Industry Announcement at the September 22 ASI Virtual Trade Show 

ASI President and CEO Tim Andrews will be making an important industry announcement at the September 22 ASI Virtual Trade Show. Don't miss it! Click here to register for the Virtual Trade Show.

Emotional Satisfaction Is Key to Sales


It sounds like a concept best suited for the psychiatrist's chair, but Walt Zeglinski says that emotional satisfaction is the key differentiator for winning salespeople. "Many clients start transactionally, and the smart salespeople migrate them to become more emotionally satisfied clients over time," says Zeglinski, the CEO and chief client advocate for Integrity Solutions, a consulting company for sales organizations.

What is emotional satisfaction? For clients, it's a feeling that they are being cared for and that their interests are continually served. Zeglinski cites the example of buying a car; most people would buy the same car again, but often not from the same salesperson. "Nine out of 10 people are satisfied functionally with what they get," he says. "Products are pretty good products today. Companies get that. However, only about four in 10 customers will be loyal – which means they continue to buy from that salesperson."

Emotional satisfaction, then, means transcending pure product satisfaction to create a deeper bond with your client. How to accomplish that? Zeglinski has three suggestions: demonstrating product expertise (picking the right product); being a resource deployer (did you make sure the shipment arrived on time?); and solving your client's business problems. When an obstacle presents itself, short-sighted salespeople will only consider how they can overcome it to make the sale. "Value-creating salespeople are interested in how that obstacle is getting in the way of maximizing their relationships," Zeglinski says.

As a result, clients will be willing to pay more for your services, especially when you've cultivated an ethical reputation (one element of emotional satisfaction). Also, customers won't cast you to the wind if a competitor comes around offering a cheaper deal. "If you develop an emotionally satisfied customer," Zeglinski says, "that customer will reach out to you if a competitor should come in with an alternative."
 

Enter the Wearables Apparel Design Awards 

Wearables magazine is looking for the best apparel and accessories for its Annual Design Awards. Plus, we're having a little fun with the categories this year. In addition, we're taking nominations for your favorite supplier for our Wearables Reader's Choice Award.

For supplier nominations or entry details, e-mail Editor C.J. Mittica at cmittica@asicentral.com. The deadline for submissions is Friday, Sept. 24.

Compression Shirt





With more people becoming aware of the importance of staying fit and healthy these days, the demand for exercise garments has risen. Vapor Apparel (asi/93396) has added The Defender, a new product made of 5.9-ounce, performance wicking fabric. Raglan sleeves and Vapor's permanent wicking technology make the Defender an ideal item for team wear and fitness gear, and its SPF of 30+ makes it a great rash guard for surfers and body-boarders.

Selling Tip: Compression gear offers superior moisture wicking and allows for heat press and sublimation decorating, ensuring that the decoration won't wear off during high-energy campaigns like a gym promo or charity walks and runs.

Acclaim Screen Printing (asi/30477) has joined ASI as a new supplier decorator.


Albatross has introduced NPE II, a new powerful spot remover for oil, grease, dirt and screen-print ink, with lower toxicity and less regulatory requirements.

Bella (asi/39590) has hired Tanner Elza as technical package developer and Suk Chang as head pattern maker.

Bodek and Rhodes (asi/40788) has announced its partnership with Gildan for a month-long promotion giving away a free Samsung HDTV for every business day in September. Bodek was also named
EmbroidMe's (asi/384000) Vendor of the Year for the second year in a row.

Brother has announced the launch of the Entrepreneur Pro PR-1000, a 10-needle embroidery machine. In addition, at its Brother Dealer Convention, it announced new software, limited-edition machines and an online embroidery-design retail center for customers at www.iBroidery.com.

Charles River Apparel (asi/44620) was featured on local channel Fox 25 in the Zip Trip segment.


Dalco Athletic has come up with a new dye sublimation appliqué for its split-front baseball jerseys. The new design can be printed with a two- or three-color look, or a pattern.

Grossman Marketing Group (asi/215205) has signed an agreement to be the NHL's Boston Bruins' official print and promotional products partner.

Marathon/Prestige (asi/68707) and Soyad/Prestige (asi/88403) have announced the formation of a new division of their companies under the name Game Day Accessories. The product line will consist of towels, socks, shoelaces, eyeglass straps, bracelets, wristbands and more. A new Game Day catalog will be released in 2011.

PepWear (asi/278631) has been named one of the Top 20 Volume Decorators of 2010 in the September issue of Impressions Magazine. Also, it will be relocating from Midlothian, TX, to a new building at the Cedar Hill Business Park in Cedar Hill, TX, in the next two to three months.

SanMar (asi/84863) has announced the addition of Olivia Thurmond in the role of senior human resource manager.

Stahls' ID Direct (asi/541170) has introduced ZIPP Weed Player Names, a new heat-transfer material product for decorating uniforms.

Sweda (asi/90305) has announced the grand-prize winner of its Case Study Challenge: Julie R. Haar of Proforma Strategic Promotions (asi/300094). The library of qualified case studies received from this year's challenge will be posted on Sweda's website at www.swedausa.com.



Knowing these terms will make distributors who just started sound like they've been in the business for years.

Lawn - A light, fine cloth made using carded or combed linen or cotton yarns. The fabric has a crease-resistant, crisp finish. Linen lawn is synonymous with handkerchief linen. Cotton lawn is a similar type of fabric.

Chino - Classic all-cotton "Army twill" fabric made of combed two-ply yarns. Usually vat-dyed, mercerized and given a compressive shrinkage finish. Used traditionally for Army uniforms, chino is now finding popularity in sportswear and work clothes.

SPM - Stitches per minute; system for measuring the running speed of an embroidery machine.
Sep. 8-11, Philadelphia, Baltimore
Advantages Roadshow
(800) 546-3300; www.asishow.com

Sep. 9-11, Atlanta
ISS Show
(800) 241-9034; www.issshows.com

Sep. 13-14, Las Vegas
ASI Holiday Preview
(800) 546-3300; www.asishow.com

Sep. 20-24, Van Nuys, Ontario, Newport Beach, San Diego, Pheonix
Advantages Roadshow
(800) 546-3300; www.asishow.com

Sep. 30-Oct. 2, Ft. Worth
ISS Show
(800) 241-9034; www.issshows.com

 

Oct. 4-8, Montreal, Ontario, Toronto East, Toronto West, Burlington
Advantages Roadshow
(800) 546-3300; www.asishow.com

Oct. 8-9, New York City
Manhattan Vintage Clothing & Antique Textile Show and Sale
(518) 434-4312; www.manhattanvintage.com

Oct. 16-17, Cleveland, OH
Embroidery and Direct to Garment Extravaganza
(813) 846-6031; www.swfeast.com

Oct. 17-20, Marlboro, MA
New England Apparel Club Show
(781) 326-9223; www.neacshow.com

Oct. 18-22, Fargo/Moorhead, Minneapolis, Des Moines, Kansas City, St. Louis
Advantages Roadshow
(800) 546-3300; www.asishow.com

Oct. 22-24, Seattle, WA
Seattle Cash & Carry Show
(415) 447-3234; www.weshows.com