SPONSORED BY


VIDEOCAST 


 

Fashion Finds Day One
Apparel suppliers showed off their 2010 product lines at the ASI Holiday & Incentives Expo in Las Vegas. In this episode of Fashion Finds, Stitches Editor Nicole Rollender displays some cool wearables items she found during the show. Click here to watch Fashion Finds.

 
Listen to ASI Internet Radio
A team of ASI editors has launched the first-ever ASI Internet Radio show. For a half-hour each Tuesday, we debate the most important topics facing the industry, as well as offer an off-beat look at the market.

If you missed any of our shows, don't worry. Recordings are available at asicentral.com/radio. And, don't forget to join us every Tuesday morning 10:30 a.m. Eastern time when we broadcast our radio show live. We'll be taking calls from the audience, so please call us at (215) 953-4979 to hear your voice on the air.
Brother Supports Breast Cancer Awareness
ADVERTISEMENT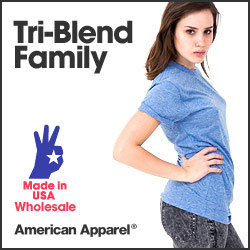 For the second year in a row, Brother International Corporation has teamed up with Lee Jeans to support Lee National Denim Day in the fight against breast cancer. This grassroots program, which has raised more than $75 million for breast cancer research, will take place Friday, October 2 at participating Brother dealers across the country.
Sewing, quilting and embroidery dealerships can partake in the program by embellishing their denim jeans, jackets, bags and other apparel with pink-ribbon embroidery. Brother encourages dealers to wear denim and have fundraisers for donations to the Women's Cancer Programs of the Entertainment Industry Foundation (EIF).
"Encouraging our employees, dealers and customers to support Denim Day by embroidering a pink ribbon on denim apparel is easy and fun for those who are already enthusiastic about embellishment and denim reconstruction," says Dean F. Shulman, senior vice president of Brother International Corporation. "Plus it is a great way to garner support for breast cancer research which affects so many women each year, a cause that is very important to our customers and employees. Brother is proud to support this cause again this year."
Distributors throughout the promotional products industry are also joining in the breast cancer awareness effort, either through customer orders or their own campaigns. "It's the monster cause. I think almost everyone has been touched by it in some way," says Craig Nadel, president of Jack Nadel International (asi/279600). Much of the attention will be focused on walks, runs and other fundraising events. This is keeping some distributors busy. "The orders are coming in now," says Nadel. "This is by far the big one, in terms of cause marketing."

Cause-related marketing spending is actually expected to grow this year, according to the sponsorship marketing company IEG. Companies in the U.S. are expected to spend $1.55 billion, a 2.2% increase over 2008.
Funds raised from participation in Denim Day will support research at Lee Translational Laboratories nationwide to find less toxic, more effective treatments, as well as development of an early detection blood test. The Breast Cancer Biomarker Discovery Project and the National Breast Cancer Coalition (who help educate those faced with breast cancer) will also benefit.
"Every year we are inspired by the number of people at thousands of organizations across the nation who join us in wearing denim on Lee National Denim Day," said Liz Cahill, vice president of marketing communications for Lee Jeans. "The money they're raising will be used to advance some of the most promising breast cancer research in the industry, and we can't thank them enough."
Power Summit Preview: Webinar Recording Now Available
Before the industry's top distributors and suppliers gather for the ASI Power Summit 2009 (November 1-3), Counselor Senior Editor Michele Bell hosted a lively roundtable discussion with some of the Power Summit speakers. They covered a wide variety of topics, including tips on sales and marketing strategies for growth, advice for employers in this tough economy, and the 2010 outlook for distributors and suppliers.

Click here to watch the educational webinar – just scroll down and click on the Power Summit Preview link to tune in.

Want more information on attending the ASI Power Summit in Carlsbad, CA, November 1-3? Click here to go to the Power Summit home page.

3M Educational Event Touts Safety Emphasis


Safety was the key theme of 3M's (asi/91240) recent editorial event, hosted on Tuesday, September 15 at the supplier's headquarters in St. Paul, Minnesota. The event included 3M's top experts and researchers to provide insight on how evolving visibility safety legislation will impact the industry. The company also showed off some of the company's new high-visibility garments.

3M's Scotchlite Reflective Material was used for the company's logo to enhance safety and visibility. 

When the information-packed portion of the event was over, editors were taken to 3M's three-mile long test track to demonstrate the impact each garment made during dusk and nighttime hours. With the high-performance activewear that was shown, 3M's Scotchlite Reflective Material stood out the most. The material can be steam-pressed on the front, back or sides of a garment to help enhance the visibility and safety of wearers while also elevating a brand profile.

Each year, nearly 5,000 pedestrians -- or one every 109 minutes -- are killed in traffic crashes. One every seven minutes are injured in traffic crashes. Of the total accidents and injuries, 65% of pedestrian fatalities occur between 6:00 p.m. and 6:00 a.m. 3M's test track demonstration not only showed the importance of wearing high-visibility athletic apparel during dark hours, but also how designing such garments and representing safety standards in this industry can decrease that number of pedestrian accidents by a large margin. Look in the Nov/Dec issue of Wearables for additional coverage of the event.

Nacabi Trading Acquires Tehama


Nacabi Trading announced last week that it acquired fashion apparel brand Tehama (asi/62274), and has announced its plan to bring Tehama's distribution to specialty retailers on an international level. Financial terms of the deal, which were completed on September 15, were not revealed. "We were immediately drawn to Tehama's philosophy, culture and story," says Nacabi's Steven Banks, who becomes the new CEO of Tehama. "Our vision is to evolve the foundation of the brand that was so appropriately established 13 years ago. We believe in the integrity of Tehama, its people and its quality garments."

Gord Peters, who becomes Tehama's new president, says Nacabi intends to take the brand back to its roots, citing qualities like natural beauty, honest quality, respect and personal responsibility. "We see endless opportunity for this brand to move through the upscale sportswear industry into a whole host of related lifestyle categories," says Peters.

Banks has four decades of experience in the men's and boy's apparel industry in Canada, including spending four years as the vice president of sales for Christian Dior Chemise. Peters is currently president and owner of Gordon Mitchell Inc., which sells an upscale line of woven dress and sport shirts to stores throughout Canada and the U.S.

According to a spokesperson, Tehama will retain its sales force but will move its headquarters to Palm Beach Gardens, FL, with operating offices in Denver and Toronto. Deliveries are also on track for both the Fall 2009 and Spring 2010 collections. A press release put out by the company says the move will not affect its corporate market operations, and that "the company has been proceeding with business as usual."

PG-USA Inc. – which manufactures sporting goods, apparel and accessories – will continue to hold a minority stake in Tehama. Nancy Haley, former CEO and co-founder of Tehama, will remain involved as the vice chair of the Advisory Committee. "Nacabi brings the capital, knowledge and experience to take the Tehama brand to new levels within the golf, resort and mainstream retail markets," she says. "Nacabi and I have the same vision of maintaining the Tehama brand as an industry leader for many years to come."

| | |
| --- | --- |
| | TOP |

Messenger computer bag with padded pockets and shoulder strap. Available from Gemline (asi/56070) (800) 800-3200; www.gemline.com.

Messenger Computer Bag
This messenger computer bag (2676) from Gemline (asi/56070) features an adjustable, non-removable padded shoulder strap with a cell phone pocket. It provides fully padded protection along the back padded computer pocket.  Style Tip: This bag can be worn on the shoulder or across the body. Additional features include an organizer located under front flap, large main compartment to store files and a side-zippered pocket for MP3 player with molded earphone outlet. 

| | |
| --- | --- |
| | TOP |

Question: I am trying to find a grocery bag that's lightweight but sturdy. I can't find anything other than canvas and that is not what my customers want. Thanks for your help!!
Answer: Not a problem! Try, Lanco Corporation (asi/66224); (800) 938-4500; www.lancopromo.com; product BGC3100. This non-woven grocery bag with reinforced handles is certainly lightweight and study. Available in seven colors.

Or, try Belpromo (asi/39552); (305) 593-8728; www.belpromo.com; product TOT11. This grocery bag is made of super strong 100 GSM material, yet very lightweight. Available in 11 colors.

Finally, try Broder Bros., Co. (asi/42090); (800) 521-0850; www.broderbros.com; product EC8075. This 100% polypropylene non-woven grocery bag features self fabric handles with reinforced stitching. Available in five colors. Thanks!

Selling Tip: With grocery bags, the most obvious target is local food stores. But consider setting up shop at a local mall for mall-goers to use as a shopping bag. Eco-friendly bags are big right now and will attract a broader audience.

Question: I have a customer asking for leopard-print T-shirts. Can you help?
Answer: Try Pizzazz Performance Wear (asi/78230); (888) 289-7860; www.pizzazzwear.com; product 6700-AP. This leopard-print T-shirt is made of 85% nylon/15% spandex. Features raglan cap sleeves with contrasting black trim.

Or, try Golden State T's (asi/57668); (800) 892-8337; www.gsactivewear.com; product 3315. This 100% cotton leopard-print T-shirt features a ribbed crew neck and double-needle stitches sleeves. Available in five colors.

Also, try Kavio! (asi/64152); (888) 586-9989; www.kavio.com; product 0408-000. This leopard burnout scoop neck T-shirt is available in 10 colors.

Selling Tip: Leopard-print apparel and other animal prints remain a hot trend. Target the younger crowd with a variety of animal prints: leopard, cheetah, zebra, Dalmatian and more.

Broder Bros. Co. (asi/42090) has added several Gildan, Jerzees (asi/84257), Hanes and Outer Banks (asi/59528) styles to its Total Team Guarantee Program. The program includes a price match guarantee, an order fulfillment and packing guarantee, and an in-stock guarantee.

Charles River Apparel (asi/44620) has been selected as a finalist in the mid-size business category for the Massachusetts Family Business of the Year Awards. The award winners will be announced on October 15.


Hirsch International offers the Schmetz Serv6, designed to work well on loosely framed materials that tend to flutter as well as densely embroidered patterns. Needles come in three sizes and are package 100 to a box.

Also, the company offers a new video showing how to print oversize designs. The six-minute presentation is available at:
HirschInternational.com 

New Z Lander Brands has introduced its first online sales video which helps salespeople show why outerwear is a valuable asset to their client's business. To view the video, simply go to New Z Lander's client-safe website, then click on "See Video", click here.


Performance Screen Supply offers the Raceway Equipment 16"x16" flash cure unit designed for the start-up shop. The commercial-quality unit has 1,800 watts of power at 120 volts and 15 amps. It sells for $375.


Tri-Mountain offers the brand-new Vista (7385), a full-zip jacket that is made of 80% recycled polyester/20% polyester anti-pilling micro fleece.

World Emblem International (asi/98264) has introduced a new product feature called 3-D Doming. The process creates three-dimensional badges that can be applied to any garment, including caps and swimwear.






Knowing these terms will make ad specialty distributor who just started sound like they've been in the business for years.


Check Spring: Part of the needle thread tension assembly or tensioner that assists in properly controlling the needle thread to set a good stitch with minimum sewing interruptions.

Fabric Grin Through: Where the fabric is seen through the embroidery design either in the middle of the pattern or on the edge.

Paper Tape: Media that is made from a continuous reel of paper or Mylar tape containing x-y coordinate information used to control the pantograph movement. Computer disks on newer machines have replaced paper tapes.

Trimmers: Thread trimming device located under the needle plate in the embroidery machine used to automatically cut the needle and bobbins threads before the design jumps from one area to another or performs a color change. This trimming is done when the needle is out of the work and the take-up is near the top of its stroke.