VIDEO

Go Behind the Scenes
Take an exclusive look at how the Wearables fall fashion shoot came together – from hair and makeup to styling and photography. Watch the video here.



Trend Alert: Windbreakers and Light Jackets
| | |
| --- | --- |
| | |
| The Torrent Jacket (5335) from DRI DUCK (asi/50835) will keep wearers warm and dry during the changing conditions of fall weather. | |
| | |
| | |
Fall is a transitional season, and you can never tell from day to day what the weather will be, which is why the windbreaker is the quintessential autumn garment. Within the advertising specialty industry, there are countless light jackets to fit customers' every need. Here are a few things to consider when choosing a style.

1. Think about various audiences. Often, these jackets are pitched for the athletic market, such as team warmups or fan-based gear during those windy games. But Jessica Strain, marketing manager at DRI DUCK (asi/50835), says that workwear applications like the transportation industry are a perfect fit. "The workers in this market are exposed to the outdoor elements multiple times a day while making deliveries," she says. "They not only need protection from the wind and rain, but they also need a jacket that allows them to be comfortable while sitting in a truck."

2. Consider desired features. Some light jackets are too thin to protect against the wind and rain. Make sure the jackets you offer have lining for that extra durability, as well as water resistance – something your customers will thank you for. Also important is breathability. "Breathability is a key factor that customers should consider when looking for a windbreaker," Strain says. "Many windbreakers don't allow the fabric to breath so they can become very hot and uncomfortable during moderate to high levels of activity."

3. Functionality is key. When selling to the athletic market in particular, make sure the jacket has movability. Golfers, for example, need the full range of motion when they're out on the course, Strain says. "In the past, many golfers would wear a wind shirt on a cool/windy day, but lately we've had multiple requests for our lightweight softshell," she adds.
Epson Releases New Dye-Sub Printers



Continuing with the success of its SureColor F-Series line of dye sublimation transfer printers, first released in 2013, imaging powerhouse Epson has launched a trio of new models in the line. Each professional-level printer for the digital textile market features the latest Epson technology, including an all-new ink formulation. They're designed specifically to serve a variety of applications, such as sportswear, customized promotional items, apparel, home furnishings, high-quality soft signage and more.

"We're now using 'Epson' and 'fashion' in the same sentence," says Timothy Check, product manager, professional imaging at Epson. "That opens up opportunities for us." Notably, Epson hosted the Digital Couture Project during New York Fashion Week, showcasing a number of designer outfits printed on Epson printers. And earlier this summer, actress Lydia Leonard attended the Tony Awards in a dress printed with an Epson printer by design house ESosa New York. "Fashion is a huge growth opportunity for us," Check adds. "But these new printers don't just do one-offs. They're made for production runs, and each comes in at an affordable price point."

Epson has released its latest SureColor F-Series dye sublimation printers, with new features and improved black ink output.

The new 44" F6200 is designed for promotional products and photographic work, and features a new Media Roll Cover for protection from dust, and a high-speed single PrecisionCore TFP print head that uses Epson's new UltraChrome DS ink with High Density Black. Meanwhile, the F7200 measures 64", includes an integrated roll-to-roll media support system and operates at a maximum speed of 634 square feet per hour with one PrecisionCore TFP print head and one ink set.

The powerful F9200 is built for "24/7 production," says Check, with its dual PrecisionCore TFP print heads for a maximum speed of 1,044 square feet per hour. "It's ideal for sports and fashion, and can also print large construction site billboards," says Check. "It's made for really high production, and works well in a high-traffic industrial environment, especially with its beefed-up steel frame construction."

The new printers were developed after extensive research into customers' needs. For example, promotional clients asked for photographic image quality, and Epson responded with new High Quality Mode that offers low graininess and natural colors. The sports market requested very rich black ink with high contrast, and Epson spent more than two years developing UltraChrome DS HDK black ink.

"Many inks sit in the printer and lose density because of sediment that seeps out over time," says Check. "The black comes out muted, and the sediment gunks up the machine. Our special tank design in these printers keeps the ink stirred to avoid sediment from settling." The printers also consume significantly less ink during the printing process, while still providing rich colors.

Enter The Wearables Apparel Design Awards

Does your apparel and decoration stack up with the best in the industry? Find out by entering our annual Wearables Apparel Design Awards. Suppliers, distributors and decorators are encouraged to nominate their best work in a number of different categories. The deadline for submissions is Monday, September 14. To receive contest rules, email Assistant Editor Sara Lavenduski at slavenduski@asicentral.com.

Aventa announced it has moved to a new location at 7905 Silverton Ave., Ste #117, San Diego, CA 92126.

Edwards Garment Co. (asi/51752) has appointed James McCollough as its new vice president of sales.

Graphics One announced shipment of its new 44-inch two-in-one rotary calendar for dye sublimation. The VV-44 offers both roll-to-roll and cut-sheet pressing capability using oil heat drum technology. Additionally, a heavy duty integrated work table is included for positioning and working with the VV-44.

Hotronix launched its shoe platen for decorators to easily design up to 2" by 4" on the sides of shoes and heels creating personalized footwear. In addition, the company launched its fusion sleeve/leg platen, which allows for easier decoration on pants legs and shirt sleeves.

Jetline (asi/63344) announced that it has hired Beth Kovanis as its new strategic account manager. Kovanis will be responsible for supporting the supplier firm's key accounts effort.

Royal Apparel (asi/83731) recently launched a new line of women's roomier fit T-shirts with plans of expanding the line.

Spectrum Resources Inc. (asi/332179) announced it has relocated to W160 S6369 Commerce Drive, Muskego, WI, 53150. All phone numbers remain the same.

S&S Activewear (asi/84358) launched its Forerunner catalog, including new styles for spiritwear, athletic apparel, fleece, outerwear and wovens.

Vitronic (asi/93990) announced that it has released its 24-page gift book that offers new products and free shipping. For more information, visit www.vitronicpromotional.com.
Sales Challenge: Boost Customer Service

Finding and training great customer service reps can be demanding. "I've learned that a customer service rep can have a lengthy list of skills and experience in other industries, but still struggle with this position," says Sara Webb, founder of InTandem Promotions. "It's a challenging role. You are juggling multiple factors with multiple orders, each having their own challenges and opportunities." Here are some tips to help you maximize your customer service staff.

Make interviews real: As part of the interview process at her firm, Webb asks applicants to come into her office for a "day in the life" experience. "This affords them the opportunity to see a 360-degree view of their potential position, all of the highs and lows, the demographics of the team, and it provides us with the insight into how they handle pressure," she says.

Conduct behavioral tests: Having customer service applicants go through a behavioral assessment, experts say, is a great way to learn about their strengths and weaknesses. "You might want to consider some type of an assessment just to make sure they have the right mindset and behavioral style," says Shep Hyken, author of The Cult of the Customer. "It doesn't guarantee success, but it goes a long way to understanding if they will be successful."

Hire hospitality workers: Hyken notes that Jim Bush, senior vice president for customer service worldwide at American Express, is a major proponent of bringing aboard customer service reps directly from the hotel and restaurant world. "He opened up my eyes to hiring people from the hospitality industry as a great way to bring in people who have that customer service mentality," Hyken says.

Emphasize company culture: The people you hire to fill your customer service needs should also understand and embrace your company's core values. The best way to do that, according to Hyken, is through constant refresher courses. "They need to be indoctrinated into your style and your culture," he says. "But if you want to teach customer service, this is not something you do at onboarding – this is something that you do ongoing."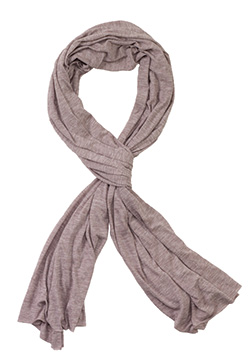 Scarf

Bundle up with this alternative oversized scarf (7012B2), made of a soft, fabric-washed 50-50 rayon-polyester blend. The 72" by 27" retail-inspired scarf comes in oatmeal heather, ash heather and dirty heather. Available from Sportsman Cap & Bag (asi/88877); www.sportsmancaps.com.

Selling Tip: As the days grow shorter and colder, a cozy, yet fashionable scarf is the perfect complement to an outfit, and would make a great choice for corporate gifting.
Burnout: A brocade-like pattern effect created on fabric through the application of a chemical, instead of color, during the burnout printing process. When the chemical is printed in a certain pattern, it destroys the pile in those areas where the chemical comes in contact with the fabric, but leaves the ground fabric unharmed.

Core Yarn: A yarn in which one type of fiber is twisted or wrapped around another fiber that serves as a core.

Jacquard: A particular weave pattern made by a special loom. This is a raised design or pattern woven into the fabric rather than being printed.


Q: Where would we find a short-sleeve twill shirt in tall sizes? Preferably in stone, khaki or tan.
Thanks!

A: Start with the Short-Sleeve Twill Work Shirt – Tall (S223) from A Design N Time (asi/30264); www.dntproducts.com. Made from 65% polyester/35% cotton twill, it features wrinkle-resistant and stain-release properties, plus two chest pockets with flaps and button closures.

Or, check out the Core365 Men's Tall Optimum Short-Sleeve Twill Shirt (88194T) from alphabroder (asi/34063); www.alphabroder.com. It has a left chest pocket, UV protection and a button-down collar.

Last, but not least, stand tall with the Men's Tall Short-Sleeve Cotton Twill (6201) from Sierra Pacific Apparel (asi/87224); www.sierrapacificapparel.com. This 100% cotton soft washed twill top offers double-needle stitching with wood-tone buttons and a left chest pocket.

Selling Tip: Twill shirts make great uniform staples for both men and women, and it's always a good idea to note which suppliers offer tall sizes.

Q: I'm looking to buy blank camo bucket hats without straps. I can't seem to find a vendor to purchase them from. I would appreciate your help.

A: Don't blend in – stand out with the Camouflage and Twill Washed Reversible Hunting Hat (9011) from Mega Cap Inc. (asi/70434); www.megacapinc.com. Available in blue camo or safari camo and in four sizes, it's constructed of twill.

Then, hunt for the Camouflage Bucket Hat (Washed) (CBK-L) from Nissun Cap Inc. (asi/73979); www.nissuncap.com. Made from cotton, this hat comes in four camo color options and in two different sizes (7 1/8" and 7 3/8").

Cap off your search with the Short Brim Camouflage Bucket Hat (38191) from Caplee (asi/43798); www.capleecorp.com. Consisting of cotton twill with four metal eyelets, it's available in several different camo color choices.

Selling Tip: Camo caps, enjoyed by all ages and demographics, appeal in particular to hikers, campers and other outdoor groups.


For free information on products advertised in Wearables Magazine, click here: www.wearablesmag.com/freeinfo now!
Wearables Style and Wearables are trademarks of the Advertising Specialty Institute. You were sent this newsletter as a benefit of your ASI membership. Copyright 2015, ASI. All Rights Reserved.

If you'd like us to send Wearables Style FREE to anyone else at your company (or to your off-site sales reps), go to www.asicentral.com/newsletters and complete the online form.
Interested in advertising in Wearables Style? Send an email to ekoehler@asicentral.com
Click here to subscribe to Wearables™ magazine. The publisher has a right to refuse subscriptions to non-qualified subscribers.
Advertising Specialty Institute®, 4800 Street Road, Trevose, PA 19053