SPONSORED BY


VIDEO

Solutions for New Distributors
Nicole Rollender, ASI's director of education, talks with Rosalie Marcus, The Promo Biz Coach, after her recent educational presentation at ASI about solutions to new distributors' biggest challenges, and whether now is a good time for new distributors to prosper in the ad specialty industry. Click here to watch the video.



Trend Alert: Foil Treatments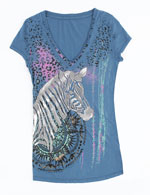 This custom cut and sew Zebra Apparel Tee from In Your Face Apparel (asi/62493) is made of a 100% cotton fine-knit jersey and features water-based jumbo discharge imprinting, laser-cut fabric appliqué and foil imprint accents.



This season, suppliers and distributors are looking to metallic shine through the use of foil screen printing to cater to different demographics. "Foil is sometimes combined with printing, and sometimes it's on its own," says Morey Mayeri, owner of Royal Apparel (asi/83731). "We deal with a wide variety of accounts, and foil techniques constantly evolve with the trends and the marketplace."

One such evolution is the number of foil colors available. Chuck Maulsby, screen territory manager at Graphic Solutions Group, gets textile foils from Crown Roll Leaf and Amagic Holographic. "Both companies offer basic primary colors as well as gold, silver and holographic foils," he says.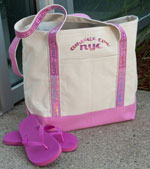 Foil adds pizzazz to garments and accessories. This canvas tote bag from Imprintables Warehouse (asi/58475) features vinyl-cut pink SPECTRA foil accents on the front and handles.



Says Dan Holzer, vice president of sales at Forward Printing: "Foil is used either as one spot color for the entire design, or as highlights to an existing multicolor design. Foil adheres to plastisol inks, so when printing a full-color detailed design with foil highlights, we prefer to use a water base and discharge inks for the rest of the design."

While Maulsby has seen the foil process come and go in the last 15 years, he maintains that it's very popular now for all types of garments. "Companies are bringing a variety of special-effects foils to us," he says. Mayeri has had a similar experience: "We do mostly custom apparel, so it's a wide spectrum for us because we have many different customers. In retail, for instance, abstract and all-over prints are really popular. We can embellish the entire garment because we have large machines."

Mayeri adds that the juniors' market is definitely number one with regard to demand for foil embellishments. "We have done some decoration for the women's market," he says, "but our most popular markets are 14- and 15-year-olds, and dance and cheer teams." Jason Murphy, national sales manager for GroupeSTAHLS Sales Alliance, says foil is now being used as an accent on athletic garments and even corporate wear. "It's a great way to dress up any logo and can be done in seconds with a heat press," he says.

Mayeri adds that in the higher echelons of haute couture, designers work with foil accents around soft-hand printing techniques, like water-based ones. This fall, designer Martine Rose featured menswear with gold foil accents. In retail, Juicy Couture is offering a women's rib tank that features both metallic and crystal accents.
Sales Challenge: Holiday Apparel Sales


Practically every market, from corporate to nonprofit, has organizations interested in giving gifts to clients or employees at the holiday season. Logoed apparel is often on the agenda because it can help build business relationships, give employees a morale boost and, when worn, serve as a great endorsement for the client's company or brand. While the holiday season may just be coming into focus, now is the time to capitalize on the profit potential of the festive time of the year.

This month, the sales force at HDS Marketing Inc. (asi/216807) in Pittsburgh is busily making calls to clients and prospects about connecting them with logoed apparel in time for the holidays. HDS began planning for the holiday sales push in August, identifying clients who had bought apparel in the past and analyzing what offerings from suppliers might interest them this season. For example, HDS has a client that buys jackets every year. This fall, an HDS rep will call the client's buyer to see if the company wants to buy jackets again, providing tips for new styles that may appeal and also asking if the customer would like to pair the jackets with another apparel piece or try a different garment type altogether.

Additionally, HDS sends out mailers to entice clients into holiday-time apparel buying. "In October," says CEO Howard Schwartz, "we're following up on the mailers and making phone calls and setting appointments so we can get everything arranged on time."

From September into November, the sales team at Cavanaugh Marketing (asi/159262) in Pittsburgh is in the midst of pursuing apparel orders for the holiday season. That outreach comes in the form of calls, mailers and e-mail initiatives to both current clients and prospects.

Like HDS, Cavanaugh begins holiday planning in August. "We determine what styles and brands we want to offer," says CEO Patrick Cavanaugh. "More and more clients are retail-focused, so we see what's trending in retail and find products that match that look."

Given the chillier time of the year and the desire to provide a gift with higher perceived value, many clients go beyond a simple T-shirt for their holiday apparel orders. Schwartz says leather jackets, ski jackets, fleeces, sweaters and sweatshirts are popular sellers. Cavanaugh has had particular success with fleece. "They want something non-business – more casual and lifestyle-oriented," says Cavanaugh, who adds that distributors can use the contact they're having now with clients to lay the foundation for orders in the year ahead. "It provides us with an opportunity to find out about what they may be looking for in spring and summer."

The Takeaway: Start planning for holiday apparel sales in late summer. Press your sales outreach efforts through the fall, and you'll be in prime position to turn the generosity of the gift season into profits. And if you haven't started now, what are you waiting for?

Work Toward Your ASI Certification
Nearly 10,000 ASI members are actively working toward their BASI and MASI certifications. Taking part in the ASI Education Certification Program is free of cost and completely user-friendly. Achieving your BASI or MASI designation is a great investment in yourself and your career. To get started right now, visit ASICentral.com/onlinelearning.

Q&A: Gotcha! Mobile Solutions




Gotcha! Mobile Solutions (asi/57851) creates QR codes like the one seen here exclusively to distributors, who can use them to entice buyers.

Based in Dallas, supplier Gotcha! Mobile Solutions (asi/57851) is a young and innovative technology company whose products and services can help distributors compete in a rapidly changing business environment. CEO Christopher Jenkin, who was a distributor for 14 years and on the supplier side of the industry for three, took a few minutes recently to talk about Gotcha!'s offerings.

Q: Tell us about Gotcha! Mobile Solutions.

Christopher Jenkin: We are a technology company that focuses on the mobile space, delivering exciting solutions to end-users. We solve marketing challenges. We offer the following: mobile websites, QR-code technology, SMS messaging, social media marketing, e-mail marketing and Web development.

We have started a coalition of suppliers called the "Strategic Alliance of Suppliers," where suppliers in our industry who offer "technology-safe" products come together to assist distributors in getting more orders. Ariel Premium Supply (asi/36730) is our first supplier and is seeing an enormous benefit from this. They have extensive testing that they perform on their products with QR codes ensuring that they print correctly and can be scanned.

Q: How can your services help distributors?

CJ: Our industry has been changing over the last 10 years. No longer can promotional products distributors or decorators simply show a client a catalog and make a sale. Industry organizations are not providing our traditional distribution channel any protection, so it is up to certain suppliers and distributors to change the way they sell.

Companies like Gotcha! Mobile Solutions and Ariel Premium are assisting distributors with just that. We are offering products and solutions that can be incorporated into the very products and apparel that distributors sell to their end-users. So now they can do the exact same presentation, but talk about a larger marketing plan. They can excite the clients in ways before not possible, and be sure to get the order and a premium on the pricing since they are using an outward integrated approach. With Gotcha!, a distributor can instantly help a client capture data from interested prospects by conducting a QR contest or displaying a mobile video. We have solutions that are patent-protected so distributors can feel confident when they show their clients this technology.

Q: How will mobile messaging impact the promotional products/apparel industry in the years ahead?

CJ: As time goes on and new solutions are developed, companies like mine and suppliers like Ariel will bring packaged solutions to our market, solidifying the need for a promotional consultant.

Q: Where do you see Gotcha! Mobile Solutions in a few years?

CJ: We are already providing QR solutions unavailable elsewhere worldwide. The cool thing is we only sell these solutions through promotional products distributors. I believe that this commitment to our distribution channel will put us in a very important position of responsibility. As the years pass, we will be responsible for bringing state-of-the-art solutions unavailable elsewhere. The fact that we sell only through distributors means our distributors will be equipped with invaluable tools to excel in their careers.

What's In My Closet?
Wearables has kicked off a new running feature called "What's In My Closet?" We are asking our readers a simple question: What is your favorite branded apparel item in your closet? Send in a photo of you and your favorite garment, and tell us in a paragraph why you love it. We'll run one submission each issue, and that lucky winner will receive a $25 Visa Gift Card. Be sure to send a photo and your written entry to Editor C.J. Mittica at cmittica@asicentral.com.

Oct. 16-18, Fort Walton Beach, FL
Gulf Coast Gift Show
(678) 285-3976; www.panamacitygiftshow.com

Oct. 16-19, Marlboro, MA
New England Apparel Club Show
(781) 326-9223; www.neacshow.com

Oct. 23-25, Galveston, TX
Galveston Gift & Resort Merchandise Show
(678) 285-3976; www.galvestongiftshow.com

Nov. 4-5, Cincinnati
Embroidery & Direct to Garment Extravaganza
(877) 793-3278; www.embroideryextravaganza.com

Nov. 13-16, Ocean City, MD
Ocean City Resort Gift Expo
(678) 285-3976; www.oceancitygiftshow.com

Nov. 18-19, Richmond, VA
The Embroidery & Direct to Garment Extravaganza
(877) 793-3278; www.embroideryextravaganza.com

Apparel Venture Group (asi/36562) has joined ASI as a supplier decorator member.

BITO is now offering pulsating laser heads that can be used with the LaserBridge, Spartacus and Niagara laser-cutting machines.

Brother has announced its first $25,000 sweepstakes for 20 $1,000 prize winners and one $5,000 prize winner. The sweepstakes will end on October 30. To enter, take a test demo of any five Brother sewing or embroidery machines at a participating dealer to receive a scratch-off ticket.

Cintas (asi/162167) has announced that it increased its revenues by 10.1% in its most recent quarter, which ended on August 31. The company's revenues in the quarter, the first period of its fiscal 2012, totaled slightly more than $1 billion.

Crown Products (asi/47700) has introduced its new suite of exclusive Facebook applications, which will allow users to easily market to their customer bases via the social media tool.

Dyenomite (asi/51185) announced that it has purchased a larger facility that encompasses almost four times the square footage of the company's current headquarters. The Ohio-based company will move from its current 42,000-square-foot facility to a nearly 180,000-square-foot building located in Hilliard, a suburb of Columbus.

Graphics One is launching a new, 100% green technology called GO OT Transfer Film, which is designed to be used with the GO EcoMax system and SEPIAX "green" ink.

Hampden Corporation (asi/59473) has announced that Northeast Marketing, Wayne Burden and Roberta Reiss will now represent the company in the Northeast territory. In addition, Rhonda Reilly has been promoted to national sales manager.

Madeira USA (asi/32199) has announced that Graphics Solutions Group (GSG) will carry a full-color line of Madeira's Classic Rayon #40 cones and Fire Fighter spools.

Monarch Robe & Towel Co. (asi/72025) has announced that it has acquired its competitor Cypress Luxury Bath & Bed Amenities from Russell Newman Brands.

Proforma (asi/116308) has opened the offices of eight new owners in the company's network: Don Gruning, Proforma Proactive Marketing; Mike Hatcher, Proforma MH Advertising Specialties; Bernie Kim, Proforma ProImpact Resources; Jeff Lutes, Proforma Lutes Communications; Theresa Mueller, Proforma Big Easy Solutions; Dan O'Neill, Proforma U-Want-One; Dave and Jennifer Roose, Proforma Prana; Jerome and Jennifer Sorensen and Jon Buss, Proforma Clear Choice Printing.

Sassy Scrubs announced it has recently added a Clearance Scrubs Outlet to its website, http://www.sassyscrubs.com, making Sassy Scrubs products available to its customers at a fraction of their regular custom-made prices.

SnugZ USA (asi/88060) has received Quality Certification Alliance (QCA) accreditation, which is dedicated to product quality and safety, supply chain security, social accountability and environmental stewardship.

TRG Group (asi/90507) announced that it has established a partnership with Wenger SA, the maker of the Genuine Swiss Army Knife, watches and other gift products. Under the terms of the agreement, TRG will design, produce, market and sell Wenger products in the United States and select key international markets beginning in January.

Vapor Apparel (asi/93396) announced it won 2nd and 3rd place in the "Digital Print – Premade Garment" category of the Impressions Awards. This is the fifth consecutive year Vapor placed in the category.

World Emblem International (asi/98264) has hired Wayne Rodriguez as controller at the company's Miami headquarters, Ryan Himstedt as southeastern regional sales manager and Randy Cox as plant manager at the Atlanta facility.



Crystal Heat Transfers: Metallic studs or crystals strategically placed to form a design. While this can be done by hand, most of the time that method is too time-consuming to be cost-effective. Ready-made transfers are available, and custom transfers can also be ordered from some companies. New to the embroidery industry are both stitch designs and appliqués that have accompanying transfers specifically calculated to fit and enhance the embroidery.

Digitize: Modern term for punching, reflecting the computerized method of converting artwork into a series of commands to be read by an embroidery machine's computer.

Welt: A strip of material seamed to a pocket opening as a finishing and strengthening device; a covered cord or ornamental strip sewn on a border or along a seam.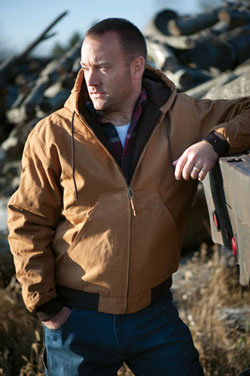 Quilt-Lined Jacket


Whether it's for construction workers or those who just like to maintain their home landscaping, end-users can stay warm and dry this fall and winter with a quilt-lined hooded jacket (HJ51) from Berne Apparel (asi/40260). The shell is made from a heavy-duty 100% cotton duck fabric. The torso lining is a heavyweight insulation quilted to 100% polyester brushed tricot, and the sleeves are medium-weight, quilted to 100% polyester taffeta. It also features a water-repellent finish, a pleated bi-swing action back and triple-needle stitched main seams. It's available in nine sizes and seven colors.

Selling Tip: Layer up your workwear uniform program. Start with a high-quality work jacket and add in sweatshirts, long-sleeve compression shirts, gloves and hats. The resulting sales will boost your bottom line and keep outdoor workers warm during the roughest weather.
Q: I'm trying to find camouflage pants for steppers at our church – in youth and adult sizes. I cannot seem to find the correct supplier.

A: First, hunt for Codet Newport (asi/45605); (800) 992-6338; www.bigbill.com. This supplier carries camo pants in men's, women's and youth sizes, as well as tall sizes.

Next, explore GameGuard (asi/55758); (940) 320-4900; www.gameguard.net; for youth ripstop pants (YPR4100), men's (MP200), women's (PM2000) and many other options.

Finally, Rothco (asi/83708); (800) 645-5195; www.rothco.com; has kids' (66115) and adult (2366) sizes.

Selling Tip: Since camouflage is popular with the outdoors market and high-fashion segment, consider the pattern an option when pitching to everyone from hunting clubs, outfitters and fishing supply shops to firms interested in projecting an edgier, retail-inspired image.

Q: I am searching for short- or long-sleeve gray T-shirts with orange accents on the side. Can you help?

A: First, consider this ringer tee from Staton Corporate & Casual (asi/89380); (800) 950-6611; www.statononline.com; product 710. It's made of 50/50 poly/cotton and has a double-needle hemmed bottom. One of the color combinations available is athletic heather/orange, though since it's a ringer, there is accenting on the neck as well as the sleeves.

The next two options are polo shirts rather than T-shirts. One, also from Staton, is product M1001, a 100% polyester birdseye knit jacquard polo with contrast piping on the shoulders, among other places. Slate/orange is a color option.

Finally, check out Virginia T's (asi/93917); (804) 862-2600; www.virginiats.com; product PL2222 is a pique performance golf shirt made of cotton/polyester that is moisture-wicking and offered in a gray heather/white/orange design. Also look at product PL2223, which is the companion style for ladies.

Selling Tip: The right color accents make an eye-catching and spiritful addition to T-shirts promoting school/league teams and events with a color-specific theme, such as walking fundraisers for breast cancer awareness, in which pink is predominant.