SPONSORED BY


VIDEO

Sticking Out Our Necks
The signature look of Steve Jobs is back. Turtlenecks have reemerged as a popular layering and fashion option for both men and women. Wearables Editor C.J. Mittica takes a look at some of the best options available in the industry. Click here to watch the video.

Got a question you want answered in a future Ask the Expert video? Send it to cmittica@asicentral.com.





Trend Alert: Pajama Pants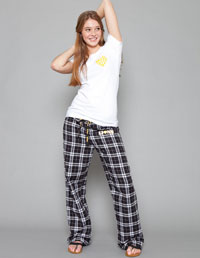 Made of 4 oz. 100% cotton flannel, this pair of unisex Team Pride Flannel Pants (F19) from Boxercraft (asi/41325) features a longer length, roomier cut and elastic waistband with imprintable taping.



The corporate casual wave has long since arrived. Jeans have even been sighted in the high-rise executive offices of New York City. But how about wearing loungewear- and pajama-inspired outfits to work? It's not as far-fetched as you think, thanks to some haute couture designers and luxe fabrics. In Salvatore Ferragamo's 2012 resort collection, luxurious, loose-fitting pants were matched with embellished fitted jackets for a look that's perfect for both the workday and happy hour drinks afterwards.

Plus, loungewear continues to make strides outside the house, thanks to companies like Boxercraft (asi/41325). "Currently, we offer a unisex flannel pant in classic team colors, a juniors flannel pant in fashion colors and an upscale juniors V.I.P. Flannel Pant in novelty patterns," says marketing associate Jessica Levine. "In January, we will be introducing a new men's flannel pant with pockets in several new plaid patterns. Also, we are adding several new patterns in a cotton version of our V.I.P. Pant."

While the pajama pants and loungewear look may be moving into the acceptable public garment category, they're still very popular for wearing around the house. "We sell flannel pants year-round, but demand definitely increases in the fall," says Levine. "Many people associate flannel with winter, but we make our pants out of a lightweight flannel that's perfect for every season."



ADVERTISEMENT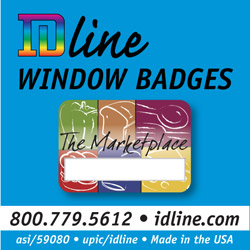 And why do loose-fitting pants remain popular, even in the workplace? "People enjoy being comfortable!" says Levine. "Our flannel pants appeal to a large audience, because they feature longer lengths and roomy cuts." She says they're especially popular with high school and college-age kids, as well as school teams. "Students love getting flannels in their team or school colors, and they're perfect for throwing on after practice to head to class."

Look for loungewear and pajama pants in more colors and fabrics, says Levine. "We will continue to add new fashion plaids to keep up with the most popular color combinations," she adds. "Also, our new cotton pants are super-soft and a great alternative to flannel."
Q&A: Pacific Sportswear & Emblem Co.



The uZAPPit! Smart Tag from Pacific Sportswear & Emblem Co. carries a QR code on the back of a dog tag. It comes in all sorts of varieties – everything from die-cut options to rhinestone encrusting.

Odds are you've seen a QR code by now – in a magazine ad, in a bus stop, or maybe plastered across a tradeshow booth. Now, the ubiquitous black and white boxes are making their way into apparel and accessories. Pacific Sportswear & Emblem Co. has just come out with the uZAPPit! Smart Tag – an imprinted dog tag with a code on the back. Rich "uZAPPit" Soergel, lead innovator for the company, talks with Wearables about his latest creation.

Q: How did you come up with the uZAPPit! Smart Tag?
Rich Soergel: Two months ago, I thought, those QR codes – or as we call them, smart codes – are all over the place. They're on TV, radio, billboard, this and that. What if we take our basic dog tag, which is colorful and shows the product's brand, image and logo, and on the other side we print the smart code? So we married them both together. I trademarked the name uZAPPit!, because instead of saying you scan it or you shine your phone over it, people go "You just zap it."

Q: Are there more creative QR code designs than the standard white and black image?
RS: Definitely. We could put an image of a sunset in the QR code. As long as the black and the light colors contrast enough for you to zap it, it works. It has to be transparent enough for the code to come through. We can die cut the shape. And we don't have to put it on a white background, but it's so common now, that's how people recognize it. We've tested them with circles around it, squares around it, ovals around it, or no white background and it still works.

Q: What are some interesting ways these smart tags can be used?
RS: It can be used in the apparel industry as a hang tag. Even though it's a little bit more expensive than a paper hangtag, it's more valuable because you can pull it off the garment and the hat and then use it as a key chain, and then go back and get discounts for the clothing brand. There are a lot of uses, especially for under a buck, and that's the key thing. It's so much marketing muscle for being so inexpensive.

Q: What would be some good target markets for this?
RS: There are a lot of different markets. The apparel market, restaurants, beverage companies. We do a lot of work through distributors who are going to those clients. Our goal is to get them into the Bacardis, the Bud Lights, the Coca-Colas, those types of companies. Also, retail stores. If you buy $50 worth of stuff at Home Depot, for example, you can get a Home Depot smart tag. It keeps the consumer educated on what's coming up, like when they are having sales. We don't have to change the code. They just have to change the website suffix.

Vote in the Wearables Apparel Design Awards
The time has come to vote in the Wearables Apparel Design Awards. Every year we honor the best in apparel and accessories, and your votes determine the winners. Choose the products you think are the best designed, considering design appeal, wearability, performance attributes and look. Click here to get started.

How To Sell It: Scarves




Trending hot in a variety of markets, this custom-designed oblong scarf (004SS-6) is made of 100% silk. Available from Buffalo Bay (asi/42416).

With chilly temperatures blowing in across much of the country, now is the perfect time to sell clients on a must-have cold weather accessory: scarves.

Bruce Everakes of Wolfmark (asi/98085) says the Neenah, WI-based supplier's unisex fleece, wool, bamboo and cashmere winter scarves are hot sellers in the frosty months. "Right now is the best time of year because these types of scarves make great holiday gifts," he says, noting end-buyers give the neckwear to employees and clients. "Everyone who lives in a cold winter climate needs a scarf.  With a logo or custom label, the name of the company is going to be seen every day in a positive way."

Of late, Wolfmark's solid-color bamboo scarf has gained a lot of traction with distributors' clients, says Everakes. "They like our bamboo line because of its eco-friendly feature," he says, noting embroidery is the preferred method for embellishing logos on winter scarves.

Beyond scarves meant for outdoor wear, distributors should also consider the benefits of fashion scarf styles, which make great upsell items in a variety of markets. Oblong – or rectangular – scarves are especially in vogue at the moment. "They're very popular right now in both the retail and advertising specialties markets," says Kelly Holmes, VP of sales at Buffalo Bay (asi/42416) in Greensboro, N.C.

Why are scarves trending as a popular accessory? Their versatility. Says Holmes: "They can be draped around the neck or tied multiple ways to be dressed up or down. Oblong scarves can also be worn in the hair, as a sash or belt, or even just knotted on a bag or purse for an added splash of color."

Everakes says both oblong and square scarves are often sold as upgrade accessories in a uniform program. "We are seeing a more formal approach to the workplace," he says. "A company will want to show a unified look when dealing with the public."

Oblong scarves that are dyed either in one location or with an allover print are typical favorites. However, Buffalo Bay has recently introduced digital printing on silk – it can fully reproduce a photograph or even a painting. "This is an amazing development," Holme says, "because before with spot color processes, such as the wet-dye, it was hard to duplicate four-color process images or recreate the artistic nuances of an original work of art on fabric."

According to Everakes, scarves are particularly popular for trade shows and the food service and hospitality industries. "We also see a lot of tie/scarf custom combinations with school reunion dates and graduation ceremonies," he says.

Holmes says scarves sell well in the corporate uniform market. "We also see a large number of universities and alumni associations using scarves for promotions," she says, adding that cosmetic companies, museums, hospitals and charities also spend on scarves.

When it comes to selling scarves, distributors should remember they are accessory items meant to highlight an outfit and, in the ad specialties world, a theme, logo or event. "To sell the item and achieve that goal, having an appealing design and presentation is tantamount," says Holmes. "That's where counting on your supplier's experience gets you a successful program." Everakes says it's important to demonstrate to end-users how scarves class up an outfit. "As customers realize the benefits of an upgraded look, distributors will find these types of orders an easy sell," he says.

We Need Your Input!
Have you used promotional apparel in an innovative self-promotion to generate buzz about your distributorship? If so, then Wearables would like hear about your creative campaign so we can feature it in an upcoming article. Contact Staff Christopher Ruvo at 215-953-3646 or cruvo@asicentral.com.

Dec. 4-7, Myrtle Beach
Grand Strand Gift & Resort Merchandise Show
(678) 285-3976; www.grandstrandgiftshow.com

Jan. 7-10, 2012 Oaks, PA
Philadelphia Gift Show
(678) 285-3976; www.philadelphiagiftshow.com

Jan. 10-11, 2012 New York City
DIRECTION by Indigo, International Exhibition of Creative Textile Design
(646) 351-1942; www.directionshow.com

Jan. 14-17, 2012, Seattle
Seattle Gift Show
(678) 285-3976; www.seattlegiftshow.com

Jan. 15-18, 2012, Marlboro, MA
New England Apparel Club Show
(781) 326-9223; www.neacshow.com

Jan. 16-18, 2012, Orlando
ASI Show
(800) 546-3300; www.asishow.com

Jan. 18-21, 2012 San Francisco
San Francisco International Gift Fair
(678) 285-3976; www.sfigf.com

Jan. 20-22, 2012, Long Beach
ISS Show
(508) 743-0532; www.issshows.com


BestBlanks.com is now offering free ink with the purchase of one set of eco-friendly UltiMaxx ink, which offers high image quality for DTG printers.

Broder Bros. Co. (asi/42090) recently announced that it increased its third quarter 2011 sales by 4.7% over the same quarter last year. The apparel supplier realized net sales of $220.5 million in the quarter ended September 24, 2011, which compares to last year's third quarter revenue result of $210.7 million.

Coastal Business Supplies is now offering the complete Brother StampCreator Pro package with an instant $250 rebate. For more information, visit www.coastalbusiness.com, e-mail info@coastalbusiness.com, or call 800-562-7760.

Dalco Athletic released its new 2012 catalog. Some of the newer products include dye-sublimation appliqué such as Monolith, Tumble, and 8 Bit. The company also announced new eye-catching digital-effect transfers called Thermo Image Designs.

Fossil Inc. (asi/55145) has announced its third quarter revenues were $642.9 million, a 22.7% increase compared to the same period in 2010. Gross profits rose 20.3% to $359.5 million. Operating income increased 6.8% to $118.8 million.

Graphics One and Condé Systems have partnered to release the GO UNO, the first professional transfer printer from OKI, which combines cutting edge transfer technology with value pricing.

Great Dane Graphics has recently added new stock images to its motorcycle categories. New designs include a motorcycle with a fleur de lis behind, a fleur de lis with wings and a ribbon behind and a falcon with wings of fire.

GroupeSTAHL (asi/88984) has announced that Brian Sukarukoff has been named chief executive officer. He is the former president of Michigan-based Jokab Safety North America, which manufactures automated safety systems.

HanesBrands (asi/59528) posted a 5% rise in year-over-year third quarter revenues, reaching a total of $1.23 billion for the period ended October 1. Benefiting from a combination of cost cutting and increased prices, Hanes was highly profitable during Q3 as net earnings jumped from $61.3 million in 2010 to $90.8 million, or $0.91 per share, this year.

HPI Emblem (asi/62066) has launched a new B2B website at www.hpiemblem.com, a website for their Patchology Line at www.patchology.org and a Patchology PDF catalog at www.patchology.org/catalog.

Imprintables Warehouse (asi/58475) is now offering the new Roland VersaStudio BN-20 inkjet printer/cutter, which can create graphics for virtually any fabric, including nylon, spandex and leather, as well as a variety of indoor and outdoor durable graphics. The company has also just released an instructional video on using ExactPrint laser transfer paper, which does not require trimming after printing.

Independent Print Supplies is a new screen print and digital imaging supply company that Mike Fresener, former vice president of U.S. Screen Print, recently opened.

Lands' End Business Outfitters (asi/250566) has announced its new Love Giving contest. Teams and organizations can share what they do to give back during the holiday season on either landsend.com/business or facebook.com/LandsEndBusiness. The first place winner will receive a $2,000 cash donation in their name to the charity of their choice, plus 25 Love Giving Thermacheck pullovers.

Leed's (asi/66887) now offers its new and exclusive four-color decorating process called PhotoGraphixx on select products. The company plans to expand the availability of this process in 2012. The supplier also announced that it has launched 27 new products this month in its bags, drinkware and safety and auto categories.

Madeira has announced that recycled plastics have now been successfully incorporated into the company's 100% polyester Polyneon embroidery thread.

Pro Towels Etc. (asi/79750) announces that Catherine Talbert has been named the Midwest ProService regional contact.

Proforma (asi/300094) announced that it added five new offices in October: William Adair, Proforma Unique Promotional Concepts, Newton, NC; Marti Miller and Steve Underwood, Proforma Smart Printing & Promotions, Upland, CA; Greg and Kimberly Mitchell, Proforma Optimum Business Solutions, Grayson, GA; Pamela Munroe, Proforma M&K Marketing, Apopka, FL; and Brad and Holly Spillers, Proforma MVP Marketing, Katy, TX.

Russell Athletic announced the launch of the "Fight Like Dylan Award," a $50,000 uniform and equipment grant, honoring the late Dylan Rebeor of Columbia, TN, who lost his battle with colon cancer at the age of 16 on Dec. 3, 2010. To be eligible for the Fight Like Dylan Award, teams must post a submission on the Russell Athletic Facebook page explaining how they overcame a challenge or triumphed in the face of true adversity.

T-Biz Network International has announced that their T-RIP film output software now supports printing black ink from all ink slots for increased speed and less ink waste. T-RIP also includes the latest drivers for almost every model of Epson inkjet printers and is now easier to install and operate.

The D. Group (asi/47977) has acquired Trevelyan Leather (asi/92035). The integrated company – now known as DgroupTrevelyan – will manufacture items out of a new facility in Toronto.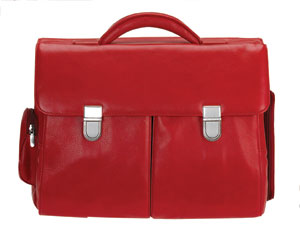 Computer Brief Bag


Luxuriously soft leather bags are a must-have for those who are constantly on the go. This ladies' Cosmopolitan computer brief (656-5) from Emporium Leather Co. Inc./The Royce Collection (asi/52390) is perfect for working while traveling. It features one large file pocket in back, a side cell phone pocket, space for three credit cards, two pen loops and a key ring. The front two spacious pockets hold valuables, while the large interior pocket features laptop padding. The top handle is padded for comfort and a detachable shoulder strap includes a non-slip shoulder pad. Stylish and functional, the bag totes all of a woman's valuables and work tools while accenting any outfit.

Selling Tip: This leather bag is ideal as a holiday gift and as an employee performance or loyalty reward. The stamping and debossing imprint options add a classy touch.

Carding: A process of opening and cleaning textile fibers - usually cotton. Through carding, fibers are separated from each other, laid parallel, formed into a thin web and then condensed into a single continuous untwisted strand or bundle of fibers called a "sliver."

Chlorinated Wool: Wool in the fiber, yarn, or fabric form that is treated chemically to decrease felting shrinkage and increase ability to take dyes.

Denier: A system of measuring the weight of a continuous filament fiber. In the United States, this measurement is used to number all manufactured fibers (both filament and staple), and silk. The lower the number, the finer the fiber; the higher the number, the heavier the fiber. Numerically, one denier is the equivalent to the weight in grams of 9,000 meters of continuous filament fiber.
Q: Do you know of suppliers that offer good-quality backpacks for around $20? I personally bought a backpack from High Sierra of a very good quality for $17 – which would be perfect. But I couldn't find it. Help, please.

A: In fact, High Sierra Sport Co (asi/60724); (800) 323-9590; www.hssc.com; is a supplier of promotional products, including some nice backpacks. However, these backpacks are above your client's price range.

As an alternative, try A M C Bag Co (asi/30196); (251) 937-2047; www.amcbagusa.com. Product 54003 is a High Sierra brand backpack with plenty of space in the front compartment and front pocket. With dimensions of 17" x 11" x 6", the backpack comes in black, red, green, blue or pink.

Also check out Leed's (asi/66887); (866) LEE-DS24; www.leedsworld.com; product 8050-12 is a nylon High Sierra backpack that's 18.75" x 14" x 6.75", comes in black, red and blue.

Selling Tip: Though versatile, backpacks are varied enough that you can be specific with their use. Heavy-duty and rugged options are best suited for the outdoors; slimmer and sleeker bags will work for the office and everyday travel.

Q: A golf league is looking to purchase golf shirts (to be embroidered) and argyle golf pants. The only company I found is Loudmouth Golf.  Not sure if they sell wholesale. Can you think of anyone else? 

A: The best option is Krazy Klothes Ltd (asi/65645); (800) 848-8147; www.krazyklothes.com. This supplier carries many argyle options, though most of them are lounge pants/pajama pants.

Also, I looked up Loudmouth Golf, and on the bottom of this page (http://www.ceogolfshop.com/loud-mouth-golf.php) it says: "We offer the entire line of Loud Mouth Apparel for wholesale purchase also."

Selling Tip: While argyle pants aren't a typical choice in the office, they're still popular on the golf course. Make sure you know if the golf apparel you are selling is going to be used for actual golfing, or elsewhere.