Q&A: ThermScrub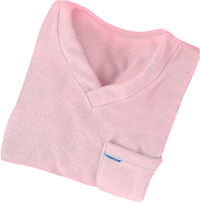 Odor-, moisture- and stain-resistant, this polyester fleece scrub top from ThermScrub is 30% warmer than normal scrubs. Available from ThermScrub: www.thermscrub.com.



As a radiology professional, Bob Perez spent 18 years shivering on the job in cold hospitals where thermostats were kept low. But those chilly temps provided the inspiration for Perez's innovative apparel idea: ThermScrub – warm fleece scrubs that keep health-care professionals toasty at work. ThermScrub President Brodie Perez recently answered a few questions about the line.

Q: What are your most popular items?
Brodie Perez: Since we now have the capability of selling our scrubs as separates, as well as sets, the tops have become the most popular item. Of the nine colors we offer, the pink, denim and burgundy have been our most popular, with navy close behind. Most customers are purchasing multiples to be able to mix and match.

Q: What new items will you debut in 2012?
BP: We are hoping to launch a new scrub top. The new features are two front pockets, which we added due to customer feedback from our online poll. We will not be rolling these out until mid-2012.

Q: What makes the scrubs so warm?
BP: ThermScrubs are designed with a polyester fleece that is lightweight yet durable; it's also moisture-, odor- and stain-resistant. When combined with an undershirt, ThermScrubs are 30% warmer than a normal scrub.

Q: Did sales grow in 2011? What are your plans for long-term growth?
BP: Sales have been steady through 2011. We hope to increase our marketing budget and really become aggressive to hit a wider audience. We truly feel this is a great product; we just haven't been able to reach the masses.

Q: Can apparel resellers buy your scrubs and sell them to medical clients?
BP: We can sell to resellers, and they in turn can sell to whomever they wish. If they contact us through our website, we can work with them on pricing and color selection.
Vote in the Wearables Apparel Design Awards
The time has come to vote in the Wearables Apparel Design Awards. Every year we honor the best in apparel and accessories, and your votes determine the winners. Choose the products you think are the best designed, considering design appeal, wearability, performance attributes and look. Click here to get started.
Sales Challenge: Getting Past the 'No' in Cold Calling

When it comes to cold calling, chances are many prospects will initially say they're not interested. So how do you turn around that preliminary "no" and achieve the goal of your call?

Start by asking the prospect why they're not interested, says Jeff Mowatt, a Calgary-based sales and customer service strategist. "You can say you don't want to bother them, but you'd like to know what they're having trouble with to see if you can help," he says.

Once you get an idea of why the prospect is hesitant, take the so-called "feel, felt, found" approach. That consists of telling the prospect you understand how they feel, that others have felt similarly and that what those others found after working with you is, say, that promotional apparel is a much more impactful, cost-effective advertising medium than radio or newspaper spots. "Don't turn the conversation into an argument," says Mowatt. "Make them feel smart by validating their concern, but then give them information that sets the record straight on how you can help them."

Danny Friedman, vice president at Northbrook, IL-based Added Incentives (asi/106725), says sometimes a few well-timed questions can turn reluctance into interest. For example: "We're getting toward the holidays, so I may ask them if they do something for their clients or employees," says Friedman. "That jars the thought process. Then I may talk to them about what they've done in the past for gifts and ask if they'd like to see some unique ideas they haven't seen before."

If the prospect remains reluctant, thank them for their time and ask for permission to call again in a few months. "It's a reasonable request, and most people will say it's okay to call back," says Mowatt. "When you contact them again, the call will be warmer this time. You can say, 'We spoke a few months ago and you said to call you.' "

If the prospect holds a lot of profit potential, Friedman recommends calling again six months later even if the buyer told you it's not okay to ring them again. "I call to see if there is a new buyer," says Friedman. "The person who stonewalled you may be gone, and there might be a new person who is more open to what you're offering."

To minimize initial rejection, Mowatt says cold-calling distributors should have a honed, reasonable pitch that demonstrates how the promotional products they provide will empower prospects to expand their businesses and meet other desired goals. Mowatt says, "You need to have a unique selling proposition and position yourself as a valuable partner."
Wearables Sales Forecast Revealed
For the second year in a row, Wearables has revealed its exclusive Sales Forecast, which contains articles and strategies that will get you primed for a strong year in 2012. The data is culled from a study that ASI launched among Wearables readers to determine expected changes in the wearables industry in the next 12 months. Not only have we posted all the articles online from our coverage, but we've also posted the entire Sales Forecast report so that readers can delve deeper into the survey results. Click here to head to our Wearables Sales Forecast page.


Beacon Promotions Inc. (asi/39250) has acquired Canyon Outback Leather Goods (asi/43766). Canyon will continue to produce its leather products in its current facility with no changes to contact information, its ASI number, customer service or order processing.

Bodek and Rhodes (asi/40788) has teamed up with Gildan to offer a free iPad 2 every business day in November to the customer with the highest total online purchase.

Charles River Apparel (asi/44620) went "pink" in October in support of breast cancer awareness month. Expanded efforts include a promotion with 98.5FM, the Sports Hub, the flagship station of the New England Patriots Radio Network.

Coastal Business Supplies is celebrating Customer Appreciation Month in November with various discount offers.

Gemline (asi/56070) announced that the company has added Montreal as a new FOB point to provide customers in Quebec and the Eastern provinces of Canada with better service and savings on freight, reducing overall order costs for Canadian distributors.

Leed's (asi/66887) will unveil an exclusive 11-11-11 event: Starting Monday, November 7, distributors who "like" Leed's on Facebook will receive special offers and giveaways.

Lenzing has announced that the USDA has certified TENCEL and Lenzing FR fibers as 100% Biobased.

ProTowels Etc. (asi/79750) announced that Catherine Talbert was appointed as the company's new Midwest ProService regional contact. She will be the inside point of contact for Bridge Marketing Services, Pro Towels' multi-line representative group in the Midwest.

Sweda Company (asi/90305) announced that the "Etch-A-Sketch Holiday Mailer," submitted by Josh Ebrahemi of Jack Nadel International (asi/279600), is the Grand Prize Winner of its 2011 Case Study Challenge. To view a library of qualified case studies submitted in this year's contest, go to www.swedausa.com.

Transfer Express (asi/91804) will host a webinar at 2 p.m. on Thursday, November 10, that will offer solutions for printing on different fabrics, like moisture-wicking materials and bulky full-zip hoodies.

Vantage Apparel (asi/93390) has hired Kim Schalk as sales representative for the state of Wisconsin.

Workhorse now offers the brand-new Super Seca 18" x 18" Flash Cure Unit, designed to work with any manual or automatic screen-printing press.

Worldwide Glove & Supply (asi/68620) has changed its name from Manzella Worldwide to better reflect the company's expertise in manufacturing, branding and supplying gloves, hand wear, hearing protection and hard hats.


Automatic Color Change: The ability of a multi-needle commercial embroidery machine to follow a command to change to another specified needle with a different thread color.

Flannelette: A medium-weight, plain-weave fabric with a soft hand. Usually made from cotton, it is lighter-weight than flannel, and is typically brushed only on one side. End-uses include shirts and pajamas.

Georgette: A sheer lightweight fabric that is often made of silk or from manufactured fibers such as polyester. Featuring a crepe surface, yarns are twisted both ways in the weave. End-uses include dresses and blouses.