SPONSORED BY


PODCAST 

On Tuesday's ASI Internet Radio Show, the hosts took questions from callers looking for advice on the best holiday gifts to offer this year. Wondering whether gift cards are a better way to go than a holiday party next month? Looking for the most unique client gifts to stand out from the competition during a busy holiday season? Check out this podcast.

Click here to listen to the holiday gifts segment from Tuesday's show.

If you'd like to check out a recording of the whole online radio show, go to www.asicentral.com/radio. And, don't forget to join us Tuesday, November 23, for our next broadcast. Log on to www.asicentral.com/radio at 10:30 am ET and give us a call at 215-953-4979 or e-mail us at radio@asicentral.com to participate on the show. We want to hear from you.

Plus, mark your calendars for November 30 to join the ASI Radio crew as they welcome former First Lady Laura Bush to the show. Head to www.asicentral.com/radio at 10:30 a.m. ET to listen to the interview.

 
Trend Alert: Henleys
Originating as a uniform top for the rowing crews in the famed Henley Regatta in England, the henley shirt achieved notoriety in the early '90s and has since clinched a spot in the closet space of men everywhere. The biggest feature of the henley is the button placket with no collar, which makes the garment appear more casual than its cousin, the classic polo, and more put-together than the T-shirt. This style allows men to flaunt their fashion expertise but still possess a hint of ruggedness.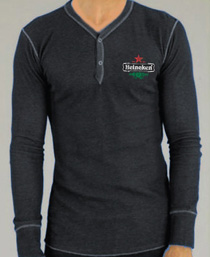 This men's cotton long-sleeve henley (GG 302) from Golden Goods USA (asi/57695) is handcrafted as well as garment dyed and washed.


The henley is created for comfort and manufactured from cotton, polyester and other basic fabrics to be worn as an undershirt or an exterior fashion garment. Wholesale suppliers and retail shops offer it in short-sleeve, long-sleeve and three-quarter sleeve styles, with the long-sleeve being the most popular.

Jeff Scult, partner at Golden Goods USA (asi/57695), says the style allows for all kinds of decoration, which makes it a hit in the promotional world. "It can be decorated all over the board, although the back surface area of the fabric drapes lends itself well to an oversized print," Scult says. "Clients lean toward our vintage black fabric color because all logo art just looks tremendous against that backdrop."

Scult advises that like any high-fashion piece, the henley is not for everyone. So far, he sees the entertainment and spirits industries showing the most interest. "It's for those looking to make a statement with something totally different," he says. "The fabric (40 singles weight), attractive fashion fit, and finish (stitching on the sleeves, two buttons, superior graphical printing) are what makes this shirt."
Interested in Becoming a Wearables Contributor?
You've learned a lot working with apparel — and now's the time to share your knowledge with our readers. Are you a master marketer? A champion salesperson? An eco or performance expert? Then consider this your invitation to write an article for our "Business of Wearables" department. We're looking for wearables people with useful tips or lessons learned to share with other readers.

If you're interested in writing, send a short bio and summary of your topic to editor C.J. Mittica at cmittica@asicentral.com. We're looking forward to hearing from you.

How to Sell It: Novelty & Fashion Footwear



Available from Footzyrolls Luxe (asi/54915), the Footzyrolls are a perfect fashion footwear option for the red carpet. 

Novelty footwear describes footwear in the industry that's offered to clients as fun, unique promotions. One great example of novelty footwear is bowling shoes. Not only are the old-style alley shoes a fun product, they also have many applications and branding options. While bowling shoes are a great product for themed events, they're also used for daily wear because of their vintage feel. To brand bowling shoes, logoed laces or pad printing on the shoes themselves are great options.

In addition to bowling shoes, CruisinUSA (asi/47743) also offers saddle shoes, another great novelty shoe product. "Levis Jeans was introducing a new line of retro jeans," says Tim Coggeshall, vice president of CruisinUSA and Bowlingshirt.com. "They needed to redress every mannequin in every store window," he says. "They put our saddle shoes on all of the mannequins." That case study just goes to show how fun and outside-the-box novelty shoes can be.

Fashion footwear is also an important product category. Footzyrolls Luxe (asi/54915), one of the newest industry suppliers, is drawing on fashion inspiration to take its practical idea for comfort shoes to a new level. Footzyrolls are ballet flats that come rolled in a compact pouch small enough to easily fit inside a purse. When a woman's feet start aching from a long day in heels, she can slip on the flats and tuck her heels into the handy branded bag that held the flats.

Sisters Sarah and Jenifer Caplan, co-founders of Footzyrolls, knew that fashion would play a big role in their new invention, and it ultimately landed their shoes on red-carpet runways, at the Sex and The City 2 movie premier and in O, the Oprah Magazine.  Consider putting them in a "swag bag," or request a Footzyrolls custom-branded vending machine, which can dispense complimentary Footzyrolls for the ladies walking the red carpet. At the end of the night, celebrities and honored guests will be leaving in style and comfort.

Not only are the flats stylish, they offer a lot of branding possibilities. "There are three ways that the client can get their branding, or co-branding onto our product," says Sarah Caplan. "We can brand the container, the pouch for the Footzyrolls, and the bag for the woman's heels to go into while she's wearing the Footzyrolls." Other types of fashion footwear in the industry include fashion socks, and a small selection of fashion shoes for corporate uniforming.

In this video, Managing Editor Joe Haley talks about how you can determine whether a garment is eco-friendly or not.

New ASI Education Online Course Available 
Start working toward achieving your BASI (Bachelor of Advertising Specialty Information) or MASI (Master of Advertising Specialty Information) by taking self-paced, on-demand courses at ASI Education's Online Learning Center. In our newest course, "Eco-Friendly Apparel Facts and Strategies," you'll learn about a variety of eco-truths, key strategies for working with suppliers and customers, and how to sell different eco-categories.  Click here to take the course.

Leaders Look Ahead at Special Markets Summit


Cautious optimism for 2011 and recognition of supply chain dilemmas were just some of the major themes discussed at the "Special Markets Dialogue" – a summit of prominent thought leaders from the promotional products, incentive and gift card markets. The annual meeting, which was held November 5 and 6 in Myrtle Beach, SC, seeks to paint a complete view of the market and gauge upcoming threats and opportunities. Here are some of the conclusions that were reached:



Attendees report that corporate clients are continuing their reward and recognition programs, though mostly at flat levels without an increase in revenue. While orders recently have begun to tick up slowly, decreasing price points are eating into the bottom line. 
Technology is continuing to lead the way for reward and merchandise programs. Clients rely on daily inventory data feeds, and retailers and others are adopting in-store and online redemption of virtual gift cards, which can be delivered through e-mail or mobile services.
Unprecedented challenges continue to face manufacturers and vendors in the supply chain. Suppliers in China will be impacted, according to a report from the meeting, thanks to a "combination of currency issues, capacity limitations and freight barriers that will force suppliers to plan their inventories better." In addition, retail-based suppliers are increasingly selling more of their product to big-box retailers and not setting aside enough inventory for the wholesale market. To combat this, suppliers are developing exclusive products for the wholesale market and offering best-seller lists with guaranteed availability.
The promotional products and incentive industries have been impacted majorly by changing regulations in OSHA and PHRMA, among others. It was agreed that the industries need to do a better job educating the government about their existence to avoid greater impact by similar legislation in the future. In addition, some success is being found with grassroots advocacy.

Stitches Magazine Partners with Rhode Island School of Design's Textile Department
Stitches magazine today announced a unique partnership with the textile department of the Rhode Island School of Design (RISD) to launch a landmark embroidery program at the nation's preeminent art and design college. The embroidery program will become part of the RISD textile department, which offers a broad-based education in understanding and working with fabrics, fibers and patterns, as well as designing work intended for industrial production and/or the creation of fine-arts pieces.

"For several years, we've wanted to enhance our students' understanding of the creative and technical possibilities that embroidery has to offer," said Anais Missakian, department head/professor of textiles at RISD. "Until now, students have experimented with sewing machines and hand techniques to create embroidered and embellished effects. With the support of ASI, Stitches and Hirsch International, we were able to purchase new equipment and software. The RISD textile department students and faculty are enthusiastic about experimenting and exploring embroidery techniques to their full potential as another form of expression."

This fall, RISD trained its staff, technicians and select graduate students on the new equipment in anticipation of embroidery design courses being offered for the first time this summer. A full, six-week course curriculum will be offered in Winter 2011. Each month, the Stitches magazine and website will include a column featuring work from RISD students, along with blog posts on their classroom experiences. The magazine is also developing internship and career advancement programs for RISD students in partnership with ASI suppliers and decorators in the Philadelphia, New York and Providence, Rhode Island.

Lace-Up Sweatshirt



Embrace the lace with this premium fleece sweatshirt (SA102) from Sportco (asi/88792). The hoodie features horizontal colored arm stripes, a front pouch pocket, contrast piping on placket and pocket, a jersey-lined hood and a lace-up neckline with a matching shoestring. It also has an inside media pocket with Velcro closure and inside cord slip so that technology-savvy wearers can keep up with their iPods and smart phones.

Selling Tip: This sporty sweatshirt can be geared toward schools from elementary to university level. Since it's available in several color combinations, it's perfect for boys and girls alike and would make a great promotion for student council organizations or school sports teams.


Carhartt has announced it will open its first brand-only retail store at Fashion Place Plaza in Murray, Utah.

Charles River Apparel (asi/44620) has earned the 94th ranking on Boston Business Journal's "Area's 100 Largest Private Companies" annual list.

Coastal Business Supplies has announced it is now carrying three different types of Insta heat presses.

Crown Products (asi/47700) has announced that Jay Paparone, C.A.S., was hired as the company's new director of national accounts.

EMT (asi/52263) has announced that Thomas Farrell has joined the company as marketing assistant/inside sales representative.

Image Apparel Solutions (asi/62291) of Wheeling, IL, has joined ASI as a supplier decorator member.


Imprintables Warehouse is offering free in-shop VersaCAMM training. The next class is scheduled for Jan. 28 and 29. The company also gave away a brand-new limited-edition Cut-3000 vinyl cutter as part of the fifth anniversary celebration for T-ShirtForums.com. The winner was Mark David Biletnikoff, a resident of Erie, PA, and owner of First Amendment.

SanMar (asi/84863) has announced that it hired Nick Eshkenazi to the newly created role of chief information officer.  

Sierra Pacific Apparel Group (asi/87224) has announced that its corporate headquarters have moved to 6300 West Loop South, Suite #100, Bellaire, TX 77401.


Siser North America is offering Colorprint II, a digital roll film material to be used with printers that work with eco-solvent, solvent and thermo resin inks. 


Stahls' ID Direct is introducing CAD-CUT Flock heat-transfer material. The material features a soft, suede-like texture for uniform and fashion wear applications. Also, GroupeSTAHL has announced the appointment of Brian Sukarukoff, president of Jokab Safety North America, as the newest member of its board of directors.

Stormtech Performance Apparel (asi/89864) has opened its renovated showroom and office at 2560 Boundary Road, Burnaby, British Columbia.

The Magnet Group (asi/68507) has hired Dan Jellinek as its new senior vice president of sales.

Thread Logic, an embroidery and logowear company, has been named a recipient of the 2010 Integrity Award from the Better Business Bureau of Minnesota and North Dakota.

TSC Apparel (asi/90518) has announced its fleece promotion for the month of November: At the end of the month, TSC will award prizes to purchasers of Gildan fleece based on the level reached by each company. Purchases from $2,500 - $4,999 get a Blu-Ray Player, $5,000 - $9,999 earn a Kindle and $10,000+ get an Apple iPad. In addition, TSC is continuing its year-long Adventure Series with Gildan fleece as the featured product for November. Customers can earn Amazon.com gift cards (up to five cards total) for every $500 spent on Gildan fleeces.

Vantage Apparel (asi/93390) has promoted Brett Garran to regional sales manager for the Northeast region, including NJ, NY, PA and all of New England, and has hired Shirley Bennett as the sales representative for NY and northern NJ.



Knowing these terms will make distributors who just started sound like they've been in the business for years.

Birdnesting: Collection of thread between goods and needle plate, resembling a bird's nest. Formation of a bird's nest prevents free movement of goods and may be caused by inadequate tensioning of the top thread, top thread not following thread path correctly or flagging goods.

Mesh: A type of fabric characterized by its net-like, open appearance, and the spaces between the yarns. Mesh is available in a variety of constructions, including wovens, knits, laces or crocheted fabrics.

Piqué: A fabric of cotton or spun rayon woven lengthwise with raised cords.
| | |
| --- | --- |
| | TOP |
Q: Can you suggest where I can get 8-oz. T-shirts?

A: You can find them at Camber Sportswear Inc. (800) 345-7518; www.camberusa.com. That particular weight, however, is usually reserved for denim shirts, long-sleeve shirts, sweatshirts and polos, such as those from A T T Headwear (asi/30245); (800) 448-7031; www.attheadwear.com, as well as a bunch from Tri-Mountain (asi/92125); (800) 824-6464; www.trimountain.com.

Selling Tip: Roomy heavyweight T-shirts are often sought out by big and tall wearers, so having a wide range of sizes available (S through 6XLT) is recommended.

Q: I wanted to know if you have any listings of companies that make sublimated custom team uniforms, or where I could find them.

A: Reality Check Sports (asi/82276); (704) 794-6620; www.realitycheck-sports.com offers a few types of jerseys: side stripe (100), performance (103), sleeveless (213) and reversible (604), all with sublimation imprinting available. The jerseys are 100% polyester closed-mesh fabric, moisture-wicking, breathable and lightweight.

Selling Tip: Sublimation is an excellent imprinting method for jerseys, because it doesn't wash off of apparel, especially polyester performance shirts.