SPONSORED BY


VIDEO 

 Mad About Plaid
Staple of the grunge era and outdoor workwear, plaid has become embraced by mainstream fashion in all sorts of ways. Wearables Editor C.J. Mittica takes a look at the popular plaid options that suppliers have available right now. Click here to see the video.

What did you think of this video? Send your feedback to cmittica@asicentral.com.

 
Wearables Reveals Sales Forecast
Wearables just revealed its exclusive Sales Forecast, which contains articles and strategies that will get you primed for a strong year in 2011. The data is culled from a study that ASI launched among Wearables readers to determine expected changes in the wearables industry in the next 12 months. Not only have we posted all the articles online from our coverage, but we've also posted the entire Sales Forecast report so that readers can delve deeper into the survey results. Click here to head to our Wearables Sales Forecast page. What things might you learn? Here are a few tips:
ADVERTISEMENT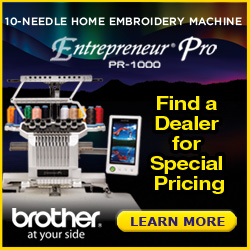 How to increase your order size: When some salespeople know a sale is definite, they take what they have instead of pushing higher. "It's so easy, when you get an order, to say, 'Yes,' and 'Thank you,' " says Marc Held, national sales manager for Bodek and Rhodes (asi/40788). "You're excited. I don't think enough people stop and ask, "Hey, have you considered this?' and look to upsell."

Tap the education market: Apparel quality is important (but not overly important) when it comes to the education market. "The items they use are not top-shelf, mostly T-shirts and polos that are one or two levels above the most inexpensive options," says William Goforth, CEO of Pine State Enterprises (asi/295970) in Berkley, MI.

Sell more accessories: Susan Gagainis, owner of Pro-Visions (asi/202900) in Mequon, WI, says that because accessories are different from standard shirts, distributors need to present them to a client more often than other items. "You have to show a client or prospect the item, in my experience," she says. "With accessories they can't visualize the product if they don't see it.
For more information and our full report, check out our coverage online by clicking here.
Interested in Becoming a Wearables Contributor?
You've learned a lot working with apparel — and now's the time to share your knowledge with our readers. Are you a master marketer? A champion salesman? An eco or performance expert? Then consider this your invitation to write an article for our "Business of Wearables" department. We're looking for wearables companies with useful tips or lessons learned to share with other readers.

If you're interested in writing, send a short bio and summary of your topic to editor C.J. Mittica at cmittica@asicentral.com. We're looking forward to hearing from you.

Trend Alert: Polka Dots



This pink-and-white polka dot trunkster (GTR302-6422) from Two Lumps of Sugar (asi/92389) features three compartments to carry groceries, supplies and other items.

Polka dots are undoubtedly one of the most popular patterns when it comes to apparel and accessories, and they continue to remain on the forefront of fashion as a classic but youthful print. And yet somehow such a simple pattern continues to be a mystery when it comes to its origins.

Some say the name comes from the Polish polka dance, because the pattern was widely popular in the mid- 19th century when polka music and the dance were invented. Some say they were created by the late, great Walt Disney who, while grinding over the monumental decision of Minnie Mouse's clothes, had an inkblot fall from his pen onto Minnie's skirt – and there the polka dot was born.

Polka dots may have reached the height of their popularity in the 1950s and '60s, but the pattern continues to be featured both for its sense of nostalgia and its peppy versatility. "We have polka-dotted aprons, bags, oven mitts, coolers, dishware, baby items – you name it," says Tracy Feldman, PR, marketing and design manager for Two Lumps of Sugar (asi/92389). "Pretty much everything in our line comes in polka dot."

The most popular colors for polka dots in apparel are pink and white, black and white and multicolored. "Polka dot sales stay pretty much the same for us no matter the season," Feldman says. "Because we have so many fashion patterns, they are one of the simplest ones for us, but still creative enough for the customers."

Two Lumps of Sugar sees the most popularity in full aprons and ladies' lunch bags in pink-and-white polka dot and its extra-large grocery totes, called trunksters, in black-and-white polka dot. Simplicity is what drives this pattern's allure, so sticking with bicolored garments is the way to go.

Vote in the Wearables Apparel Design Awards 
The time has come to vote in the Wearables Apparel Design Awards. Every year we honor the best in apparel and accessories, and your votes determine the winners. Choose the products that you think are the best designed, considering design appeal, wearability, performance attributes and the ability to attractively feature a logo (when appropriate). Click here to get started.

Apparel Manufacturers Raising Prices




Hanes and other apparel manufacturers will increase prices by as much as 10% in the face of continuously increasing cotton prices.

Cotton prices continue to push record levels, rising over $1.50 per pound, due largely to cotton shortages stemming from smaller plantings in past years and heavy rains and floods in Pakistan and China.

Hanes, which is represented in the industry through Hanes Imagewear (asi/59528), will increase prices on spring deliveries by an average of 3% to 4%, The Wall Street Journal recently reported. The larger price increases will focus largely on lower-priced cotton basics. Other retail companies considering price hikes include Bon-Ton; Jones Group, which owns Nine West and other brands; and the V.F. Group, which produces The North Face.

The current cotton shortage has origins going back several years. In 2006, worldwide production was at 122 million bales, with one bale equaling 500 pounds. That dropped to 107.5 million bales in 2008 and 102.5 million in 2009, according to the U.S. Department of Agriculture (USDA). Part of the reason was high corn prices driven by a brief ethanol boom that prompted many planters to switch plots from cotton to corn. Production was expected to recover in 2010, with the USDA forecasting 116 million bales harvested this year, but massive crop losses in China and India may offset that.

New ASI Education Online Course Available
Start working toward achieving your BASI (Bachelor of Advertising Specialty Information) or MASI (Master of Advertising Specialty Information) by taking self-paced, on-demand courses at ASI Education's Online Learning Center. In our newest course, "Perfect Your Closing Skills," you'll learn the smart tactics to get prospects and clients to say "yes," and how to weed out buyers who'll never sign on the dotted line. Click here to take the course.

Aviator Jacket





Thanks in part to the continued interest in military and leather trends, vintage aviator jackets are the rage this fall and winter season. The appeal of these coats is that they can be worn ubiquitously – serving as great outerwear for all occasions, from casual to dressy and even business. This vintage bomber (2057) from Outback Trading Co(asi/75401) is made from waterproof oilskin with a berber lining. It offers a vintage vibe as well as contemporary styling.

Selling Tip: The ideal flight coat for men should cut off at the hips, while for the women it should reach just below the knees. Make sure the cuts for both sexes are stylish.

| | |
| --- | --- |
| | TOP |

Q: Do you have any suggestions for argyle sweaters, not vests, with choices for men and women? I'm looking in the moderate price range. 

A: Hammacher Schlemmer (asi/59444); (866) 714-0530; www.hammacher.com puts out a unisex long-sleeve argyle wool button-down cardigan (77217).

You could also try Skins Game (asi/87629); (949) 885-0143; www.skinsgameclothing.com. The supplier has a long-sleeve argyle sweater (SP04) for men made of an acrylic, tencel and wool blend. It's available in khaki and navy.

Selling Tip: Consider traditional colors, as they often appeal to those who seek traditional sweaters.

Q: Do you have a source for U.S.-made denim shirts?

A: Tutti/Bowlingwear.com (asi/92356); (800) 777-4284; www.2t2t.com has denim shirts (RS 500BD) available in 29 colors.

Also try TYCA (asi/92370); (800) 522-5387; www.tyca.com. This supplier produces two denim shirts (W11 and W13) with front pockets and flaps.

Lastly, Union Line/Graybear (asi/92508); (800) 632-2308; www.unionmadeclothing.com offers an 8-oz. 100% washed cotton denim shirt (ladies':10419; men's: 10068).

Selling Tip: Made-in-the-USA apparel often has the benefit of shorter shipping times and lower shipping costs.

Bodek and Rhodes (asi/40788) has announced it is partnering with Gildan for a November promotion, giving away a free Apple iPad unit to each day's highest online total order of Gildan products from www.bodekandrhodes.com.

Canyon Outback Leather Goods (asi/43766) has signed a licensing agreement with Realtree Outfitters to produce leather camouflage nylon products starting in 2011. The lines will consist of gun and rifle cases, shell bags and luggage.


Carhartt (asi/43861) has announced it has created the official uniform for West Coast Customs, a world-famous car customizing shop.


Great Dane Graphics has introduced a new group of military jet fighter plane designs to its stock art library.

Great Garment Graphics will offer nine free educational webinars in November for newcomers and established decorators on heat-applied graphics. You can find them by clicking here.



Hanes Imagewear (asi/59528) has announced a new partnership with TSC Apparel (asi/90518). Beginning in January, Hanes will be available at all of TSC's locations: Cincinnati, Houston, Atlanta and Los Angeles.


Imprintables Warehouse gave away a brand-new limited edition Cut-3000 vinyl cutter as a prize to celebrate the fifth anniversary of T-ShirtForums.com. The winner was Mark David Biletnikoff, owner of First Amendment.

Neenah Paper Technical Products and RhinoTech have created a new system to produce screen stencils on garments with a laser printer. The process doesn't use a polymer emulsion layer or a photo resist step. Additional details can be found at www.neenah.com.

Oeko-Tex will host a free webinar on November 10 at noon EST about the Standard 1000, the world's most comprehensive environmental certification system specifically tailored to the textile production process. RSVP to dina@blinkready.com.


Siser North America has introduced its EasyWeed CAD-Cut material, specifically designed to weed small letters and detailed designs quickly.


Transfer Express has introduced its CAD-PRINTZ full-color digital transfers for nylon, which easily adhere to umbrellas, warm-up jerseys and other athletic apparel.

Tri-Mountain (asi/92125) has introduced the women's Dash (style 621) and the men's Diversion (style 624). These quarter-zip performance shirts are made of 100% polyester with UltraCool technology and feature contrast panels and piping along the collar, shoulders and front body.



Knowing these terms will make distributors who just started sound like they've been in the business for years.



Absorbency: The ability of a fabric to take in moisture. Absorbency is a very important property, which affects many other characteristics such as skin comfort, static build-up, shrinkage, stain removal, water repellency and wrinkle recovery.

Bonnaz: Chain-stitch machine developed in the 1800s. Named for its French inventor, Emile Bonnaz, and first manufactured by the Cornely Co. of France.

Tear Strength: The force necessary to tear a fabric, measured by the force necessary to start or continue a tear. Expressed in pounds or in grams, the most commonly used method for determining the tear strength is the Elmendorf tear test procedure.