SPONSORED BY


[ AUDIO SELLING TIP ]

Outerwear Screenprinting Tips; Click Here
Screen printing is probably the most popular method of decorating T-shirts. This week, Senior Editor Matt Histand talks with 25 year-decorating veteran Ted Conte, president of Windsor Industries (asi/744800). He describes the different methods of screen printing, how fabric selection can affect the process you choose and what to look for when selecting a decorator. Click here to listen to the podcast.

Did you find this podcast useful? Send your feedback to nrollender@asicentral.com.

[ TRENDS ] 

Cheer Wear
There's a lot of talk about what's the hottest youth sport in North America, but you would do well to put your money on cheerleading. According to American Youth Cheer newsletter, there's an estimated 3 million active cheerleaders in the United States alone from young children to young adults.

One of the most excited elements for distributors is that many of the customers they already serve – elementary schools, high schools, colleges and sports associations – already have there own cheer teams. That means getting involved can be as easy as picking up the phone and talking to your client about what they need.

In addition, there are also tons of cheer gyms cropping up around the country that keep cheerleaders going all year round. Some are affiliated with schools while others are independent organizations that compete against one another. By one count there's an estimated 7,500 cheer gyms nationwide with as many as 200 to 300 girls in attendance.


From Boxercraft (asi/41325), the moisture-wicking Competition Suit can be customized in many ways and colors.

ADVERTISEMENT


From Boxercraft (asi/41325), The Athletic Pride pants come in colors to match any team and feature a colorful leg print of your client's choice.


And unlike the old days, cheerleading apparel is about more than selling a skirt and some pom-poms. Many teams have uniforms for both home and away game, along with practice and warm-up uniforms. Some competitive teams even change their outfit several times a year.

The growth of the cheer market has inspired many companies to get involved. One of the latest is Boxercraft (asi/41325), which introduced its first dedicated cheer catalog back in January and is set to release another for the fall, which includes pants, hoodies and warm-up suits.

"We got such a huge reaction that we ran out of the first catalog," says Luiza Raposo, marketing assistant. "That's why we decided to do another one this month. Our customers had been demanding more cheer wear and we responded. This is a trend-setting market that also trickles down to dance and gymnastics. So far the response has been amazing."

 

From SanMar (asi/84863), this cashmere scarf from the Red House collection comes in four colors.

Scarves for Men
It seems that men's scarves are becoming something of a trend with fashion designers and at retail. It's an opportunity you should jump on this fall given that popular men's accessories is a very exclusive group. The good news is that there's no one pattern or color that's leading the pack. The same goes for fabrics, making them one of the most versatile apparel products around.

Selling Tip: A scarf is a natural addition to any jacket order. And unless you're selling them in silk or cashmere, they can be an economically smart choice. They're also a great alternative for clients who are hesitant to decorate outerwear directly. Just throw in an embroidered scarf and the look is complete.



Fingerless Gloves
The general public is learning what many workmen have known for years: It's hard to manipulate small object while wearing gloves. How else to you explain the fingerless gloves trend among young text-loving girls and boys? That goes double for cell phones and other digital devices. The fingerless look is most popular in knit-style gloves, but many fabrics are available as are tons of crazy colors and patterns.

Selling Tip: Since fingerless gloves are new on the fashion scene, they make a great promotional item for high schools, concerts and sporting events. They're also a natural for a wireless campaign in a cold climate.


From Fairfield Line Inc. (asi/53510), fingerless gloves are fashionable and prevent the cold from slowing down teens from texting with friends.
Attention Readers: Are We On Trend or Way Off?
Distributors are a busy group, so we try to keep you updated on what's hot in apparel right now and in the near future. We'd like your feedback on how we're doing picking trends and providing information you can use. Please send an e-mail to Matt Histand, senior editor, at mhistand@asicentral.com, to let us know what you like and what else you'd like to see in this newsletter. Thanks for reading.
Reader Response
Here are just a few of the letters we received in response to our recent video from issue 75, titled "Logo Placement and Embellishment Tips."
"Great idea in using technology. This was very informative and I'll be able to take the time to view it. 'See, hear and do' is the best way for retention of info and ideas."
   Veda Stone
   A to Z Promotional Products
"I really liked the idea of the puff embroidery on a shirt and the idea for placement on the shirt with panels."
   Andrea Capone
   Western Pacific International (asi/232476)

"Loved the video. Great tips!"
   Crystal Burke
   Action Ads Tri-Valley (asi/104437)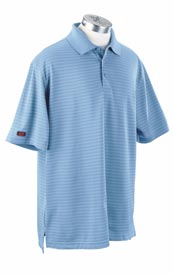 [ OUR FAVORITE WEARABLES ]

Men's Performance Mesh Tonal Stripe Polo
Available From:Ashworth (asi/37128); (800) 619-0096; michelle.fabrizio@ashworthinc.com
Sell To: This is a handsome golf shirt for corporate clients who are looking for a bit more style and technology in their shirt both in the office and on the green.
Style Tip: Style AM 0159 features subtle two-tone striping in three colors: axle, black and waterway. The colors are conservative enough for any corporate environment, but the striping helps it stand out.

[ NEWS BRIEFS ] 
Ashworth Inc. (asi/37128) appointed Dick Gianferante as sales/product manager of the Canadian Sunice Outerwear division. He'll run Sunice sales and promotional brand execution and 40 Sunice reps in the U.S.
Broder (asi/42090) will host an open house even at Soldier Field Stadium in Chicago on September 19. The event is for regional customers to experience brand presentations, attend seminars and meet with vendors. The show will include giveaways, special show pricing and a prize raffle for a flat screen TV, four-pack of baseball tickets and a digital camera.
Pine Island Sportswear (asi/78128) is opening its second location in the Compton, CA, area. The new location is expected to start shipping product by February 2009.
SanMar (asi/84863) will be releasing its 2009 Apparel & Accessories catalog in early August. The 452-page catalog will feature more than 875 products, including the debut of six styles from New Era, the exclusive supplier of on-field caps for Major League Baseball.

[ ASK AN EXPERT ] 
Question: I'm looking for 50 to 100 off-white machine-woven afghans (you know, those kind with the fringe all the way around that are found in novelty catalogs, and they can be customized with wedding dates and such). If you have any ideas, please get back to me.
Answer: You need to contact Atlantic Afghans (asi/37325) and Loom Craft Inc. (asi/67935). Both of these companies make afghans as per your request. So 50 to 100 off-white, machine-woven afghans with fringe wouldn't be a problem.
Selling Tip: Afghans make a great add-on order for corporations that can use them as holiday gifts. They are also a perpetual best seller with schools and sport teams, especially for those cold weather sports.
Question: I have a customer who's looking for a bag, preferably made out of nylon, that will hold rolled-up blueprints. So, it needs to be 30 inches to 35 inches long and about 6 inches around (like a tube) with a shoulder strap. I'd appreciate any help in this matter.
Answer: What about a yoga-mat bag? That's awfully close to the type of bag you're seeking, in that it's cylindrical and has a shoulder strap. The largest one we found is from Alpha Shirt Co. (asi/34408). It's product number DP875W, a micro fiber bag that's 27½ inches by 6 ½ inches by 8 inches. You could also try Amtec (asi/37435). Its product number 7007 is a denier polyester yoga mat bag that measures 27 inches by 6 inches.
Selling Tip: This request is a great example of thinking outside the box when it comes to company requests. Just because the customer might be thinking of one particular product, it doesn't always mean it's the best on for the job. Focus on the need and not just the product.

[ WEARABLES TERMS ] 
Fabric - Terms you should know:
Challis: High-quality, lightweight especially soft fabric made with tightly spun worsted yarns and a plain weave, although sometimes a twill.
Cheviot: Board term for rough-surfaced, heavily fulled woolen or worsted fabrics used to make suits and overcoats.
Covert: Rugged water-repellent fabrics made with a compact twill weave and tightly twisted worsted yarns. Usually two shades of a color are twisted together, creating a two-ply yarn with a flecked or speckled appearance. Used for top coats, suits and sportswear.

[ SHOW LIST ]
July 22-24: The ASI Show Chicago
For more information, call (800) 546-3300 or visit www.asishow.com.
Aug. 7-9: The Imprinted Sportswear Show, Schaumburg, IL
For more information, call (800) 933-8735 or visit www.issshows.com.
Aug. 13: UMAPP Room Show, St. Paul, MN
For more information, call (651) 734-9767 or visit www.umapp.org.
Aug. 17-20: Alberta Gift Show, Edmonton, Alberta, Canada
For more information, call (888) 823-7469 or visit www.albertagiftshow.com.
SPONSORED BY


Wearables Style and Wearables are trademarks of the Advertising Specialty Institute. You were sent this newsletter as a benefit of your ASI membership. Copyright 2008, ASI. All Rights Reserved.
If you'd like us to send Wearables Style FREE to anyone else at your company (or to your off-site sales reps), go to www.asicentral.com/newsletters and complete the online form.
Interested in advertising in Wearables Style? Send an email to ddienna@asicentral.com 
Click here to subscribe to Wearables™ magazine. You must be a member of ASI to subscribe to this publication. The publisher has a right to refuse subscriptions to non-members.
Advertising Specialty Institute®, 4800 Street Road, Trevose, PA 19053