SPONSORED BY


[ VIDEO SELLING TIP ]

Outerwear Logo Placements; Click Here
Wearables Editor Nicole Rollender shows you five hot outerwear styles – including women's fleece and a men's Reebok jacket – and some non-traditional logo and design placements. For example, for a sports team member jacket, you could suggest embroidering the team name on the left chest, the team member's name on the right chest and the team mascot down the right or left sleeve. Embroiderer Darlene Dando of All Quality Stitches and digitizer Jerilee Auclair, owner of Black Eagle designs, performed the logo and design work on these jackets. Click here to watch the video.

Do you like what you see in this video? Send your feedback to Managing Editor Joe Haley at jhaley@asicentral.com.

[ TRENDS ] 

Leggings
The thought of '80s-style leggings returning to favor in the fashion world is sure to send shivers down some spines. Fortunately, times have changed and the sometimes unflattering style is back, but in a more flattering way. These days, leggings are worn as a layering item under dresses, skirts, long sweaters and shirts. Women also wear them in place of panty hose or tights with dresses and even with shorts.

But not all '80s influences have been exorcised from leggings. The stirrup style is a thing of the past, but lace accents can still be found on some styles and some women still wear leggings with flats. But it's just as common today to see leggings paired with high heels or any kind of boots, from cowboy to ankle.



From American Apparel (asi/35297),
leggings in a rainbow of colors.

ADVERTISEMENT

Whether leggings will remain a fashion staple for the next few seasons is tough to say, but currently they're selling very well, says Jin Kang, marketing wholesale trade director for American Apparel (asi/35297). "We simply cannot keep them in stock. The newest series of our black eel leggings are 'must haves' and sell out as soon as they hit our retail shelves."
While black eel leggings might never become a major trend on the promotional scene, basic colors and style are popular with buyers. Their appeal with young women is obvious, but they're also popular with the buyers of yoga wear and activewear. "We have a wide assortment of leggings that are both stylish and trendy," Kang says. "They're seen everywhere and are the newest trend in lots of cities around the world."


From Caro-Line/Bandanna Promotions (asi/44020),
bandanas in all colors and style are popular again.

Bandannas Are Back
Men's accessories have made a real comeback in recent seasons with belts, necklaces, bracelets, rings and headwear. Now, you can add bandannas to the list. They're particularly popular with teenagers and young adults worn around their heads or loosely around their necks. The look, which is a big part of street fashion and skurban (skater/urban) culture, is present in nearly every imaginable bandanna pattern and color.

Selling Tip: Bandannas are unisex items that teenage girls are also excited about. Making them part of a music promotion, youth event or school-related activities is sure to be a success.

Wild About Animal Prints
Animal print apparel and accessories are red hot right now. Everything from zebra and leopard to giraffe and tiger prints are big in women's wear of all kinds. Shoes, shirts and dresses are all popular canvases for this most natural of styles – but bags and purses are where the real action is taking place, promotionally speaking. And don't worry about any protests from animal lovers: All of these garments use faux prints.

Selling Tip: Mixing animal prints is definitely something to avoid. Their busy patterns are best used sparingly as accent piece that draw the eye – which also makes them perfect as a promotional product.


From JoAnn Marie Designs (asi/63381),
animal prints are hot in apparel right now
and sure to attract attention.
Attention Readers: Are We On Trend or Way Off?
Distributors are a busy group, so we try to keep you updated on what's hot in apparel right now and in the near future. We'd like your feedback on how we're doing picking trends and providing information you can use. Please send an e-mail to Matt Histand, senior editor, at mhistand@asicentral.com, to let us know what you like and what else you'd like to see in this newsletter. Thanks for reading.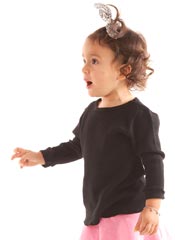 [ OUR FAVORITE WEARABLES ]

Infant Long-Sleeve Thermal
Available From: Royal Apparel (asi/83731); (866) 769-2517; sales@royalapparel.net
Sell To: A great addition to any company or event that has parents looking for something a bit different for their infant.
Style Tip: Style is nice but a soft, gentle hand is often more important when it comes to infant wear. Each shirt is made from 6.5 oz. combed ringspun cotton for extra softness, so be sure to take a sample with you on your next sales call.

[ NEWS BRIEFS ] 

Alstyle Apparel & Activewear (asi/34817), a subsidiary of Ennis Inc. (asi/52493), has announced the company's expansion to a new manufacturing facility to be built in Agua Prieta, Mexico.

Aprons Etc. (asi/36558) introduced a new line of disposable die-cut aprons and bibs for 2008 mid-year release. They're available in either non-woven or plastic substrates with imprinting or blank stock options.

Broder (asi/42090) announced that sales of Adidas merchandise in the imprintables market have grown more than 60% since 2005. The company is also adding four additional brands in 2009 for a total of over 150 new styles. Among them is the debut of PlayBack in the promotional industry, as well as Rossignol, Dickies' Chefwear, 180 Degrees and Comfort Colors.

[ ASK AN EXPERT ] 
Question: Do you know where I can find cycling apparel that I can embroider or screen print?
Answer: I've found what you're looking for. Carefreecasuals.com (asi/43851) has cycling apparel, including cycling shirts and shorts. You can also try Martini Promotions (asi/68935). This company has quite a few cycling shirts and shorts to pick from. Cycling apparel isn't a huge market, by the way, so this could be pretty lucrative if you play your cards right.
Selling Tip: Niche sports and recreation markets are a great way to expand your capabilities. If you dedicate the time and effort, you can become an expert in a particular market, which can grow into a very lucrative revenue stream.
Question: I'm looking for wind shirts in white. The only company that has them is Windshirts.com, but it requires a 36-piece minimum. I'm going nuts trying to find these!
Answer: You didn't give us too much detail here. White is something, but what about sleeve length? And what about polo or V-neck style? Details, details! Anyway, we've got options. First, try Antigua Group Inc. (asi/36320). Product 522104 is a 100% polyester, raglan, mock-neck wind shirt with a ½-zip placket. It comes in white, in sizes S-3XL. Also check out product 522105, a V-neck pullover wind shirt with long sleeves in white, in sizes S-3XL. Also try Ahead (asi/33220). Product EX25 is a cotton/spandex wind shirt that's water resilient and then product EX28 is a cotton/polyester, short-sleeve wind shirt that's wind resistant and offers moisture wicking. Both come in white, of course.
Selling Tip: The great thing about white garments is when it comes to decorating, the possibilities are wide open. The clean surface looks great with any color or embellishment technique.

[ WEARABLES TERMS ] 

Fabric - Terms you should know:

Donegal Tweed: Woolen tweed fabric that's characterized by thick, random multicolored slubs.

Harris Tweed: A trademark for an imported tweed made of virgin wool from the Highlands of Scotland, spun, dyed and hand-woven by islanders in Harris and other islands of the Hebrides.

Herringbone: A variation on the twill weave construction in which the twill is reversed, or broken, at regular intervals, producing a zigzag effect.

Tartan: Wool, worsted or cotton cloth made in plain weave or in a twill weave. Tartan is popular in caps, dresses, neckwear, shirts, sport coats and trousers.

[ SHOW LIST ]
July 17-19: The NBM Show, Long Beach, CA
For more information, call (800) 669-0424 or visit www.nbmshows.com.
July 18-20: The Imprinted Sportswear Show, Providence, RI
For more information, call (800) 933-8735 or visit www.issshows.com.
July 18-21: California Gift Show, Los Angeles
For more information, call (213) 362-5640 or visit www.californiagiftshow.com.
July 22-24: The ASI Show Chicago
For more information, call (800) 546-3300 or visit www.asishow.com.
Aug. 7-9: The Imprinted Sportswear Show, Schaumburg, IL
For more information, call (800) 933-8735 or visit www.issshows.com.
Aug. 13: UMAPP Room Show, St. Paul, MN
For more information, call (651) 734-9767 or visit www.umapp.org.
Aug. 17-20: Alberta Gift Show, Edmonton, Alberta, Canada
For more information, call (888) 823-7469 or visit www.albertagiftshow.com.
SPONSORED BY


Wearables Style and Wearables are trademarks of the Advertising Specialty Institute. You were sent this newsletter as a benefit of your ASI membership. Copyright 2008, ASI. All Rights Reserved.
If you'd like us to send Wearables Style FREE to anyone else at your company (or to your off-site sales reps), go to www.asicentral.com/newsletters and complete the online form.
Interested in advertising in Wearables Style? Send an email to ddienna@asicentral.com 
Click here to subscribe to Wearables™ magazine. You must be a member of ASI to subscribe to this publication. The publisher has a right to refuse subscriptions to non-members.
Advertising Specialty Institute®, 4800 Street Road, Trevose, PA 19053