SPONSORED BY


[ VIDEO SELLING TIP ]

Multimedia Designs With Screen Printing; Click here
Screen printing can be paired with embroidery, appliqué and other embellishment options to create in-demand multimedia designs. In this video, Wearables Editor Nicole Rollender shows you four retail-inspired shirts decorated by Eric Withaar, president of Sportco USA, and Tom Vann, president and CEO of Target Graphics (asi/90549). Specialty screen-printing inks are also hot, and you'll see an example of puff ink. "Texture is in again," Vann says. "People want softness, but they also want print with some kind of dimension. Puffs are the most inexpensive way to do this."

Embellishment Tip: Adding texture with a puff is the most cost-effective way of getting a raised, dimensional look. High-density inks can also be used to create this effect, but this is a more costly method. These inks are tall and have a good deal more texture than puff, but they're time consuming to apply. Using a high-density ink can result a $1 to $3 upcharge on a shirt. Click here to watch the video.

Do you like what you see in this video? Send your feedback to Managing Editor Joe Haley at jhaley@asicentral.com.

[ TRENDS ] 

Alternative Apparel Helps Heroes


Alternative Apparel (asi/34850) donated its time and efforts to help support the 2008 Elizabeth Glaser Pediatric AIDS Foundation's "A Time for Heroes" event in Los Angeles on June 8. It was the second time Alternative has signed on as the official apparel provider by donating more than 2,500 eco-friendly, super-soft T-shirts for event volunteers and 100 vintage-inspired Hero Hats for participating celebrity "heroes."



Stylish Mischa Barton with her
Alternative Apparel (asi/34850) Earth Kit.

ADVERTISEMENT

The annual event drew more than 2,000 people to the Wadsworth Theater grounds, including popular celebrities such as Robin Williams, Courteney Cox and David Arquette, Marcia Cross, Denise Richards, Mischa Barton, reality show starts Khloe Kardashian and Heidi Montag, and gossip columnist Perez Hilton.

Courtney Cox, with husband David Arquette, sports one of Alternative's signature hats.


Denise Richards stands with a friend
at Alternative's Green Forest booth.


Heroes star Zachary Quinto certainly fulfills
the event's "A Time For Heroes" quota.
In addition to providing shirt for the staff, Alternative created a special "Design a Tee, Plant a Tree" activity booth where visitors created more than 500 T-shirts for Alternative's Green Forest. Each shirt represented a tree that will be planted in Southern California on Arbor Day. Guests also received an Alternative Earth Kit, which included an eco-friendly T-shirt, fabric markers, a flower seed packet and planter.
"I'm excited to be supporting such an important and relevant organization as the Elizabeth Glaser Pediatric AIDS Foundation again this year," says Greg Alterman, founder and creative director of Alternative Apparel. "The energy and spirit of 'A Time for Heroes' is amazing, and it's a great feeling to know we're making a difference within local communities and around the world."

From Earth Axxessories (asi/51496),
fringe is back but only in small doses.

On the Fringes
Fringe on your clothing may indicate a Western lifestyle or even that of a heavy metal rocker, but this decorative detail is actually a very fresh and popular touch that's been popping up on many types of apparel and accessories this summer. Before you advise your client to purchase big-fringed jackets, know that fringe is back in just small doses, namely on shoes, purses and women's tops. The look isn't for everyone but it certainly is one trend that can attract lots of attention.

Selling Tip: If fringe is your client's thing, advise him or her to wear it sparingly. Leave the jackets and pants in colorful colors to cowboys and ice skaters.

Orange Hot
Next time you see someone wearing an orange jacket, take notice because it may not be a safety worker. According to fashion experts, orange will be a very a very hot color this coming fall. It may not be the new black but it does suit the season and is a great color for fall. If you fear it may be too much, recommend that your clients stick with a basic T-shirt, scarf or an accent color in a floral print or plaid.

Selling Tip: Orange may be hot but it's not for everyone. Advise your clients to stick with conservative colors for business wear, but when it comes to promotional events with younger people or out-of-the-ordinary clients, orange maybe just what the thing.


From Codet Newport Corp. (asi/45605), this 100% cotton twill coat in blazing orange.
Attention Readers: Are We On Trend or Way Off?
Distributors are a busy group, so we try to keep you updated on what's hot in apparel right now and in the near future. We'd like your feedback on how we're doing picking trends and providing information you can use. Please send an e-mail to Matt Histand, senior editor, at mhistand@asicentral.com, to let us know what you like and what else you'd like to see in this newsletter. Thanks for reading.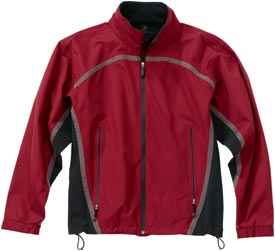 [ OUR FAVORITE WEARABLES ]

Storm Creek Waterproof Soft Shell Jacket
Available From: River's End Trading (asi/82588); (800) 488-4800; sales@riversendtrading.com
Sell To: This jacket is great for schools and sports teams. It's also suitable for corporate programs and can be personalized for business trips.
Style Tip: This style is perfect for a golf event. It can be given away with the golfer's name or organization on it. Its waterproof finish makes it perfect for when the day turns stormy.

[ NEWS BRIEFS ] 
Boxercraft (asi/41325) announced a company-wide green campaign that will include reducing, reusing and recycling initiatives. The company says the new program will save more than 96 trees and 2,280 gallons of oil each year.
SanMar (asi/84863) is partnering with Wilcom to directly integrate its orders and product purchasing from the latest version of Wilcom's Business Advantage software tool, which is designed specifically for small- and medium-sized companies involved in embroidery, screen printing and other decoration processes.

[ ASK AN EXPERT ] 
Question: I'm looking for a heavier-weight women's cardigan. SanMar's (asi/84863) Port Authority has a 7 oz. cardigan, but my customer says it's too thin. Most brands I'm finding are around 6.5 ounces and describe them as "lightweight" or "fine gauge."
Answer: We had a tough time finding the ounces listed in product descriptions, so we understand your frustration. But, we did find some things for you. First, go to Zorrel International (asi/99550); its product number 5023 is a 9.7 oz., 100% combed cotton flatback cardigan that comes in black, catamara blue, chocolate and tomato. Then, have you heard of HMB INC/Andrew Rohan (asi/58794)? This company specializes in sweaters and would be worth your while to check out. Again, we don't see ounces listed, but the folks there could direct you to a heavier cardigan.
Selling Tip: Sweaters – and particularly cardigan sweaters – are an absolute must when selling corporate women's wear. Most women prefer a cover-up piece that they can mix and match. Plus, a cardigan can translate into extra sales on top of the standard corporate polo or button down.
Question: We have a customer who supplies us with a Cabela's trail shirt that we embroider. The shirts are being discontinued and my client wants another option in a similar color – steel blue. The shirt needs to be a heavier weight fabric and only have one pocket. Do you know of anything close to this?
Answer: Per your request, we went on a safari of our own by checking out the shirt on the Cabela's Web site to get all the specs. Well, we managed to find you a similar shirt with one pocket – just like you requested. It's also a little heavier weight than the shirt at Cabela's, to boot. Contact Akwa (asi/33280); its product number 1626-TWL is a long sleeve, 6.5 oz. cotton/poly twill work shirt that has a left-chest pocket and a pen hole. It comes in steel blue, in sizes S-3XL. Also, in case you'd like a similar option in a short-sleeve style, this company also has that in product number 1625-TWL.
Selling Tip: Always keep in mind that extended sizes cost more. It's fine to base your quote on standard sizes S-XL, but some companies charge more for anything larger. While most orders won't include many 2XL and above shirts, not including an additional fee for them may eat into your profit margin.

[ WEARABLES TERMS ] 
Fabric - Terms you should know:
Denim: A durable cotton twill traditionally a shade of blue. Once denim was strictly used for jeans or work pants; now it's popular in all modes of apparel.
Combed Cotton: Cotton that has been combed to remove short fibers and straighten long fibers for a smooth, finer hand.
Polynosic: A stable rayon fiber that has a soft, silk-like hand.
Satin: The name originated in China. Satin cloths were originally of silk. Similar fabrics are now made from acetate, rayon and some of other man-made fibers. The fabric has a very smooth, lustrous face effect while the back of the material is dull.

[ SHOW LIST ]
July 17-19: The NBM Show, Long Beach, CA
For more information, call (800) 669-0424 or visit www.nbmshows.com.
July 18-20: The Imprinted Sportswear Show, Providence, RI
For more information, call (800) 933-8735 or visit www.issshows.com.
July 18-21: California Gift Show, Los Angeles
For more information, call (213) 362-5640 or visit www.californiagiftshow.com.
July 22-24: The ASI Show Chicago
For more information, call (800) 546-3300 or visit www.asishow.com.
Aug. 7-9: The Imprinted Sportswear Show, Schaumburg, IL
For more information, call (800) 933-8735 or visit www.issshows.com.
Aug. 13: UMAPP Room Show, St. Paul
For more information, call (651) 734-9767 or visit www.umapp.org.
Aug. 17-20: Alberta Gift Show, Edmonton, Alberta, Canada
For more information, call (888) 823-7469 or visit www.albertagiftshow.com.
SPONSORED BY


Wearables Style and Wearables are trademarks of the Advertising Specialty Institute. You were sent this newsletter as a benefit of your ASI membership. Copyright 2008, ASI. All Rights Reserved.
If you'd like us to send Wearables Style FREE to anyone else at your company (or to your off-site sales reps), go to www.asicentral.com/newsletters and complete the online form.
Interested in advertising in Wearables Style? Send an email to ddienna@asicentral.com 
Click here to subscribe to Wearables™ magazine. You must be a member of ASI to subscribe to this publication. The publisher has a right to refuse subscriptions to non-members.
Advertising Specialty Institute®, 4800 Street Road, Trevose, PA 19053