| | | |
| --- | --- | --- |
|  Volume 75  | |  June 9, 2008  |

SPONSORED BY


[ VIDEO SELLING TIP ]

Logo Placement and Embellishment Tips. Click here to watch the video. Polo shirts, much like the T-shirt, are an industry staple. The same goes for logo placement – the left chest has been the location of choice. Wearables Editor Nicole Rollender shows you eight polo shirts with some very unique logo placement and embroidery techniques. For example, if you thought puff embroidery was just for caps, think again – the Corvette logo looks great as puff embroidery on a polo shirt. Click here to watch the video.

Do you like what you see in this video? Send your feedback to Wearables Managing Editor Joe Haley at jhaley@asicentral.com.

ADVERTISEMENT


[ AUDIO SELLING TIP ]

Sales Tip: Here's One Sale You Can't Do Without: Women's Outerwear
In this podcast, Nancy Wood, veteran sales rep at Charles River Apparel (asi/44620), talks about why selling women's outerwear is crucial to any distributor's success. After all, women now make up a significant chunk of the workforce, so there's no excuse for putting them in a man's style. Click here to listen to the podcast.

Did you find this podcast useful? Send your feedback to nrollender@asicentral.com.

[ TRENDS ] 
The Ultimate Power Bag
Today digital devices make the business world go round, from cell phones and laptops to PDAs and digital cameras. But without power everything can come to an immediate halt. A new line of bags from Voltaic Systems (asi/94160) is literally redefining what it's like to be power player in business.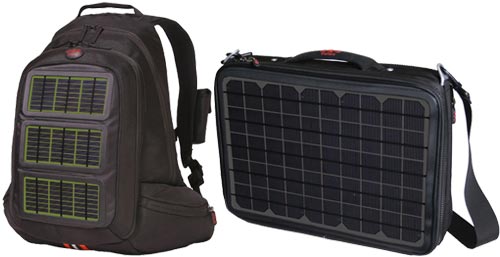 From Voltaic Systems (asi/94160), these bags come with solar panels to collect energy
from the sun that can be used to power an iPod, cell phone or even a laptop. 
Each waterproof bag and backpack comes with a row of solar panels that collect energy from the sun and stores it in a custom lithium-ion battery contained within. With just a one-hour charge you can collect four watts of power, which is enough for one-and-a-half hours of cell phone talk or three hours of iPod play.
The newest product from the line is the Generator bag especially made for the business traveler. It's a little bigger than a standard briefcase and takes longer to charge, but it stores up to 17 watts of power, equal to one full charge of a laptop battery. As with each bag, it comes with 11 adapter plugs for most digital devices along with adapters for the car or wall socket, so you can top off the battery before starting your trip.
Currently, the bags only come in black but the solar panels themselves are available in green, orange, silver or charcoal. Each bag can be logoed via silk screening, embroidery or with a patch. They are even made from recycled bottles that have been specially created for Voltaic bags so they're extra-durable.
Best of all is their appeal. "We have travelers who love them because they can charge their digital devices and don't have to pack extra batteries," says Mark Watkins, who does sales and marketing for the supplier. "Young kids like them because they're tuned into the environment and want to use renewable energy sources. And for businesspeople who are dependent on their BlackBerry or cell phone, it can be a career saver."



From Edwards Garment (asi/51752), the leather braided belt is
back to fulfill all wearers' preppie desires.

Braided Belts
Good news. The retro prep look is complete. You can now top off the cardigan, boat shoes, blazer and striped tie with a braided belt. Leather is the classic look, but your clients can also choose from cotton, hemp or even rope. Advise clients to stick with leather for a more formal occasion such as a business meeting, while reserving the other materials for more laidback summertime activities such as company barbecues and beach parties.
Selling Tip: Recommend to clients that they keep the prepster look to a minimum unless they're attending a theme party of some kind or an Ivy League alumni event. Sometimes subtle accents make the best impact.


Oversized Clutch
The original idea behind a clutch was for women to lighten their loads when going out. The clutch contained only the bare essentials such as lipstick, money, ID and a credit card. Today women have many more "bare essentials" such as a cell phone, BlackBerry or iPod. That could explain why the clutch' popularity has grown in recent years. Regardless of the reason, the look that has become very popular with women of all ages is certainly one to watch.

From Latico Leathers (asi/66575), it may be a clutch but it's oversized
to fit everything a woman needs for a night out – and then some.
Selling Tip: Most clutches still have only one compartment for easy access, but they come in a rainbow of colors and styles. Leather and black are still the leading choices but don't forget about showing clients micro fiber and canvas.
Attention Readers: Are We On Trend or Way Off?
Distributors are a busy group, so we try to keep you updated on what's hot in apparel. We'd like your feedback on how we're picking trends and providing information you can use. Please send an e-mail to Matt Histand, senior editor, at mhistand@asicentral.com, to let us know what you like and what else you'd like to see in this newsletter. Thanks for reading.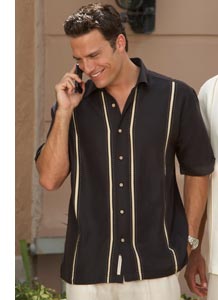 [ OUR FAVORITE WEARABLES ]

Diagonal Twill With Inset Panels
Available From: Perry Ellis International (asi/77715), as part of its Cubavera collection.
Sell To: It's a great item for resort markets such as hotels and cruise ships to sell as a keepsake or for beach-themed bars and restaurants as uniforms for wait staff.
Style Tip: Try a sales incentive trips. Personalize the shirts with each person's name and place them in their hotel room with an invitation to dinner. This way each person comes to dinner dressed similarly, but each with his or her own unique style.

[ NEWS BRIEFS ] 
Broder (asi/42090) hosted a recent open house in Philadelphia that attracted more than 500 regional customers. Held at the Moshulu Restaurant, the event gave attendees the chance to attend brand presentations and business seminars.
Heritage Sportwear's (asi/60582) annual open house event experienced a 25% jump in attendance over the previous year. Customers in attendance were treated to a fashion show, sneak peak at new products for 2009, special pricing for orders placed during the event and collection of samples.
SanMar (asi/84863) has release two new catalogs: the 36-page 2008 District Threads catalog, which includes a preview of fall styles, and the 48-page 2008/2009 Workwear catalog of apparel and accessories.
Vantage Apparel (asi/93390) hired Brett Garran as the sales rep for northern NJ and western NY.

[ ASK AN EXPERT ] 
Question: Do you know where I can find kids' denim bib overalls? I like the ones that OshKosh sells, but I can't find a supplier for them. I have an order for sizes 6 months-5T. Please help.
Answer: Start your search at Valtex LLC (asi/93275). Product number 1570 is a pair of toddler-sized overalls that come in sizes 2T-5/6. Then, product number 1580 is the matching infant-sized overalls that come in sizes 6 months-24 months. This supplier also has shortalls: product number 1560 for infants and number 1510 for toddlers. Next, check out the selection at One Stop (asi/75085). This supplier also offers infant- and toddler-sized denim overalls and shortalls. Product numbers EZ815 (toddler) and EZ817 (infant) are the overalls, and EZ814 (toddler) and EZ 816 (infant) are the shortalls.
Selling Tip: Kids' wear has increasing become a category you need to offer when doing corporate programs and family-related promotions. It might not be as big a seller as other wearables categories, but it has the potential to make or break some sales.
Question: I have been looking for camo hooded pullover sweatshirts forever. They have to be the Mossy Oak style, not the military camo. Do you have any ideas who might have these? Also we've always bought from Lee a ¼-zip hooded pullover sweatshirt – they of course no longer handle them. I've found thermal ones, but all we want is a regular sweatshirt material.
Answer: Don't worry. We've found your sweatshirt! Go to Clarkfield Ent. Inc. (asi/45275). Product number 645 is a pullover camo sweatshirt that comes in the woodland style camo. And, we've got your ¼-zip hooded sweatshirts, too. You can try S&S Activewear (asi/84358). Product number 1280 is a 60/40 cotton poly sweatshirt with a contrast colored hood that should do nicely.
Selling Tip: Camo is here to stay so there's no need to worry about it going out of style next year. It's available in classic colors, woodland print and a host of bright colors to suit all styles.

[ WEARABLES TERMS ] 
Apparel Details - Terms you should know: 
Cover Stitching: Using two needles to overlap threads underneath, covering the over-edged seams with smooth-seamed layers of threads.
Facing: A piece of fabric that is sewn to the collar, front opening, cuffs or arms of a garment to create a finished look.
Interlining: An insulation, padding or stiffening fabric, either sewn to the wrong side of the lining or the inner side of the outer shell fabric. The interlining is used primarily to provide warmth in coats, jackets and outerwear.
Storm Flap: A strip of fabric that covers the zipper or snap closure of a jacket to protect against wind and moisture. Storm flaps can also be sewn on the inside of the zipper.

[ SHOW LIST ]
June 19-21: The NBM Shows, Baltimore
For more information, call (800) 669-0424 or visit www.nbmshows.com.
July 17-19: The NBM Shows, Long Beach, CA
For more information, call (800) 669-0424 or visit www.nbmshows.com.
July 18-20: The Imprinted Sportswear Show, Providence, RI
For more information, call (800) 933-8735 or visit www.issshows.com.
July 18-21: California Gift Show, Los Angeles
For more information, call (213) 362-5640 or visit www.californiagiftshow.com.
July 22-24: The ASI Show Chicago
For more information, call (800) 546-3300 or visit www.asishow.com.
Aug. 7-9: The Imprinted Sportswear Show, Schaumburg, IL
For more information, call (800) 933-8735 or visit www.issshows.com.
Aug. 13: UMAPP Room Show, St. Paul
For more information, call (651) 734-9767 or visit www.umapp.org.
Aug. 17-20: Alberta Gift Show, Edmonton, Alberta, Canada
For more information, call (888) 823-7469 or visit www.albertagiftshow.com.

SPONSORED BY



Get latest news and trends in the fast-changing wearables market!
Subscribe to Wearables Style.
Advertising Specialty Institute® 4800 Street Road, Trevose, PA 19053 

Subscribe to Wearables™ magazine. You must be a member of ASI to subscribe to this publication. The publisher has a right to refuse subscriptions to non-members.
Wearables Style and Wearables are trademarks of the Advertising Specialty Institute. You were sent this newsletter as a benefit of your ASI membership. Copyright 2008, ASI. All Rights Reserved.