| | | |
| --- | --- | --- |
|  Volume 74   | |  May 12, 2008   |

SPONSORED BY


[ VIDEOS FROM THE ASI SHOW IN NEW YORK ]

At Wearables University, a recent addition to Education Day, distributors had the opportunity to learn about embroidery and screen-printing techniques. Brian Greul, president of The Texas Shirt Co. (asi/343253), taught "Embroidery Decorating Techniques" for distributors. "The proofing process is so important for embroidery," he said. "Clients need to approve their logo at the design, sew-out and sample stages. Proofing will save you – but if you don't do it, it will sink you." He also recommended that distributors work with reputable, good digitizers to produce the best-quality designs with the least amount of stitches.
Click here to watch Stitches and Wearables Editor Nicole Rollender talk with Greul about why it's so important for distributors to understand the digitizing and embroidery production process.

In his session, "Innovative and Traditional Screen-Printing Techniques," Tom Vann, CEO of Target Graphics Ltd. (asi/90549), taught distributors about special effects inks. "Special effect inks provide an opportunity for you to upsell," he said. Among the specialty inks available: glow in the dark, puff and suede, glitter and crystallina, and metallic and foil.

Click here to watch the video of Rollender asking Vann to show some of the most popular specialty ink techniques out there. 

[ FASHION FINDS FROM THE SHOW ] 


Wondering about the latest apparel available in the ad specialty industry? Rollender checked out some supplier booths to find some of the most popular items on display. Click here to see what she found.


On the second day of the show Rollender interviewed Hillary Braubitz, senior designer for ASI magazines, about some of the apparel that caught her eye. Click here to watch the video.

[ TRENDS ] 


From In Your Face Apparel (asi/62494), custom
all-over print shirts are attracting a lot of
attention with promotional end-buyers.
All-Over Print Shirts
T-shirts have become something of a fashion staple at retail over the last few years. One of the most popular is the all-over print shirt or "fashion shirt." What makes the shirt so in demand is the innovative way it's decorated with designs, patterns and colors that go outside the lines of traditional imprinted T-shirts.
Whereas most T-shirts are printed on the front of the shirt, on the left-chest pocket or on the back, the embellishment on all-over print shirts spills right to the edges of the garment and often down the hem and arms. The look is stunning and completely different than anything else.
While most decorators and suppliers are still struggling to catch up, the style is available in the promotional industry from In Your Face Apparel (asi/62494). The shirts are made by printing directly on the garment with water-based ink, in a process called "watermation." The supplier has been making the shirt for a few years in smaller quantities but predict this year will be tipping point when more distributors take notice and begin pitching the style.
Such results do come at a price that's more than what many distributors and their clients are used to paying. The technique costs around $10 a shirt. That may seem be a great deal more than a typical screen-printed shirt but when compared to the $49-to-$125 price range of most retail fashion shirts of the same style, it's an absolute steal.
"When we first introduced this large-format, all-over print shirt, we would quote $10, and the distributor would say that their customer would never pay that," says Doug Stayman, president of In Your Face Apparel. "This year, for the first time, distributors are getting requests for all-over prints shirts from their customers. What has happened is that the end-user now understands that it's not the same product as a basic screen-printed shirt, so the $10 cost compares to a $40 retail shirt. The result is that we're selling more and more of these types of products."


From Perry Ellis Intl. (asi/77715), the
pinstripe shirt is back in fashion as a
stand-alone item, so leave that tie behind.

Pinstripes
The men's pinstripe shirt is back in fashion, not that it ever really left when matched with a tie. But it's back as a standalone item, worn untucked with jeans or tucked in with slacks and a blazer. The look is popular in both white shirts with dark pinstripes and dark shirts with light pinstripes. Either way, leave the tie behind and let the shirt do the talking.

Selling Tip: Pinstripes add a bit of flair to an otherwise conservative business outfit or uniform. But make sure to avoid pinstripe pants. One pinstripe item is more than enough to make a statement.
Cobalt Blue
Expect to see a lot of blue this year, particularly cobalt blue. This eye-catching and bold blue is becoming popular in women's wear in tops, bottoms and in many of the stylish new dress style. The color is also popping up in accessories such as shoes, purses and belts. While found more sparingly in the promotional industry, cobalt blue is definitely a color option worth checking out.

Selling Tip: Cobalt blue goes with just about every color, making it a great accessory item. Look to offer a small flourish of this gorgeous color to round out your next apparel offering.


From Kavio! (asi/64152), the junior cheerleader skort (style 0200) and junior football top (style 197) come in matching cobalt blue colors.
Attention Readers: Are We On Trend or Way Off?
Distributors are a busy group, so we try to keep you updated on what's hot in apparel. We'd like your feedback on how we're picking trends and providing information you can use. Please send an e-mail to Matt Histand, senior editor, at mhistand@asicentral.com, to let us know what you like and what else you'd like to see in this newsletter. Thanks for reading.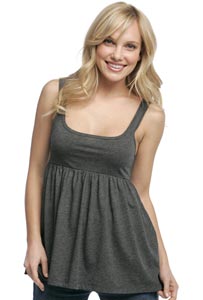 [ OUR FAVORITE WEARABLES ]


Baby Doll Top

Available From: California Basics (asi/71050), as part of its glam collection.

Sell To: Good for any women's promotion that requires a feminine silhouette.

Style Tip: Pair the baby doll top with a cardigan. The cardigan makes the top suitable for both the office and evening. Plus, it doubles your sales.

[ NEWS BRIEFS ] 

One Stop (asi/75085) has released its 2008 Enza "It's All in the Details" catalog.

SanMar (asi/84863) has released its summer 2008 issue of RH Reserve, a magalog devoted to the wine country lifestyle and championing the inspiration of Red House. It includes articles that range from planning the perfect event to practical pointers on wine pairing and fabric performance.

S&S Activewear (asi/84358) celebrated its 20th year in business with an open house at its headquarters in Bolingbrook, IL. Approximately 1,950 guests visited with 38 different manufacturers and attended a 30-minute runway fashion show featuring the vendor's complete 2008 product line.

Vantage Apparel (asi/93390) has introduced a new catalog featuring the Vantage Green label of organic and sustainable apparel. The collection includes 100% certified organic polos, woven shirts, sweaters, T-shirts and headwear and a jersey fleece hoodie made from recycled soda bottles as well as a new organic tote bag. 

[ ASK AN EXPERT ] 
Question: I've been looking for a supplier for Western shirts. Also, I'd like to find a supplier close to Mission, TX, where I can get the next-day service
Answer: You'd think Texas would have a company that offers western shirts, but it doesn't. How's Arizona? If that works, the company's Carefreecasuals.com (asi/43851). Product number 70127 is one option; 73105 is another. Then, how about Colorado? Go to A Design N Time Inc. (asi/30264) or Roper Apparel and Footwear (asi/83580). Both companies have a slew of Western shirts to choose from.
Selling Tip: Western wear has become a consistent seller for distributors, as both a trendy fashion item and for Western-themed events and promotions.
Question: I'm trying to find tennis uniforms at wholesale prices. Any leads?
Answer: I don't have much. But, I do have a great supplier that deals strictly with tennis apparel. It's Sports One Group (asi/50240). I know the company offers a tennis dress (W0603) in wholesales sizes, but you'll have to check about the rest of the apparel. It may just be available retail. Not sure. The rest of my options are just sporadic pieces, but something, to say the least. Contact Colorado Timberline (asi/91263). They offer product number WLS, which is a tennis skort that's made of 93/7 microfiber/spandex. It comes in black, forest, navy, red, royal and white. Also try Mias Fashion MFM Co Inc. (asi/71050); its product number 5D050D is a tennis tunic with a contrast skirt.
Selling Tip: Lots of distributors focus only on the major sports, leaving money on the table. Many towns and regions have sports teams that are under-served. While not all are as big as, say baseball, basketball or soccer, combined they represent a sizable business for you to acquire.

[ WEARABLES TERMS ] 
Apparel Details - Terms you should know: 
Cord Locks: A stopper or toggle on a drawcord that keeps the cord from retracting into the garment.
Lapel: Either of the two folded-back front edges of a jacket or shirt that are continuous with the collar.
Locker Patch: An oval panel sewn into the inside back of a sportshirt, under the collar seam.
Placket: The opening of a shirt or jacket where the garment fastens or at a pocket. A reverse placket is the reversed opening for women's garments.
Welt: A strip of material seamed to a pocket opening as a finishing as well as a strengthening device, or a covered cord or ornamental sewn on a border or along a seam.

[ SHOW LIST ]
May 12-16: The ASI Advantages Roadshow, Pittsburgh; Buffalo, NY; Rochester, NY; Albany, NY; Boston
For more information, call (800) 546-3300 or visit www.asishow.com.
May 18-20: Surtex, New York
For more information, call (914) 421-3200 or visit www.surtex.com.
May 20-21: The Supply Side, New York
For more information, call (914) 421-3200 or visit www.thesupplyside.com.
May 22: UMAPP Room Show, St. Paul, MN
For more information, call (651) 734-9767 or visit www.umapp.org.
June 3-4: Promotions East, Atlantic City, NJ
For more information, call (201) 505-9550 or visit www.promotionseast.org.
June 19-21: The NBM Shows, Baltimore
For more information, call (800) 669-0424 or visit www.nbmshows.com.

SPONSORED BY



Get latest news and trends in the fast-changing wearables market!
Subscribe to Wearables Style.
Advertising Specialty Institute® 4800 Street Road, Trevose, PA 19053 

Subscribe to Wearables™ magazine. You must be a member of ASI to subscribe to this publication. The publisher has a right to refuse subscriptions to non-members.
Wearables Style and Wearables are trademarks of the Advertising Specialty Institute. You were sent this newsletter as a benefit of your ASI membership. Copyright 2008, ASI. All Rights Reserved.