| | | |
| --- | --- | --- |
|  Volume 73   | |  April 28, 2008   |

SPONSORED BY


[ AUDIO SELLING TIPS ]
Denver Stitches Roadshow Coverage
Stitches and Wearables Editor Nicole Rollender attended the third Stitches Roadshow in Denver on April 15. More than 350 attendees walked the show floor, attended an education session on how to grow their businesses and a networking lunch on how to close the sale, from finding prospects to getting repeat orders after that first sale.
Fred Lebow, director of nonwovens at Cotswold Industries, was one of the panelists at the morning education session, "How to Take Your Decorating Business to the Next Level." Listen to Nicole Rollender talk with him about some of decorator attendees' most pressing questions, including: When do I buy a single- versus multi-head machine? Should I take my embroidery business on the road? How important is it to find a niche? Click here to listen to the podcast.
Jim Soltedahl, co-owner of Outstanding Images Inc., talks about his diverse client base and his search for new digitizing software. Click here to listen to the podcast.
Peg Bowles, owner of Initial Impressions, talks about how she plans to diversify her embroidery business with rhinestones, add non-embroiderable products to her wares and keep attracting customers with her low-cost blog. Click here to listen to the podcast.
Do you like what you hear in these podcasts? Send your feedback to nrollender@asicentral.com.

[ TRENDS ] 


From Fox Run Sports (asi/55233), striped leg warmers that
can be made it tons of different color combinations.
Leg Warmers
Are you a maniac? Are you sure? Because it seems that the most Flashdance-like of fashion accessories, the leg warmer, crept back into fashion favor when someone wasn't looking.
Leg warmers never went out of style if you are a dancer, but for the rest of America, they disappeared around the end of the Reagan administration. After the appropriate 20-year rest, they began appearing again. As best fashionistas can guess, they first appeared again on an ironically dressed New York hipster before spreading to trendy college girls and finally a high-fashion model in Milan.
This time around, there are two styles of leg warmers: the traditional baggy version and a new type with a drawstring that resembles the leggings worn by Native Americans. Both kinds are worn with sneakers, flats and – believe it or not – high heels.
Selling Tip: Leg warmers are ideal for dancers and cheerwear programs, as well as trendy fashion events such as radio station giveaways, college stores and retro-clothing boutiques.


From Jam Designs Inc. (asi/62980), the 500-122
style bangle is made from hand-polished pewter.

Bangles
Whether they're made from metal, wood or plastic, bangles continue to be a very popular fashion accessory – and the chunkier, the better. Even better news is that wearing just one just won't do. Bangles are often worn together for a stacked look. Style tip: Be careful not to combine too many different styles on one wrist. Keep metal with metal, plastic with plastic, and so forth.

Selling Tip: Bangles make a great alternative to the flimsy wristbands often given out at clubs or parties to mark admission, especially when they can be used again as fashion items.
Three-Quarter-Length Sleeves
Sleeve length is a pretty simple choice for men: short or long. But women have another option with the increasing popularity of the ¾-length sleeve. Sure, the traditional baseball T-shirt has long sported the mid-length sleeve, and now more and more shirts are sporting the new sleeve length, giving them a decidedly feminine appeal. The shirts can be worn alone, with gloves or with a contrasting long-sleeve shirt underneath.

Selling Tip: Three-quarter-length sleeves can be found at retail in blouses, polos, sweaters and jackets, but for promotional buyers stick with the basics: wovens and polos.


From Hartwell Classic Apparel (asi/60135), this shirt (product number WDMUHO33) has the
¾-length sleeves that are beginning to appear
on many women's promotional apparel items.
Attention Readers: Are We On Trend or Way Off?
Distributors are a busy group, so we try to keep you updated on what's hot in apparel right. We'd like your feedback on how we're doing picking trends and providing information you can use. Please send an e-mail to Matt Histand, senior editor, at mhistand@asicentral.com, to let us know what you like and what else you'd like to see in this newsletter. Thanks for reading.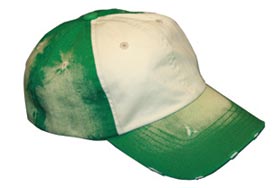 [ OUR FAVORITE WEARABLES ]

Chino Twill Vintage Destroyed Cap
Available From: JS Apparel (asi/63075); (800) 257-4165; ben@jsappare.net
Sell To: Fashionable corporate collections or events that include trendy attendees.
Style Tip: This six panel un-constructed cap achieves its distressed look through a potassium spray and enzyme wash. Mix in the retro-color styling for a very unique look that should appeal to teenagers, music merchandise buyers and urban wear markets.

[ NEWS BRIEFS ] 
Leed's (asi/66887) donated a tree for each full-time Leed's employee in celebration of Earth Day. This builds on the EcoSmart platform launched in November 2007, where a tree is planted through American Forests for every EcoSmart imprint order placed. Between the trees planted on behalf of employees and those generated from EcoSmart orders, there have been a total of 2,407 trees planted since November.
S&S Activewear (asi/84358) has added edun LIVE to its 2008 offerings. The line of blank T-shirts made from African organic cotton is the sister brand to EDUN, the clothing line created by Ali Hewson and her husband Bono. The brand's mission is to help create trade in African where the shirts are made.
Vantage Apparel (asi/93390) hired Kelly Henrich as sales rep overseeing TN, MS and AL. Elliot Pomeranz will service central and southern NJ and eastern PA.
Wal-Mart purchased more than 12 million pounds of transitional cotton at the premium price for organic cotton from farmers switching over to organic farming methods. The purchase removes a major stumbling block for many farmers looking to switch to organic methods, which requires cotton grown in fields free from chemical pesticides and fertilizers for at least three years. The transitional cotton will be purchased by Wal-Mart from approximately 1,000 farmers and should help spur cotton production and could lead to lower prices on organic cotton for the whole apparel industry.

[ ASK AN EXPERT ] 
Question: I'm at a loss. I'm looking for a nylon, red and gold jacket with U.S. Marines knitted down the left front side. The inside tag said a UFCW-made product. Also, it's made in the USA. Thanks for your help.
Answer: We think we've got it. Go to Windjammer (asi/97258) and try product number MPOPMQL, which is a U.S. Marines poplin jacket. Now, it's not nylon, but this jacket is red with gold trim and has "Marines" written down the front left side. This is a special order jacket, but it's made in the U.S. and it comes in sizes S-XL.
Selling Tip: Military and military-style garments are very popular right now. More suppliers are adding the look to their catalog, so keep this in mind when dealing not only with military contractors and military-themed promotions, but fashion-forward events or companies.
Question: I have a small embroidery business in Louisiana and I'm trying to specialize in fishing wear that's not too high end. Right now, I'm buying Magellan shirts at retail. These are the lightweight, fast-drying ones that the anglers really like. Can you help?
Answer: We've got some great mid-range-priced shirts. First, check out product number 4050 at River's End Trading Co. (asi/82588). This is a Solar Shield guide shirt that's 65/35 polyester/cotton and has UPF 30. Then, look at product number M01013L at Sportailor Inc. (asi/88796). This is a long-sleeve, 100% cotton poplin shirt that has cargo pockets, a sunglass holder, and a vented back and CoolMax mesh lining. It also features fly rod/ultility loop and roll-up sleeves. This company's also got product number M01013S, a short-sleeve version and product number W01013S, a short-sleeve women's style. All of these options are very reasonably priced.
Selling Tip: Specializing in one particular niche such as fishing wear is a great way to become a go-to person for customers. Sometimes all it takes is putting in the time to do a bit of research and staying on top of the latest styles and needs of customers.

[ WEARABLES TERMS ] 
Fabric - Terms you should know: 
Camel: Made from the soft, caramel-colored underfleece of the Bactarian camel of Mongolia and western China.
Cashmere: Fine downy undercoat hair of the cashmere goat from Tibet; produces luxuriously soft garments.
Flannel: Soft woolen or worsted fabric with a slightly fuzzy nap on one or both sides. Usually made with a twill weave and softly twisted yarns, which provide the nap when fabric is brushed.
Fleece: Fabrics with thick, deep nap that provides warmth without weight. May be twill or plain weave.

[ SHOW LIST ]
April 28- May 2: The ASI Advantages Roadshow, Ft. Lauderdale, FL; Ft. Meyers, FL; Sarasota, FL; Tampa, FL; Orlando, FL
For more information, call (800) 546-3300 or visit www.asishow.com.
May 1-2: The PMANC Showcase, Santa Clara, CA
For more information, call (888) 762-6200 or visit www.pmanc.org.
May 6-8: Sources, LA, Los Angeles
For more information, call (914) 421-3200 or visit www.sourcesla.com.
May 6-8: The ASI Show New York, Javits Center
For more information, call (800) 546-3300 or visit www.asishow.com.
May 8-10: The NBM Shows, Fort Worth, TX
For more information, call (800) 669-0424 or visit www.nbmshows.com. 
May 12-16: The ASI Advantages Roadshow, Pittsburgh; Buffalo, NY; Rochester, NY; Albany, NY; Boston
For more information, call (800) 546-3300 or visit www.asishow.com.
May 18-20: Surtex, New York
For more information, call (914) 421-3200 or visit www.surtex.com.
May 20-21: The Supply Side, New York
For more information, call (914) 421-3200 or visit www.thesupplyside.com.
May 22: UMAPP Room Show, St. Paul, MN
For more information, call (651) 734-9767 or visit www.umapp.org.

SPONSORED BY



Get latest news and trends in the fast-changing wearables market!
Subscribe to Wearables Style.
Advertising Specialty Institute® 4800 Street Road, Trevose, PA 19053 

Subscribe to Wearables™ magazine. You must be a member of ASI to subscribe to this publication. The publisher has a right to refuse subscriptions to non-members.
Wearables Style and Wearables are trademarks of the Advertising Specialty Institute. You were sent this newsletter as a benefit of your ASI membership. Copyright 2008, ASI. All Rights Reserved.