| | | |
| --- | --- | --- |
|  Volume 72   | |  April 14, 2008   |

SPONSORED BY


[ AUDIO SELLING TIPS ]
The Facts About Laser Etching Apparel; Listen to the Podcast
Laser etching isn't new to the promotional industry, but it certainly is new to apparel decoration. This week we talk with Gina Barreca, marketing director at Vantage Apparel (asi/93390), about how laser etching works and what unique features it offers your clients. Plus, we'll tell you where you can go to see a video of laser etching in action.
Click here to listen to Senior Editor Matt Histand talk with Vantage Apparel Marketing Director Gina Barreca about the ins and outs of the hottest new apparel decorating technique: laser etching.
Do you like what you hear in this podcast? Send your feedback to nrollender@asicentral.com.
Special Report: Stitches Roadshow Recap
Stitches and Wearables Editor Nicole Rollender attended the second-ever Stitches Roadshow in Detroit on April 4. Attendees started the day with an education session, "How to Take Your Decorating Business to the Next Level," that Rollender moderated with expert panelists Jennifer Cox of National Network of Embroidery Professionals; Pat Baldes of Personalization Solutions; and Steve Hobbs of Brother International. Then attendees walked the exhibit show floor and finished off with a dynamic networking lunch. Here are some podcasts from the Roadshow.
Nicole Rollender talked with Pat Baldes, sole proprietor of Personalization Solutions Inc. and panelist at education session, "How to Take Your Decorating Business to the Next Level," about one of the biggest mistakes a new decorator makes and how to use a heat press to really diversify a decorating business. Click here to listen to the podcast.
Chris Thomas of Madeira USA said attendees wanted to know how to offer a direct-to-garment printed/embroidery design to clients. In addition, one of decorators' top challenges in terms of thread is in providing a perfect thread color match to customers' logos, and to heat transfers and screen printing that are being used with a design. Click here to listen to the podcast.
Attendee Marie Zeffer, owner of Sew Much Thread, said the most powerful thing she learned at the education session was to drive more traffic to her Web site through budget-friendly blogs and e-newsletters. Click here to listen to the podcast.

[ TRENDS ] 
Natural Materials
One retail trend that will likely make waves in this industry in the near future is the move toward more natural materials and fabrics. Straw has already become quite popular in hats and handbags. In accessories, don't be surprised by a move toward wood, leather, shells or any other natural substance that can be incorporated into a fashion item in part or in its entirety. The eco-conscious trend really is beginning to reach into most markets.

Selling Tip: The move toward natural materials in accessories perfectly compliments the increased organic and recycled apparel offering now available – and can help you expand your product offering to clients. Think corporate, award and incentive programs.


From AMC Special Markets (asi/30198),
this high-end Mobius Hobo pendant is
made from sterling silver with an
18" single leather cord in tobacco color.

From VLC Distribution Co. (asi/93161),
the Nike Oregon Series, Model WA0038-213,
is a perfect example of the type of new retro
digital watch designs that are growing even
more popular in men's fashion.

Retro Digital Watches
Since the explosion in the use of cell phones, people don't wear watches as much as they used to. Some watch manufacturers have fought back by radically redesigning their watches as fashion items. Others have turned back the clock and reintroduced models from the past. The latest style to turn heads is based on the original digital watches and resemble gadgets from a '60s spy movie with large LCD screens, chunky styling and stainless steel flourishes. While the watches may look "space age," many are stripped-down versions that do little more than tell time. Fortunately, the low cost of digital technology makes this trend one to watch for promotional buyers.

Selling Tip: Watches make great stand-alone items for incentive programs and company awards. They can also be incorporated into a corporate apparel program, but make sure you can offer both men's and women's styles.
Attention Readers: Are We On Trend or Way Off?
Distributors are a busy group, so we try to keep you updated on what's hot in apparel right. We'd like your feedback on how we're doing picking trends and providing information you can use. Please send an e-mail to Matt Histand, senior editor, at mhistand@asicentral.com, to let us know what you like and what else you'd like to see in this newsletter. Thanks for reading.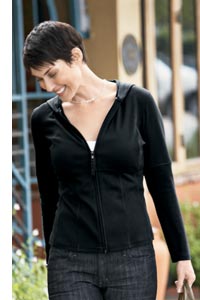 [ OUR FAVORITE WEARABLES ]

Port Authority Ladies' Soft Touch Front-Zip Hoodie
Available From: SanMar (asi/84863), in its new 2008 catalog
Sell To: Perfect for any woman who needs a cover up when it's cool but doesn't want to wear anything bulky
Style Tip: The hoodie is made from a Pima cotton/Modal blend for a cashmere-like hand. That, along with its contoured silhouette, will make this product an instant favorite.

[ NEWS BRIEFS ] 
Broder Bros. (asi/42090) hosted an open house at the Alpha (asi/34408) and Broder distribution center in Orlando, FL. The event drew more than 300 regional customers and is the first in an annual Open House Event Series held at dual brand distribution centers around the country.
Royal Apparel (asi/83731) has added new colors to its organic line. The RA5051 jersey T-shirt is now available in cherry and mushroom and the RA5001ORG, female companion style, comes in cherry, mushroom and canary.

[ ASK AN EXPERT ] 
Question: I have a customer looking for a long-sleeve, rugby-style shirt with a wide stripe around the middle. Can you help?
Answer: Check out the shirts at Carberry International Sports Inc. (asi/43807). Products STK 120 and STK024 are long-sleeve polos that have a wide stripe on the mid-torso. If you're not happy with those choices, check out Carberry's full line of rugby apparel. You're bound to find your shirt somewhere in there!
Selling Tip: Rugby-style shirts have been making something of a comeback recently, not that they ever really went away. The style is nice because it can be dressed up with a pair of khakis or down with jean or shorts.
Question: I'm looking for dazzle-style (100% polyester with a shine to it) warm-up suits in maroon and white. My customer needs the pull-on style, not the tear-away, and a zippered jacket.
Answer: Contact the folks at Purcells Activewear (asi/80075). This company can custom-make warm-up suits in dazzle nylon. Now, we know you said polyester, but ask the folks at this company if they do it in polyester, or if they know of a dazzle-poly. Anyway, in youth and adult sizes, this company can make maroon/white warm-ups and the pants are pull on, not snap. The adult uniform is K-20000 and the kids' style is K-1000; the dual-colored suit is PACER, which features a full-zip jacket.
Selling Tip: Don't be afraid to ask for custom features in garments if you can't find exactly what you're looking for. Companies that make product domestically (and there are more around than you might think) sometimes only have to make slight production changes to suit your needs. While custom detail could cost more, it won't always break the bank or the budget.

[ WEARABLES TERMS ] 
Embroidery - Terms you should know: 
Boring: Open work incorporated into embroidery designs; a sharp-pointed instrument punctures, or bores, the fabric, and stitches are made around the opening to enclose raw edges.
Fill Stitches: A series of running stitches commonly combined to cover large areas.
Satin Stitch: A zigzag sewing action where two stitches form a column. It's often used for lettering, outlining and detail.
Underlay Stitching: The stitching action that will attach the backing to the fabric being embroidered. It also supports the top embroidery for a loftier dimensional look.

[ SHOW LIST ]
April 15: Stitches Roadshow, Denver
For more information, call (800) 546-3300 or visit www.stitchesroadshow.com.
April 15-18: The ASI Advantages Roadshow, Denver; Oklahoma City; Albuquerque, NM; Phoenix
For more information, call (800) 546-3300 or visit www.asishow.com.
April 28- May 2: The ASI Advantages Roadshow, Ft. Lauderdale, FL; Ft. Meyers, FL; Sarasota, FL; Tampa, FL; Orlando, FL
For more information, call (800) 546-3300 or visit www.asishow.com.
May 1-2: The PMANC Showcase, Santa Clara, CA
For more information, call (888) 762-6200 or visit www.pmanc.org.
May 6-8: Sources LA, Los Angeles
For more information, call (914) 421-3200 or visit www.sourcesla.com.
May 6-8: The ASI Show New York, Javits Center
For more information, call (800) 546-3300 or visit www.asishow.com.
May 8-10: The NBM Shows, Fort Worth, TX
For more information, call (800) 669-0424 or visit www.nbmshows.com. 
May 12-16: The ASI Advantages Roadshow, Pittsburgh; Buffalo, NY; Rochester, NY; Albany, NY; Boston
For more information, call (800) 546-3300 or visit www.asishow.com.
May 18-20: Surtex, New York
For more information, call (914) 421-3200 or visit www.surtex.com.
May 20-21: The Supply Side, New York
For more information, call (914) 421-3200 or visit www.thesupplyside.com.
May 22: UMAPP Room Show, St. Paul, MN
For more information, call (651) 734-9767 or visit www.umapp.org.

SPONSORED BY



Get latest news and trends in the fast-changing wearables market!
Subscribe to Wearables Style.
Advertising Specialty Institute® 4800 Street Road, Trevose, PA 19053 

Subscribe to Wearables™ magazine. You must be a member of ASI to subscribe to this publication. The publisher has a right to refuse subscriptions to non-members.
Wearables Style and Wearables are trademarks of the Advertising Specialty Institute. You were sent this newsletter as a benefit of your ASI membership. Copyright 2008, ASI. All Rights Reserved.