| | | |
| --- | --- | --- |
|  Volume 71   | |  March 31, 2008   |

SPONSORED BY


[ AUDIO SELLING TIPS ]
Sales Tip of the Week: Make Money Selling Wearables
True or false? You can't make a profit selling wearables. Yes, apparel – with its size, fabric and other teeny-tiny nuance factors – can make for one hard sell. (Forget about profit margins.) But still, if you know how to work it, you can milk that sweater, blouse or polo, for all it's got – and at the same time, make your customer happy. Listen to industry veteran Bill Wright of Geiger (asi/202900) share some of his greatest tips for how to score it big in this market. Click here to listen to the podcast.
Do you like what you see in this video? Send your feedback to nrollender@asicentral.com.

[ TRENDS ] 
Music Accessories
The music industry is going through some interesting times with declining album sales but surging digital sales. One piece of the music world that has stayed strong is merchandise. T-shirts and sweatshirts remain a perennial favorite of fans of all ages with some items becoming big-ticket collectables, such the recent sale of a vintage 1973 Led Zeppelin concert shirt that just sold for $1,500.



From Absolute Pewter (asi/30438), a host of custom
and domestically made music merchandise items
that are becoming big business.
The difference today in music merchandise is that accessories such as belt buckles, necklaces and wristbands have become nearly as big as apparel. Absolute Pewter (asi/60438) is one supplier that does a lot of music-related accessories for record labels, promotional events and the bands themselves. The company has produced everything from dog tags for 50 Cent and The Jonas Brothers to belt buckles for the Smashing Pumpkins and Foo Fighters. 
"We do a lot of tour merchandise," Adams says. "Sometimes the items are strictly for the band's tour, but we also make items for them to sell on their Web sites. The great thing about working with the music industry is that there's an infinite possibility of things to do. We try to keep it pretty open and push the envelope as to what we can do."
Not only are music fans scooping up merchandise online and at tour stops, many new bands give away products as a way to spread their name to eager fans and potential new listeners. Merch is also one reliable source of revenue for many bands, which are just starting out.
Finding music clients is as simple as looking around your community. If you live in or near a big city there are literally dozens of bands of all genres playing around town. But even smaller communities have their share of local musicians looking to make a name for themselves. Starting a contact list is as simple as checking out your local free newspapers for events or stopping by local bars and concert halls to see who's playing.

From MLF Sales (asi/68264), this shirt (1260), with working epaulets, is made from a polyester-cotton poplin blend.

Salute Epaulets
You don't have to be in the military or own a Member's Only jacket to enjoy the look of epaulets. The button-down shoulder flap that's so popular on uniforms and pilot jackets is back in mainstream fashion for men and women. The look, which originally was invented for indicating rank and used by some soldiers to hold their caps, is part of a wider military influence manifesting in lots of different fashion-y ways this year.

Selling Tip: Epaulets on men's shirts can look good, but for women you may want to limit the look to a fitted military-style jacket. The narrow cut of the feminine silhouette is a nice counter to the wide, masculine shoulder flourish created by epaulets. 
Floral Prints
They say April showers bring May flowers. Well, it looks like fashion designers and retail are a step ahead because floral prints of all kinds are popping up all over. The look will be very popular this spring and summer on everything from skirts and dresses to shirts, scarves and purses. While our industry won't be overrun with floral print apparel, be sure to keep the look in mind, particularly when doing women-related apparel promotions.

Selling Tip: Some clients may be concerned about using a busy floral print, but the use of a basic weathered white logo creates the subtle impression of a well-worn – and loved – beach hoodie. 


From MV Sport/Weatherproof (asi/68318),
the new mulberry women's hoodie (W180)
sports a hot new floral print that's sure
to grab end-user attention.
Attention Readers: Are We On Trend or Way Off?
Distributors are a busy group, so we try to keep you updated on what's hot in apparel right. We'd like your feedback on how we're doing picking trends and providing information you can use. Please send an e-mail to Matt Histand, senior editor, at mhistand@asicentral.com, to let us know what you like and what else you'd like to see in this newsletter. Thanks for reading.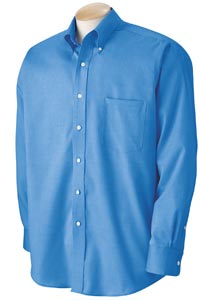 [ OUR FAVORITE WEARABLES ]

The Van Heusen Men's True Wrinkle-Free Oxford
Available From: Broder (asi/42090) in its new 2008 catalog.
Sell To: This 80s two-ply cotton pinpoint oxford shirt (13V0143) is perfect for any man who wears a tie to work.
Style Tip: Give one away as a sample. It's as simple as that because once someone truly sees how amazing the wrinkle-free performance is, you've all but closed the sale.

[ NEWS BRIEFS ] 
GAME Sportswear Ltd.'s (asi/55752) made in the USA varsity jacket is a video star. It was just featured in the music video of Wyclef Jean to promote his new album, Carnival II: Memoirs of an Immigrant.
Leed's (asi/66887) announced that it has received the Customs-Trade Partnership Against Terrorism (C-TPAT) certification from the Department of Homeland Security. The initiative aims to strengthen and improve international supply chains and U.S. border security.
Penn Emblem Co. (asi/62485) now offers woven garment labels. It can produce text and detail down to less than ¼ inch in size in a variety of styles and cuts.
SanMar (asi/84863) released its 2008-2009 School and Team catalog. The 144-page catalog features more than 250 apparel and accessory options in more than 80 colors, including 25 new styles.

[ ASK AN EXPERT ] 
Question: I have a club that's looking for a lined purple vest with a black back. They'd also like to have a small elastic gather in the back. Help!
Answer: Go to Aprons Etc. (asi/36558). Product 8100U is a purple polyester vest that has a tunnel elastic lined back and a black inside. Product 8101U is the women's companion style. Both are available in sizes S-5XL. We know it may be a bit different in the back than what your client would have liked, but see if what they think.
Selling Tip: Vests of all kinds are hot right now. Everything from outdoor fleece and nylon to vest separates worn over a T-shirt or with a blazer and tie are drawing fans. And the best part: The look is unisex, so all end-users are potential customers.
Question: I'd like to find a wholesale supplier of canvas tote bags. I've found www.wholesaleaccessorymarket.com and www.swtrading.com; however they just don't offer the best selection of polka dot bags. Do you have any suggestions? I'd also like to find a wholesale supplier of insulated lunch bags that can monogrammed.
Answer: How set are you on canvas? We're afraid we can't find polka dotted bags in canvas, but we found some options in another fabric – namely, neoprene. The first is number MTS from Built NY Inc. (asi/42422). This bag is a neoprene tote that doubles as a lunch tote. It's got a great polka dot pattern and can be monogrammed. It's also machine/wash dry. Then, look at product number LB31 which is a neoprene lunch tote. It also is available in a polka dot pattern and matches the first bag we mentioned. While you're checking out this company, might we just suggest taking a gander at the entire selection of bags? It's a polka dot paradise.
Selling Tip: Expect to see more and more fashion tote bags of all kinds come into the market at the backlash against plastic shopping bags continues. There's also that fashion element driving the trend that many women love.

[ WEARABLES TERMS ] 
Twill - Terms you should know:
Calvary Twill: Strong, rugged fabric with a pronounced double-twill line on the face and flatter, single twill line on the back. Used for sportswear, uniforms, coats or suits.
Chino: Classic all-cotton "army twill" fabric made of combed two-ply yarns. At one time chino was solely for army uniforms, but it's not popular in mainstream apparel.
Tackle Twill: Letter or numbers cut from polyester or rayon twill fabric that's commonly used for athletic teams and organizations.
Whipcord: Compact worsted twill fabric with prominent diagonal cords that run from the lower left to the upper right .

[ SHOW LIST ]
April 1-4: The ASI Advantages Roadshow, Cincinnati; Columbus, OH; Cleveland; South Detroit; North Detroit
For more information, call (800) 546-3300 or visit www.asishow.com.
April 4: Stitches Roadshow, North Detroit
For more information, call (800) 546-3300 or visit www.stitchesroadshow.com.
April 5-8: Boston Gift Show, Boston
For more information, call (800) 272-SHOW or visit www.bostongiftshow.com.
April 9-11: The ASI Show Las Vegas, Las Vegas Convention Center
For more information, call (800) 546-3300 or visit www.asishow.com.
April 14-18: The ASI Advantages Roadshow, Salt Lake City; Denver; Oklahoma City; Albuquerque, NM; Phoenix
For more information, call (800) 546-3300 or visit www.asishow.com.
April 15: Stitches Roadshow, Denver
For more information, call (800) 546-3300 or visit www.stitchesroadshow.com.

April 28- May 2: The ASI Advantages Roadshow, Ft. Lauderdale, FL; Ft. Meyers, FL; Sarasota, FL; Tampa, FL; Orlando, FL
For more information, call (800) 546-3300 or visit www.asishow.com.

SPONSORED BY



Get latest news and trends in the fast-changing wearables market!
Subscribe to Wearables Style.
Advertising Specialty Institute® 4800 Street Road, Trevose, PA 19053 

Subscribe to Wearables™ magazine. You must be a member of ASI to subscribe to this publication. The publisher has a right to refuse subscriptions to non-members.
Wearables Style and Wearables are trademarks of the Advertising Specialty Institute. You were sent this newsletter as a benefit of your ASI membership. Copyright 2008, ASI. All Rights Reserved.