| | | |
| --- | --- | --- |
|  Volume 70   | |  March 17, 2008   |

SPONSORED BY


[ AUDIO SELLING TIPS ]
The Demands of Digitizing; Listen to the Podcast
The first-ever Stitches Roadshow was held last week in St. Louis. During the education session, "How to Take Your Decorating Business to the Next Level," digitizing proved to be the hot topic. After the session Nicole Rollender, editor of Wearables and Stitches, sat down with panelist Ed Levy, president of Digitize4U, to talk about some of the biggest issues facing embroiderers and digitizers today.
Click here to listen to Wearables and Stitches Editor Nicole Rollender talk with Digitize4U President Ed Levy about decorators' fears about digitizing going overseas and selecting the right software.
What Is C-TPAT Certification? Listen to the Podcast
Broder Bros. Co. (asi/42090) received the Customs Trade Partnership Against Terrorism (C-TPAT) certification from U.S. Customs and Border Protection. The certification enables Broder to comply and contribute to border security, while speeding delivery. Listen in to find out what this means to distributors.
Click here to listen to Senior Editor Matt Histand talk with Broder's director of global sourcing, Cheron Colemen, about what it takes to become a C-TPAT-certified company.
Do you like what you hear in this podcast? Send your feedback to nrollender@asicentral.com.

[ TRENDS ] 
Headwear Is Hot
Baseball caps have long ruled the roost in the ad specialty apparel world, but it looks like they're finally going to get their comeuppance. Well, not exactly. Baseball caps are still the biggest seller in headwear – and will probably remain so for the foreseeable future – but demand for non-baseball-style headwear has exploded in the last year. The result is a dramatic shift in interest in promotional headwear to everything from newsboy, berets and trilby styles, to straw, cowboy and military-style hats.

From Philadelphia Rapid Transit (asi/77945),
the Wool Felt Pinched Fedora (9949) is just one of many
hat styles growing in popularity. Expect particular interest in
this style with the debut of the latest Indiana Jones film,
The Kingdom of the Crystal Skull, in May.
"We definitely see an increase in stylish and fashionable headwear sales, especially as it relates to the premium promotions or uniform markets," says David Goldman, vice president of sales at Philadelphia Rapid Transit (asi/77945). "We have a lot of customers saying to us that they're sick of baseball hats and are looking for something else. We're seeing a move in anything that's different, innovative and creates a point of difference."
Most popular among the new styles are those made from natural fibers such as organic or recycled cotton, bamboo, wool and especially straw. Straw cowboy hats are selling very well, whether it's for the stylish element or used in conjunction with a Western-themed promotion. Wide-brimmed women's straw hats are also big sellers for spring and should be a breakout hit for the beach, swimming pools or other outdoor activities this summer.
Most hats can be embroidered in either a traditional or 3-D styles. Some hats, such as straw hats, can be imprinted with a headband in a number of different colors. For a different look you can also try a patch. If end-users prefer a more discreet logo placement, try a custom woven labels.
No matter which style or imprint method you choose, you can be sure that the trend shows no signs of slowing. Goldman continues to be amazed: "Our straw cowboy hats sell and sell. We also just received an order for berets for the fall that's the largest order from this customer in over three years."

From Game Sportswear Ltd. (asi/55752), the PSKA jacket has that classic look with slash-font pockets, a button-up front and a stretch nylon knit collar.

Satin Jackets Are Back
The classic satin jacket has been going in and out of style for decades. Popularized by sports teams in the early 1900s, it became a staple of '70s and '80s promotional apparel. The look is back again as part of the retro-inspired fashion craze. The jacket style is available with striped detailing or the more fashion-forward solid color look in any number of jewel tones.

Selling Tip: Decorate with care. Satin jackets can be embroidered or decorated with an appliqué in traditional lettering for a classic look or splashed with modern graphics for retro-modern cool.

Peace In
Fashion motifs come and go, but whenever America is at war one keeps on coming back: the peace sign. That universal sign for hope has started to show up more and more in recent months on fashion styles across the board. Look for a major surge in this graphic this summer and fall on everything from apparel basics to accessories such as belts, necklaces, bags and hats. No matter which side of the war debate you're on, it might be a smart idea in the coming months to give peace a chance.


From Rothco (asi/83708), the Olive Drab
"Peace" Pullover (9237) signals a surge in popularity
for the peace sign in the coming year.
Selling Tip: No one owns the peace sign, which mean you're free to use it on any garment you want. You can decorate items with an Andy Warhol-esque step and repeat pattern in different color washes or use a stark oversized peace sign for the greatest impact.
Attention Readers: Are We On Trend or Way Off?
Distributors are a busy group, so we try to keep you updated on what's hot in apparel right. We'd like your feedback on how we're doing picking trends and providing information you can use. Please send an e-mail to Matt Histand, senior editor, at mhistand@asicentral.com, to let us know what you like and what else you'd like to see in this newsletter. Thanks for reading.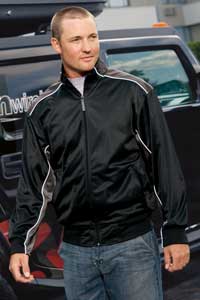 [ OUR FAVORITE WEARABLES ]


District Threads Track Jacket With Piping

Available From: SanMar (asi/84863) offers this jacket (DT500), as part of its District Threads collection.

Sell To: While this jacket only comes in one color combination, its 100% polyester tricot construction and retro-inspired look makes it an instant classic. Great for those with active or laid-back lifestyles.

Style Tip: This jacket can be worn indoors and out. Try it in place of a sweater or sweatshirt as a great cover-up on a cool spring day.

[ NEWS BRIEFS ] 
Canadian Sportswear Corp (asi/43682) will distribute the Geoffrey Beene brand in Canada for the promotional industry. The exclusive agreement includes five short-sleeve polo shirts and two woven shirts.
Hanesbrand, parent company of Hanes/Outer Banks (asi/59528), joined the Fair Labor Association, a nonprofit organization dedicated to ending sweatshop conditions in factories worldwide. The company will undergo a two-year implementation process to receive accreditation.
S&S Activewear (asi/84358) released two new catalogs: School, Team & Athletics and Golf Collection. Each four-color catalog includes complete product information on that specific market segment.
Toppers (asi/91530) has extended its rush service program, 24-in-24, to distributors nationwide.

[ ASK AN EXPERT ] 
Question: Can you give me some suppliers that sell long-billed caps fishermen would wear? We're having a problem locating any and would love any information you can share.
Answer: Try Capsmith Inc.'s (asi/43796) style 87MIM, which has an extended bill cap that's got a protective neck flap for "serious" fishermen. Also look at styles 84ENZ and 87ENZ. Next, try Sportailor Inc. (asi/88796). Styles M015200 and M015210 are 100% cotton caps with long bills.
Selling Tip: Distributors sometimes forget that finding the perfect promotional apparel item means have a custom piece made. The cost is often less then you'd expect and best of all, your client gets a unique product that's exactly what they want.
Question: I'm wondering if you know of any good suppliers for girls' capri leggings that have a lace trim. I'm looking for colors such as pink, blue, teal, black, white, red, purple, etc.
Answer: Look at product number LG-LC-Capri at Street N Sport (asi/89895). These are capri-length, lace-trimmed leggings that come in black, brown, charcoal, light blue, olive and pink.
Selling Tip: Many kinds of leg-related wearables are becoming popular these days from short and long leg warmers to leggings in plain or print styles. Most come in an array of stock colors and custom designs.

[ WEARABLES TERMS ] 
Apparel Detailing - Terms you should know:
Drop Tail (or Extended Tail): A longer back than front for the purpose of keeping the shirt tucked in during activities.
Grommets: Found underarm or in the back neck, grommets are small holes that allow for air circulation and ventilation.
Locker Loop: A looped piece of fabric in the neck of a garment for the convenience of hanging the garment on a hook. Can also be located at the center of the back yoke on the inside or outside of a garment.
Side Vent: Fashion details allowing for comfort and ease of movement.

[ SHOW LIST ]
March 25-28: The ASI Advantages Roadshow, Houston; San Antonio; Austin, TX; Dallas
For more information, call (800) 346-3300 or visit www.asishow.com.
March 31-April 4: The ASI Advantages Roadshow, Cincinnati; Columbus, OH; Cleveland; South Detroit; North Detroit
For more information, call (800) 546-3300 or visit www.asishow.com.
April 4: Stitches Roadshow, North Detroit
For more information, call (800) 546-3300 or visit www.stitchesroadshow.com.
April 5-8: Boston Gift Show, Boston
For more information, call (800) 272-SHOW or visit www.bostongiftshow.com.
April 9-11: The ASI Show Las Vegas, Las Vegas Convention Center.
For more information, call (800) 546-3300 or visit www.asishow.com.
April 14-18: The ASI Advantages Roadshow, Salt Lake City; Denver; Oklahoma City; Albuquerque, NM; Phoenix.
For more information, call (800) 546-3300 or visit www.asishow.com.
April 15: Stitches Roadshow, Denver
For more information, call (800) 546-3300 or visit www.stitchesroadshow.com.

April 28- May 2: The ASI Advantages Roadshow, Ft. Lauderdale, FL; Ft. Meyers, FL; Sarasota, FL; Tampa, FL; Orlando, FL
For more information, call (800) 546-3300 or visit www.asishow.com.

SPONSORED BY



Get latest news and trends in the fast-changing wearables market!
Subscribe to Wearables Style.
Advertising Specialty Institute® 4800 Street Road, Trevose, PA 19053 

Subscribe to Wearables™ magazine. You must be a member of ASI to subscribe to this publication. The publisher has a right to refuse subscriptions to non-members.
Wearables Style and Wearables are trademarks of the Advertising Specialty Institute. You were sent this newsletter as a benefit of your ASI membership. Copyright 2008, ASI. All Rights Reserved.