| | | |
| --- | --- | --- |
|  Volume 69   | |  March 3, 2008   |

SPONSORED BY


[ VIDEO SELLING TIP ]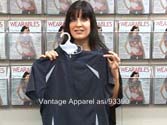 Performance Wear Diaries; Watch The Video Report
Performance wear is the latest, greatest category to hit the wearables marketplace, and it's everywhere. Polos, wovens, T-shirts, athletic wear and outerwear tout all kinds of technical qualities, including: moisture wicking; antimicrobial and anti-odor; UV protection; stain repellence and release; easy-care machine wash and dry and fade free; anti-wrinkle and shrink-resistance; and anti-pill. For our March Wearables cover story, four of our editors were given between seven and 10 items and told to wear the ones that most appeal to them at work, at home and out and about - and to keep a journal of their experiences, the good, the bad and the ugly.
Click here to watch Wearables Editor Nicole Rollender show you some of the performance wear she wore - and why she liked them. Be sure to check out our March cover story online at www.wearablesmag.com.
Do you like what you see in this video? Send your feedback to jhaley@asicentral.com.

[ TRENDS ] 
Hooray for Hemp
Organic cotton may be getting all the attention these days, but there are other natural fibers gaining popularity as a green alternative, namely hemp. Not only is hemp one of the easiest fabric fibers to grow - requiring no pesticides and far less much water than cotton - but it offers many naturally occurring performance features such as UV protection and antimicrobial properties.

Hemp comes in all types of apparel products, including T-shirts, polos, hoodies, caps and bags. The fabric usually comes as a heavier weight garment in the 7.1 oz. range, but without the stretchability of cotton, making it more size specific. "Across the board, everybody is looking to buy more organics and for people who do their research, hemp comes in as one of the best options," says Alex Devito, president of Fair Hemp Inc. (asi/53508).

One of the knocks against hemp over the years has been its linen-like feel. But now most hemp is processed with a natural enzyme that gives it a softer hand, than blended with at least 45% organic cotton. Plus, unlike other fibers, hemp actually gets softer the more time it's washed.


From Fair Hemp (asi/53508), this lightweight
hoodie (style 5104) is made
from a hemp/organic cotton blend.
Hemp also decorates rather well. Given its organic nature, water-based inks are usually preferred over synthetic dyes. Embroidery is another option and quite a good one, given hemp's durability. In fact, hemp is so durable - three times more so than cotton - that it makes an especially good material for recyclable shopping bags. "Hemp is a very difficult fabric to rip," Devito says. "We make our bags out of 50% hemp and 50% recycled-polyester so they can stand up to anything. They're so strong we actually guarantee them for life."
It goes without saying that what was the biggest obstacle to the increased use of hemp - its relation to marijuana - has faded. While hemp is closely related to the banned plant, it simply doesn't contain the same narcotic chemical. Most people understand the difference these days, but that doesn't mean there aren't some lingering assumptions. "When you give people a hemp product, I'd say at least 90% of them will smell it," Devito says. "It's funny, but that's what they do."

From SanMar (asi/84863), this women's cardigan (style L360) comes in seven colors, but white is the top color you might be selling this spring.

White Is Right For Spring
Wearing white before Memorial Day use to be a big no-no, but those days are gone. Fashion designers, magazines and retail outlets across the country have dubbed white the color of the spring season. Coats and jackets seem to be the main focus of the trend, but the color as a whole is really coming in to favor in all apparel categories. White certainly isn't the right color for all clients, but when selected it does give your client a blank palette to introduce their own colors. Think tone-on-tone embroidery if your client wants to preserve that pristine look or add a bright imprint to make their logo jump out.

Selling Tip: Not all whites are created equal. Remember that when ordering because using two different companies versions of white to complete an order might result in slightly different shades with one looking dirty when compared with the rest.

Oversized Sunglasses
Young American women are in love with oversized sunglasses. Some say the look is just another example of retro-inspired mania, which harkens back to the day of Jackie-O. Others credit today's trendsetters such as the Olsen twin and their popular hobo-chic aesthetic. Whatever the reason, the look seems here to stay. This decidedly female look could be a boon for distributors whose clients have grown tired of the more traditional unisex promotional styles


From Fields Manufacturing Inc. (asi/54100), The Manhattan sunglasses feature a black frame and smoke lenses.
Selling Tip: Not only are these sunglasses stylish, their wider temple offers even more space for your client's logo or promotional message. And if subtle is the name of the game, try an imprinted case.


Attention Readers: Are We On Trend or Way Off?
Distributors are a busy group, so we try to keep you updated on what's hot in apparel right now and in the near future. We'd like your feedback on how we're doing picking trends and providing information you can use. Please send an e-mail to Matt Histand, senior editor, at mhistand@asicentral.com, to let us know what you like and what else you'd like to see in this newsletter. Thanks for reading.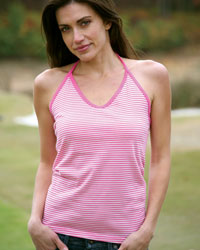 [ OUR FAVORITE WEARABLES ]

Ladies Halter Top
Available From: A.S. Tees (asi/30233) in its new catalog for 2008.
Sell To: This summer style is a fun alternative to a typical women's T-shirt or tank top.
Style Tip: The striped pattern could be used with a solid-colored cardigan sweatshirt for a resort wear client or given away for a swim-related outing.

[ NEWS BRIEFS ] 
Alpha Shirt Co. (asi/34408) and Broder (asi/42090) announce their 2008 open house series. The programs include presentations, tours and raffles and are held at the following distribution centers: March 13, Orlando, FL; April 17, Philadelphia; Sept. 25, Chicago; and Oct. 23, Dallas.
Leed's (asi/66887) has hired two new regional sales managers: 11-year industry veteran Luke Hensler for WI and Shelley Stewart for WA, OR and ID.
Vantage Apparel (asi/93390) added three new sales reps: Rich Corvalan has been hired as the Eastern region sales director; Lisa White joins as the promotional products sales representative for FL; and Juliana Suarez has been named the sales representative for Puerto Rico.

[ ASK AN EXPERT ] 
Question: I'm looking for a place that I can buy blank toddler (2T-5T) denim jeans to be embroidered. Do you know where I can find some?
Answer: We do have a supplier or two that offers jeans, but it looks like they come in sizes 2T-4T. Go to A Design N Time Inc. (asi/30264). The product number YTB13 is a pair of denim dungarees in darkstone. Or you can try Dungarees LLC (asi/50947).
Product number YTB13 is the same Carhartt dungarees.
Selling Tip: Denim fabric in general is making a bit of a comeback. One alternative to embroidered jeans is an embroidered denim shirt, which sometimes can also be substituted with a chambray shirt. Just one piece of advice: Don't double dose on denim. A shirt is fine as is a pair of pants, but not both.
Question: I'm looking to buy wholesale camo coats - preferably a winter-weight coat for hunting or for club meetings.
Answer: First go to Rothco(asi/83708). This company has everything camo as it is a military wholesale supplier. So be sure to check this company's entire selection. Then, go to Clarkfield Ent. Inc. (asi/45275). Again, there's quite a selection here. Start with product number 115X, a quilt-lined camo parka, and then try product 213, an insulated bomber jacket. Keep scrolling thorough that company's selection. Finally, try Image Developers (asi/62210) product number LMMCJM which is a camo jacket.
Selling Tip: Camo is certainly not limited to military-related promotional or hunters anymore. It's caught on in a big way with the fashion conscious and can be found in all types of garments from T-shirts and pants to purses and hats.

[ WEARABLES TERMS ] 
Fabric - Terms you should know:
Bleeding: The running of color from wet-dyed material onto a material next to it or the running of colors together.
Colorfastness: A term used to describe a dyed fabric's ability to resist fading due to washing, exposure to sunlight and other environmental conditions.
Enzyme Washed: Chemical wash that gives fabric a very soft finish, smoother appearance or reduces shrinkage.
Solution-Dyed: A type of fiber dyeing in which colored pigments are injected into the spinning solution prior to the extrusion of the fiber through the spinneret. Fiber and yarns colored in this manner are colorfast to most destructive agents.
Yard Dyed: Dying that occurs at the yarn stage, before it is made into fabric.

[ SHOW LIST ]
March 4-7: The ASI Advantages Roadshow, Louisville, KY; Indianapolis; South Chicago; North Chicago; Milwaukee
For more information, call (800) 546-3300 or visit www.asishow.com/advroadshow.
March 4: NEPPA Spring Table Top Show, Sturbridge, MA
For more information, call (603) 529-8400 or visit www.neppa.com.
March 4-5: GCPPA Show, Fort Lauderdale, FL
For more information, call (954) 427-4232 or visit www.gcppa.org.
March 4-5: NWPMA Spring Showcase, Portland, OR
For more information, call (888) 431-6854 or visit www.nwpma.org.
March 7-9: The Imprinted Sportswear Show, Atlantic City, NJ
For more information, call (800) 933-8735 or visit www.issshows.com.
March 10-14: The ASI Advantages Roadshow, Minneapolis; Des Moines; Omaha, NE; Kansas City, MO; St. Louis
For more information, call (877) 546-3300 or visit www.asishow.com.
March 14: The Stitches Roadshow (co-located with the The ASI Advantages Roadshow), St. Louis
For more information, call (877) 546-3300 or visit www.stitchesroadshow.com.
March 25-28: The ASI Advantages Roadshow, Houston; San Antonio; Austin, TX; Dallas
For more information, call (800) 346-3300 or visit www.asishow.com.
March 31-April 4: The ASI Advantages Roadshow, Cincinnati; Columbus, OH; Cleveland; South Detroit; North Detroit
For more information, call (800) 546-3300 or visit www.asishow.com.

SPONSORED BY



Get latest news and trends in the fast-changing wearables market!
Subscribe to Wearables Style.
Advertising Specialty Institute® 4800 Street Road, Trevose, PA 19053 

Subscribe to Wearables™ magazine. You must be a member of ASI to subscribe to this publication. The publisher has a right to refuse subscriptions to non-members.
Wearables Style and Wearables are trademarks of the Advertising Specialty Institute. You were sent this newsletter as a benefit of your ASI membership. Copyright 2008, ASI. All Rights Reserved.