| | | |
| --- | --- | --- |
|  Volume 68   | |  February 18, 2008   |

SPONSORED BY


[ VIDEOS FROM THE ASI SHOW IN DALLAS ]
Get Hip to the Texting Culture; Watch The Video
In an education day keynote session that opened the recent ASI Dallas show in the Dallas Convention Center, ASI President and CEO Tim Andrews told the distributors in attendance to learn about the newest communication methods that their clients are using. "Communication forms are changing," he said. "You have to learn to communicate in the ways buyers want to communicate. For some people, that means texting all the time."
While many in the audience admitted to an extreme inexperience with texting, Andrews tried to convince them to quickly pick up the fastest-growing way that young people are communicating today. "These people will soon be in the workplace and could be your clients," he said. "You better be able to communicate with them in ways that they're comfortable."
In the session "Lessons From Leaders," Andrews provided 11 tips to leadership success. Some of the strategies he shared included the need to benchmark against others, the importance of listening, and the lengths great leaders go to seek advice from peers with similar experiences. "You should network with others who are in situations like you're in," he said. "You can share successful strategies and learn how others like you are approaching similar challenges."

Andrews caught up with ASI magazines Editor-in-Chief Melinda Ligos after his session to discuss the importance of learning new communication methods. Click here to watch the interview.
Secrets of Fast-Growing Distributors; Watch The Video
During education day at the ASI Show in Dallas, Melinda Ligos moderated a panel session that offered attendees the top tips from fast-growing ad specialty distributors. The panel included: Jason Black, CEO of Boundless Network (asi/143717); Lee Eldridge, CEO of Absorbent Ink. (asi/295819); and Andy Cohen, editor of Counselor. While much of the discussion focused on the importance of creating a business plan and having clear goals, the panelists also discussed the importance of hiring, retention and employee motivation. "We have a play-hard, work-hard culture," Black said. "People know what's expected of them, but we also have time for fun."

Eldridge agreed with that sentiment. "We talk about culture all the time at our company," he said. "We celebrate birthdays and have outings all throughout the year because we want our employees to know we appreciate them – and that our office is a place they want to be. It's a big help in motivating people to reach big goals."

Following the session, Cohen interviewed Eldridge to find out a little more about the importance of culture at Absorbent Ink. Click here to watch the interview.

[ TRENDS ] 
Tie One On
Once the signs of the nebbish and nerdy, the bow tie has been making something of a comeback recently. Young designers and their young Hollywood followers are turning to the bow tie as a whimsical alternative to their standard attire of distressed jeans and hoodies. Men's fashion magazine GQ has endorsed the bow tie as a watch-out-for accessory in the coming year. In addition, J. Crew has added a classic black bow tie to its offering and retailer Brooks Brothers carries more than a dozen styles in stripes, polka dots and solid colors.


Available from Edwards Garment Co. (asi/51752), solid color bow ties, style TT00, can add a bit of hipster style to your clients' wardrobe.
Selling Tip: Bow ties look best as part of a tuxedo, but a more realistic look for every day is to pair them with a white shirt and jacket, cardigan or fitted shirt. Just beware of the novelty bow ties worn by restaurants – if a fashion statement is the look you're after.

From Philadelphia Rapid Transit (asi/77945), make a bold statement with the Palm Straw hat, style 1322, featuring a black grosgrain band.

A Hat for Him
The renaissance in women's headwear is no surprise to anyone following fashion but the popularity of men's hat just might be. More and more guys are sporting headwear choices their grandfather would approve of such as a fedora, trilby, porkpie or flat cap. The look harkens back to the day when a man wouldn't be caught dead without his hat. What the trend provides is a more mature and fashionable look to the guy who's outgrown baseball caps or for those looking for more unique styles.

Selling Tip: Baseball caps still rule the day, but these trendier caps are a great alternative for companies looking to make a statement at trade shows, with their next themed promotion or as a creative addition to their corporate collection.
Attention Readers: Are We On Trend or Way Off?
Distributors are a busy group, so we try to keep you updated on what's hot in apparel right now and in the near future. We'd like your feedback on how we're doing picking trends and providing information you can use. Please send an e-mail to Matt Histand, senior editor, at mhistand@asicentral.com, to let us know what you like and what else you'd like to see in this newsletter. Thanks for reading.

[ OUR FAVORITE WEARABLES ]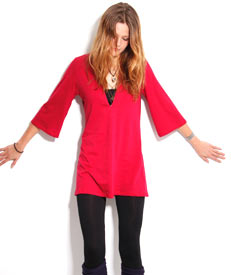 The Baez Moroccan Top
Available From: Alternative Apparel (asi/34850) as part of its hippie collection, style aa4595.

Sell To: Best suited for a younger demographic, such as college bookstore or women's apparel boutique, that appreciates the fashion-forward, yet retro feel.

Style Tip: Pair the shirt with jeans and kitchy accessories for that hippy feel or stretch pants and flat shoes for a modern look.

[ NEWS BRIEFS ] 
Dri Duck Traders Inc. (asi/50835) has partnered with RealTree and Richard Childress Racing to appear in three locations on the number 31 car driven by Bobby Labonte at this past weekend's Nationwide Series Race, Camping World 300 in Daytona Beach, FL.
Leed's (asi/66887) has signed a multiyear deal to extent its agreement with High Sierra Sports Co. (asi/60724). Since adding the line to its offering back in 2005, Leed's has tripled the number of High Sierra products it carries to 29.
River's End Trading (asi/82588) released its new 2008 catalog, which includes more than 100 new styles, a new Outdoor Lifestyle Collection and two new brands, American Apparel (asi/35297) and illumiNITE.
SanMar (asi/84863) will introduce its 2008 Spring/Summer Arrivals catalog in early March. The new 76-page catalog will feature more than 70 new products, including 26 earth-friendly items.
Vantage Apparel (asi/93390) was hired by Reebok to decorate 7,000 of its shirts with the Giants Super Bowl XLII logo for retail sales. The "if-win" order was successfully printed for 2:00 a.m. pick-up the Monday morning following the game.

[ ASK AN EXPERT ] 
Question: I have a customer who runs a day spa. She's looking for jackets for her estheticians. She wanted something like a lab coat, but shorter and perhaps with 3/4-length sleeves. She also wants towels that can be used as a body wrap (and have a Velcro fastener or something along those lines). I haven't had any luck with my usual suppliers, so I thought I'd see if you could help me find what I'm looking for.
Answer: We know where you can find some uniforms for these gals. Go to Fits Uniforms (asi/53471). This company has a 6-oz. women's lab coat with ¾-length sleeves and two lower pockets; it's a 65/35 polyester blend. Plus, it comes in a few color options. Now, for those spa wraps, go to Pro Towels Etc. (asi/79750). Product number SPM-22 is a men's wrap (with Velcro closure) and SPL-29 is the women's option. Also try Terry Collection (asi/90912), which carries quite a few spa wraps (in other colors too) so be sure to browse the whole collection.
Selling Tip: Spas are a great place to sell a range of apparel products from robes and loungewear to slippers, socks and towels. Products are sure to appeal to spa clients as long as they're warm, soft and luxurious.
Question: I'm looking for a company that can supply me with Made in the USA polar fleece, full-zip outerwear. I'd really appreciate it if you could help me find one.

Answer: Actually, we have two sources. First, try Apparel USA Corp. (asi/36541). This company has a great selection of outerwear made of polar fleece. And of course, as the name suggests, the products are all U.S.-made. Next, go to Force 2000 Athletic Apparel (asi/55056). Product number WP-907-666 is just one full-zip polar fleece jacket. But, be sure to check this company's entire selection, OK?

Selling Tip: Finding Made in the USA products is getting more and more difficult as suppliers move offshore. That's why King Louie America (asi/64860) should be one of your first stops. Its entire product line, from shirts to outerwear, is all domestically made.

[ WEARABLES TERMS ] 
Fabric - Terms you should know:
Buckram: Coarse cotton woven fabric treated with a glue substance to stabilize fabric for stitching. It is commonly used for caps to hold the front panel in place.
Duck: A heavy, closely woven material, often cotton, used for heavyweight shirts or outerwear.
Jute: Also known as burlap, this is a coarse fiber from the bark of an Asian tree.
Linen: A flax product, linen absorbs moisture quickly and doesn't soil easily.
Percale: A smooth, textured, closely woven cotton or polyester fabric.

[ SHOW LIST ]
Feb. 18-22: ASI Advantages Roadshow, Van Nuys, CA; Ontario, CA; Irvine, CA; San Diego, CA; Phoenix, AZ
For more information, call (800)-546-3300 or visit www.asishow.com.
Feb. 19: Project Runway Product Fashion Show and Booth Show, Covington, KY
For more information, call (513) 984-9189 or visit www.tsppa.org.
March 3-7: Advantages Roadshow, Louisville, KY; Indianapolis, IN; South Chicago, IL; North Chicago, IL; Milwaukee, WI 
For more information, call (800) 546-3300 or visit www.asi/show.com/advroadshow.
March 4: NEPPA Spring Table Top Show, Sturbridge, MA
For more information, call (603) 529-8400 or visit www.neppa.com.
March 4-5: GCPPA Show, Fort Lauderdale, FL
For more information, call (954) 427-4232 or visit www.gcppa.org.
March 4-5: NWPMA Spring Showcase, Portland, OR
For more information, call (888) 431-6854 or visit www.nwpma.org.
March 7-9: The Imprinted Sportswear Show, Atlantic City, NJ
For more information, call (800) 933-8735 or visit www.issshows.com.
March 10-14: The ASI Advantages Roadshow, Minneapolis; Des Moines, IA; Omaha, NE; Kansas City, MO; St. Louis
For more information, call (877) 546-3300 or visit www.asishow.com. 
March 25-28: The ASI Advantages Roadshow, Houston, TX; San Antonio. TX; Austin, TX; Dallas
For more information, call (800) 346-3300 or visit www.asishow.com.
March 31-April 4: The ASI Advantages Roadshow, Cincinnati, OH; Columbus, OH; Cleveland, OH; South Detroit; North Detroit
For more information, call (800) 546-3300 or visit www.asishow.com.

SPONSORED BY



Get latest news and trends in the fast-changing wearables market!
Subscribe to Wearables Style.
Advertising Specialty Institute® 4800 Street Road, Trevose, PA 19053 

Subscribe to Wearables™ magazine. You must be a member of ASI to subscribe to this publication. The publisher has a right to refuse subscriptions to non-members.
Wearables Style and Wearables are trademarks of the Advertising Specialty Institute. You were sent this newsletter as a benefit of your ASI membership. Copyright 2008, ASI. All Rights Reserved.