| | | |
| --- | --- | --- |
|  Volume 67   | |  February 4, 2008   |

SPONSORED BY


[ VIDEO SELLING TIP ]

Secrets of Fast-Growing Distributors; Watch The Video Report

At a panel discussion taking place this week during education day of the ASI Show in Dallas, ASI Magazines Editor-in-Chief Melinda Ligos and Counselor Editor Andy Cohen will be revealing some strategies and tactics that are common to fast-growing ad specialty distributors. Here, as a preview to that session (which will also be held April 9 in Las Vegas and May 6 in New York), they share some of those successful characteristics.

Wondering how to turn your company into a successful and fast-growing operation? Click here to watch the video report. And don't forget to catch the panel discussion live at The ASI Shows in Las Vegas in April and New York in May.

[ TRENDS ] 
What's Organic Cotton?
Eco-friendly apparel, also called green or sustainable apparel, is set to be one of the biggest trends this year, but many buyers still have lots of questions. The most frequent is what makes organic cotton different from regular cotton. As it turns out, a lot.

Traditional cotton is grown on the same fields year after year. The problem is that cotton is a very demanding crop that robs nutrients from the soil. That's why cotton is treated with various chemicals to help it grow and stay healthy. However, organic cotton is grown without chemicals of any kind, is rotated to a different field each year and is maintained mostly by hand.


From Bodek & Rhodes (asi/40788), this T-shirt from
the UltraClub Organic collection includes a certification
to prove it's made from organic cotton.
The production methods for regular and organic cotton are similar, but organic cotton is processed with machinery that's free of chemical residue – this means use of new machinery or old machinery that's been thoroughly cleaned to remove any chemicals left over from regular cotton production. At the end of the process, each bail of organic cotton is then certified and made into fabric which is also certified.

It's the certifications – proof that it's truly organic – that are particularly important. Bodek and Rhodes (asi/40788) has gone to great lengths to offer certification on its new line of organic cotton shirts, UltraClub Organic. The supplier is a member of the Organic Exchange and the Organic Trade Association. "If any supplier can't provide certification [for a garment], than it's probably not truly organic," says Mary Ellen Hudicka, director of marketing.

Ensuring that organic cotton is what the manufacturer says it is will grow in importance as more companies tout their environmentally friendly attributes. "It's something that should be taken seriously," says Tom Vann, president of Target Graphics (asi/90549). "It's going to be confusing for a while because all you have to say is green or eco and some buyers will take it. But be careful because it's something that could bite you in the you-know-where later."

Selling Tip: Organic cotton shirts cost more than regular cotton shirts, but look and feel the same. Mary Ellen Hudicka of Bodek and Rhodes (asi/40788) suggests placing a small "organic cotton" imprint somewhere on the shirt – at the hem or cuff – so buyers can broadcast their environmental consciousness. It also creates a second decorating location.

From Symphony Designs (asi/90452),
scarves that look just like your
grandmother used to make.

Knitting Really Is Hip
Apparently your grandmother is a lot cooler than you thought. One of the fastest-growing hobbies in America is knitting. No, this isn't a joke. Not only are fashion designers and famous celebrities taking notice but the hobby has even spawned a new magazine called Vogue Knitting – and it's nothing like you'd expect. The latest issue of the magazine has a high-fashion, Goth-influenced cover with features on how to make popular new styles that would be at home in any fashion boutique. As knitting's popularity continues to pick up speed, expect to see more and more knit-inspired apparel at retail and around the industry.

Selling Tip: While there are no industry suppliers cranking out hand-made knit wear, many do offer knit items that appeal to the hand-made appeal of the trend. Look for sweaters, scarves and hats in cable knit or chunky designs. And remember, this look appeals to more than just the senior-citizen set; think teen and college-age women, corporate collections and, naturally, attendees at winter weather events.

Cool Like Luke?
Chambray might look and feel like denim, but its lighter weight makes it a great choice for warmer weather wear. Most typically found in cotton, chambray also comes in silk or synthetic fibers. It's constructed from blue and white cotton yarn and can be made in several different patterns. Chambray was first made famous by Paul Newman in the film Cool Hand Luke and has returned to fashion prominence, most notably as worn by Josh Holloway who plays the bad boy, Sawyer, on Lost.

Selling Tip: Chambray can be dressed up or down depending on the occasion, making it a versatile shirt. Suggest it to companies that are looking for a company shirt that can be embroidered and worn with a jacket for client meetings or untucked and unbuttoned for casual Fridays – and happy hour.


From Vantage Apparel (asi/93390), this 100%
cotton chambray shirt may look like denim, but its
lighter weight makes it a great choice for summer.
Attention Readers: Are We On Trend or Way Off?
Distributors are a busy group, so we try to keep you updated on what's hot in apparel right now and in the near future. We'd like your feedback on how we're doing picking trends and providing information you can use. Please send an e-mail to Matt Histand, senior editor, at mhistand@asicentral.com, to let us know what you like and what else you'd like to see in this newsletter. Thanks for reading.

[ OUR FAVORITE WEARABLES ]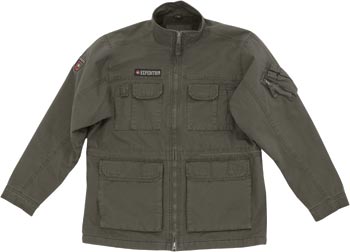 The Force Jacket
Available From: Dri Duck Trading Co. Inc. (asi/ 50835) as part of its new Expedition line.
Sell To: Fashion-conscious companies with younger employees for corporate collections and promotional events.
Selling Idea: Try a military-themed promotion and have the jacket personalized with receiver's name – and rank.

[ NEWS BRIEFS ] 
Anvil Knitwear (asi/36350) has announced a new line of T-shirts called AnvilRecycled. The sustainable collection is made from pre-consumer recycled cotton blend and come in nine colors in sizes XS-4XL.
Boxercraft (asi/41325) has launched a Cheer Catalog. Especially designed for cheerleaders, dancer and gymnasts, the new catalog introduces over 50 new products for 2008 including new flannel and madras patterns, organic and burnout tees and metallic sparkle cotton cuffed pants.
Pro Towels Etc. (asi/79750) has appointed Scott Harris as outside regional sales rep for its Southwest territory. A seven-year veteran of the ad specialty industry, Harris will travel throughout TX, OK, LA, CO, NM, KS and AZ.
Vantage Apparel (asi/93390) has hired Kristi DeLeo as sales rep. DeLeo will be responsible for the Southern California and Hawaii region.

[ ASK AN EXPERT ] 
Question: What supplier carries shorts, mostly women's, in sizes XS to 4X that have pockets in them? I've found quite a few, but they're all in junior sizes. The shorts I need are for boaters who want pockets.
Answer: Your question is a toughie. No wonder you were having trouble! We're afraid we can't give you any suppliers that offer shorts in size 4XL. We did, however, find a couple of options that are comparable. First, try Pride Uniforms Inc. (asi/79524). Product number PT35 is pleated shorts with front and back pockets; these come in sizes XS-3XL. Then, you can try Edwards Garment Co. (asi/51752). Its product number 8467-W is pleated-front shorts that come in sizes 18W-28W. Then, product 8467 is the same shorts style in misses' sizes 0-16. This company also carries men's styles.
Selling Tip: The industry doesn't offer much in the way of shorts, especially with pockets, since most shorts are for athletic purposes. As an alternative, you can offer fanny packs, which are back in style or vests, in either the standard outdoor version or the type made specifically for fishing.
Question: I have a customer who runs a funeral home and is looking for men's black full-length raincoats with a zip-out liner. I've found several in retail, but have had no luck finding them wholesale.
Answer: Wow, we see what you mean! This wasn't easy to find at all! In fact, we're not sure we found exactly what you want. We had only two options to choose from – a Western-style duster and a leather trench coat. The latter, we assume, is the closest thing to what you're looking for, so go to Apparel Star Inc. (asi/36539). Product number 22389 is a men's black trench coat with a zip-out lining, then 21180 is the women's option. Like we said, both of these are leather, but some people actually prefer leather for the rain. When treated properly, leather garments do really well against the rain.
Selling Tip: Rain gear can be a great way to add-on to apparel sales. Most clients don't realize how important it can be until the rain starts. The next time it does be sure you're in touch with your client and suggest how they can better prepared the next time the weather turns on them and their client's event.

[ WEARABLES TERMS ] 
Wool - Terms you should know:
Boiled Wool: Thick, dense fabric that is heavily fulled to completely obscure its knitted construction. It has the suppleness of a knit, with the stability and shape retention of woven fabric.
Shetland: Very fine, lustrous wool from the downy soft undercoat of Shetland sheep. The term has been used rather loosely by the apparel industry to describe similar fabrics and clothing, especially sweaters made from coarser types of wool.
Virgin Wool: New wool that has never been used before, or reclaimed from any spun, woven, knitted, felted, manufactured or used product.
Wool: Fibers that grow on sheep fleece. Wool product may also include fibers from lamb, angora or cashmere goat.

[ SHOW LIST ]
Feb. 6-8: The ASI Dallas Show
For more information, call (800) 546-3300 or visit www.asishow.com.
Feb. 8-10: The Imprinted Sportswear Show, Orlando, FL
For more information, call (800) 933-8735 or visit www.issshows.com.
Feb. 11-15: ASI Advantages Roadshow, Seattle; Portland, OR; Sacramento, CA; San Jose, CA; Oakland, CA
For more information, call (800) 546-3300 or visit www.asishow.com.
February 12-15: MAGIC Marketplace, Las Vegas. Las Vegas Convention Center & Las Vegas Hilton
For more information, call (877) 554-4834 or visit www.magiconline.com.
Feb. 14: PPAS New Product Idea Showcase, Arlington Heights, IL
For more information, call (630) 983-7722 or visit www.ppachicago.org. 
Feb. 14-16: Oasis Gift Show, Glendale, AZ
For more information, call (800)-424-9519 or visit www.oasis.org. 
Feb. 17-20: Alberta Gift Show, Edmonton, Alberta, Canada
For more information, call (888) 823-7469 or visit www.albertagiftshow.com.
Feb. 18-22: ASI Advantages Roadshow, Van Nuys, CA; Ontario, CA; Irvine, CA; San Diego, CA; Phoenix
For more information, call (800)-546-3300 or visit www.asishow.com.
Feb. 19: Project Runway Product Fashion Show and Booth Show, Covington, KY
For more information, call (513) 984-9189 or visit www.tsppa.org.

SPONSORED BY



Get latest news and trends in the fast-changing wearables market!
Subscribe to Wearables Style.
Advertising Specialty Institute® 4800 Street Road, Trevose, PA 19053 

Subscribe to Wearables™ magazine. You must be a member of ASI to subscribe to this publication. The publisher has a right to refuse subscriptions to non-members.
Wearables Style and Wearables are trademarks of the Advertising Specialty Institute. You were sent this newsletter as a benefit of your ASI membership. Copyright 2008, ASI. All Rights Reserved.