How To Sell: Fanny Packs
Despite a decidedly mixed reception since they became popular in the 1980s, fanny packs, also known as waist packs, are proving their staying power with a revival that continues to gain momentum. Among the celebrities recently sighted sporting them are Sarah Jessica Parker, Jared Leto and Fergie, and they've also been popular in retail and on the catwalks. Designers Alexander Wang, Lilly Sarti and Rudsak all featured waist packs in recent Spring/Summer 2015 fashion shows, and Extreme80s, a Web-based retail store dedicated to 1980s-inspired apparel and accessories, offers a variety of vintage styles.


| | |
| --- | --- |
| | |
| The Thirst Breaker Two-Bottle Waist Pack (N6453) from Debco (asi/48885) is made of neoprene with mesh backing and includes two HDPE water bottles, a padded back panel, zippered main pocket and adjustable webbed belt. | |
| | |
| | |
"The fanny pack is making a huge comeback," says Alex Morin, executive vice president of sales and marketing at Debco (asi/48885). "They're no longer relegated to the '80s, particularly the sporty variety that are making huge waves these days." Currently, Debco is meeting client demand with the neoprene Thirst Breaker waist pack (N6453) that holds two water bottles, perfect for hiking, camping and fishing.

Two of the most popular styles from Nissin Cap & Bag (asi/30107) are the single-zipper fanny pack (1012) and the three-zipper fanny pack (1015), made of 600D polyester with a heavy vinyl backing. "We've had a number of inquiries for waterproof and water-repellent styles," says Vice President Julia Hong, "particularly from customers who might be using these near water, such as water park lifeguards."

Possible applications for fanny packs run the gamut, says Kevin Xiao, vice president of Atteff International (asi/37455), who cites camps, lifeguard stations, YMCAs, banks, conferences and travel agencies as promising clients. "Some of our high-end fanny packs, such as the Mossy Oak camo outdoor pack with gun compartment (BF1729MO), are good options for outdoor/hunting events and activities," he explains.

For end-buyers who want a super streamlined look in addition to quick, hands-free access to essentials, check out goband (asi/61103), which offers a flattering, fitted hip-band organizer that's ideal for active lifestyles. "They're perfect for yoga studios, gyms, swim clubs, schools and walk/runs," says Christine Santori, sales representative. She notes that the editor-at-large of Oprah's O magazine, Gayle King, wore a fanny pack in a fall issue, calling it the "perfect accessory."

When looking to embellish fanny packs, consider screen printing and heat transfers. Goband even offers bling and rhinestones. Embroidery is a possibility, though often, Hong says, the pockets prove too small for the hoop. "Many companies are now gravitating toward full-color decorating options," Morin says. "Lately, decorators have been incorporating cool wraparound artwork that showcases brilliant graphics and contemporary taglines. We've also seen some pretty awesome sublimation."
Want To Shake Up Your Shop?

Our recurring "Shop Shakeup" series helps decorators overcome the hurdles that are holding them back. We pair shops with experienced screen-printing and management consultants who will offer customized advice and actionable strategies. The goal is to get your shop on the right track to success. If your shop is a good candidate for future installments of "Shop Shakeup," email Editor C.J. Mittica at cmittica@asicentral.com. Please include information about yourself and your business as well as your greatest areas of need.
ADVERTISEMENT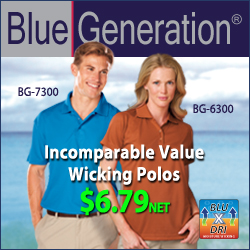 Sales Challenge: Maximize Motivation
Motivation breeds success. Use these strategies to increase self-motivation.

Connect Work To Rewards: Think of special things you'll be able to do or buy if your sales reach a certain level. Set revenue goals for the year that exceed the tally required to obtain those rewards. When your motivation ebbs, remind yourself of the potential payoffs. Visual aids can prove powerful memory joggers. For instance, tack up a postcard of the tropical resort you want to visit. Keeping specific rewards in mind will inspire you to work with more enthusiasm, bolstering the likelihood that you'll succeed.

Treat Yourself Along The Way: Break down large objectives into smaller goals. Then, reward yourself for reaching them. Perhaps your to-do list includes making 10 cold calls. Every time you complete a few calls, treat yourself to something. It could be anything from watching a funny YouTube video to taking a five-minute walk outside. Rewarding yourself for reaching mini milestones makes bigger objectives less intimidating. This increases belief that you'll obtain the ultimate aim. When you believe things are obtainable, your motivation increases.

Think Of The Good You Do: Promotional products are powerful marketing tools. Considered in terms of cost-per-impression, they are among the most inexpensive advertising mediums. By developing promotional solutions that are right for a client, you're providing fuel for her business. Remind yourself of this fact frequently. Knowing that you are having a positive impact enhances motivation.

Dedicate Time To De-Stressing: Stress causes mental and emotional fatigue. Left unchecked, it will exhaust you. To keep your motivation levels high, you must find healthy ways to alleviate stress. Exercise, meditation, prayer, yoga, playing a musical instrument, creating art, hiking, getting a massage, having a good heart-to-heart with a trusted friend – all are productive means of dispelling tension. You can even take a cue from kids. "Play!" says Gayani DeSilva, an Orange, CA-based psychiatrist. "Children use play to work out conflicts, to relax, to have fun, and to reduce their worries and 'stress'. So, do something different – something silly to make yourself laugh and let go of the old expectations."

Tackle Something Simple: Sometimes, the best way to find motivation for larger projects is to accomplish several easy tasks first. In so doing, you build momentum that can translate into the motivation needed to delve into the heftier responsibility.



Garment-Dyed: A dyeing process that occurs after the garment is assembled.

Poly-Filled: A warm polyester lining found in the body or sleeves of outerwear garments. It has more loft than a regular nylon lining.

Poplin: A tightly woven, durable, medium-weight cotton or cotton-blend fabric made using a rib variation of the plain weave which creates a slight ridge effect.

Burnout Tank

This burnout tank gives wearers a unique look, its finishing process gives each piece a one-of-a-kind weathered look. The garment-dyed top is made of a 50-50 cotton-polyester blend. It's ultra-light, sheer and super-soft. Available from alphabroder (asi/34063); www.alphabroder.com.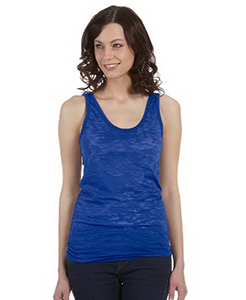 Selling Tip: Fashionable burnout tanks are especially popular among the active crowd. Think dance and gymnastics classes, cheer squads, yoga studios or gyms.

AnaJet Inc. (asi/16000) has released the new PowerBright PLUS CMYK inks that provide brighter, more vibrant colors and deeper reds and blacks. Visit www.anajet.com for more information.

Cintas Corporation (asi/162167) has recycled 19.5 million PET bottles for use in apparel manufacturing. According to Cintas, these bottles, placed end-to-end, would stretch from New York City to Las Vegas.

Clipartboom.com now offers the new Trades and Services Pack with clip art elements for a variety of industries, including landscaping, electrical, dental, carpentry and more. Each pack contains 100 color and black-and-white clip art elements and 75 black-and-white and color interactive design templates. Visit www.clipartboom.com/trades-services-pack for more information.

Coastal Business Supplies celebrated 25 years with an anniversary party held at the company headquarters in Maryland Heights, MO on May 1. Attendees enjoyed barbecue, cake and games, as well as a sneak peek demonstration of the new Virtuoso sublimation printing system.

FIEL-Fairdeal Import & Export Ltd. (asi/53509) held its first open house to celebrate its renovated showroom and newly installed screen printing machines at the Mississauga, Ontario facility. Attendees toured the production floor, decoration department and showroom displaying the supplier's complete product line.

Gemline (asi/56070) has hired Andy Logan as director of global solutions and Andy Blahnik as quality and compliance manager.

Gildan Activewear (asi/56842) welcomes Rhodri Harries as its new chief financial officer and chief administrative officer.

Graphics One announces that Metalnox has launched the new air-operated PTS 17000, its largest-ever heat press. It features two mounting stations, dual shuttles each measuring 39" by 67" and more. Visit www.graphicsone.com for more information.

J.A. Uniforms (asi/232309) has promoted Ulysses Garcia to sales executive and Sabine Salnave to in-house sales representative.

Lands' End Business Outfitters (asi/250566) has launched its "Lands' Friendly" initiative by expanding its partnership with the National Forest Foundation (NFF), and sourcing sustainable textiles. For more information, go to www.landsend.com.

M&R will hold its second Finish First with Kruzer! competition at the NBM B.I.G Show in Indianapolis on June 4 and 5. Eight randomly selected teams of two will compete for the fastest time for assembly of a Kruzer press. The team with the fastest time each day will take home a free Kruzer manual screen printing press, or apply $3,100 toward any other M&R manual or automatic screen-printing press. Visit the assembly video at www.mrprint.com/KruzerIndy. For more information, visit www.mrprint.com.

Prime Line (asi/79530) welcomes Nicole Nelson as Northwest regional sales manager, covering northern CA, northern NV, OR and WA.

Redwood Classics Apparel (asi/81627) announces that President Kathy Cheng has been named a business innovator for 2015 by the Junior Achievement of Central Ontario (JACO). The honorary JACO Bold Thinkers Inspiring Leaders luncheon will take place May 13 at TELUS House in Toronto.

Roland DGA (asi/18201) announces two spring product promotions, both valid now through June 30. Customers can take advantage of a $4,000 instant rebate with the purchase of a Pro 4 XR-640, Roland's flagship printer/cutter, as well as a free BOFA Air Filtration System (valued at $3,999) with the purchase of a Roland VersaUV LEF-20 flatbed printer. For more information, visit www.rolanddga.com.

Selco (asi/86230) announced that it has hired Christine Von de Veld as an account manager.

SGIA announces that it is the first printing trade association to join the SmartWay Affiliate Program, an Environmental Protection Agency program that aims to reduce transportation-related emissions and environmental risk for companies, while increasing energy security.

Stahls' (asi/88984) is now offering an assortment of heat-printing platens and accessories with the purchase of a Hotronix Air Fusion Heat Press package this month. In addition, for the fourth consecutive year, decoration experts from Stahls' embellished jerseys for the NFL Draft, held in Chicago from April 30 through May 2. This year, names were heat printed in CAD-COLOR FoilTEK metallic gold to honor the 50th anniversary of the Super Bowl. For more information, visit www.stahls.com.

Storm Creek (asi/89879) has appointed Kim Hamlin as director of customer experience.

Transfer Express (asi/91804) has released five new Hotronix Heat Press Starter Packages that include a Hotronix heat press, Quick Slip Pad Protectors, product credit, easy prints marketing kit, number kit, free shipping and more. For more information, visit www.transferexpress.com.

The Wild Side has released its new 356-page full-color catalog with 33 product categories and over 1,000 new designs for 2015. To order the catalog, call 881-837-5000 or email info@thewildside.com.