SPONSORED BY


VIDEO

Nicole Rollender, ASI's executive director of professional development, walked the floor at The ASI Show New York and discovered the latest trends in apparel. Check out what she found in this "Fashion Finds" video. Click here to watch the video.

Got a question you want answered in a future Ask the Expert video? Send it to cmittica@asicentral.com.



Trend Alert: Friendship Bracelets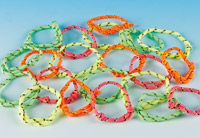 Zenith Promotions (asi/98980) carries these self-adjusting friendship bracelets (T250). Made of cotton cloth, the bracelets are available in neon colors.

The old favorite is back. Friendship bracelets are reaching their peak season with summer camp just around the corner. For years, wearers have created their own bracelets with craft kits, and then traded them with friends. While some are made of colorful woven thread, others are twined with gimp (a plastic lacing also used to make keychains), zipper pulls and bookmarks. They can feature bright colors with accents such as shells, hemp and charms.

But these days, the bracelets are not just for the crafty camp crowd; recently, at retail, the accessories have featured spike and stud details for a little more edge. For example, DNA (the shop) – a national store that features talented, up and coming designers – offers colorful woven pieces with pyramid studs.

Of course, friendship bracelets remain a perfect imprinted promotional item. "Ours are made of cotton cloth," says Maria LaFichi, executive vice president at Zenith Promotions (asi/98980). "We offer pastel colors, which are great for the Easter season, and we have more traditional ones in neon colors for year-round applications. They're also self-adjustable." Often, industry friendship bracelets are imprinted with direct screen print, debossing or sublimation.

LaFichi says that, while friendship bracelets are popular at summer camps, they're often sold year-round. "They've been popular for the last 15 to 20 years," she says. "On the West Coast, the trend is more year-round than on the East Coast, where it's more a spring and summer item. But we do see both boys and girls wearing them, so they're definitely a unisex piece. And they fit all ages because they're adjustable."

LaFichi doesn't expect friendship bracelets to go away anytime soon. "I think they'll stay popular," she says. "They've been selling since they hit the market. They're also really inexpensive, which makes them a great option for a promotional campaign." For hot markets, consider schools, athletic events, beach promotions and, of course, summer camps.
Check Out The New CounselorMag.com

In addition to the print version of Counselor debuting a redesign this month, the magazine's website has been transformed. Go now to www.CounselorMag.com to see a true media hub for the ad specialty industry. Containing the most recent news, analysis of the most pressing trends, how-to articles that offer practical business advice, and video coverage like no other in the industry, the new www.CounselorMag.com also provides easy ways for readers to interact with us. Twitter and Facebook feeds are planted on every single page – giving visitors ways to post comments and respond to articles in real time.

Plus, news and articles (including a twice-weekly update of the industry's personnel appointments and promotions) will be changed, updated and enhanced every single day – giving the industry reasons to visit www.CounselorMag.com as often as possible. Check it out now.

Hanes Reveals New Offerings At "Tee-ser" Event


Old is new again. That's just one of the major trends that were displayed at the Hanes Men's "Tee-ser" Event in New York City on May 8. Hanesbrands (asi/59528) is launching its Hanes Originals line in 2013, where they will incorporate classic Hanes designs with some modern flare. "What's old is always new again at some point. We've got a ringer style and slub fabric, so we're bringing modern fabrics to vintage shapes and silhouettes," says Hilton Graham, senior brand manager for Hanes.

The Originals line will feature three options: the young men's ringer, 1901 signature crew and young men's graphic. "For a younger man, it will be a more tapered, slimmer fit. For your everyday guy, it's a straight, simple fit, but with modern fabrics and colors," says Graham. The 1901 signature crew features a contrast neck tape and is available in a variety of special dyes, proprietary fabrics and graphic styles. Recognizing that graphics are huge in today's market, the company is incorporating retail looks – screen printing, dye sublimation and more – into its various shirts. For example, the Originals young men's graphic V-neck tee is the perfect vehicle for new graphic trends.

For distributors, Graham recommends the Nano-T, which features lightweight ring-spun cotton. The pre-shrunk jersey knit is available in a contemporary fit. "It's much lighter than some of the traditional fabrics you find for screen-printed T-shirts," says Graham. The CoolDRI Tee is also a great option for the industry, as it features a 50+ UPF rating and is suitable for sublimation. The tee wicks moisture away from the body and features a rapid dry interlock fabric.

Hanesbrands ranks No. 150 on Newsweek's list of 500 greenest U.S. companies. The company is pushing that green effort in the marketplace with its ComfortBlend EcoSmart tee, which dries faster than 100% cotton. The tee is made with up to 5% recycled polyester fibers from plastic bottles that, given the massive volume of shirts that Hanes manufactures, will have a major effect on mitigating environmental impact.

To see more of Hanes' offerings from its "Tee-ser" event, click here to watch the video.

Interested in Becoming a Wearables Contributor?

You've learned a lot working with apparel – and now's the time to share your knowledge with our readers. Are you a master marketer? A champion salesperson? An eco or performance expert? Then consider this your invitation to write an article for our "Business of Wearables" department. We're looking for wearables people with useful tips or lessons learned to share with other readers.

If you're interested in writing, send a short bio and summary of your topic to Editor C.J. Mittica at cmittica@asicentral.com. We look forward to hearing from you.

Q&A: Sailor Bags



This genuine sailcloth tote bag (202) from SailorBags (asi/84293) is great for running errands around town and taking to the boat and beach.

SailorBags (asi/84293) is a Victor, NY-based company that specializes in making bags from custom-woven sailcloth for use on and off the water. The supplier's spokesperson, Shannon Wojcik, recently provided insight into the company and its offerings.

Q: What bags are your most popular sellers in the ad specialty industry?

Shannon Wojcik: Totes – especially large and extra-large sizes. Totes have universal appeal to both genders and are a product everyone can use. They are easy to fill with other gifts. The price point is good for sailcloth products.

Q: What end-user markets do your bags sell best in?

SW: Corporate, where they are often used for conferences that will be held in tropical locations. Also, they are sought after by nautically-themed businesses, such as boat builders/dealers, yacht charters, cruise lines, and more.

Q: What sets your bags apart?

SW: Our bags are made from sailcloth and have practical features useful in scenarios around water (beaches, boats, etc.).These features are waterproof linings, zippered tops, and pockets inside and out. Plus, they are classically stylish, yet very durable.

Q: What advice can you give distributors to help them sell more bags? 

SW: These bags are very well priced for the category of sailcloth bags. They are extremely unique and high quality. For the appropriate client, it is an excellent alternative to the typical bag selection.




Straw Fedora




Featuring a pre-curved 2-inch brim, this fedora (128-1014) from Otto Cap (asi/75350) is made from 100% rush straw. Available in medium and large, the hat comes in an earthy natural color. Sold separately, the 1½ -inch cotton/spandex hat band (92-1022) is available in seven colors.

Selling Tip: A trendy accessory, straw fedoras are perfect for summertime promotions. End-buyers could include major beverage brands, as well as beachside bars, restaurants, resorts and hotels.

American Apparel (asi/35297) reported that its total net sales in April tallied $47.9 million, 6% better than April 2011. Last month, wholesale net sales rose 4% and comparable store/online sales increased 10%.

Bodek and Rhodes (asi/40788) has been named Vendor of the Year by EmbroidMe (asi/384000) for the third consecutive year.

Brother International Corp. announced that its new GraffiTee Series of Digital Garment Printers has arrived in the United States. Printers have been installed at Think It Wear It Express Ltd., in Miramar Beach, FL, and at Zion Rootswear in Jacksonville.

CafePress (asi/43167) announced that Joe Schmidt has been named chief marketing officer. Additionally, the company has also announced a new feature in which CafePress shop owners can add hand-selected merchandise to feature on their YouTube channels.

Camsing Global LLC (asi/43668) has made Christine Sullivan the inside northeast sales representative. She will be responsible for ME, VT, NH, RI, CT, NY, NJ, PA, DE and MD.

Charles River Apparel (asi/44620) recently christened a new dragon boat for the Wellness Warriors, the only dragon boat team for cancer survivors and caregivers. Charles River purchased and donated the boat to the team, then held an event for the maiden voyage on May 14.

Cintas (asi/162167) has signed an alliance partnership deal with Mason, OH-based Touchstone (asi/345631). The deal, which is a long-term contractual relationship that is effective immediately, calls for Touchstone to begin working with Cintas to service its enterprise promotional clients.

Executive Apparel (asi/53418) recently launched two brand new catalogs. The Career Apparel Catalog and the Elite Schoolwear Catalog. Both feature new styles.

Delta Apparel (asi/49172) announced that it has promoted Mary Bostwick to director of marketing & customer service.

Fersten Worldwide Inc. (asi/53974) recently welcomed Matthew Michelin back to the company as customer service supervisor.

Graphic Solutions Group offers Ink Anti-Skin No Wash-up Spray by Sprayway for preventing plastisol ink from drying in screen print screens. It can also be used on press rollers and fountains for graphics printing.

Great Dane Graphics recently added new designs to its sports category, including a racing swimmer, a tennis player returning a lob and a volleyball player. All artwork is done in high-resolution, layered Photoshop files.

Independent Trading Co. has announced that its two-color deluxe fleece full-zip hoodies are currently back in stock and ready for immediate shipping. For more information, click here, or call (949) 366-9911.

J.A. Uniforms has released its new hospitality catalog, featuring uniforms for valets, housekeeping, waitstaff and more.

Pro Towels Etc. (asi/79750) has announced that Brian Porter has joined the company as vice president of sales.

Proforma (asi/300094) has announced that owners participating in the ProVantage Selling System have experienced an average 19% year-to-date sales growth as of April 2012, comparable to their year-to-date sales in April 2011.

SanMar (asi/84863) announced it has expanded into Minneapolis with a new warehouse. It is the company's seventh warehouse across the United States. The company is first opening a temporary facility in Minneapolis now, while waiting for construction to be completed on a full-scale warehouse, expected to open in the summer of 2013.

Sassy Scrubs recently provided custom lab coats, made of T-Rex Fossils fabric, for the geode-cracking "specialists" at the Ripley Aquarium's "Dinosaurs—When Giants Ruled" exhibit, being held in Myrtle Beach, SC, until Oct. 1.






Chantilly Lace: Bobbin lace with fine six-sided mesh grounds that feature a pattern outlined in heavy thread.

Coir Fiber: A coarse fiber extracted from the fibrous outer shell of a coconut.

Elasticity: The ability of a fiber or fabric to return to its original length, shape or size immediately after the removal of stress.