SPONSORED BY




San Diego Style
The hottest styles in apparel were on display at The ASI Show San Diego. Stitches Editor and Education Director Nicole Rollender went searching the show floor for the latest looks, which she shows off in these videos. Click here to watch the day-one episode of Fashion Finds and click here for the day-two episode from The ASI Show in San Diego.
Trend Alert: The Pocket Square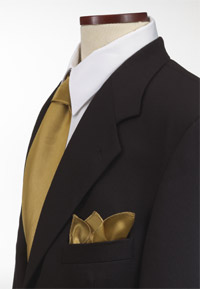 This 10" x 10" polyester Vegas gold pocket square (SCP-110-027) with rolled edges from Wolfmark (asi/98085) is also available in 100% silk and 20 different trendy colors with matching ties.

Small details make all the difference when it comes to men's style, particularly suits that tend to look similar. Now is the time to dress up a spring blazer or suit with some real gentleman class by adding a pocket square.

Any suit can be unique with this simple yet effective accessory. A pocket square is a small handkerchief tucked into the left breast jacket pocket, which adds a dramatic splash of color to any outfit. "We have seen an increase in accessory attire such as pocket squares from companies that want to enhance their image," says Bruce Everakes, president of Wolfmark (asi/98085). "This is especially true for users in the hospitality industry whose employees wear uniforms."

The pocket square has enjoyed a continued revival in a variety of permutations – everything from solids to polka dots, plaids, stripes, paisleys and more. Just like ties, silk is the most common option, though cotton pocket squares are a great summer alternative. Polyester versions have emerged as another choice.

For formal occasions, the pocket square is an ideal alternative to the boutonniere, which has long been part of a gentleman's formal attire. Often, the groom's boutonniere gets practically destroyed at a wedding reception whereas pocket squares tend to be sturdier because they aren't pinned to the tuxedo. The pocket square is a fun personalized item for weddings, proms and more.

Pocket squares are an inexpensive and simple compliment to any jacket. They add to the style of any suit as they allow for personalization. While there are many accessories that can add a touch of flair, such as tie bars, cravats and collar pins, it's the pocket square that sends a classy suit or casual blazer to the top of the fashion league.


ADVERTISEMENT


ASI Radio: We Solve Your Apparel Challenges
The Tuesday Morning Show on ASI Radio provided listeners with answers to questions about their biggest apparel sales challenges. Plus, the hosts shared their "Favorite Things," offered strategies for building customer loyalty and debated whether Made-in-America is making a comeback. If you missed the show, a recording is now available at www.asicentral.com/radio. Don't forget to join us for our next broadcast on Tuesday, May 24. Log on at 10:30 a.m. ET to listen to the show – and give us a call at (215) 953-4979 to hear your voice on the air.
Case Study: Courting A Big Client



This polo, created exclusively by OOBE for the YMCA's rebranding, is made from a 100% polyester waffle-knit weave that is quick drying as well as wrinkle, stain and odor resistant.

Don't tell OOBE Inc. that persistence and planning doesn't pay off. The Greenville, S.C. based provider of custom-designed uniforms saw a major opportunity in the YMCA and decided to go after it. Now, OOBE is a preferred YMCA vendor that has designed a new apparel collection available to employees of the nonprofit's 2,703 locations around the country. Featuring the Y's new brand image, the contemporary line consists of three styles: male and female performance fabric polos and a unisex long-sleeve tee. "There's a lot of exciting potential to grow the business," says Caroline Bladon, director of OOBE's Y program.

OOBE began courting the Y a year ago when company executives learned the 166-year-old nonprofit planned to rebrand. As part of the enticement effort, OOBE set up a vendor booth at the Y's General Assembly. OOBE also sent complimentary performance fabric polos to more than 2,200 Ys, offered discounted pre-book pricing and issued e-blasts. The hustle paid off. "After careful evaluation, we felt that OOBE could provide quality uniforms to the Y while adhering to our new brand standards," says Val Castaneda, director of strategic sourcing for YMCA of the USA.

The polo design features a wide, arching band of color across the shoulders, collar, sleeves and sides of a bright white shirt with contrast piping. The Y logo is printed with a performance rubberized application on the back yoke and left chest. Buttons are engraved with "YMCA." The shirt is made of a Hydrovent Performance, quick-dry, 100% polyester waffle-knit weave. The fabric minimizes wrinkles, and is treated with antimicrobial technologies that make it quick-drying and odor resistant. Color combinations are red/white/orange; blue/white/purple; green/white/blue; orange/white/green; and purple/white/red.

Also made of Hydrovent, the long-sleeve tee is gray with a dual band of white and contrast color that stretches across the back and down the opposite sleeve before arching upward on the opposite front side. The Y logo is featured in a rubberized print application on the cuff of one sleeve, providing a polished finish to the athletic look.

OOBE's initial stock of Y shirts is selling fast, but the company says inventory will remain robust; the goal is to become the premier apparel provide to Y staff members nationally. "OOBE is a firm believer that our role as a strategic partner is to enhance brand equity for our clients," says CEO Tom Merritt.



Are You Multi-Million Dollar Material?
Counselor magazine is currently updating its annual Multi-Million Dollar Roundtable lists. The exclusive lists, which honor distributors with more than $2 million in 2010 sales and suppliers with more than $5 million in sales last year, will be revealed in conjunction with our State of the Industry issue in mid-July. To be considered for this exclusive group, please click here now and update your 2010 revenue information.

Don't delay. Update your 2010 sales now for possible inclusion in Counselor's Multi-Million Dollar Roundtable.



Sales Challenge: When Clients Spend Less


It's news no distributor wants. You learn that a top client will be spending less with you in the year ahead. Maybe the reduced spending is the result of a client's shrunken budget for promotional apparel. If so, says Jean Moore, owner of Moore Exposure (asi/276255), distributors should work hard to ensure the client is getting the most out of the orders the client is placing. "If the situation turns around, they'll remember how you helped them," says Moore. Distributors should also continue to provide top notch customer service, which can include, for example, offering high-volume discounts. "You help them weather the storm. When the storm passes, the hope is that everybody comes out brighter," says Andrew Shuman, general manager at Rockland Embroidery (asi/734150).

If a major client is spending less with you because they're directing dollars to another distributor, you can approach the client straightforwardly and ask how you can improve service to them. You can consider offering more aggressive pricing, but Moore says distributors stand a better shot of winning the business back if they focus on offering outstanding customer service and strengthening the personal relationship with the client. Sometimes, a client begins spending less because the company has a new buyer who has a preferred distributor. Cracking that relationship could be difficult. "Time is valuable. Sometimes it's not worth chasing," says Moore.

Regardless of the reason for a client spending less, distributors can strive to make up the lost business by prospecting for new clients and trying to generate more revenue from current customers. "You don't want to gouge anyone," Moore says, "but you would try to upsell and make sure you're getting as much as you can."



Contrast Color Hat




Catch the wave with this recently-introduced 100% brushed cotton wave cap (WV102) with a six-panel, mid-structured crown. This Adams Headwear hat features contrast inserts on the side panels as well as a contrast wave color on and under the visor. There's also a self-fabric sweatband and two gunmetal stacked eyelets on the side panels. The wave hat combines quality, style and comfort at an affordable price point, and is available in 17 different color combinations designed for any lifestyle. Available from Whispering Pines Sportswear (asi/97027).

Selling Tip: Because of this hat's excellent color offering, it can be sold to a wide array of customers – from high school and collegiate athletic teams who want a match for their school colors to men looking for a golf cap.



Q: I am looking for a white V-neck tee. The one I used previously has been discontinued and my customer still wants that style. All I can find are 4.3 ounce shirts, but my customer is a fence installer and needs a heavier tee.

A: Start with Brandwear Basics; (asi/41545); (866) 339-1122; www.brandwear.ca; product 216. This 6.49 ounce V-neck tee comes in white (plus five other colors) in sizes S-5XL.

Also try Idea Workshop Inc.; (asi/62127); (888) 831-0401; www.ideaworkshop.com; product TH6604. This 8.05 ounce shirt is durable and available in sizes S-3XL as well as four colors (including white).

Lastly, for something more durable than the 4.3 ounce shirts but lighter than the others, try Cotton Heritage; (asi/46778); (888) ROO-CHIT; www.roochi.com; product M1175 for a 5.2 ounce tee in sizes S-3XL.


Aakron Rule Corp. (asi/30270) has expanded its sales force, naming John White its Western regional sales manager.

Anvil Knitwear (asi/36350) has received a Best First Time Report distinction for its sustainability report at the Ceres-ACCA North American Awards. The report is available at www.anvilcsr.com.

Ash City (asi/37127) has announced the hire of Joe DeVault as senior vice president of sales.

Blue Generation (asi/40653) has announced free freight on orders over $175 placed on the company's website, effective May 16. Visit www.bluegeneration.com for information or to place an order.

Bodek and Rhodes (asi/40788) has introduced a new feature for its virtual apparel design studio that allows customers to preview and promote designs on the sides, sleeves and backs of their apparel.

CK GraphicWear LLC (asi/45251) has joined ASI as a supplier decorator member.

Coastal Business Supplies has announced the hire of Alvin Jordan as product and design specialist.


Dalco Athletic has introduced a new monolith dye-sub appliqué for spirit wear, which consists of an arched team name and a sport name with a gradient shadow that adds dimension.

EmbSource (asi/52297) has joined ASI as a supplier decorator member.

Florida Souvenir (asi/55012) has joined ASI as a supplier decorator.

Gildan has renewed its certification under the stringent Oeko-Tex Standard 100 for its entire branded product line.


Imprintables Warehouse (asi/58475) has introduced Spectra Flex, a new material specifically designed with super stretchability for swim suits, leotards, performance wear or anything made of materials like Lycra Spandex. Also, the company's industry forum expects to reach its 1,000th member in May and it is celebrating with giveaways for active members. Go to www.myVersaCamm.com to register for free.

Insta Graphic Systems has received SGIA's 2011 Sustainability Recognition Award for its environmental efforts.

L.A. T Sportswear, Inc. (asi/65948) has made a donation to the Red Cross to support recovery efforts for tornado-ravaged Georgia. The company also announced a new training video, available on its website and YouTube, that highlights the Rabbit Skins line of infant and toddler clothing.

Leed's (asi/66887) has marked its one-year anniversary in the umbrella category this month. 

LogoMotion Apparel Decorating Ink (asi/51495) has joined ASI as a supplier decorator member.

OOBE, Inc. has hired Joe H. Patrick for the newly-created position of vice president of operations.

Stahls' ID Direct (asi/88984) has launched a digital decorating center for heat printing to help handle some of the overflow that dealers often have.

Towel Specialties (asi/91605) has introduced its Economy West Ship Program, which coordinates production so orders ship on the appropriate Friday closest to the event date for the UPS ground price.





Knowing these terms will make distributors who just started sound like they've been in the business for years.

Nap: A fuzzy, fur-like feel created when fiber ends extend from the basic fabric structure to the fabric surface. The fabric can be napped on either one or both sides.

Piña: A fiber made from the leaves of a pineapple that is commonly used in the Philippines. It is sometimes combined with silk or polyester to create a textile fabric.

Serge: One of the oldest basic terms in textiles, it now implies any smooth face cloth made with a two-up and two-down twill weave, especially pertinent to worsted serge.