SPONSORED BY


VIDEO 



Suspend Your Disbelief
Robin Williams wore them in Mork and Mindy. Michael Douglas wore them in Wall Street. And now, the men of ASI are wearing them. What are we talking about? Suspenders. This favorite from the 1950s is making a comeback, and we present some of the unique options available in the industry in our Wearables Monthly Trend. Click here to watch the video.


What did you think of these videos? Send your feedback to cmittica@asicentral.com 

 
Trend Alert: Black T-Shirts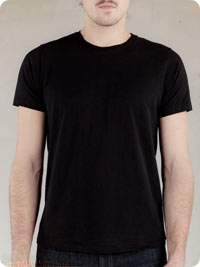 The white T-shirt gets all the attention, but the black T-shirt is always a winner. This Dean Slub Crew shirt (4805) from Alternative Apparel (asi/34850) will work with almost any outfit.
We're all used to seeing the pristine beauty of the classic white T-shirt – on brooding models in Calvin Klein ads, depicted on rebels without a cause, and dancing the night away on extras in music videos. But historically, little attention has been paid to its counterpart, the black T-shirt. It's surprising, since almost everyone looks fabulous in black (the same can't be said for white). "It's one of the most versatile colors available," says Gina Kwok, marketing manager for Alternative Apparel (asi/34850).
Black also provides a multitude of fashion-forward color combinations, and is beginning to situate itself as a color for a more modern fashion mindset. "Season after season, black is always a top seller for us in all our markets," says Kwok. "It is timeless, yet modern and offers a myriad of solutions for any promotional need."
The key is that while black remains the hallmark of high style, it works with even the most casual of garments, such as the T-shirt. Consider styles in black, such as the Dean Slub Crew (4805) for men from Alternative Apparel. It's the perfect blend of James Dean classic with a modern rock 'n' roll mentality.
Listen to ASI Internet Radio
Be sure to tune in each week as a team of ASI editors takes to the airwaves for the ASI Internet Radio show. For a half-hour each Tuesday, we debate the most important topics facing the industry, as well as offer an off-beat look at the market.

If you missed any of our shows, don't worry. Recordings are available at asicentral.com/radio. And, don't forget to join us every Tuesday morning at 10:30 a.m. Eastern time when we broadcast our radio show live. We'll be taking calls from the audience, so please call us at (215) 953-4979 to hear your voice on the air.

Sales Challenge: Sample Success



While there's a certain allure to looking at clothes in a catalog, it only goes so far. Customers facing an apparel buying decision need something more: a chance to touch and feel the garment and see it with their very own eyes. That's why one distributor feels it's so important to get clients into its showroom. "We invite pretty much all of our customers and clients here," says Adrian Sasine, the director of marketing for The Ice Box (asi/229395). "Let them come here and go through their buying decisions here. Touch things, feel things, let us quote them."

The strategy especially applies when it comes to comparing garments. An entry-level and a retail-quality T-shirt may look the same on paper, but the differences jump out at customers when the items are handed to them. "Maybe it is worth a little extra money. People can't tell that from a catalog," Sasine explains.

Showrooms and sample programs are a way of meeting expectations. The last thing a distributor wants is for customers to be disappointed because they didn't get what they expected. Sample programs may cost a bit more, but they make a difference. "If somebody comes to the showroom, we'll gladly order them a sample, and put it in their hands," Sasine says. "If it's a big order, that's truly part of our customer service, to make sure that they're going to get at the end what they wanted in the beginning."

Help Us Find the Industry's Best-Dressed
Wearables is about the style knowledge that makes clients look their best. Now we're interested in the people who use their fashion sense on someone different: themselves.

Do you dress to the nines every day for work? Have a coworker whose best friends are Dolce and Gabbana? Work for a boss who doesn't know the meaning of "Casual Friday?" Then we want to know about that person!

Introducing the inaugural Wearables Best-Dressed List. We're looking for the snappiest dressers in our industry to profile in an upcoming issue of Wearables.

To nominate someone, send us his or her name, company, and a short paragraph about why they should make the list to: Editor C.J. Mittica, cmittica@asicentral.com. If you have a photo displaying your choice's sartorial glory, we'll take that, too. The deadline for entries is Friday, June 18, so get going on those nominees today.

How to Sell: Fleece




Summer may be approaching, but now is the perfect time to start thinking about 2010's fall and winter sales cycles. Fleece is a fall and winter staple, and suppliers are preparing new styles to catch your clients' attention. Here are three tips on how to successfully sell fleece.

1. Watch Your Weight
Among all the important questions to ask clients when selling fleece, the most vital might just be how they will use the fleece, or what weight they are interested in. "It's important to ask the client what kind of weight they're looking for in their fleecewear," says Jessica Levine, marketing associate for Boxercraft (asi/41325). "A heavier fleece is great for keeping you warm in the winter, but a lightweight fleece can be comfortable all year round. It all depends on what the client is looking for."

2. Sampling Size
Not only does Danny Tsai, vice president of sales for Tri-Mountain (asi/92125), recommend that samples be part of the sales process, he also recommends using samples for sizing. "Order a size run before the final order to determine how many pieces of each size the client will need," he says. "Every manufacturer's sizing varies." Taking the time to fit your client's employees or other end-users demonstrates the kind of service that helps build client loyalty.

3. Position Your Product
"There are lots of selections out in the marketplaces," says Jennifer Chiu, product manager for Ash City (asi/37127). "Customers will challenge you on prices, comparing within the promotional product market, or on quality, comparing you with major outdoor retailers. You need to know exactly how to position your product via the price, quality in fabric, sewing details and performance qualities, and let your customers know that the fleece you present is worth every single penny."

 

All-Purpose Stadium Jacket

Neither rain, nor snow, nor heat, nor gloom of night will keep avid fans away from supporting their team … but rain just might. Now you can stay cool and dry no matter what the weather may bring with this stadium jacket that features a built-in seat and carry bag. No more running for cover during rain storms or sitting on wet bleachers! Available from Outwrap (asi/75170).

Selling Tip: This is a great item for travel teams and their avid fans. Embroider the team name and logo on the left chest, or get creative and place the logo and messages around the edge of the built-in seat.

Bag Makers (asi/37940) has introduced customizable virtual flyers on its website for its complete line of nonwoven totes, allowing distributors to showcase up to 10 products.

Carhartt (asi/43861) and Cintas (asi/162167) have announced that Cori Dixon from Kutztown, PA, is a Grand Prize Finalist for its nationwide Are You Carhartt Tough? contest.

Executive Apparel (asi/53418) has revealed its new machine-washable blazers, made of 100% polyester.

Flexfit Headwear (asi/32199) has been named the title sponsor of Agenda Show: NYC, a showcase of streetwear and action sports apparel and accessories.

Imprintables Warehouse has announced that Jeffrey Magerko, a graphic designer for Mark IV Office Supply & Printing in Uniontown, PA, has won an 8GB iPod Touch and $300 in Imprintables Warehouse store credit for creating the best logo for www.MyVersaCAMM.com.

Inkcups Now Corporation has announced the opening of its Tagless Printing Technical Support Office in Cortes, Honduras.

OOBE has signed a licensing agreement with Wolverine World Wide Inc., to become the exclusive provider of Wolverine-branded uniform apparel.

Prime Line (asi/79530) hosted U.S. Congressman Jim Himes on May 10 at its Bridgeport, CT, headquarters. Himes, who has recently met with many local business leaders in southwestern Connecticut, was given a tour of the company's facility. 

Proforma Mountainview Printing (asi/300094) has partnered with Haggen Inc. to sell antimicrobial grocery totes in more than 30 grocery stores in the Pacific Northwest.

River's End Trading Company (asi/82588) has added two new sales reps. Chris Thies is the new regional sales representative for northern and eastern Minnesota and western Wisconsin, and Charlie Cochran will be the sales representative for Mississippi and Alabama.

SnugZ/USA (asi/88060) has moved its offices from 5200 S. Highland Drive to 1901 S. 5070 West, Salt Lake City, UT, 84104. The new headquarters location has housed the company's production and warehouse facility since 2006. The move was designed to consolidate office, warehouse and production operations.

Stahls' Hotronix is offering the new 11x15 MAXX Heat Press.

The FabricLink Network has added new overhead search functions with seven searchable indexes for textile product development.

Transfer Express is now offering a new patterned clip that can be heat-applied to T-shirts.

World Emblem International (asi/98264) has been honored with the Dale Carnegie Training Leadership Award, recognizing excellence in innovation and organizational creativity.




Knowing these terms will make distributors who just started sound like they've been in the business for years.

Argyle: A pattern of tartan plaid from the Scottish clan Argyle. Recognized by its diamond-shape knit design.

Organza: An almost transparent, mesh-like sheer fabric, similar to chiffon but heavier and with more body. Often used in bridal wear, trimming, neckwear and as lining for sheer fabrics and layers for gowns.

Modular: Decorating machine system where many separate stitching heads, or configurations of heads, are controlled by a central computer.