SPONSORED BY


VIDEO 

New York Fashion Finds
Some of the hottest fashion trends are born and worn in the Big Apple. Nicole Rollender, editor of Stitches magazine and director of ASI Education, shopped the show floor to find some of the most innovative styles on the market today.

Click here to watch the day-one episode and click here to watch the day-two video of Fashion Finds from The ASI Show in New York.

What did you think of these videos? Send your feedback to cmittica@asicentral.com 

 
Trend Alert: Fashion Scrubs

Comfort and durability are points of emphasis with the Jockey line of scrubs from White Swan Brands.
There may have been a time when uniforms, such as scrubs, diverged strongly from current fashion sensibilities. However, the divide is quickly narrowing, particularly when it comes to medical apparel. "Uniform styles are becoming more and more reflective of high-quality ladies wear," says Michael Gann, executive vice president for White Swan Brands. Each year fashion looks are continually updated and elevated in style. "Fit is king, and comfort is second on the list," says Gann. White Swan Brands' Fusion line speaks to both the fit and style trends in 2010. "Fusion garments are crafted of tri-blend fabric that brings comfort to a new level with stretch capability, fashion and fit," he says.

Looking forward to 2011, Gann predicts that scrub colors will take on softer, dustier shades. "Prints will also continue to move towards a retro, simple and modern look," he says. In addition, not only will the color, style and print be important to wearers, according to Gann, but the name brand will also carry weight. "We're starting to see known apparel brands breaking into the market," he says. White Swan's Jockey Scrubs line is just one of many brands to have done so, including Dickies, Izod and others. "It's the evolution of the branding strategy," says Gann.

The most important trend in health-care uniforms for the coming year seems to be value. Even though health care as an industry continues to thrive and add jobs, medical apparel buyers are being judicious in their choices. "With salary cuts and frozen wages," Gann remarks, "a natural renewed focus is on quality and getting the best value for your money."

He adds that high color fastness and durability are part of creating the highest quality scrubs in its Jockey line. "Our garments," he says, "bring an entirely new degree of comfort and durability to the market and come straight from the dryer, virtually wrinkle-free and ready to go."
Listen to ASI Internet Radio
Be sure to tune in each week as a team of ASI editors takes to the airwaves for the ASI Internet Radio show. For a half-hour each Tuesday, we debate the most important topics facing the industry, as well as offer an off-beat look at the market.

If you missed any of our shows, don't worry. Recordings are available at asicentral.com/radio. And, don't forget to join us every Tuesday morning at 10:30 a.m. Eastern time when we broadcast our radio show live. We'll be taking calls from the audience, so please call us at (215) 953-4979 to hear your voice on the air.

Sales Challenge: Self-Promoting With T-Shirts


Trying to come up with a fresh way to promote your business? Consider the branded T-shirt market, where novelty always sells. "The true definition of 'novelty' is something fresh, new and innovative," says Michelle Swayze, marketing director for In Your Face Apparel (asi/62494). "Some may place the old-school mentality of novelty items being fad items that quickly pass away, but that's just not true. A novelty item can stay fresh, new and innovative for some time." 

Novelty shirts are a great way to show clients who may have stopped spending that you're still current, fun and capable of appealing to youthful clients who are driving much of the market today. "Customized T-shirts are a great way to get the foot in the door with your clients," says Bayo Simmons, CEO of All Fashion Services (asi/37166).

Consider a self-promotion using novelty T-shirts with an innovative design that integrates your logo and brand colors. Novelty tees are big in summer, and with Labor Day and endless company picnics, outings and events, this is a great time to remind your clients about the quality and creativity of your products. It's also just in time for back-to-school, and novelty tees are especially popular with the school-age crowd.

New Course Available On ASI Education's OnlineLearningCenter


Be sure to register at http://asicentral.com/asionlinelearning for some exciting new courses available exclusively to ASI members. Brought to you by ASI Education, Online Learning is the newest and most convenient way for distributors to get educated.

NEW: Customer Service Tactics to Increase Sales and Snag Market Share
Want to increase your revenues? Steal market share from competitors? Win over your clients to create long-term partnerships? In this course, we'll teach you how to implement 14 proven customer service strategies at your company that will help you keep customers loyal and increase your bottom line. Register now!

Get a sneak peak at ASI Education's newest online course. In this course video, Nicole Rollender, Stitches editor and director of ASI Education, talks about one smart customer service strategy: the best ways to obtain client feedback.
Coming Soon:
Cold-Calling Clinic: Get More Appointments Now

Selling Your Business? Prepare Now


Mike Handelsman is general manager of BizBuySell.com, the internet's largest and most heavily trafficked business-for-sale marketplace.

According to many experts, the time to begin preparing to sell your apparel business is now. Over the next decade, six out of 10 U.S. business owners plan to sell their companies – a noticeable increase over previous years. But regardless of current market conditions, the reality is that most apparel businesses simply aren't ready to be sold when their owners decide to list them. In the ad specialty industry, the timeline for preparing and selling a business is much longer than most owners realize.

The brokers we work with at our online properties BizBuySell.com and BizQuest.com recommend that owners spend one to two years preparing their company for sale – that's in addition to the six to 12 months it typically takes to identify a buyer and close the sale. "Apparel industry sellers must intensely focus on building value by optimizing the key drivers of the business," notes business broker Domenic Rinaldi of Chicagoland Sunbelt. "It is critical to continue to grow the business even after the decision has been made to sell the business."

Starting right now, you can begin to address several obstacles that often present a challenge to a smooth selling experience – regardless of when you plan to put your business on the market. Here are a few problem areas you'll want to be sure to address:

Inadequate Financial Documentation: If you haven't done so already, start transitioning your books to an electronic recordkeeping system and contract for an outside review of your company's financials with an established accounting firm.
Lack of Adequate Cash Flow: A company that is incapable of demonstrating a plan for continuing profitability and cash flow quickly loses its luster in the eyes of the marketplace – even if your business has a history of healthy bottom lines. Be prepared to offer buyers a trend of profitability and cash flow improvement as well as solid reasons why you expect that trend to continue for the next several years.
Staffing Problems: Many business owners enjoy a special relationship with their employees. Buyers, however, are less concerned about your relationship with your employees and more concerned about your staff's ability to function at the highest levels, especially after you've moved on. Like it or not, concerns for your employees will ultimately need to take a back seat to the selling process itself.
Lease Issues: Time and time again, I have seen lease issues bring an otherwise smooth sale to a grinding halt. Proactively address lease issues now by negotiating with your landlord to secure an option to extend the lease with favorable terms for the buyer.

-- Mike Handelsman

AnaJet announced that a new web-based business called Sockprints is providing print-ready blank socks for AnaJet direct to garment printers. The company also hosted an Open House with three educational seminars at its headquarters in Costa Mesa, CA on April 23 and 24.

Colors and Concepts has announced the launch of its latest collection, Born Purple, designed especially for fashionable young professionals.

Crown Products (asi/47700) announced a new partnership with social media marketing company StoneMass and the creation of a new enhancement to distributors' Facebook fan page, the Product Showcase. Distributors can showcase permanently a variety of products, specials, and promotions right on their Facebook fan page.

Garment Decorating Supply announced it is now an authorized distributor for the Veloci-Jet XL, Equipment Zone's direct-to-garment machine.

Gildan has announced the launch of its first Facebook and Twitter accounts. 

Great Dane Graphics announced it is now offering new Motorcyle, Snake, and Dragon stock art.

Hirsch International announced the release of its Hirsch Solutions Studio Brochure, which offers a look at its state-of-the-art showroom and education center.

Imprints Wholesale (asi/62486) is now offering Comfort Colors by Chouinard, a new garment dye line available in 11 styles and 33 colors.

Proforma Promographix (asi/300094) has been awarded an agreement for service awards and related promotional items by Premier Purchasing Partners. Per the agreement, Proforma will serve Premier Inc.'s 2,300 U.S. hospitals and 64,000 health care sites.

Sassy Scrubs announced that it has recently partnered with Steuben Glass, manufacturer of the world's finest lead crystal, to provide their uniform needs.

Superior Uniform Group has announced that it was named "Purveyor of the Year" by OSI Restaurant Partners.

Thinc Actionwear (asi/91120) recently held an open house for clients featuring its 2010 collection. Through admission costs, the company was able to donate $1,000 to the Portland (OR) Food Bank.




Knowing these terms will make ad specialty distributors who just started sound like they've been in the business for years.

Yoke: Fitted portion of a garment, usually over shoulders or hips, to which the rest of the garment is sewed.

Chino: Classic all-cotton "Army twill" fabric made of combed two-ply yarns.

Hydrophobic Fibers: Fibers that lack the ability to absorb water.
Body Mapping Golf Polo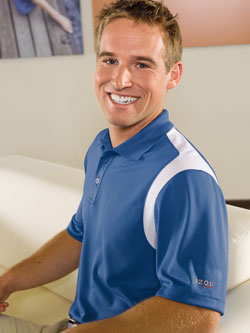 Fashioned from 6.1 oz polyester, the body mapped ventilation design and moisture transport fabric of this golf polo (13Z0095) keeps the wearer dry and comfortable throughout the day. Other features include anti-microbial properties and UV protections. Available from Heritage Sportswear (asi/60582).
Selling Tip: The body mapping polo is available in five color combinations, making it ideal for golf leagues or charity golf team uniforms. Personalize with event name or logo, and the names of event participants.    
| | |
| --- | --- |
| | TOP |
Q: These should be easy to find, but so far I have had no luck. I need zippered sweatshirt jackets with no hood. Will you please help?
A: No sweat! The keyword here is "cadet style," which refers to a non-hooded, sweatshirt jacket with full-zip.
Check out Bella-Alo (asi/39590); 877-727-2001; support@bella.com; product number 3710 and 0807. They have a nice selection of cotton fleece and cotton spandex blend full-zipper jackets that are cadet style.
Also, look at S & S Activewear; (asi/84358); 800-523-2155; requests@ssactivewear.com; product number 3655. They offer a French terry cadet-style jacket.
Finally, try Boxercraft (asi/41325); 800-914-7774; info@boxercraft.com; product number S88G. They have a cadet-style practice jacket complete with front zipper and kangaroo pocket that is perfect for mixing and matching separates.  
Selling Tip:  Play up the cadet-style jacket to yoga centers and gyms. Their clients are sure to go gaga over the freedom of movement offered by this hoodless jacket. They are also easier to layer with other apparel items as well. 
Q: I am looking for nice golf shirts that come in 2XL-Tall. My clients do not want mesh, waffle or ribbed. Just a plain, pique polo with plastic buttons. Any help would be extremely appreciated!
A: Believe it or not, there are plenty of styles to choose from! See Bodek and Rhodes (asi/40788); 800-523-2721; customerservice@bodekandrhodes.com; product number 8535T. They offer the Ultra Club Tall Classic Pique Polo as well as the Whisper Pique Tall Polo.
Also look at Blue Generation (asi/40653); 888-744-7887; info@bluegeneration.com; product number BG2201. They offer an Egyptian cotton pique polo in tall sizes.
Lastly, see Cutter and Buck (asi/47965); 800-929-9299; corporatesales@cutterbuck.com; product number BCK02482. They have a Big & Tall pique polo shirt.
Selling Tip: Simple sometimes is better – plain pique polos offer clients numerous decoration options. They are also, more often than not, available in a variety of colors and sizes which makes designing the perfect promotion easier.
| | |
| --- | --- |
| | TOP |
MAY

May 10-13, Boise, Salt Lake City, Denver, Albuquerque
Advantages Roadshow
(800) 546-3300; www.asishow.com

May 11-12, Hartford, CT
New England Apparel Club Show
(781) 326-9223; www.neacshow.com

May 12, Denver
Stitches Roadshow
(800) 546-3300; www.asishow.com 

May 16-19, New York
National Stationery Show
(800) 272-7469; www.nationalstationeryshow.com 

May 18-20, Atlanta
SPESA Expo 2010
(919) 872-8909; www.spesaexpo.com

May 24-27, Los Angeles, Ontario (California), San Diego, Phoenix
Advantages Roadshow
(800) 546-3300; www.asishow.com

JUNE

June 3-5, Indianapolis
The NBM Show
(966) 893-7682; www.nbmshows.com

June 13-16, Marlboro, MA
New England Apparel Club Show
(781) 326-9223; www.neacshow.com

June 14-18, Vancouver, Calgary, Edmonton, Winnipeg
Advantages Roadshow
(800) 546-3300; www.asishow.com 

June 18-19, Louisville, KY
Embroidery and Direct to Garment Extravaganza
(813) 846-6031; www.swfeast.com