SPONSORED BY


Staff writer Matthew George takes a look at some of the newer technologies in fabrics offered in today's industry. In the first edition of Where Are You Wearables, viewers will learn what makes these garments so attractive and what markets to target. Click here to watch the video.

What did you think of this video? Send your feedback to cmittica@asicentral.com.

 
 
[ TRENDS ] 
Broder Severs Ties with Columbia
Broder Bros. Co. (asi/42090), a Counselor Top 40 supplier, announced yesterday that its relationship with Columbia Sportswear has been terminated, effective immediately. The decision was arrived at mutually "due to business and economic pressures faced in 2009," according to a press release that was issued Wednesday. Broder had carried Columbia apparel for 10 years and offered 30 active styles. The Trevose, PA-based supplier plans to sell off its remaining Columbia inventory.

"We are extremely disappointed to be ending our relationship with Columbia," says Girisha Chandraraj, senior vice president of marketing at Broder Bros. "It's a great brand and we've shared a mutually beneficial relationship. That said, we are committed to serving our customers and their needs with our extensive portfolio of branded items such as Rossignol, Devon & Jones, Weatherproof and Chestnut Hill."

Broder has made a number of notable moves in the past few months. In April the supplier warned it would file for Chapter 11 bankruptcy unless it can restructure $225 million in current debt by the middle of May. Before that it had hired New York-based Miller Buckfire as its financial advisor and investor bank to explore financing alternatives. In December, Broder laid off 140 employees, and net sales were down to $219.5 million in the fourth quarter of 2008 compared to $232.7 million for the 2007 4Q.

Listen to ASI Internet Radio [asicentral.com/radio]
A team of ASI editors have launched the first ever ASI Internet Radio show. For a half-hour each Tuesday, we debate the most important topics facing the industry, as well as offer an off-beat look at the market.

If you missed any of our shows, don't worry. Recordings are available at asicentral.com/radio. And, don't forget to join us every Tuesday morning 10:30 a.m. Eastern time when we broadcast our radio show live. We'll be taking calls from the audience, so please call us at (215) 953-4979 to hear your voice on the air.

Screen Printing Equipment Company Closes
Arizona-based equipment company U.S. Screen Print and Inkjet Technology is no longer in business and its assets are in liquidation, according to financial reports. Its main phone numbers have been disconnected and no one at the company, including CEO Scott Fresener, has responded to recent calls or e-mails. Customers say the company does not have active support, service or parts departments. "All of us in the screen printing industry have benefited from Scott Fresener's contributions," says Brian Greul, president of Texas Shirt Co. (asi/343253). "This will change the landscape of the direct-to-garment market."

According to a Yahoo Finance report, U.S. Screen Print recently failed to make significant payments that were due to its primary creditor, Hirsch International Corporation. In response, Hirsh subsidiary Graphics Arts Acquisition Corporation has begun the process of seeking collateral. U.S. Screen Print's loan had been secured by assets that included machinery, equipment, inventory and intellectual property.

Equipment Zone announced last week that it has expanded its support and services departments to meet the needs of all Fast T-Jet owners, including parts, inks, machine service and more. T-Jet printers were made by U.S. Screen Print. Founded in 1979, U.S. Screen Print offered a variety of educational materials and software, as well as a complete line of inkjet-to-garment printers.

ASICentral: Ad Specialties Across America 
In this month's issue, Counselor magazine sought to prove just how versatile promotional products can be with their Ad Specialties Across America feature. They reported on events that occurred over the past six months in each of the 50 states and showed exactly how ad specialty items were used at all of the events. It's an awesome read that we highly recommend.

But we here at ASICentral wondered, how can we make the electronic version even better? The answer: An interactive online map. We've got all 50 states represented in one cool, easy-to-use map. Just mouse over or click on a state to find out how promotional products are being used.
Check it out now.
Got questions, comments or any type of feedback regarding anything ASICentral, don't hesitate to contact us at feedback@asicentral.com. Also, follow ASICentral at:




Wearables Trend: Ladies' Leggings
Another trend that shows end-users remain in the midst of an '80s moment is the longevity of leggings, which continue to be a mainstream accessory for women of all ages. And with more businesses taking notice of this legging frenzy, more patterns, sequins and shiny fabrics continue to evolve to meet any customer's interest. "We launched a practice line in January to the public with only seven basic colors," says Luiza Raposo, marketing associate at Boxercraft (asi/41325). "It became an instant favorite for our clients and we now offer more patterns and designs including zebra (above)."

One reason leggings remain a talked-about fashion trend are their versatility. They can be worn on their own, paired with a knit dress or miniskirt, or worn with a long sweater that's belted at the waist. Raposo agrees its flexibility makes it so attractive to consumers. "This type of legwear is in-demand because they can be worn whether it's cold or warm outside," she says. "Ankle-length leggings can be worn during the summer while knee- or midcalf-length ones can be worn during wintertime."

And if you already have this style in your inventory, think of more ways to attract certain customers. For example, if a client of yours is in need of leggings for a cheerleading squad, let them know you can decorate the leggings with their school name or logo. "Adding letters, rhinestones and logos will appeal to sporting teams who would like personalized apparel," says Raposo. "But you want to make sure you decorate the leggings on the right spot. Try avoiding the thigh, hip and ankles because the message may be covered by low skirts and footwear."

This pair of zebra-designed leggings from Boxercraft (asi/41325) is constructed from 95% cotton and 5% spandex providing flexibility movement and comfort.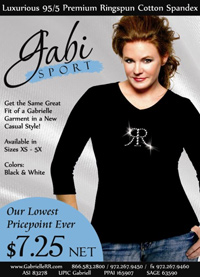 [ OUR FAVORITE WEARABLES ]

Gabi Sport

Available From: In Your Face Apparel (asi/83278); (866) 583-2800; www.gabriellerr.com

Sell To: This brand new T-shirt is made from 95% cotton and 5% spandex. It's cut from Gabrielle specs in sizes XS-5XL. Available in black and white, this highly embellished shirt retails for under $20 -- targeting the women's market at a promotional price point.

Style Tip: The V-neck is coverstitched for a dressy clean finish. Also, the ¾ sleeve is the company's most popular sleeve length.

[ NEWS BRIEFS ] 
Ash City (asi/37127) supports both the American and Canadian Breast Cancer Foundations by contributing a portion of the proceeds from sales of 21 selected pink styles. The proceeds will help support breast cancer research, education and awareness programs.

Brother International Corporation is continuing its digital garment printer trade-in program until June 30. Decorators can trade in their old digital garment printer and receive $5,000 off the purchase of a new Brother GT-541 digital garment printer. Trade-in models that qualify for eligibility in the program can be found at: www.brother.com.

Pacific Coast Golf (asi/75649), headed up by Hugh and Mark Hobbs, has been established as a new company in the ad specialty industry, based in Los Angeles, CA, with a sales office in Nashville, TN. The company will supply golf brands including Titleist, Pinnacle, Cobra, FootJoy, Wilson, Callaway, Top-Flite, Nike, Bridgestone and Precept.

Stahls' ID Direct introduced new seasonal heat transfers featuring U.S. and Canadian patriotic themed designs for application onto apparel. The transfers are available in CAD-CUT heat transfer vinyl and CAD-PRINTZ Digital Transfers.

Towel Specialties (asi/91605) is now the exclusive supplier of the CMC golf line in the ad specialty industry. 
 
TRG Group (asi/90507) helped raise over $1 million through the March of Dimes "March for Babies" annual fundraising walk. Over 70 TRG employees raised money for this year's campaign.
 
TSC Apparel (asi/90518) held its 2009 regional open house on Friday, April 17 at the Great American Ball Park - home of the Cincinnati Reds. The event featured a home-run hitting contest, stadium tours and three apparel-themed seminars. 

[ ASK AN EXPERT ] 
Question: Can you tell me what "scrum" T-shirts are and where my customer can order them?

Answer: If memory serves me right, a scrum T-shirt is another name for a rugby shirt. Try Fersten Worldwide, Inc. (asi/53974); (800) 565-7462; www.fersten.com; product # FW9568. This is a heavyweight rugby shirt made of 100% ring spun combed cotton. It features a hidden button placket, four matching buttons, drop tail and side vents and is available in seven colors. Or, try Staton Corporate and Casual (asi/89380); (800) 950-6611; www.statononline.com; product # 9999. This is a rugby shirt with double-needle stitching and side vents. Available in six colors. Also, try Alstyle Apparel and Activewear (asi/34817); (800) 225-1364; www.alstyle.com; product # R7404. This is a 100% cotton twill rugby shirt with cut-and-sewn stripes and rubber button placket. Thanks!

Style Tip: Rugby shirts suit just about every casual occasion and can be matched with trousers, loafers and leather sneakers. Target company athletes or the employee who proves his rugby fanhood by tackling challenges head-on.


Question: Are there any suppliers in our industry that supply neon or fluorescent T-shirts besides the safety green and orange?

Answer: Try Dyenomite (asi/51185); (888) 777-1916; www.dyenomite.com. This supplier offers plenty of adult size fluorescent-colored T-shirts from sizes S-3XL. Or, try Hi There (asi/61120); (423) 878-8787; hithereline.asisupplier.com; product # 222-CV-L. This is a ladies T-shirt available in neon blue, green, orange, pink and yellow. Finally, try TSF Sportswear (asi/90522); (800) 331-1067; www.tsfsportswear.com; product # T900. Made from 100% heavyweight cotton, this T-shirt is available in neon green, orange, pink and yellow. Good luck!

Style Tip: Neon- and fluorescent-colored T-shirts are great for company events such as a volleyball game or scavenger hunt. Consider distributing these shirts as a way to separate teams by color. Make sure to include your company logo and name somewhere on the shirt.

[ WEARABLES TERMS ] 
Getting familiar with these terms will make any ad specialty distributor look like an apparel expert.
Grommets: Small holes that allow for air circulation and ventilation, usually found underarm or in the back neck of garments.

Lock Stitch: Commonly referred to as a lock-down or tack-down stitch, a lock stitch is formed by three or four consecutive stitches of at least a 10-point movement. It should be used at the end of any element in your design where jump stitches will follow, such as color change or the end of a design. May be stitched in a triangle, star or in a straight line. Also the name of the type of stitch formed by the hook and needle of home sewing machines, as well as computerized embroidery machines.

Marking: Marking goods serves as an aid in positioning the frame and referencing the needle start points.

Pad Printing: Pad printing utilizes a flexible silicone rubber transfer pad that picks up a film of ink from a photo-etched printing plate and transfers it to an item. Pad printing is usually used for 3D items.


[ SHOW LIST ]
May 11-15, Syracuse, Buffalo, Pittsburgh, Cleveland, Detroit
Advantages Roadshow
(800) 546-3300; www.asishow.com
May 15, Detroit
The Stitches Roadshow
(800) 546-3300; www.asishow.com
May 20-21, Minnesota 
"THE Show" Booth Show
(651) 734-9767; www.umapp.org
May 24-28, Canada East
ASI Advantages Roadshow
(800) 546-3300; www.asishow.com
May 28-30; Indianapolis
The Printwear Show
(966) 893-7682; www.nbmshows.com
SPONSORED BY


Wearables Style and Wearables are trademarks of the Advertising Specialty Institute. You were sent this newsletter as a benefit of your ASI membership. Copyright 2009, ASI. All Rights Reserved.
If you'd like us to send Wearables Style FREE to anyone else at your company (or to your off-site sales reps), go to www.asicentral.com/newsletters and complete the online form.
Interested in advertising in Wearables Style? Send an email to ddienna@asicentral.com 
Click here to subscribe to Wearables™ magazine. You must be a member of ASI to subscribe to this publication. The publisher has a right to refuse subscriptions to non-members.
Advertising Specialty Institute®, 4800 Street Road, Trevose, PA 19053