March 7, 2016 / Volume 10
VIDEO:
Choosing the Perfect T-shirt
SLIDESHOW:
Screen-Printing Shop Gets Makeover
TREND:
Epson Hosts Digital Couture Show
ADVERTISEMENT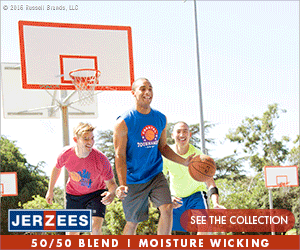 NEWS:
Gildan Posts Double-Digit Growth
TECH:

Happy Meal Box Becomes VR Headset
PEOPLE ON THE MOVE:
Goldstar Welcomes Sales Manager


NEWS BRIEFS:
Vantage Adds Live Chat



Join The Conversation
Catch up with Wearables staffers on social media to see our behind-the-scenes antics, get the latest news and trends, and be wowed by some impressive decorated apparel. Follow us, and let us know what's on your mind.

INSTAGRAM
@wearablesmag I had to ask our fabulous intern @wreakingkravec about the #SpaceyInSpace hoodie she's sporting today. Turns out, it's a @FlaPanthers promotion, and sales benefit the NHL team's foundation, as well as the @KS_Foundation #Promoproducts at work ... at work!
PINTEREST
Penn Emblem carries a wide variety of camo patches. Use them to show military appreciation or just as a fashion statement on jeans or other garments.