Sales Challenge: Tips For Better Networking
Done correctly, networking has many benefits. There's the obvious, such as connecting with new people with whom you can potentially conduct business. But there are other upsides too. Networking can help you expand your knowledge base, increase your confidence and meet people who, even if they're not interested in your services, can potentially refer you to someone who is. Still, these benefits only come to fruition if you network correctly. Here are four tips for doing that.

Focus On Relationship Building: Networking, says Barry Maher, isn't about you or even selling your products. Rather, the acclaimed sales trainer and author who comments on business matters for NBC and other major media outlets says that networking is about finding out about the other person and perhaps even what you can do for them before you launch into a pitch. "In other words," says Maher, "it's about building some sort of relationship, even if it's a quick and very short-term relationship. Without that relationship, you're not networking, you're cold-calling."

Quit the Jabbering: Maybe it happened at a party. Maybe it was while on a date. But chances are, you've encountered a person whose sole interest seemed to be endlessly blabbering about how awesome they are. It's important to be the opposite of that person in networking situations. "One of the biggest networking mistakes salespeople make is talking too much," says Maher. Instead, share and be social, using appropriate humor where it makes sense. But when you've talked a bit, follow that up with a question about the other person.

Use Your Ears: Once you ask the question, don't tune out or think about what you're going to say next. Rather, make eye contact and focus on what the person is saying. When they finish, offer a relevant comment on what they just said, then consider asking an appropriate follow-up question or convey a short anecdote from your own experience that relates to what they just spoke about.

Set Up The Next Step: So you've hit it off with a conversation partner at a networking event. That's great, but it's only a start. The positive interaction will be for naught unless you ask the person how to stay in touch with them. Whether it's through e-mail, text or social media, follow up with the person through their preferred channel within a couple days. Be sure to mention something you discussed and perhaps where you met to jog the person's memory.
ADVERTISEMENT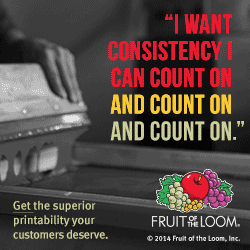 Bark If You Love Pet Apparel

Pet owners continue to spend freely on their animals – and their dogs don't even have to beg for it. If you are scoring consistent sales with pet apparel, or even make your own promotional pet products, we want to talk to you. E-mail Wearables Editor C.J. Mittica at cmittica@asicentral.com.
Q&A: Fruit of the Loom
Fruit of the Loom (asi/84257) was recently chosen as one of three recipients of the 2013 Secretary of State's Award for Corporate Excellence (ACE). Out of 300 nominees, Fruit of the Loom was recognized for its corporate citizenship practices at its manufacturing facility located in Honduras. Wearables spoke to Rick Medlin, president and CEO of Fruit of the Loom, about the nomination process, his company's win and what it means moving forward.

Q: When did Fruit of the Loom (FOTL) establish its manufacturing facilities in Honduras?
Rick Medlin: We opened the facility on March 16, 1993, so we've had operations in Honduras for over two decades.

Q: In which other countries does FOTL operate and what kinds of facilities does it manage in those countries?
RM: We have owned manufacturing operations similar to Honduras in the U.S., Mexico, El Salvador and Morocco.  We have offices and distribution in numerous other countries.

Q: How was FOTL nominated for the Secretary of State's 2013 ACE? What was involved in the nomination process?
RM: The nomination actually came from the U.S. Embassy in Honduras. We supplied the necessary information in response to questions from the Embassy and the U.S. State Department. Then when we were chosen as one of three companies out of 300 nominations, the State Department officially notified us several weeks before the formal ceremony, held in Washington, D.C. and hosted by Secretary of State John Kerry.

Q: How do the FOTL facilities in Honduras benefit the employees and strengthen the local community?
RM: Our facilities in Honduras benefit the employees both during and outside of work. We've forged a ground-breaking collective bargaining agreement with the workers, and we recognize unions and have adopted a union-neutral policy at all of our assembly facilities in Honduras. We're also focused on the health of the communities that surround the facility: we've provided more than 10,000 health screenings for people in local areas. Our environmental stewardship in Honduras also makes sure that our presence in the country impacts local communities in a positive way.

Q: What is the importance of social responsibility? Why is FOTL committed to it?
RM: Social responsibility is incredibly important, both in business and in life. We focus on leaving a positive impact on the communities in which we operate because it's the right thing to do, and also because it means better business.

Q: What does this honor mean for FOTL and its global corporate citizenship practices?
RM: We are so proud and honored to have received this award. The entire process has really motivated and fueled us forward, and will continue to inspire our quest for greatness in this area.

For more information on the ACE, click here, and check out Fruit of the Loom online at http://shop.fruit.com.

2014 Best Places To Work Nominations Now Open

For the seventh year in a row, Counselor is setting out to identify the industry companies that employees simply love to work for. These are the distributors and suppliers that have a loyal work force and that provide a work environment which employees want to go to every morning.

Counselor will be unveiling its annual Best Places To Work list later this year at the second annual Best Places to Work Conference in July – it will undoubtedly include an elite list of industry companies. Do you want your company to be considered? Getting involved is easy – and it's completely free to participate. The only necessary qualification is that a company has at least 10 employees.

To nominate your company, or any others in the market that you think deserve to be recognized, simply click here. Also, there's no risk to participating. Only the honorees – those companies with the best scores from the survey – will be published in Counselor.

So, don't delay. Click here to register your company to be considered for one of the most exclusive lists in the ad specialty market: Counselor's Best Places To Work.
Curable Reducer: An additive that decreases the viscosity of plastisol screen printing ink.

Exposure Calculator: This device is used to determine the optimum exposure time for screen making.

Infrared: Specific energy wavelengths that produce heat. In screen printing, IR radiation is typically used to develop the heat in a heating element of a flash cure unit or electrical textile dryer.




Brother International Corporation (asi/12600) has announced that Microgeo-USA, a South Florida and Latin American distributor of graphic arts, CAD, digital technology, finishing equipment and supplies, has been named an authorized distributor of the Brother GT-3 Series of digital garment printers and Brother PR Series embroidery machines.

Chesapeake Promotional Products Association has announced the winners of the 2014 Peake Awards. Among the winners are SanMar (asi/84863) for Supplier of the Year and Summit Group (asi/339116) for Distributor of the Year. To see the full list, visit www.cppa.biz.

Facilis Group has announced the winners of its annual Top Achieving Sales Awards (TASAs). Bodek and Rhodes (asi/40788) was named US Supplier of the Year, and Ash City (asi/37143) won Canadian Supplier of the Year.

GSG announced that the company's five locations recently came together to participate in the Souper Bowl of Caring, an organization working to fight hunger and poverty in local communities around the time of the Super Bowl. GSG employees donated a total of 445 canned goods and nonperishable food items, which were given to local hunger relief charities. For more information, visit www.tacklehunger.org.

Hotronix has released the new Hotronix Fusion Sleeve/Leg Platen, a quick-change heat press accessory for shirt sleeves and pant legs. It includes a Quick Slip Lower Platen Protector for easy garment threading during heat application. To order, click here.

Mitch Different Studio has released The Art of T-Shirt Color Separation, a comprehensive how-to book now available as an e-book and hardback. It offers a hands-on approach to separating artwork using Adobe Photoshop. To order, click here.

Polyconcept North America has announced the promotion of Rick French to national sales manager and the hiring of Kelley Fouché as field sales manager to assume Rick's territory responsibility.

Pop! Promos (asi/45657) has announced that Meg Erber, vice president of sales, received the Peake Award and Francis Rodenbaugh, sales associate, received the Rising Star Award at the 7th Annual Peake Awards Celebration on Feb. 11, hosted by the Chesapeake Promotional Products Association.

Prime Line (asi/79530) has announced that its "Swing Away For Great Prizes" sales contest begins March 1 and offers prizes such as flat screen TVs, MAC computers, iPads and StubHub gift certificates. Prizes will be awarded based on cumulative sales booked between March 1 and June 30. Winners will choose from four prize options at each tier starting at $5,000. Visit www.primeline.com for more contest information.

Proforma (asi/300094) has announced that CEO Vera Muzzillo was recently named one of the Top 24 Women in Franchising by Franchise Update magazine. The publication analyzed more than 200 woman-led franchises to create its top 24 list. As CEO, Muzzillo has led Proforma to $450 million in sales, and more than 35 women owners have entered the company's prestigious Million and Multi-Million Dollar Clubs. Visit www.onlyproforma.com for more information.

Rymax Marketing Services received Incentive magazine's 2013 Motivation Masters Award in the Sales Incentive category. The annual awards recognize the best, most effective and most creative incentive and engagement programs of the year. To see the full list, click here.

Stahls' ID Direct (asi/88984) is offering $100 of free product when customers purchase a Hotronix or MAXX heat press from the company in March. It is also offering $50 of free product with the purchase of any Hotronix or MAXX Cap or 6x6 heat press.

The Three Rivers Advertising Specialty Association (TRASA) announced that its Spring Expo, originally scheduled for March 4 at The Four Points by Sheraton Pittsburgh North in Mars, PA, has been postponed due to inclement weather. The event has been rescheduled for Monday, March 31 from 10:30 a.m. to 3 p.m. at the same location. Visit www.trasa.net for more information.

TRG Group (asi/90507) is pleased to announce that its Spectra 2.0 Dual-Access Extra Capacity Carry-on from the Victorinox Travel Gear brand was named Best Luggage by a panel of six industry design professionals for Travel + Leisure magazine. Click here for more information on the full product line.

Trimark Powered by Leed's (asi/66888) announced the addition of Kristina Lewis as field sales manager for Minnesota, Iowa, North Dakota and South Dakota. Lewis has been in the industry 15 years and is an active committee member in the Upper Midwest Association of Promotional Professionals.