Hawaiian Treat Shop Inducted Into Hanes Hall of Fame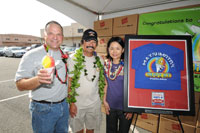 Matsumoto Shave Ice in Oahu, HI, was recently inducted into the Hanes Beefy-T T-Shirt Hall of Fame at American T-Shirt Company in Honolulu. Marion Plumb (left), vice president of sales for HanesBrands Imagewear (asi/59528), presented Stanley and Noriko Matsumoto with the award.

Matsumoto Shave Ice, located in Hawaii, is the most recent inductee into the Hanes Beefy-T T-Shirt Hall of Fame. Located on Oahu's North Shore, the Matsumoto family has owned and operated the store for 61 years and offers various styles of Hanes T-shirts and other accessories as souvenirs. The business is now owned by Stanley Matsumoto, whose parents, Mamoru and Helen, established it. Noriko Matsumoto, Stanley's wife, is now vice president and head of the T-shirt design department.

"The main edible product we offer is shave ice," she says. Also known as snow cones, the treat is made special with a generous helping of homemade flavored syrup. "Many of our customers also purchase our T-shirts, which add to their memories of visiting Hawaii, specifically Oahu," says Matsumoto. "Our customers come from all over the world, and when they wear our T-shirts back home, they're spreading the word about our product."

But the Matsumotos' business didn't always serve this icy treat; it actually began as a grocery store. "Business was slow, so they had to think of new ways to keep it going," says Matsumoto. "When they brought in a shave ice machine from Japan in the 1960s, it was the start of something new."

In 1976, the Matsumotos decided to add T-shirts to their offerings as a little something for tourists to bring back from Hawaii. "Our first design was for an employee uniform, but then our customers expressed interest in them too," Matsumoto says. "Because so many started purchasing them, we created new designs in screen printing and embroidery. We moved away from grocery sales, and now we're solely shave ice and souvenirs." In addition to the treats they make, which can reach 1,000 in a single day, they offer over 60 different T-shirt designs, as well as decorated bags, aprons, doggie shirts and other items.

As for the Hall of Fame induction, Matsumoto says it came as a surprise, and the team has been motivated and excited to continue providing great service and exceptional products. "We're very honored," she says. "It was unexpected because our main business is shave ice. But because our customers love it, they want to purchase a T-shirt for the memories. We've been very pleased with the quality of the Hanes Beefy T-shirts." She adds that customers have said they've been wearing the shirts for many years, so they're proud to sell a high-quality product inexpensively. "By doing so, we will continue to keep our valued customers happy and assure repeat business in the future."

Matsumoto says she's appreciative that Hanes recognized their small business. "We're a little mom-and-pop store," she says. "But though we're small, we're known worldwide, with the help of Hanes' superior-quality shirts."
And The Most Popular T-Shirts Are ...

Starting April 9, in honor of the 15th anniversary of Wearables, we are revealing the most popular T-shirt designs of all time. Be sure to check our website and Facebook page to see the definitive list as we reveal one each day.
Q&A: DeFeet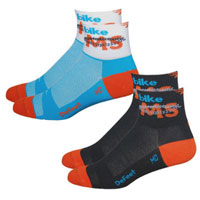 Designed to withstand the rigors of intense athletic activity, the Aireator is made from a recycled polyester fiber and is a favorite choice of cycling teams around the globe. Available from DeFeet (asi/49018).

Based in Hildebran, NC, DeFeet (asi/49018) is in the business of designing, manufacturing and selling high-performance socks. The innovative company, which produces its gear stateside, also sells base layers, gloves and more. Brad Mettee, vice president of custom/OEM sales, recently took time to shed some insight into DeFeet.

Q: What are DeFeet's best-selling items?

Brad Mettee: The Aireator in CoolMax EcoMade sock is really what DeFeet is known for; it's the product we're focusing on in the ASI marketplace. The Aireator is a niche-market product that is produced in the U.S. using sustainable fibers. It allows for customization from a logo and color perspective – a winning trifecta for any ASI distributor.

Q: What makes DeFeet unique?

BM: DeFeet began manufacturing in 1992 and targeted the cycling world. Today, three of the world's top five men's cycling teams wear DeFeet. The Aireator was worn by the Tour de France winner last year, and is all over the peloton. DeFeet owns its own factory and manufactures in Hildebran, NC. We produce using sustainable fibers: CoolMax EcoMade is a polyester fiber made of recycled water bottles. DeFeet has expanded its product line, and is the sock of choice for multiple marathons around the country and ski slopes across the world. There simply is no better performance sock from a durability, breathability or wickability perspective on the market.

Q: What markets do your products sell best in?

BM: DeFeet sells best in athletic markets (cycling, running, outdoor), as well as promotional giveaways.

Q: What type of embellishment is most commonly used on your products?

BM: We knit everything from scratch. The sock itself, the design – everything is custom. We work closely with our customers to translate their logos into knitting art without compromising the integrity of their logos.

Q: What advice could you give to ad specialty distributors to help them sell your product to end-buyers?

BM: Customization of this product really sells itself. The opportunity to get a brand's logo on the cuff, along with a website or slogan on the sole, makes this a unique opportunity for both distributors and their customers. That, coupled with the actual performance of the product and the fact that it is produced in the U.S. from sustainable fibers, makes this a winning solution for creative thinkers.
Interested in Becoming a Wearables Contributor?

You've learned a lot working with apparel – and now's the time to share your knowledge with our readers. Are you a master marketer? A champion salesperson? An eco or performance expert? Then consider this your invitation to write an article for our "Business of Wearables" department. We're looking for wearables people with useful tips or lessons learned to share with other readers.

If you're interested in writing, send a short bio and summary of your topic to Editor C.J. Mittica at cmittica@asicentral.com. We look forward to hearing from you.

Bacteriostat: This term refers to inhibiting bacteria growth, but not necessarily killing bacteria. A stat means that it may simply be slowing growth or holding the death-to-growth rates of bacteria in equilibrium.

Beading: Variety of insertion laces or embroideries having rows of holes through which ribbon is laced.

Converter: A person or a company that buys grey goods and sells them as finished fabrics. A converter organizes and manages the process of finishing the fabric to a buyer's specifications, particularly the bleaching, dyeing, printing, etc.


Anvil Knitwear (asi/36350) announced its sponsorship of the Earth Day Organic Indoor Learning Garden program in partnership with Earth Day New York. The program provides organic container gardens to classrooms in public schools in New York City. Anvil's goal is to equip 10% of the city's schools with an organic garden by next year's Earth Day 2013 Celebration.

Brother Industries has been awarded the 2012 iF Gold Award for its 5234PRW Project Runway Limited Edition Serger at the Munich Creative Business Week on Feb. 10.

Crown Products (asi/47700) announced that factory representative Sue Kennedy, who represents Crown in IA, MN, ND, SD and WI, has been named VIP Supplier Rep of the Year for Spartan Promotional Group (asi/331150).

Dyenomite Apparel (asi/51185) has announced that Paul Kory, vice president of sales, has been inducted into the Ohio Promotional Professionals Association's Hall of Fame.

Flexfit has partnered with nonprofit Hamylo to launch the official Flexfit Hamylo "H" custom-embroidered, special-edition hat. A portion of the proceeds from the sale of each hat will go toward rebuilding efforts in Haiti. The hat will be available to the public in April.

Gildan launched a new website called Gildan Genuine Stewardship. Available in English, French and Spanish, the site features the company's eighth consecutive Corporate Citizenship Report and offers information about sustainability programs and initiatives. Visit www.genuinegildan.com for more information.

Graphics One, LLC has announced a technological partnership with RhinoTech to provide new direct screen-transfer technology designed for the color-separation and screen-printing markets.

Heritage Sportswear, Inc. (asi/60582) announced it was awarded a Supplier of the Year award by Custom Ink, an online custom design store for promotional products.

Madeira USA has released its newest source guide, with an added section of Printing Supplies & Garment Decoration, expanded use of pictures and more. It's available online at madeirausa.com, or by calling 800-225-3001.

Pro Towels Etc. (asi/79750) announced that it won the TRASA Technology Triangle Award for its advancement in online marketing.

Proforma (asi/300094) announced that 11 new Proforma Owners were inducted into the Million Dollar Club during a celebratory trip to the Ritz-Carlton in Naples, FL. Members are recognized for achieving annual sales greater than $1 million.

Rainkist Umbrella Co. (asi/80490) has hired Kim Pugner as its new West Coast representative on the company's sales team.

ROTHCO (asi/83708) has released its spring 2012 Supplementary Wholesale Catalog, which features over 200 new items.

SanMar (asi/84863) has released its 2012 Sport-Tek catalog, which showcases over 130 styles for athletes, sports fans, schools and teams, including 13 new options.

Sweda (asi/90305) announced that it will be giving away a third-generation iPad during a contest open from March 12 to June 30. All customers who use the layout approval/rejection functionality in the Sweda iStore are eligible. For more information, go to www.swedausa.com/istore.

The Corporate Marketplace (asi/46743) has named Mary Ann Fontana of Mid-Atlantic Factory Reps (asi/820134) as a multi-line rep for Eastern PA, DE, MD, Washington, D.C., VA and WV.

Transfer Express (asi/91804) now offers custom graduation transfers. Customers can choose colors, typefaces and special effects such as glitter, foil and metallics.

Vantage Apparel (asi/93390) has announced that it will establish regional customer service teams, or PODS, to better serve customers. Each POD includes associates from the customer service and FastAnswer teams to handle day-to-day orders and inquiries, as well as inside sales and merchandising specialists to assist with new project development.

Vitronic Promotional Group (asi/93990) has announced that Rory Campbell, regional sales manager, has been named Ohio Promotional Products Association Sales Rep of the Year.