SPONSORED BY


VIDEO

Something Up Our Sleeve
What exactly is a raglan sleeve? Wearables Editor C.J. Mittica answers that question in our latest edition of "Ask the Expert." Click here to watch the video. Got a question you want answered in a future Ask the Expert video? Send it to cmittica@asicentral.com.



Trend Alert: Denim Jackets
ADVERTISEMENT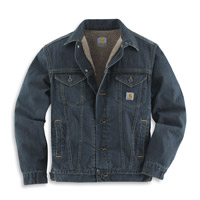 Carhartt by Broberry Manufacturing (asi/42057) carries this men's 100% cotton denim jacket (J292) that features a spread collar, button-front closure and Sherpa lining with quilted nylon lining in the sleeves.

Denim jackets, while known mainly as an outerwear and work wear staple, are making a comeback in the fashion world. This fall, J.Crew will be featuring men's denim jackets as a layering piece under jackets and over sweaters and blazers, with turned-up collars and cuffed sleeves. During Milan Menswear Fashion Week this past January, leading label DSquared2 showed off denim jackets layered with tuxedo jackets, leather jackets, raincoats and white shirts.

The wide-ranging use of jean jackets proves just how versatile the item is. "Our J291 and J292 styles were new for fall 2011 and did really well," says Erin Tricker, vice president of sales & operations at Broberry Manufacturing (asi/42057). "They were hot sellers in all areas of the country because they can be a three-season jacket in the colder climates and a very versatile jacket in warmer climates. We see sales for all different types of channels, from farm stores to promotional accounts."

The Carhartt jackets that Broberry carries are perfect as work wear. "Both styles are made of 11.75 oz. 100% cotton denim and feature button-front closures and two chest pockets," says Lindsay Habermas, inside sales associate at Carhartt by Broberry Manufacturing. "The J292 also has quilted nylon lining in the sleeves." In addition, both jackets feature a Sherpa lining that serves both comfort and function.

Tri-Mountain (asi/92125) offers eight denim pieces, including the Tahoe shirt jacket (869). "It looks like a shirt, but it's actually a very warm jacket with an 8.1 oz fleece lining," says Danny Tsai, vice president of merchandising. "It's been such a popular style that we offer it in 10 colors and in extended sizes."

Tsai says the manufacturing and agricultural sectors still show some demand for denim. "However, it's not as strong as it was in the '80s and '90s," he adds.  "We are very focused on retail trends and fashion, so it's interesting to note that hipsters and the young millennial set seem to have embraced it in recent years."

While Tsai thinks the demand for denim jackets will remain about the same in the next year, both Habermas and Tricker believe it will grow, and not just because of their rising popularity on the catwalks. Says Tricker, "They've always been a staple in the work wear line and will continue to be."
How To Sell It: Headwear



Caps embellished with dye-sublimation prints, like this one (704) from Graffiti (asi/57907), are growing more popular because they offer vibrant colors and the potential for elaborate designs.

If you've ever exercised in a cotton twill cap, you know that athletic activity can make headwear take on the saturated quality of an unsqueezed sponge. Perhaps that's why end-users increasingly want their caps to have athletic performance features. David Goldman, vice president of Pennsauken, NJ-based Philadelphia Rapid Transit Headwear (asi/77945), says caps that boast moisture-wicking sweatbands and cool lightweight fabrics are popular with a variety of end-buyers, from event management companies coordinating marathons and fun runs to race sponsors, health-care companies, fitness clubs and sports teams. Similarly, tastes are trending toward performance caps that feature safety features, like high visibility green coloring and/or reflective piping. Working through ad specialty distributors, Philly Rapid has sold safety feature caps to everyone from sanitation companies to a pet products distributor who gave the hats away to dog walkers, making them more visible on evening and morning walks.

Being on top of headwear trends like these is crucial to successfully selling the category. As such, note that Abe Miller, owner of Cleveland, OH-based Graffiti Headwear (asi/57907), says a growing number of end-buyers want to purchase domestically-made caps and hats. While demand is particularly strong from unions and markets like agriculture, construction, transportation and mining, the interest in Made-in-the-USA has expanded beyond those traditional strongholds of stateside-made product preference. Says Miller: "We used to sell 50% import/50% domestic, but now it's more like 90% domestic," says Miller. "There's been a huge increase in demand. Import costs have gone up, and it's not as easy to get goods out of China. Plus, people are becoming more conscious of where things are made."

Additionally, five-panel caps have crept back into vogue. "It's an advantage because they're easier for embroiderers and screen printers to decorate," says Miller, noting there has been a movement to re-embrace snapback closures. "It's big right now; you see signs in malls saying, 'We have adjustable caps!'" he says. Another emerging trend is caps embellished with dye-sublimation prints. "With dye-sub, you can really take a company's identity and transfer it onto a piece of headwear," says Miller, noting Graffiti builds dye-sub caps from scratch. "You can really nail their colors and logo. It's like conveying a photograph onto fabric."

Headwear is more than caps, of course, and Goldman says styles that are selling well include the straw gambler hat and straw cowboy hat. The former is especially popular with companies hosting golf outings, as well golf tournament sponsors. The straw gambler – think golfer Greg Norman's classic hat – also sells well with organizations looking to protect employees from the sun, such as zoos, theme parks, and stadiums. An American icon, the straw cowboy hat is popular with event sponsors and corporations hosting western-themed events, as well as markets that include trade shows, rodeos and theme parks. "We did a program last summer with a minor league baseball team that was doing a country and western theme," says Goldman.

Beyond knowing trends, the trick to selling headwear lies in understanding your clients' goals, audience and intended end-use for the hat. You also need to be connected with suppliers who can deliver everything from a low-end throw-away cap for a one-off promotion to suppliers that can quickly come through with fashion-forward, higher-quality headwear. Additionally, when pitching end-buyers, distributors should emphasize how a cap or hat with a high-perceived value will be worn over again, leading to maximum exposure for a brand. "One of the great things about headwear is that everybody loves a new hat," says Goldman. "If people get a high-quality item, there is a real appreciation and they're going to wear it."

Enter The Stitches Golden Needle Awards

Enter the 2012 Stitches Golden Needle Awards and show off your embroidery and digitizing skills and creativity! Finalists will be selected by a panel of veteran embroiderers and digitizers. Winners will be featured in the November 2012 issue of Stitches and online. So, select the entry category that fits your skills, and show us your talent.

Click here for more details and to enter.

Q&A: ReversibleSweatshirts.com



Louis Sandoval isn't just the president and CEO of successful company; he's a pioneering inventor. Sandoval conceived, designed, and patented the Reversible Sweatshirt, an item he sells through his aptly name company, ReversibleSweatshirts.com. Sandoval recently took a few minutes to discuss his unique creation.


The patented Reversible Sweatshirt from ReversibleSweatshirts.com allows end-users to get two distinct hoodies for the price of one.

Q: What makes ReversibleSweatshirts.com unique? What items are your biggest sellers?  

Louis Sandoval: Our Reversible Sweatshirts and the rest of our Reversible Apparel line are the only reversible sweatshirts (and apparel) that one can embroider on both sides or fully decorate all sides because of the special patented features. The conventional Reversible Sweatshirt is our biggest seller.

Q: What markets do your sweatshirts sell best in?  

LS: Because our sweatshirts are so unique and represent a greater value proposition, all markets have found them very beneficial. When you can offer two completely different concepts in one hoodie, it's very powerful. With our Reversible Sweatshirts, you can have a beautiful embroidered color hoodie, then flip it and get a nice athletic sporty vintage distress design. Corporations, schools – our sweatshirts work for all markets.

Q: Beyond the reversible attribute, what sets your sweatshirts apart?

LS: A lot. The one constant is that everybody thinks our sweatshirts are so soft. Also, we recognized that price elasticity in the market is very important so I have traveled the world to find the lowest cost supply chain to bring our customers the best value proposition possible. I ended up in Pakistan, which has some of the best cotton in the world, an abundance of it, and great mills to compliment.  We manufacture a 30 single with a very high thread count to obtain a perfect 190 – 200 gsm (6 oz. ply).

Q: When it comes to hooded sweatshirts, what trends do you see playing out over the next year or two?  

LS: I think you will always have your staple traditional hoodie. It's a must have wardrobe item like a basic tee shirt, pair of blue jeans and tennis shoes. I think we'll also see continued innovations with many creating hoodies with all kinds of wicks, pocket additions and attachments for smart phones and other devices, as we are now. We'll see distressed and follow trends as they adjust, but your basic hoodie will stay in style like a pair of blue jeans.

2012 Best Places To Work Nominations Now Open

For the fifth year in a row, Counselor is setting out to identify the industry companies that employees simply love to work for. These are the distributors and suppliers that have a loyal work force and that provide a work environment which employees want to go to every morning.

Counselor will be unveiling its annual Best Places To Work issue in September, and it will undoubtedly include an elite list of industry companies. Do you want your company to be considered? Getting involved is easy – and it's completely free to participate. The only necessary qualification is that a company has at least 10 employees. To nominate your company, or any others in the market that you think deserve to be recognized, simply click here. Also, there's no risk to participating. Only the honorees – those companies with the best scores from the survey – will be published in Counselor.

So, don't delay. Click here to register your company to be considered for one of the most exclusive lists in the ad specialty market: Counselor's Best Places To Work.

A Finishing Touch (asi/30025) of Houston, TX has joined ASI as a supplier decorator member.

Alo (asi/39590) has announced that its website URL has changed to www.alowholesale.com.

American Apparel (asi/35297) announced a 24% rise in wholesale net sales for February. Overall, American Apparel reported that total net sales increased 13% in February to $42.1 million when compared to the same month last year.

Anvil Knitwear (asi/36350) has announced the hiring of a new brand agency, Sub Rosa, which will be responsible for brand strategy and creative execution for Anvil.

Cintas Corporation (asi/162167) has launched a new 2012 uniform book for hoteliers in Latin America, Mexico and the Caribbean. The catalog spans almost 70 pages and offers uniform options in 54 new colors and designs.

Dalco Athletic announced it is offering a new one shot dye-sub appliqué that combines a single layer team name and sports ball all in one.

Graphics One is launching the high-performance GO EcoMax 44 printer, designed to use the SEPIAX "direct-to-anything" green ink for apparel transfers and for both indoor and outdoor applications.

GSG now offers Wilflex Epic, a non-phthalate plastisol ink mixing system designed to print and perform as a traditional plastisol ink. For more information, visit www.GOGSG.com.

Heritage Sportswear, Inc. (asi/60582) has reduced the price of the FeatherLite ladies' (H550) and men's (H500) blended pique polo to $6.99 through Mar. 31.

Imprintables Warehouse (asi/58475) now offers Spectra Patterns, a material that can be cut into letters, numbers or shapes for spiritwear. The material can be custom printed using your mascot artwork.

IMS Apparel and Promotions (asi/231482) and Elite Images (asi/186686) have merged operations. Per the agreement, Elite Images will be merged into IMS Apparel & Promotions, and IMS will assume all administrative operations, including product research, order processing, invoicing and collections, as well as providing marketing support and distribution capabilities. Michele Hoffon, founder of Elite Images, will hold a key sales and development role at IMS.

Madeira USA has created the first four of a series of Recipe Cards, designed to aid embroiderers in trying specialty thread for the first time. Each card provides basic information on the kinds of thread and tips and how to use them.

Pro Towels Etc. (asi/79750) announced that vice president of sales Dana Zezzo won the Three Rivers Advertising Specialties Association Pioneer Award at TRASA's Annual Awards Program during this year's Carnival of Ideas Expo in Mars, PA.

Spectrum Uniforms (asi/88680) has announced that Maria Cardenas has been promoted to sales administrative manager; Angela Gonzales has been promoted to regional sales manager of the Eastern Time Zone; and Hilde Dunivan has been promoted to regional sales manager of the Pacific Time Zone. In addition, DeeDee Waters has been hired as a new regional sales manager of the Eastern Time Zone, and Shawn Machie has been hired as the company's new graphics designer.

Stahls' Hotronix (asi/88984) has introduced the Air Fusion, an auto-open, auto-swing heat press powered by an air compressor. The Auto Adjust Pressure allows the user to select the appropriate application based on the garment.

Sweda Company (asi/90305) announced that it honored 16 employees at its annual Sales Banquet, including five sales force winners: Marv Ruwin Founders Award—Steve Weisbaum; Salesperson of the Year—Bruce Curry; President's Award—Cristi Meyer; Rookie of the Year—Linda Misiorowski; Sales "Grinder" Award—Diana Fay.

Workhorse Products features the Falcon Duplex automatic screen printing press for oversized printing. The machine can be configured to print 40"x50" images on every other print station.






Appliqué: Decoration or trim cut from one piece of fabric and stitched to another to add dimension and texture. If appliqué occupies a significant portion of the design, the stitch count is lower.

Blatt Stitch: This is a Schiffli term meaning "to feed the yarn;" it produces a long zigzag stitch with threads lying close together.

Chantilly Lace: This is a bobbin lace with fine six-sided mesh grounds that feature a pattern outlined in heavy thread.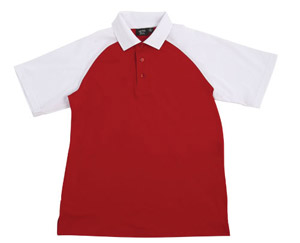 Wicking Polo

Tap into the colorblocking cool of casual Fridays with this lightweight, dry-wicking polo (1343-AQD). Its 4% spandex content offers a welcome bit of stretch, the no-curl collar stands up to the toughest conditions, and the side vents offer just the right breathability during the spring and summer months. Offered in 17 colors, there's bound to be a color combo that works for just about everyone. Available from AKWA (asi/33280).

Selling Tip: Election season is just heating up, and you know what that means: time to sell Made-in-the-USA apparel. Search out domestically-made goods like this polo and don't hesitate to pitch them to campaign teams, local political chapters and voter groups.
Q: Where can I get nice towels to embroider on, including linen tea towels?

A: Check out Boutross Imports (asi/41299); (800) 227-7781; www.boutross.com. This supplier carries a wide variety of nice linen towels, including hand/guest towels and bath towels, in many sizes, colors and designs.

Selling Tip: Resorts and hotels are hot markets for selling monogrammed linen towels, which also could form a complimentary component of a gift package to an employee or client.

Q: Where can I find tie-dyed polo shirts?

A: Kerr's Cotton Creations (asi/64510); (800) 288-2942; www.kerrscotton.com; offers many options to add flair to your clients' polos. Also, consider Canada Sportswear Corp (asi/43682); (800) 659-5174; www.canadasportswear.com; product G. There's also Twisted Designs Inc. (asi/92367); (800) 360-8389; www.twisteddesign.net; product A22.

Selling Tip: Tie-dye shirts could prove popular with businesses that have a slightly alternative slant, like independent book stores, record shops, cafes, health food stores, raw food restaurants, boardwalk vendors, and organic ice cream shops.

March 18-19, 2012, Syracuse, NY
New England Apparel Club Show
(781) 326-9223; www.neacshow.com

March 19-22, 2012, Montreal, Ottawa, Toronto, Burlington
Advantages Roadshow
(800) 546-3300; www.advantagesroadshow.com/index.html

March 24-27, 2012, Boston
Boston Gift Show
(678) 285-3976; www.bostongiftshow.com

March 26-28, 2012, Las Vegas
Las Vegas International Lingerie Show
(305) 598-7019; www.lingerieshow.cc

April 2-4, 2012, San Diego
ASI Show
(800) 546-3300; www.asishow.com

April 15-18, 2012, Marlboro, MA
New England Apparel Club Show
(781) 326-9223; www.neacshow.com

April 16-20, 2012, Kansas City, KS, St. Louis, Chicago, Milwaukee, Minneapolis
Advantages Roadshow
(800) 546-3300; www.advantagesroadshow.com/index.html

April 30-May 4, 2012, Raleigh, Charlotte, Atlanta, Nashville, Memphis
Advantages Roadshow
(800) 546-3300; www.advantagesroadshow.com/index.html