SPONSORED BY


VIDEO

Color Us Impressed
Wearables Editor C.J. Mittica found a host of vivid apparel products at The ASI Show in New York. Click here to watch this special colorful edition of Fashion Finds.
Trend Alert: Going For The Gold
ADVERTISEMENT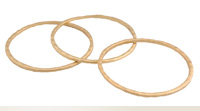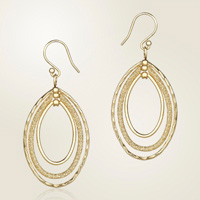 Accent any outfit with this Ralph Lauren free-form brushed gold three-piece bangle set (LB1803) or these Monet Oval Hoop Earrings (MNRUH389) from AMC Special Markets (asi/30198).

Attention all gold diggers: this spring season marks the dawn of gold as the hottest new accessory trend. Once considered a fashion faux-pas, gold is making a comeback from its original reign in the '80s when it hung from the ears of supermodels and the necks of rappers. Back then, gold was a fixture across all facets of society in the decade: hanging from ceilings in the form of chandeliers, adorning bathroom fixtures and even accenting automobiles.

Gold's sheen, however, soon dulled. But the king of metals is making a resurgence in the likes of earrings, cuffs, bangles, bags, sandals, necklaces, rings, headbands and more. Belts are also emerging – wrap one around a full-skirted dress or skinny jeans for instant outfit-defining edge.

"We're aware that gold has been trending high, so we make sure to merchandise our jewelry assortment to be on trend with the retail market," says Michelle Davidson, merchandise manager for AMC Special Markets (asi/30198). "Our customers have also been responding to items with a combination of both silver and gold, so don't be afraid to mix and match."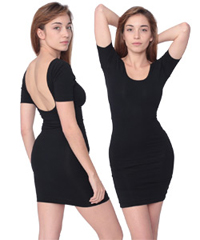 Gold accessories go well with standard white and black solids, like this form-fitting Cotton/Spandex U-Neck dress (RSA8340) from American Apparel (asi/35297).

Some of AMC's best sellers in gold are the Lauren by Ralph Lauren Gold Ball Earrings (L1544G) and the Monet Oval Hoop Earrings (MNRUH389). As for bracelets, popular items are the Monet Three-piece Bangle Set (LB1803) and the Lauren by Ralph Lauren Woven Floral Bangle (MRUL112).

"Monet jewelry has a loyal customer base that prefers gold jewelry over silver," Davidson says. "According to our source at Monet, 75% of all Monet jewelry sold at retail is gold."

Gold accessories go well with standard white and black solids as well as with red, cobalt blue, coral, purple, orange and any shade in the tan family. It even compliments multi-color patterned dresses, making it a ubiquitous accent to almost any outfit. Embrace this golden opportunity to introduce the long-lost metal back into the wardrobe of accessories.
Director of Education for ASI Nicole Rollender talks about how to tell if a garment is stain resistant.

ADVERTISEMENT

New Course At ASI Education's Online Learning Center
Start working toward achieving your BASI (Bachelor of Advertising Specialty Information) or MASI (Master of Advertising Specialty Information) by taking self-paced, on-demand courses at ASI Education's Online Learning Center. In our newest "Wearables University" course for distributors and decorators, "The Ins and Outs of Performance Wear," you'll learn the most popular performance properties and how they work; fabrics and decoration techniques that are most common with performance apparel; and sales techniques to thrive in this category. Click here to take the course.
Sales Challenge: Cracking The Bank Vault


If you want to follow the money in finding your next client, there's certainly no more apt location than a bank. But with the labyrinthine staff hierarchy at corporate headquarters and anywhere from dozens to hundreds of branches around, where do you start? According to Joe Schlechte, start with the branch manager. "Branch managers do have budgets for these types of things," says Schlechte, an account executive for Landmark Promotions (asi/248490) in Boise, Idaho. "It's not to the level of corporate headquarters, but it's a start."

Banks aren't the only financial institutions that you can look to in the financial industry (also think about credit unions, investment firms and insurance companies), but certainly they are the most reliable and well-known. Here are some additional tips for strategically targeting banks.



Cut the chain. "Have you gone to the bank and seen a pen with a chain?" Schlechte asks. "To me, that's insane." Banks should be encouraging customers to take their pens, while also dishing out items like notepads, check books and piggy banks.
Learn the lingo. "Get to know their slang," he says. "ATM, EFT, CRA … Whatever they say, whatever they specialize in, get to know it."
Get social media savvy. Landmark partnered with a bank on a Facebook promotion involving logoed T-shirts. Clients and prospects would post a picture of themselves wearing the shirt to the bank's Facebook page; a weekly prize would be given to the best picture. "It turned out to be a really big success," Schlechte says.
Work the staff list. Branch managers are an easy place to start, but also consider VPs, marketing directors, recruiters and HR directors.
Keep your eyes on the news. "Banks are often expanding and acquiring. They're always looking to acquire the next bank," Schlechte says. That could mean changing over branches with new promotional items or a complete design makeover, depending on the acquisition.




Take The State Of The Industry Survey
Counselor is currently polling professionals in the industry – both distributors and suppliers – to see how the market did in 2010 and to get impressions on where the industry is headed in 2011. We need your input. Please take some time to click the appropriate link below and complete the annual State of the Industry survey. Your responses will remain anonymous and you'll be helping to create Counselor's annual State of the Industry report.

Distributors click here to take the distributor State of the Industry survey.

Suppliers click here to take the supplier State of the Industry survey.



Q&A: Staton Celebrates 30 Years in Business


Staton Corporate & Casual (asi/89380), a Counselor Top 40 supplier, is celebrating its 30th anniversary this year. Based in Dallas, the family-owned business is a leader in delivering branded sportswear. Executive VP Billie Staton recently took some time from her busy schedule to answer a few questions about Staton's three decades of success.

Q: When was Staton's official 30th Anniversary? How did the company mark the occasion?
Billie Staton: The official anniversary date is Jan. 1, 1981. To mark the occasion, we are giving away a 2011 Chevy Camaro. We also celebrated in PPAI Las Vegas with our customers. Throughout the year we will have customer appreciation goodies in our pick up lobbies and more give away items (currently a 40'' LCD HD Flat Screen television, which we are giving away through Facebook. "Like" us to enter). We are also showing our employees appreciation by bringing in lunch, giving away spirit items and enjoying special dessert days.

Q: How has Staton managed to stay in business for three decades?
Billie Staton: Our philosophy is to put our customers first. We believe that their success is ours.

Q: What was the company's proudest moment?
BS: Our proudest moment is celebrating anniversaries with our employees. We have many who have been with us for over 20 years. That tells us that it's not only great to buy from us; it's great to work here.

Q: Please tell us about any new products or services Staton is offering this year.
BS: We developed "Lea's Retail Corner" to bring customers the latest fashion news. Often our industry plays catch up with retail; now Staton provides its customers with the latest trends. Many customers are offering positive feedback and comments. One customer requested to use the editorial as his own. By replacing the Staton logo with his own company logo, he instantly had something interesting to share with his clients.

Staton also offers videos or mini commercials that our customers can use as advertisements. Kara York, VP of product marketing, brands our company using the latest in technology, and is offering that same technology to our customers. We are currently offering our customers the opportunity to work with a Staton graphic artist. For a limited time, we will create ads, brochures, box stuffers and email blasts that our customers can use to supplement their marketing. This offer comes free of charge.



Burnout Baseball Tee




This three-quarter T-shirt (style B5046) from Magic Apparel Group (asi/68463) combines the fashionable look of burnout with the classic comfort of a baseball tee. The fabric is a 60/40 poly/cotton blend, which was placed through a wash to burn the cotton out. The garment was then overdyed, resulting in shirt with a perfectly worn-in, vintage look and feel. This tee is a great way to give a basic baseball style tee a bit of an edge by providing a fashion-forward alternative for wearers who want to be comfortable and stylish at the same time. Pair it with denim shorts or a skirt for a going-out look, or with capris or leggings for a more laid-back approach. It's available in over 60 trendy colors.

Selling Tip: The burnout look is on fire with the sports market right now, from pro and college to high schools. It's also popular in bars, restaurants, hair salons, tanning companies, spas, gyms and with bands. The sky is the limit when it comes to selling this wash!



Q: Where can I find adult extra-small or youth-size Flexfit hats? I haven't been able to find them wholesale.

A: Start with Alpha Shirt Co. (asi/34408); (800) 523-4585; www.alphashirt.com; product 6277Y. This youth six-panel, structured, mid-profile cap is 63% poly/34% cotton/3% spandex and comes in six colors.

For a garment-washed twill youth cap, try product 6997Y from Heritage Sportswear (asi/60582); (800) 537-2222; www.heritagesportswear.com. This six-panel cap is 98% cotton/ 2% spandex and comes in eight colors.

Last, check out product 6477Y from Advantage Series LTD (asi/32199); (800) 423-8668; www.advon.com. This is a six-panel, 83% acrylic/15% wool/2% spandex youth cap available in nine colors. Advantage also carries product 6277XS, a 63% poly/34% cotton/3% spandex, six-panel, mid-profile, fitted cap in size XS; it comes in 11 colors.

Selling Tip: These days, it's tough to find a market where Flexfit hats aren't popular. Everyone from the country club golfer to the local mechanic sports Flexfit caps. These ergonomically designed hats offer the completed, neat look of a fitted cap with the easy conformability of snapback.

Q: I have been looking for weeks for Made-in-the-USA denim shirts at wholesale prices. Every search I do comes up with nothing. Please help.

A: Try this source for U.S.-made clothing: Union Line/Graybear (asi/92508); (800) 632-2308; www.unionmadeclothing.com. This Chicago-based supplier offers a men's short-sleeve (product 10064) and long-sleeve (10068) denim shirt in sizes S-5XL and tall sizes L-5XL. The ladies also have a short-sleeve (10417) and long-sleeve (10419) option in sizes S-4XL. All the shirts feature an extra-long tail and a left-chest button pocket.

Selling Tip: The popular perception about the superior quality of Made-in-the-USA apparel can be your ticket to increased sales. Also, play up the patriotic factor by pointing out that buying domestically-produced apparel supports American workers and bolsters the economy.

American Apparel (asi/35297) announced it has hired Martin Staff as its new chief development officer. Staff was a former chief executive at JA Apparel Corp. and Hugo Boss Fashions Inc.

AnaJet (asi/16000) has announced its partnership with Chicago Growth Partners (CGP), a major private equity group, which led a growth capital investment of the company.


Ash City (asi/37127) has added 32-plus styles along with fabric selection to its EZECUSTOM online garment creator tool.

Broder Bros. Co. (asi/42090) revealed that its fourth quarter net sales in 2010 were $215.7 million, compared to $182.8 million for the fourth quarter 2009. For the fiscal year of 2010, the supplier's net sales were $791.3 million, compared to $705.2 million the previous year.

CafePress (asi/43167) has announced a partnership to be the exclusive decorator for consumer electronic products manufactured by Coby Electronics.

Great Garment Graphics has published a schedule of upcoming free webinars on heat-applied graphics. To view the April schedule and register, click here.


Heritage Sportswear (asi/60582) has just released The 2011 Playbook, a 148-page catalog targeting brand-name apparel and accessories for team wear and sports teams.


Imprintables Warehouse (asi/58475) has introduced a new heat transfer vinyl, Spectra Illusion, that gives a high density 3D look and is ideal for light and dark fabrics. It has also released a new 98-page full-color catalog of supplies and equipment.

Independent Trading Co. is donating 100% of all profits from online sweat shirt purchases to three organizations that are providing relief to the victims of the March 11th Japanese earthquake and tsunami in Japan.

Oeko-Tex Association will offer a free online presentation on Wednesday, April 6th at 12:00 Noon EST that reviews the Oeko-Tex Standard 100 and its relevance to the Consumer Product Safety Improvement Act (CPSIA) for products intended for use by children.


Stahls' (asi/88984) announced it is offering a new book, The Business of T-Shirts by Mark Venit. The book will touch on starting and marketing a custom decorated apparel business as well as other fields. Also, Stahls has introduced CAD-COLOR Crystal Clear printable digital media, which allows the creation of full color graphics using a print/cut system that can be applied with a heat press without the need for a mask.

Sparkle Plenty Designs (asi/88442) has launched a foundation called www.PegsPresents.com to provide year-round birthday and holiday gifts and smiles to kids in need through Dignity Housing, Philadelphia.

Wolfmark (asi/98085) will be offering its catalog through the uniformMarket platform.


Woolrich (asi/98192) has teamed up with Travel Alberta to give away a railroad adventure for two through the Canadian Rockies in the Woolrich Adventures Sweepstakes. Now through August 1st, adventurers can sign up online for a chance to win this once-in-a-lifetime journey at their website.





Knowing these terms will make distributors who just started sound like they've been in the business for years.

Battenberg: Assembled to form various designs, this coarse form of renaissance lace is made by hand or machine from linen braid or tape and linen thread.

Carding: This process of opening and cleaning textile fibers - usually cotton - involves separating fibers from each other, laying them parallel, forming them into a thin web and then condensing them into a single continuous untwisted strand or bundle of fibers called a "sliver."

Cuprammonium: A process of producing a type of regenerated rayon fiber in which the wood pulp or cotton liners are dissolved in an ammoniac copper oxide solution.
---
ADVERTORIAL
Pro-Tect Wear's Top-Notch Fire-Retardant Garments

According to government reports, more than half of severe and fatal burn injuries are due to the individual's clothing igniting and continuing to burn, not to the exposure itself. The difference between suffering only minor burns and being seriously or fatally injured is often only a matter of seconds. The longer a thermal-protective garment can protect the skin from heat, flames of a flash fire, or resist ignition by an electrical arc, the higher the chances of survival and escaping the accident with only minor burns.

Fire-retardant (FR) garments will self-extinguish and char rather than continuing to burn, limiting potential body burn percentage. Therefore, FR garments provide protection during an exposure and after the source of the ignition is removed. When sourcing FR garments, it is important to know that all FR garments using FR-treated cotton fabrics are supplied by companies that test and post all of their FR values as per the findings from independent laboratories.

It is also important to recognize that in the event of a momentary electric arc flash, flash fire or molten-metal splash exposure, the FR fabric used to construct the garment is a critical factor in determining the amount of protection the garment will afford the wearer. The critical nature of flame-resistant protective clothing fabrics requires that extensive testing at independent laboratories be carried out to evaluate the protective capabilities these fabrics exhibit when exposed to electric arc flash and flash-fire hazards.

When sourcing FR garments, you can be assured that Pro-Tect uses only cotton fabrics that are tested and post all their FR values based on findings from independent laboratories.

Industries that rely on Pro-Tect garments include:

Electric Arc: electrician, electric utility lineman, tree services

Flash Fires: refinery, chemical, oil, mining, pharmaceutical, armed forces, fire departments, forestry, race-car circuit

Ferrous Metal: foundries, flame cutting, welding

Combustible Explosion: workers in paper and pulp industry, food procession, paint and cotton mills.

Pro-Tect for the best and most comfortable fire-retardant garments – quality you can trust.