SPONSORED BY


PODCAST

Get More Biz From Current Clients
The Tuesday Morning Show on ASI Radio was plenty busy last week. Not only did the hosts provide listeners with ideas for how they can expand their business relationships with their current customer base, but they also hosted a special Wednesday show to go along with the ASI Virtual Tradeshow.

If you missed those shows or any of our other ones, don't worry. Recordings are available at asicentral.com/radio. And, don't forget to join us every Tuesday morning at 10:30 ET when we broadcast our radio show live. We'll be taking calls from the audience, so please call us at (215) 953-4979 to hear your voice on the air.
Trend Alert: Cargo Pants
ADVERTISEMENT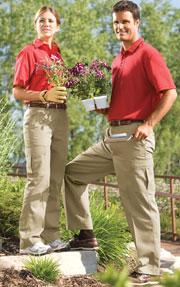 These women's poly/cotton blended chino cargo pants (8573) from Edwards Garment Co. (asi/51752) feature a flattering leg cut, easy-care stain-release finish, and are moisture wicking and machine washable.

As we wonder when the military trend will make its last stand, it continues to hold strong by expanding in a number of new directions. In its sights? Cargo pants in khaki, gray, olive and various shades of brown and black.

The original cargo pants were a loose-fitting garment made from cotton twill fabric that featured large, generous pockets along the sides of the legs. The pants were traditionally made for military use in fatigue green, but managed to make their way onto the commercial scene. Designers from Paris, Milan and New York caught onto the cargo-pant style, and commercialized it by displaying designer versions in a much more slender form on the runways.

"Cargo chic is steaming-hot right now. I've noticed cargo pocket on everything from high-fashion misses' trousers to casual crop pants," says Taraynn Lloyd, director of marketing at Edwards Garment Co. (asi/51752). "Ride the cargo fashion trend by incorporating pants and shorts into your image apparel plans."

Since the military trend comes with a palate of neutrals, cargo pants can be paired with any other color in the fashion-apparel spectrum – from other neutrals to bright colors. For men, the look is best worn with something conservative, like a V-neck sweater or a polo shirt. For women, pair cargo pants with heels, booties or flats for a look that can go from the office to the club. For both sexes, top with a denim jacket or blazer.

Fashion houses have unveiled a trimmer pair of cargo pants that deviate from the garment's loose-fitting origins. But for promotional purposes, any style will fit with the interest in cargo couture. They are a great unisex go-to when all other pants are failing to create the right look – on those days when jeans feel too tight and trousers look too proper. So embrace the continued revival of the military trend with full force and offer your clients an updated look in cargo pants, either skinny or wide.
Trading Spaces: The Distributor and Decorator Edition
Wearables and Stitches magazines are pairing up apparel distributors and decorators to spend part of a day in each other's shops to learn how the other side does business. Our goal is to help distributors and decorators work better together.

We're looking for veteran and newbie distributors and decorators who've been frustrated with the other side – and would like to have a distributor or decorator experience life in your shop and some of the challenges you face on a daily basis.

If you're interested in participating, please send an e-mail with your complete contact info, ASI number (if you have one), details about your business and the top three things that you wish a decorator (or distributor) or would do differently or realize about your side of the business. Please e-mail Wearables Editor C.J. Mittica at cmittica@asicentral.com.


Coalition Aims to Make Apparel Industry Greener


Leading retailers, clothing manufacturers, environmental groups and academics recently announced plans to form a new coalition aimed at lessening the environmental and social impact associated with producing apparel and footwear around the world. The Sustainable Apparel Coalition (SAC) intends to develop improved sustainability strategies and an index to measure and evaluate "green" performance in the apparel industry. Evaluating and scoring businesses on things like worker conditions and water and chemical usage, the Apparel Index 1.0 will enable companies to measure their environmental and social impact, compare themselves to other companies and receive improvement strategies. 

"The advent of the Sustainable Apparel Coalition is a significant and extremely positive development in the quest to lessen the environmental and social impacts of the wearables industry," says Dale Denkensohn, president of econscious (asi/51656), a California-based organic apparel company. "It's only with the collaboration of the world's biggest and most influential brands that significant and permanent improvements can be implemented in practical ways throughout the supply chain. In my view this is a seminal moment in 'greening' of our industry."

To further the green mission, coalition members will devise plans to reduce chemical usage, lessen the apparel industry's water and industrial consumption and improve waste diversion. Concerned about the potential hazards industry employees face, the coalition intends to make the process of producing apparel transparent and get workplaces throughout the apparel world to adopt standards that lead to fair treatment of employees and safe working environments where none are exposed to toxic chemicals. "Over the past few years, the U.S. apparel and footwear industry has embraced sustainability as a key component to the way we do business," says Kevin M. Burke, president and CEO of the American Apparel & Footwear Association. "The industry understands that collaboration and transparency are the best ways to reduce our industry's impact on the environment."

The SAC's 30 or so founding members include companies like Walmart, Target, J.C. Penney, Timberland and Nike. Other initial members of the coalition are Duke University, the nonprofit Environmental Defense Fund, the Environmental Protection Agency, and Verité, a labor rights group. The SAC could expand to 40 members by June. "Should the Sustainable Apparel Coalition succeed, its focus on improving supply chain performance could become a model for other industries," says Leon Kaye, editor of GreenGoPost.com, a website that focuses on the business side of sustainability. "More efficient, energy-saving and transparent supply chains not only reduce costs, but lessen the human costs that put too high of a price tag on what are often cheap clothes."



ASI Launches Product-Safety Affiliate Program
ASI recently announced a new partnership with Intertek, a provider of quality and safety solutions, to help members minimize risk and better navigate complex requirements around product compliance.

In conjunction with the ASI Safety and Legislative Advisory Board, ASI selected Intertek as its preferred partner to provide ASI members with testing, inspection, auditing and certification services across all product lines. In addition, ASI negotiated a preferential rate that provides its members a 20% savings on all Intertek services related to safety testing and compliance.

"Intertek is a world-class product-safety and testing company," says Chuck Machion, chairman of ASI's Safety and Legislative Advisory Board. "Intertek will help members navigate the numerous laws and regulations governing the advertising specialty industry. Utilizing its product-testing laboratories around the globe, Intertek offers companies peace of mind while allowing them to focus their energies on their core business."

For more information, go to www.asicentral.com/intertek.



Sales Challenge: Finding the Right Shirt


Sometimes, a client's lack of direction can quickly become a distributor's headache. The client might know they want shirts, but not have much of an idea what they're looking for. With so many styles and brands to offer, finding the client the right shirt can seem a daunting task. But it doesn't have to be. Finding the right shirt comes down to good communication, understanding your client and connecting with quality suppliers that can provide the goods.

To begin narrowing the focus, distributors should first learn how much the client plans to spend and how many shirts they want to buy. "Once you get their budget and quantity, you can start connecting them pretty quickly," says Terry McGuire, vice president of marketing at HALO Brand Solutions (asi/356000). As part of initial discussions, distributors should learn how the client plans to use the shirts: Will they be for employees or customers? What type of impact does the client want the shirts to have?

Additionally, to pair a client with the right shirt, distributors need to learn about the company and understand its brand and industry, says Mitch Weintraub, CEO of Pinnacle Promotions (asi/295986). For instance, a young technology company might be more interested in hipster-style T-shirts or polos than a traditional golf shirt. "You want to find the shirt that fits their brand and image," he says.

Next, link up with preferred suppliers to get a sampling of shirts at different price points, says McGuire. This way, you can potentially catch the client's eye with a higher-end product, leading to an upsell, or win them over with a less-expensive offering, turning you into a trusted value provider. "You have to be very prepared. Know how you'll sell the features and benefits of each garment," says Weintraub.



Hanes Partners With Box Tops for Education


Hanesbrands Imagewear (asi/59528) announced it has partnered with Box Tops for Education to raise money for schools across the United States. More than 69,000 participating schools can earn valuable Box Tops when they order Hanes products for their class shirts, school uniforms and school events. The program includes all Hanes T-shirt styles as well as polo shirts and sweatshirts.

"The education market is the biggest segment of wearables and Hanes is a family-oriented brand (found in nine out of 10 households), so when we were looking at ways to sell more and give back to the education market, we came across Box Tops," says Matt Waterman, senior marketing manager for Hanesbrands Imagewear. "It's the gold standard for education-based fundraising programs."

Box Tops for Education is a nationwide fundraising program for K-8 schools that encourages students to collect Box Tops off a variety of products from breakfast cereals to office supplies that coordinators at each school send in to receive cash. With every Box Top equaling 10 cents, the program has helped schools earn more than $375 million since it was established by General Mills in 1996. "Hanes is the first apparel company that Box Tops has worked with and it's a very natural extension of the program," Waterman says. "These are two great brands and they fit well."

For additional information and download forms, visit www.Hanes4Education.com.




Great Dane Graphics has added new images to its food and beverage category as well as its occupations category.


Hanesbrands Imagewear (asi/59528) has announced that The Salty Dog Cafe, the iconic bar and restaurant located in Hilton Head, SC, is the 2011 inductee into the Hanes Beefy-T T-shirt Hall of Fame.

Heritage Sportswear (asi/60582) was awarded a Supplier of the Year designation by Custom Ink (asi/173186) for recognition of Heritage's superior order accuracy, commitment to on-time delivery, dependable inventory and extensive one-day-ship zone.

Imprints Wholesale (asi/62486) has introduced a labeling service that allows companies to add their own custom label to products.

Proforma (asi/300094) announced it has inducted 10 new members into its Million Dollar Club and five new members in to the Multi-Million Dollar Club.

SanMar (asi/84863) was selected by Image Source (asi/230121) as its Supplier of the Year for 2010, measured on criteria such as customer service, quality of product, delivery and overall value.


Stahls' ID Direct (asi/541170) has introduced three new dealer catalogs for 2011: a Stock Catalog, a Custom Catalog with a separate price guide, and the CAD-CUT Direct Magalog.

Sweda (asi/90305) has hired Franci Ramynke as its new marketing manager.

World Emblem International (asi/98264) has added three new employees to its team: Jason Green as director of plant operations, Harold Montenegro as production manager and Jose Barrios as network administrator.



Knowing these terms will make distributors who just started sound like they've been in the business for years.

Boucle: Knitted or woven fabric with characteristic looped or knitted surface that often resembles a spongy effect. The term also applies to a variety of looped, curled or slubbed yarns. In French, boucle means "buckled" or "ringed."

Colorfastness: A term used to describe a dyed fabric's ability to resist fading due to washing, exposure to sunlight and other environmental conditions.

Donegal tweed: A medium to heavy, plain or twill-weave fabric in which colorful yarn slubs are woven into the fabric. The name originally applied to a handwoven woolen tweed fabric made in Donegal, Ireland. Common uses include winter coats and suits.
Director of Education for ASI Nicole Rollender talks about how to tell if a garment is stain resistant.

New Course At ASI Education's Online Learning Center
Start working toward achieving your BASI (Bachelor of Advertising Specialty Information) or MASI (Master of Advertising Specialty Information) by taking self-paced, on-demand courses at ASI Education's Online Learning Center. In our newest "Wearables University" course for distributors and decorators, "The Ins and Outs of Performance Wear," you'll learn the most popular performance properties and how they work; fabrics and decoration techniques that are most common with performance apparel; and sales techniques to thrive in this category. Click here to take the course.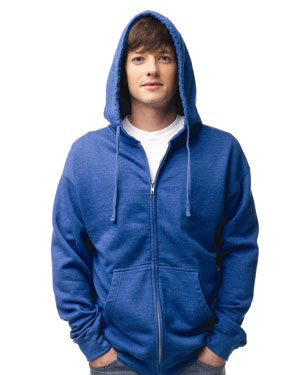 Full-Zip Hoodie

No matter the season, hoodies have a place in America's wardrobe. Certainly your clients will go for this men's mid-weight fleece option with a full zipper (SS4500Z). Made of 80% cotton/20% polyester with a 100% cotton 20 singles yarn face, this style is sized with a generous fit for the ultimate in comfort. Complementing its trendy look is a jersey-lined hood with a heavy-gauge drawcord and metal eyelets. It comes in 17 hot fashion colors in S-3XL.

Selling Tip: Zip-ups are foolproof garments when it comes to warmth and comfort; however, they can also portray a sloppy or careless look. To reinvent the hoodie as a stylish option, recommend layering that makes the garment less athletic and more chic. Consider a pullover hoodie under a zip hoodie, or for an appealing contrast, a hoodie under a blazer.


Q: We are looking for 100% cotton sweatshirts in 4XL. Can you please let us know of any companies that may have that size?

A: You'll find plenty of options from SanMar (asi/84863); (800) 346-3369; www.sanmar.com. This supplier offers a 100% ringspun combed-cotton, pigment-dyed sweatshirt with a crew neck (product DT102) or a hood (DT103) in a variety of colors. For a slightly dressier option, try product DT131 – a 100% French terry cotton crewneck with tonal stitching and raw edges, available in four colors. And product DT113 offers real Saturday-afternoon comfort; this heavyweight, pigment-dyed, full-zip hoodie with rib-knit cuffs and waistband is available in five colors.

Selling Tip: Target universities, whose students buy lots of college-logoed cotton sweatshirts because they enjoy the garment's versatility, durability and comfort.

Q: I'm seeking a source for beret-type headwear. Suggestions?

A: Here are three great choices. You can find a 100% wool, 11-inch fashion beret in 10 colors at Wolfmark (asi/98085); (800) 621-3435; www.wolfmarkties.com.

For a felt beret in six colors with a black bottom band, go to China Direct Caps Company (asi/48015); (310) 518-2161; www.cdc-caps.com.

And if you want a cozy winter option for the ladies, check out product 701B from Chen International (asi/44727); (888) 691-6800; www.kasaumbrellas.com. This luxurious chenille beret comes in five colors.

Selling Tip: In the popular imagination, berets have an artistic connotation, making them a great promotional item for art galleries, live performance theaters and trendy coffeehouses.