A4 (asi/30121) recently coordinated with World Vision and Food For The Poor to send over 62,000 new garments to Haiti.
Boxercraft (asi/41325) has announced a new charity contest beginning April 2, allowing distributors, screen printers and embroiderers to nominate a community organization to receive a donation of spiritwear. For more information, click here.
Century 21 Promotions, Inc. (asi/44485) has announced an alliance with Rockland Embroidery, Inc. The alliance will give Fahrenheit Headwear an increased presence in the Eastern United States.
Executive Apparel, Inc. (asi/53418) has announced an upgrade of its ultralux polyester line and will include washability to its list of features.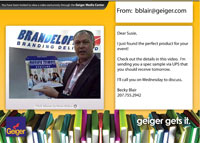 Geiger (asi/202900) recently upgraded their media center, which allows their sales force to send video e-mails with a variety of thematic templates, upload videos to their LogoMall Web site with one click and create their own videos via a Webcam or other recording device.
Hanesbrands Inc. (asi/59528) has announced current and upcoming environmental initiatives through a new corporate social responsibility, click here to view the web site.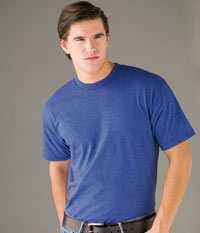 Heritage Sportswear (asi/60582) is informing its clients to celebrate Earth Day's 40th Anniversary by wearing an Anvil sustainable T-shirt (450) that's made of 50% ring spun traditional cotton/50% post-consumer P.E.T. recycled polyester and weighs 4.8 oz. Available in multiple colors in sizes S-3XL.
NanoHorizons Inc., the makers of SmartSilver, has announced that they were awarded the 2009 Best of Business Award in the Chemical Additives category by the Small Business Commerce Association of San Francisco.
The Quality Certification Alliance has announced that five additional suppliers have applied for accreditation. They are: Anvil Knitwear Inc. (asi/36350); Bag Makers Inc. (asi/37940); Cutter and Buck (asi/52315); Journalbooks (asi/91340); and Majestic 360.
SanMar (asi/84863) has expanded its next-day service to include all of Arkansas, Louisiana and Mississippi as well as regions of Alabama and Utah.
Stahls' Hotronix offers a new fusion designed to make heat printing as goof-proof as possible. Its new machine can be used as a swing-away or a draw press and features an EZ-On platen that provides 360 degrees access to the bottom platen for easier loading of garments.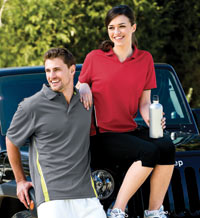 Tri-Mountain (asi/92125) has just released an apparel line with one or more performance characteristics such as moisture-wicking, UV ray protection and anti-microbial. The Groove (235) is made of 100% polyester and features Tri-Mountain Ultra Cool moisture-wicking technology. A women's companion style (232) is also available.
Victorinox Swiss Army (asi/93755) has announced the promotion of Mike Smith to vice president of sales, corporate markets.
Zagwear (asi/365552) and Earth Day Network have teamed up to announce the launch of Earth Day Network's official online store.