Aprons Etc. (asi/36558) announced that it is celebrating its 25th anniversary in 2010.
Bodek and Rhodes (asi/40788) announced its partnership with apparel and accessories manufacturers Adidas and TaylorMade for a two-month-long promotion offering $25 Dining Dough certificates to customers for every 12 pieces purchased of the two. The company also announced the development of a virtual studio for design-to-print artwork creation called The Apparel Design Studio.

Broder Bros Co. (asi/42090) is hosting an open house at its newly expanded Houston Distribution Center on Wednesday, March 24 from 10-6 p.m.
Carrigar (asi/44080) is relocating to a larger office. Effective March 15, the company's new address will be: 743 Alexander Road, Suite #9, Princeton, NJ 08540. To contact the company, call 1-866-331-0624.
Charles River Apparel (asi/44620) has announced that it is partnering with Circle of Hope, a charitable organization, to aid relief efforts in Haiti. Charles River is also providing 5% of its February profits from selected apparel styles to Partners in Health, a non-profit global health care provider.
Dunbrooke (asi/50930) has hired Diane Leslie to provide representation for the company in southern California, southern Nevada and Hawaii in both the promotional products and decorator markets.
Executive Apparel (asi/53418) has announced the release of its new EA Career Catalogs.
Gildan has announced the launch of a program called "I Support…," awarding a selected charity up to $100,000. It is designed to create awareness of the importance of charitable donations.
Hanes/Outerbanks (asi/59528) has announced that it is transitioning its popular Hanes Beefy-T T-shirt to a tag-free neck label.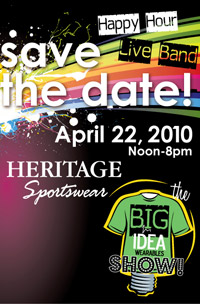 Heritage Sportswear, Inc. (asi/60582) has announced that on Thursday, April 22, wholesale customers are invited to Columbus, Ohio for the BIG IDEA Show from 12-8 p.m.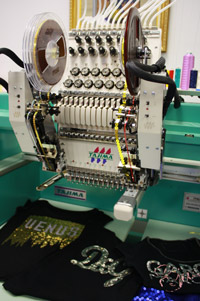 Hirsch International offers a new double sequin attachment. It can be attached to any M series or Neo Tajima machine and will hold two reels of sequin.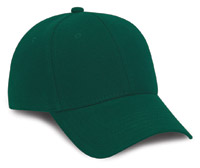 OTTO (asi/75350) is offering new pique knit headwear and apparel. This six-panel cap features sewn eyelets, matching fabric under visor and adjustable hoop and loop closure. Available in 29 colors.
Phillips Van Heusen, the parent company of PVH Career Apparel (asi/75633), has announced that it will acquire Tommy Hilfiger for $3 billion in cash and stock. Tommy Hilfiger is currently owned by private equity firm Apax Partners.

Selco LLC (asi/86230) recently was presented with a plaque of gratitude from the Brian LaViolette Scholarship Foundation in recognition for a donation of watches.
Target Graphics Ltd. (asi/90549) has introduced a "Shirt of the Month" contest, with the winner receiving a $100 credit. The company has also announced a new customer incentive program and a "Plus It Up" spec sampling program, providing customers with an opportunity to receive free decorated garments.