SPONSORED BY


Click here to listen to the podcast.
ASI Staff Writer Matthew George talks with Daniel Burrus, founder and CEO of Burrus Research, to learn how social networking can be an invaluable tool to boost the bottom line. Burrus highlights a few sites and explains the personal and business applications of each one. Click here to listen to the podcast.
What did you think of this podcast? Send your feedback to cmittica@asicentral.com.
[ TRENDS ] 
Cavanaugh's Motivational Brand Appears in NCAA Tournament
As a college basketball player at the University of Pittsburgh, Pat Cavanaugh used the criticism and doubts against him as motivation to achieve his best. The president of the Cavanaugh Marketing Network (asi/159262) has remained so keen on the idea of motivation that it fuels his company's CRONS brand, which grew 250% last year and enjoyed its NCAA Tournament coming-out party this season. The name is an acronym for Come Ready Or Never Start, and it's a message that is literally featured on the company's motivational apparel. "It's really a motivational lifestyle brand," says Cavanaugh. "The whole purpose is to challenge people to be their best. And then what we say is we want to make your best better."
With CRONS, motivational messages are printed upside down on team uniforms and athletic apparel so that the player can read it. CRONS has provided apparel to 300 schools but received major exposure when its first Division I NCAA basketball client, Robert Morris University, reached the NCAA Tournament and squared off against Michigan State in the first round. The Colonials had tags on the bottom front of their jersey, the inside of the jersey neck tape and the inside of their shorts that featured messages like "That guy working harder than you, that's me," and "Ignore the noise."
"It's all about them getting motivated," says Sotiris Aggelou, national sales manager for CRONS. "When it's crunch time during the game and they need extra motivation, they can get inspired by that."
Cavanaugh and company first came up with the CRONS idea in the late '90s but never moved forward on it until the last three years. The brand is branching out quickly; in addition to team uniforms, there is lifestyle apparel, a non-athletic school curriculum about goals and adversity and new NCAA-compliant nutritional products, the last coming in the next 60 days. The company promoted the CRONS brand with a huge marketing effort at the Big East Conference tournament in New York, where tens of thousands of promotional items were passed out along with the unveiling of its Web site.
Cavanaugh is clear that CRONS is about helping athletes and others achieve their potential. "The exciting part for us is that people, whether they're in sports or not, can relate to the message very quickly," he says.

Listen to ASI Internet Radio [asicentral.com/radio]
A team of ASI editors have launched the first ever ASI Internet Radio show. For a half-hour each Tuesday, we debate the most important topics facing the industry, as well as offer an off-beat look at the market.
If you missed any of our shows, don't worry. Recordings are available at asicentral.com/radio. And, don't forget to join us every Tuesday morning 10:30 a.m. Eastern time when we broadcast our radio show live. We'll be taking calls from the audience, so please call us at (215) 953-4979 to hear your voice on the air.

Quick Tip from the Trenches: Success with Samples
Lee Ann Peter, President of FiF Marketing, an affiliate of iPromoteU (asi/232119), gets creative with samples when presenting activewear to her clients. "What you may not realize is that, regardless of whether your client is a sports team or a corporate group going on an outdoor outing, they expect to be able to move and play in these garments, and not all garments labeled activewear accommodate that." When her client, a girl's high school soccer club, came to her looking for activewear for their team practices, Peter was ready to work with the group to learn what products would work best. "Over time I've come to realize that certain brands work better than others for certain activities," she says. To help the team find the perfect hoodie for their practice games, Peter ordered several samples and let the girls use them on the field.
"We got samples of three or four brands and let them experiment with them to get their input," says Peter. The girls had liked a specific brand based on style, but when they actually put them on and started playing, they quickly realized that style wasn't everything. "There were a lot of complaints that necklines were too tight, or the elastic drawstring around the waist was too constricting," says Peter. "They did choose one of the brands in the end, based on comfort, and have ordered that brand again and again, year after year."

Winning Sales in a Losing Economy
Take smaller steps:
Today, customers want to take their time. They are fearful and uncertain about what's next. So, in turn, you must slow down to increase your sales. Are you running to a solution too soon when you haven't yet taken the next small step to understand their new challenges and anxieties? What may have been a five-step sales cycle may be a 10-step journey now. Re-assess and tune up your sales strategy for a different route to the top by doing the following:
Write down your current sales process steps.


See where you can break apart each step into smaller ones ("Build rapport" can be broken into "send article," "get a meeting on the calendar," "mail handwritten thank-you card for their time," etc.).


Put the new list to work by creating a spreadsheet with the steps as column titles and then list each prospect down the first column. Assess where you are for each prospect and notice missing steps or areas to redefine your approach.
Sell passion not product:
Passion drives your prospects. A resistant client in the high tech industry shocked the salesperson when he admitted, "we like your product, but we just don't get your story." They needed vendors who added to the brand, mystique and "remarkablility" of their products. When the stunned salesperson returned with a new presentation of their product direction, innovative philosophy and company culture, he was able to close the deal. Are your prospects looking for more than just a shallow pitch?
List your top prospects.


Identify at least three things that excite them or cause them great pain – and explain how your product or service addresses these issues.


Create a "story" about your offering using the themes and phrases in Step 2. What's passionate about your product or service? And don't fall off the cliff because you think you sell a commodity product. Just look at the stories created around commodities like coffee and tennis shoes!
Unbundle:
One business deal was being stifled because the salesperson had the whole package, but the recession was driving price into the equation. The client only needed pieces of the solution for now to get through the year. Unbundling the offering delighted the client, and they closed the deal.
Collect and categorize the main customer complaints, objections or other reasons for not buying.


Schedule a meeting with relevant company functions that can impact the customer end-product (manufacturing, design, R&D, service delivery, field maintenance, etc.)


At the meeting review the categories you created in Step 1 and brainstorm innovative ways to help the customer (what can be unbundled, repackaged, re-priced, delivered differently, combined, etc.).
BIO: Don Schmincke is a keynote speaker and author of The Code of the Executive and High Altitude Leadership. For more information, visit www.highaltitudeleadership.com.

ASICentral is Now On YouTube
Hey, if Obama Girl, Chris Crocker and the band OK Go can do it, why not ASICentral? We're talking about putting video on YouTube and riding the wave to fame and fortune. Well, maybe not fortune, but here at ASICentral we're all about fame, taking advantage of the latest technology and trends and using them to spread the love. The ASI TV love, that is.

Hoping to expand our horizons, we are now putting all our videos on YouTube. Check out our cool new YouTube video channel here and subscribe now for updates. And who knows, maybe The Joe Show's Joe Haley will one day introduce some hot new promotional products underwear and become the latest Internet sensation.

Got questions, comments or any type of feedback regarding anything ASICentral, don't hesitate to contact us at feedback@asicentral.com, and please check Team Blog often for site updates. And if you're not already a fan of ASICentral on Facebook or following us on Twitter, what are you waiting for!?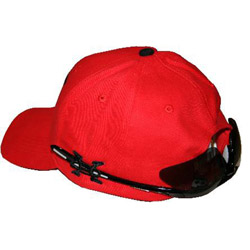 [ OUR FAVORITE WEARABLES ]

Hold On Hat
Available From: Hold On LLC (asi/61340); (770) 616-8904; www.holdonunlimited.com

Sell To: This 100% cotton hat (H0121C) will be the perfect addition to a baseball player's outfit. Target high school and college teams or even athletes involved in their company softball league.

Style Tip: Each hat is equipped with a customizable logo designed to function as a sunglass holder. No need to worry about losing your eye protection as the logo will securely hold them in place.

[ NEWS BRIEFS ] 
Ash City USA (asi/37127) has announced the return of Jack Pieklo. Pieklo spent over five years with the company in a sales management capacity and will now bring his sales agency company PromoMax to serve as an independent sales representative. 
 
 

Boxercraft (asi/41325) offers a new Varsity Cardigan featuring a patch pocket on the right side, ribbing on the cuff and a button-down front. Add chenille lettering for a true old school look.

 
 

Dalco Athletic is offering a new appliqué look called "High Step" that combines a team name with an embroidered mascot or sport. It is made out of two-color kiss-cut Pro Twill and comes with a free EasyStitch sewout disk, which will automatically sew the design in a zig-zag stitch.

 
Heritage Sportswear (asi/60583) has added neon colors to its Anvil chromaZONE 3979 T-shirts: pulsating pink, not-so-mellow yellow, screaming orange and go-for-it green.

 
 

Peter A. Mayer Advertising Inc. won 48 ADDY Awards at the industry's annual gala held on March 13th. The local ADDY Awards of Louisiana are part of the American Advertising Federation's national recognition program. It honors excellence in advertising and cultivates the highest creative standards in the industry.

 

PromoShop, Inc. has announced the addition of Frank Nordyke as vice president of national sales, Bill Bowyer as an account executive in Denver, Colorado and Deedy Nordyke as an account executive in the Encino, California office.

 
| | |
| --- | --- |
| Stahls' ID Direct has expanded its Custom Made Easy program to include new block and script letter styles. The program offers Block Letter and Script Letter styles. The Block Letter styles allow dealers to select from 18 fonts, 18 tails and 20 different layouts. The Script Letter styles can be ordered with or without tails from five different fonts and 24 tail styles.  | |

[ ASK AN EXPERT ] 
Question: I am looking for a specific style of leather jacket for prizing for a promotion and am having a lot of trouble finding what the client needs. I'm looking for a black leather jacket that is distressed with no collar.

Answer: Try Clava American (asi/45335); (888) 452-5282; www.clava.com. This leather jacket features zip chest pockets, interior chest pockets and a zip front. Or, try Beardmore Leathers (asi/39275); (866) 474-9422; www.beardmoreleathers.com; product # AUSTIN. This leather jacket features inside chest pockets and lightweight lining. Finally, for a stylish look, try Mak Group of Companies/Tomahawk Garment (asi/68595); (877) 625-7230; www.makleather.com. This leather jacket features accented sleeves and stripes. Thanks.

Style Tip: Leather jackets make a perfect high-end gift for the employee-of-the-month.
Question: I need to order "bootie shorts" for a couple of different dance studios.  I don't see them in any of my catalogues I have hanging around. Can you help me find them, please?  

Answer: Look at Pizzazz (asi/78230); (888) 289-7860; www.pizzazwear.com. They carry youth-sized and adult-sized shorts for dance or cheerleading, as well as other sportswear apparel. Start with product 5000, youth aerobic shorts made with 90% cotton and 10% spandex. Also try Augusta Sportswear (asi/37461); (800) 237-6695; www.augustasportswear.com. Product 773 is a girl's spandex knit short with covered waistband and no side seams. Adult sizes are also available. Augusta also has other styles of sports shorts. Finally try American Apparel (asi/35297); (213) 488-0226; www.americanapparel.net/wholesaleresources. American Apparel has a collection of biker shorts, which are very similar to booty shorts. They also carry spandex shorts, and jersey hot shorts.

Style Tip: Target dance studios, after-school programs and local cheerleading squads who should all be in need of booty shorts. Ask if they'd like to include names or their company logo on the shorts.
Question: Well, I am trying to locate a dealer (wholesale) who sells polo shirts for toddlers and I need it to be plain deep purple.  It is for a school uniform I am doing.  I had to do some research to find Youth XS, but the school has Pre-K and wants the shirts for the toddlers.  Can you help?

Answer: The only toddler shirts I found were available in white, blue, and navy. So I've listed some youth-sized shirts that come as small as a youth extra small. Start with BAW Enterprises (asi/37689); (800) 493-3745; www.bawonline.com. Product CT280Y is a youth solid cool-tex performance polo with three button placket with color matching buttons. It is available in 12 colors including purple and is available in sizes YXS-YXL. A long-sleeved version of the same polo is listed as product 985Y. Also check out product 981Y- a purple polo made of 100% combed cotton with a pre-shrunk pique knit. You can also try Cotton Connection (asi/46777); (800) 635-1104; www.cottonconnection.com. Product 8800B-D is a dark color 50% cotton 50% polyester ultra blend youth sports shirt. They are sold with 3 dozen per case. This shirt is available in purple and comes in sizes YXS-YXL.

Style Tip: Target mothers with children for a back-to-school sale or even schools that have a mandatory dress code.

[ WEARABLES TERMS ] 
Getting familiar with these terms will make any ad specialty distributor look like an apparel expert.
Bengaline: Lustrous, durable fabric with a heavy crosswise rib made from textile fibers in combination. Used to make coats and suits.

Donegal Tweed: Woolen tweed fabric that is characterized by thick, random multicolored slubs.

Madras: One of the oldest materials in the cotton family. Madras is made on a plain-weave background, which is usually white; stripes, cords or minute checks may be used to form the pattern.

Virgin Wool: New wool that has never been used before, or reclaimed from any spun, woven, knitted, felted, manufactured or used products.

[ SHOW LIST ]
APRIL
March 30-April 2, Orlando, Tampa, Sarasota, Ft. Lauderdale
Advantages Roadshow
(800) 546-3300; www.asishow.com
April 3-4, Greensboro, NC
Embroidery Extravaganza and Direct to Garment Showcase
(813) 846-6031; www.embroideryextravaganza.com
April 14, Dallas
The Stitches Roadshow
(800) 546-3300; www.asishow.com
April 14-17, Dallas, Austin, San Antonio, Houston
Advantages Roadshow
(800) 546-3300; www.asishow.com
April 19-22, Marlboro, MA
New England Apparel Club Show
(781) 326-9223; www.neacshow.com
April 20-22, Las Vegas
Las Vegas International Lingerie Show
(305) 598-7019; www.lingerieshow.cc
April 24-25, New York City
Manhattan Vintage Clothing & Antique Textile Show and Sale
(518) 434-4312; www.manhattanvintage.com
April 27-28, Portland, ME
New England Apparel Club Show
(781) 326-9223; www.neacshow.com
April 27-May 1, Salt Lake City, Denver, Albuquerque, Tucson, Phoenix
Advantages Roadshow
(800) 546-3300; www.asishow.com
April 28, Denver
The Stitches Roadshow
(800) 546-3300; www.asishow.com 
April 29-30, Hyannis, MA
New England Apparel Club Show
(781) 326-9223; www.neacshow.com
April 30-May 2, Fort Worth
The Printwear Show
(966) 893-7682; www.nbmshows.com

SPONSORED BY


Wearables Style and Wearables are trademarks of the Advertising Specialty Institute. You were sent this newsletter as a benefit of your ASI membership. Copyright 2009, ASI. All Rights Reserved.
If you'd like us to send Wearables Style FREE to anyone else at your company (or to your off-site sales reps), go to www.asicentral.com/newsletters and complete the online form.
Interested in advertising in Wearables Style? Send an email to ddienna@asicentral.com 
Click here to subscribe to Wearables™  magazine. You must be a member of ASI to subscribe to this publication. The publisher has a right to refuse subscriptions to non-members.
Advertising Specialty Institute®, 4800 Street Road, Trevose, PA 19053