SPONSORED BY


VIDEOCAST

[ VIDEO SELLING TIP ]

At the ASI Show New York, the show floor was teeming with new ideas for distributors of apparel. Stitches Editor Nicole Rollender went from booth to booth looking for some of the most attractive apparel items. Click here to watch the video and see what she found.

What did you think of this video? Send your feedback to cmittica@asicentral.com

[ TRENDS ]

 Orphan-Designed Shirts Help Those in Need



 

CommonThreadz has launched a new series of T-shirts designed by orphans in Obanjenie, South Africa. With each shirt sold, they are able to feed an orphan or vulnerable child for one month. Additionally, each orphan artist receives clothing, a new school uniform, school supplies, a backpack and meals for the school year.


"We knew we had the technology to pull this project off. We gave the orphans crayons and markers and let them use their imagination," says Zac Folk, founder of CommonThreadz. "And the artwork that they've created is surprisingly appealing and unique."

Each T-shirt includes a tag with the name of an orphan. When a T-shirt is purchased, a customer can view and interact with that child's online profile – constantly updated with photos, videos and status reports. "By keeping in touch with an orphan online, we think end-users will realize how valuable their purchase was and that they're contributing to a good cause," Folk says.

And although The Orphan Collection was introduced nearly a month ago, the turnout has been impressive. In fact, Folk plans to continue with this project until he can raise as much money as possible. At a reasonable cost for helping a child, prices range from $38 for short-sleeve and $44 for long-sleeve. The T-shirts are printed with eco-friendly water-based inks and are available in women, men and kid sizes at http://www.OrphanCollection.com.

ADVERTISEMENT
 
Listen to ASI Internet Radio [asicentral.com/radio] 
A team of ASI editors have launched the first ever ASI Internet Radio show. For a half-hour each Tuesday, we debate the most important topics facing the industry, as well as offer an off-beat look at the market.
If you missed any of our shows, don't worry. Recordings are available at asicentral.com/radio. And, don't forget to join us every Tuesday morning 10:30 a.m. Eastern time when we broadcast our radio show live. We'll be taking calls from the audience, so please call us at (215) 953-4979 to hear your voice on the air.

Texas-Based Supplier Helps Set Waldo Record
Where's Waldo? In Your Face Apparel (asi/62494) knows the answer. The Carrollton, TX-based supplier custom cut and sewed shirts for 577 Acuity employees, who on Dec. 10 set the Guinness World Record for "Largest Gathering of People Dressed as Waldo." The company smashed the previous record of 127. The Waldo character, of course, comes from the popular "Where's Waldo" book series.
"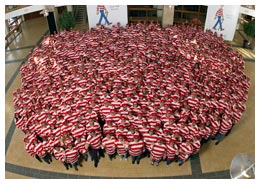 We're known for taking unusual requests so this project didn't seem as crazy as many may think," says Michelle Swayze, marketing director for In Your Face Apparel (IYFA). "Acuity tried several outlets to find an identical rugby shirt Waldo wears, but none were authentic enough. They came to us and we informed them we could make it happen."
IYFA was able to pattern the garment, print the fabric and sew the shirts under a reasonable budget and a tight deadline. But with the fear of not doing a custom project before, Acuity didn't know what to expect. "I think that's common with any order or request we get," Swayze says. "They wanted this to be a successful event for their company and when they received the shirts, they were highly impressed."
Fear also struck IYFA as they took part in its own version of Where's Waldo – losing multiple Waldo shipments. For a significant amount of time, employees searched for the boxes. "It was definitely frustrating. Nobody likes to waste valuable time looking for what's most important to complete the job," says Swayze. "But we were able to find them, finish the project in time and show Acuity the hard work we did. In the long run, the whole experience was something our company will always remember." 

American Apparel Sells Stake in Company
In an effort to pay off outstanding loans and avoid potential bankruptcy, Los Angeles-based supplier American Apparel (asi/35297) has sold 18% of the company to British private-equity firm Lion Capital. American Apparel will use the $80 million investment to offset a portion of the $112 million it owes its creditors.
"We are excited that Lion Capital has decided to make a substantial investment in American Apparel," says Dov Charney, CEO of American Apparel. "In light of unprecedented market conditions, we believe Lion Capital's investment serves as a strong endorsement of our company and the tremendous potential of our brand."
The agreement with Lion Capital follows an especially turbulent stretch for American Apparel. First, despite consistent recent sales, American Apparel was forced in December to negotiate a three-month extension on its debt. Later, a January report in the New York Post claimed American Apparel was the target of an investigation by the U.S. Securities and Exchange Commission. Citing unnamed sources, the Post reported the SEC was focusing on an e-mail written by American Apparel CFO Adrian Kowalewski that was leaked to the press. The e-mail implied American Apparel nearly went bankrupt before Christmas.
News of the deal with Lion Capital brought an immediate jolt to American Apparel's stock, which rose 68% to $2.50 a share in Friday trading.
"We are extremely pleased to have the opportunity to partner with Dov and the management team at American Apparel," says Neil Richardson, partner of Lion Capital. "The strong growth of the brand over the last few years is a testament to Dov's vision and business acumen."
As a result of the investment, Lion Capital will receive two seats on American Apparel's board of directors. American Apparel employs roughly 10,000 people and operates more than 260 stores in several countries. The company reported revenues of $154.8 million for the third quarter of 2008. It will announce its fourth quarter results early this week.

Brighten Up a Dreary Economy with Color
Despite economic hard times, bright colors are making a statement this season, says Andrea Engel, vice president of merchandising for Broder Bros. Co (asi/42090). "Color is something that will be very important this upcoming season. Color costs very little and is a great way to update promotions on a tight budget," she says. Hazel Williams, owner of B&H Custom Crafts in Dublin, TX, agrees: "Our business does embroidery, and most people want something that will stand out. Bright blues are a popular choice." 
With the eco movement continuing in full swing, eco-friendly apparel will continue to grow in popularity despite its reputation for being costly. Engel says, "There are still good values to be found in eco-wear."
Innovation and style trends may take a back seat to value-based, quality apparel this season. Engel says that helping customers find creative ways to update looks without increasing their costs should be the focus this year. Quality will always win out over cheaper items, as Williams attests. "During sports seasons, especially basketball season, our business produces embroidered chenille patches for leather jackets. Parents usually want these for their children no matter what," she says.
As the current economic climate continues to influence the promotional products industry, Broder has announced it will discount 5% off all orders with Alpha (asi/34408), Broder and NES (asi/72808). This discount is also being paired with the company's Free Freight program, which offers free freight on all orders of $150 or more. Broder says it will continue the promotion for a "limited time," and has not specified an end date.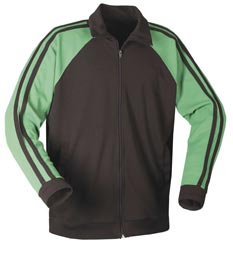 [ OUR FAVORITE WEARABLES ]
Available From: BISHOP (asi/40585); (800) 797-9629; www.bishopwear.com

Sell To: This warm-up jacket was made specifically for sport teams. Target local high school and college teams – especially with baseball season starting.

Style Tip: It features Techno-Dri heavyweight pique fabric for colder weather and is moisture-wicking to elude sweat when preparing for the big game.

[ NEWS BRIEFS ]
Econscious introduces 10 new eco-styles, including boutique-ready, fashion tees for men and women and styles for children. The entire supply chain for organic apparel is certified to the Global Organic Textile Standard (GOTS).
Geiger (asi/202900) won five Pyramid Awards – one gold, three silver and one bronze in the 51st annual PPAI Pyramid Awards at The PPAI Expo 2009. Winners of the PPAI Pyramid Awards are recognized for effective use of promotional products in business and institutional marketing programs.
| | | |
| --- | --- | --- |
| Imprintables Warehouse (asi/58475) has added 13 new designs to its line of Spectra Patterns. Patterns include gift paper, candy canes, holiday lights, skulls, checkerboards, retro diamonds, snowflakes, kiss me logo, hearts and giraffe skin. |   | |
|   |   |   |
Transfer Express offers Easy Print Letters. These peel-and-press stock transfer letters come in one- and two-color configurations in three different sizes. The total number of letters ranges from 408 to 976.

 
 
 
 

Vantage Apparel (asi/93390) has contracted multi-line firm PromoRep, Inc. to cover three Western states. The newly established rep company is headed by industry veterans Marvin and Larry Baida.

[ ASK AN EXPERT ]
Question: I am looking for a polo or a button-up that has a patriotic theme on the collar or on the shirt.  The only ones I can find are from Hilton and they have been discontinued. Thank you.

Answer: I found a few polo shirts you can take a look at. Try product USA from King Louis America (asi/64860); (800) 521-5212; www.kinglouie.com. Another company who does embroidery on patriotic golf shirts is Catalina Bay USA Inc. (asi/44341); (800) 694-8141; www.catalinabay.com. Check out product CB1776.

Style Tip: A garment with a patriotic theme is perfect anytime, but particularly in the summer. With the 4th of July approaching, consider distributing polos with American flags logoed on them to clients. 
Question: My daughter is getting married and I would like to embroider the dinner napkins.  Do you know a site that offers discounts for 100 napkins? Also, what fabric blend do you recommend?
Answer: You should check out product TB18 from Fairdeal Import and Export LTD (asi/53509); (800) 353-3435; www.feil.com. These napkins are 65% polyester and 35% cotton twill fabric, which will be a great blend for a dinner napkin that can still be embroidered. And, these napkins will match any color scheme you're using – they are available in over 10 colors. Now, if you want an additional choice look at USA Aprons (asi/93121); (800) 227-8962; www.usaprons.com. These napkins will launder beautifully, and also come in the same 65% polyester, 35% cotton blend. Good luck!
Style Tip: Dinner napkins are a great way to personalize a wedding. Add the names of the bride and groom with the date the wedding took place to create a memorable souvenir. 

[ WEARABLES TERMS ]
Getting familiar with these terms will make any ad specialty distributor look like an apparel expert.
Cartoon: Finished artwork of an embroidery design to be digitized. Usually six times larger than the finished design size, based on the art-to-stitching ratio historically used in the schiffli industry.

Free-Standing Lace: Digitized so that the threads are interwoven. The embroidery of lace requires a soluble backing or topping of the embroiderer's choice for the substrate. The lace design is embroidered on the soluble product, which is then washed away, leaving just the thread in place. Many of the lace designs require additional work, shaping them into projects such as baskets, ornaments or doilies.

Schiffli Machine: A commercial embroidery machine that utilizes the combination of needle and shuttle to form a stitch. Massive in size and excellent for emblem production, the creation of lace, embroidery production on oversized items and production orders of extremely large quantities.

Tweet! Tweet! ASICentral is Now On Twitter 
For those of you on Twitter, you probably need no further explanation — ASICentral now has a Twitter account and you can follow us by clicking here. But for the throngs of microblogging neophytes and naysayers Twitter is one of the fastest-growing social networking applications in cyberspace that's built on a single premise: What Are You Doing Now?
Want to know what the gang at ASICentral is up to, what we're working on, etc … then sign up for our updates – or "tweets" – now! Need more info? Read our blog.
Got questions, comments or any type of feedback regarding anything ASICentral, don't hesitate to contact us at feedback@asicentral.com, and please check Team Blog often for site updates. And if you're not already a fan of ASICentral on Facebook, what are you waiting for!?

[ SHOW LIST ]
March 16-20, Minneapolis, Des Moines, Omaha, Kansas City, St. Louis 
Advantages Roadshow
(800) 546-3300; www.asishow.com
March 20, St. Louis
The Stitches Road Show
(800) 546-3300; www.asishow.com
March 23-27, Memphis, Nashville, Atlanta, Charlotte, Raleigh
Advantages Roadshow
(800) 546-3300; www.asishow.com
March 25, Atlanta
The Stitches Road Show
(800) 546-3300; www.asishow.com
March 30-April 2, Orlando, Tampa, Sarasota, Ft. Lauderdale
Advantages Roadshow
(800) 546-3300; www.asishow.com
SPONSORED BY


Wearables Style and Wearables are trademarks of the Advertising Specialty Institute. You were sent this newsletter as a benefit of your ASI membership. Copyright 2009, ASI. All Rights Reserved.
If you'd like us to send Wearables Style FREE to anyone else at your company (or to your off-site sales reps), go to www.asicentral.com/newsletters and complete the online form.
Interested in advertising in Wearables Style? Send an email to ddienna@asicentral.com 
Click here to subscribe to Wearables™  magazine. You must be a member of ASI to subscribe to this publication. The publisher has a right to refuse subscriptions to non-members.
Advertising Specialty Institute®, 4800 Street Road, Trevose, PA 19053