VIDEO






Promotions That Score
What's the thinking behind creating memorable promotions for one of Canada's leading hockey franchises? Mark Raham, creative director for the Vancouver Canucks  of the NHL, discussed his team's ideas at at the ASI Canadian Power Summit.





Trend Alert: Tote Bags
| | |
| --- | --- |
| | |
| Tote bags get a fashionable upgrade with the Alternative Premium Weekender Tote (9004-03) from Leed's (asi/66887). | |
| | |
| | |
One of the most popular and convenient items to carry is a tote bag. They can be used to shop, for the beach, to travel, or as a general purse or carry-all. Their versatility is part of their charm and what makes them desirable for different markets. But the dirt-cheap freebies given out at the grocery store are no longer the attention-getting style, replaced instead by sophisticated, bring-with-you-everywhere styles.

Fashion experts at publications like GQ and Harper's Bazaar have seen more stylish tote bags come into play recently. So is the trend being noticed in the promotional product industry as well? "Fashion defines our totes," says Melinda Gorentz, category manager for Polyconcept North America, parent company of Leed's (asi/66887). "You'll find fashion integrated at every price point – from laminated non-woven totes with a chevron pattern to our branded Guess and Kenneth Cole totes."

It's no longer about just putting a brand name on a bag, but incorporating fashion into it as well. When you bring together fashion and durability, you're more likely to connect with a variety of markets. "There are two key styles gaining traction right now – utility and cotton totes," says Gorentz. "Cotton, natural materials and colors are becoming more and more popular as seen in our Alternative line. We are also seeing a rise in utility totes that are all about efficiency."

Because tote bags are so convenient, end-users will store whatever they can in them. Gorentz has noticed the medical industry using tote bags more. "Given the nature of the job," she says, "totes are very popular and useful when it comes to carrying necessary gear for the day. Stethoscopes, charts, lunch – you name it – it'll fit in a tote." The practicality of these bags is noticeable, and it's not just women using them. Gorentz saw more men than women with totes on a recent trip to Tokyo. 

Your tote bag should make a statement; have some fun and get creative with them. Gorentz says, "Picking a bag is an art form, which is why making them fashionable is truly a science."
ADVERTISEMENT
WHAT'S HOT ON WEARABLESMAG.COM

Perfect, Every Time
Learn how to eliminate mistakes and optimize the production process to create hassle-free orders.

Well Done
Putting together a comprehensive wellness program makes for happy and healthy employees.

Out of the Basement
Our Shop Shakeup series helps one home-based decorator turn a consistent profit.

Be sure to visit www.wearablesmag.com to read these stories and more.
Innovation Report: Google's New Projects


Google made two major wearable technology announcements at its annual I/O conference, but it wasn't a new watch, or activity tracker, or the rumored next version of Google Glass. It wasn't a device at all. Rather, it was a pair of deep research projects that have the potential to radically change our perceptions of "wearable technology."

The first, Project Jacquard, has created conductive thread that can be seamlessly woven into textiles – apparel, furniture and more. "For textile designers or fashion designers or furniture designers, it is interesting because it's something you are very familiar with. It's just textile," says Shiho Fukuhara, textile development and partnership lead for Project Jacquard, in a video released by Google. Fukuhara says it behaves and weaves just like normal yarn, which can either be invisibly integrated into textiles or noticeably raised for users to interact with.

At Google's I/O conference last month, the company had a demo of the technology, which used fabric as a touchscreen input. Attendees could move their fingers over a threaded grid, where a display showed how software was reading their movements in real time – tapping, swipes, pressure and much more.



| | |
| --- | --- |
| | |
| Project Soli uses radar to detect hand movements, which could then be used to control smartphones, watches and more. | |
| | |
| | |

The technology has robust possibilities. The most obvious example is that clothing can interact with smartphones as well as countless other smart devices. Google announced it is partnering with Levi's on the project.

The second announcement, Project Soli, introduces sensors that, through radar, detect hand movements which can control smart phones and other devices. "Radar has been used for many different things – to track cars, big objects, satellites and planes," says Ivan Poupyrev, technical program lead for Google's Advanced Technology and Projects division, which oversees both projects. "We're using it to track micro motions, twitches of human hands, and use that to interact with wearables and other computing devices."

A video released by Google demonstrates how hand movements could potentially interact with devices. Tapping the index finger to the thumb can simulate pressing a button, or rubbing the two fingers together could increase or decrease a slider. At an I/O conference presentation, Poupyrev demonstrated the technology in action by changing the time setting on his watch simply by rubbing his index finger and thumb together.

Want To Shake Up Your Shop?

Our recurring "Shop Shakeup" series helps decorators overcome the hurdles that are holding them back. We pair shops with experienced screen-printing and management consultants who will offer customized advice and actionable strategies. The goal is to get your shop on the right track to success. If your shop is a good candidate for future installments of "Shop Shakeup," email Editor C.J. Mittica at cmittica@asicentral.com. Please include information about yourself and your business as well as your greatest areas of need.

Sales Challenge: Leverage LinkedIn


Did you know that LinkedIn is the social media platform of choice, when it comes to business-to-business lead generation? If you haven't given the professional networking tool a try yet, here are some expert tips to connect with quality prospects and spur sales opportunities with current clients.

Add Rich Media: Posting multimedia offerings like videos and presentations enhances your profile. It's a great way to establish yourself as a thought leader and showcase the value you bring. "I upload presentations into my company's SlideShare account and then link to them through my profile," says Kathleen Booth, CEO and owner of Quintain Marketing (asi/303131). "This allows my LinkedIn connections to view my presentations right from within LinkedIn." Take a similar approach and create presentations highlighting your favorite giveaways or case studies of successful projects you've completed for clients. 

Start Publishing: Expand the breadth of your network by publishing blogs and articles through LinkedIn's publishing network. Do this by going to your profile and clicking the pencil icon in the post status update box. "I have published several posts in the last few months and each has gotten several hundred views," says Booth.

Prospect Strategically: Looking for new clients by trolling the connections of those you've already linked up with is a fairly common practice. But just reaching out and saying "we have a shared connection" doesn't necessarily provide a compelling reason for the prospect to contact you. Instead, says Patrick O'Malley, get savvier about digital networking. The social media trainer/consultant suggests asking key connections to give a brief video testimonial about, for instance, why it was a pleasure working with you. Send this video to select prospects in that person's network, explaining that you were able to provide value to this shared connection and that you believe you could do the same for the hoped-for client.  

Keep Your Eyes Peeled: Monitor the LinkedIn activities of customers and prospects. Doing so can lead to new sales opportunities. For instance, staying abreast could tip you off to promotional campaigns or other initiatives that would benefit from branded merchandise. Additionally, your monitoring may lead you to see that a good client with whom you are linked has just connected with an ideal prospect, such as a marketing director at a Fortune 500 company.

Participate In Groups: People who post and engage in discussions within LinkedIn Groups generate as many as four times the amount of profile views as those who don't. Plus, they get access to a broader array of people – fellow group members. Start by getting involved with a handful of groups that other promotional product selling pros are in. Then, jump into groups with clients and top prospects.




alphabroder (asi/34063) launched its 2015 Occupational Apparel Guide to U.S. customers this week. The guide features 21 new styles from Harriton, as well as apparel and accessories from 16 other brands.

BDA (asi/137616) announced it has hired Cindy Jorgenson as senior director of customer experience. Jorgenson had previously been vice president of national sales for Top 40 distributor Brown & Bigelow (asi/148500).

CSE (asi/155807) announces that the Milwaukee Journal Sentinel has named the distributorship a Top Workplace in southeastern Wisconsin for the sixth consecutive year.

Graphics One announced the launch of its new Metalnox heat press for the EPSON F6070, Mutoh RJ-900X and other 44-inch dye-sublimation printers. This highly industrialized heat press offers a larger platen size of 33" by 43".

Hanes Branded Printwear (asi/59528) announced it is extending its Hanes X-Temp Cool Cash screen-printer rebate program until Sept. 30. The program allows suppliers to receive up to a $1 rebate on Hanes X-Temp sport shirts and 50 cents on tees purchased from wholesalers per piece. For more information, go to Haneslocator.com.

Hotronix launched its new Heat Printing Equipment Cart, designed to hold the Dual Air Fusion heat press, with enough space to use as an extra layout table and hold various other tools.

Imprintables Warehouse (asi/58475) launches Myogrid, its first-ever sport and performance wear line.

ImprintsUSA (asi/14971) is now offering iPhone 6 and iPhone 6+ cases as blanks for sublimation. For more information visit www.imprintsusa.com.

InkSoft has added the entire line of products from American Apparel and Tonix into its InkSoft Design Studio, its online designer program. For more information and instructions on how to upload a catalog to individual Inksoft websites, click here.

Pigment Inc., a division of Impressions Technology, has announced it is changing the name of its new fabric printing products, launched in May, from RoTx to GoTx.

Polyconcept North America welcomes Lisa LeMond as its new national sales manager for the western region, and Vanessa Headland to the central region field sales team covering CO, UT and AZ.

Pro Towels (asi/79750) welcomes Scott McSparran as director of marketing. Keith Lofton has also been promoted to the position of National Accounts Manager

Roland DGA (asi/18201) announced Greg Hulbert with Florida Graphics Supply in Clearwater, FL, and Terry Carpenter with Far From Normal in Fargo, ND, as winners for Roland's Global SE Awards competition in the North American region.

Rymax Marketing Services Inc. announces a new partnership with Thule Inc., which manufactures bike carriers, technical backpacks, child strollers, bike seats and camera bags.

Vantage Apparel (asi/93390) has appointed Alicia Dierking as regional sales representative for TX and OK, and Bryan Vaughn as regional sales representative for OH, MI, IN and KY.
Structured Cap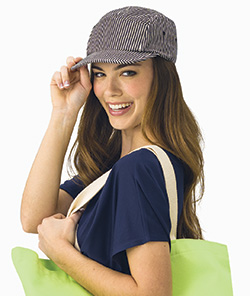 For a fresh take on an old favorite, consider this structured cap (H0085), made of 100% cotton washed chino twill. It boasts a low profile, five-panel construction, pre-curved visor and nylon strap clip closure. Available from Kati Sportcap & Bag (asi/64140); www.katisportcap.com.

Selling Tip: Stylish caps are a great choice for outdoor promotions. Instead of sticking to solids, try pitching bolder patterns, like camo or the railroad stripe pictured above.
Crest: A design printed over the heart area of a T-shirt.

Flocking: A type of raised decoration applied to the surface of a fabric in which an adhesive is screen printed in a specific pattern, and then finely chopped fibers are applied by means of dusting, air-brushing or electrostatic charges. The fibers adhere only to the areas where the adhesive has been applied, and the excess fibers are removed by mechanical means.

Middle Weight: A weave that is tighter than lightweight, which combines warmth and wickability.
Q: Are there any industry suppliers with rash guards to protect beach-goers from the sun?

A: Stay safe with the short-sleeve Sunsafe Rash Guard (NRGS1-5) from Watersports Warehouse Inc. (asi/95439); www.wwpromo.com. Offering UPF 50+ sun protection, it contains four-way stretch nylon spandex material that dries fast, and has a superior resistance to salt water.

Also, make a splash with the Rash Guard (191008) from Gulbenkian Swim Inc. (asi/58650); www.gulbenkianswim.com. Its stretchy nylon Lycra top offers UV protection. Long-sleeve and short-sleeve rash guards are available from this supplier, as well as adult and youth sizes.

Finally, keep the burn away with Wet Effect Inc. (asi/98103); www.weteffect.com. This supplier's Adult Short Sleeve Rash Guard (RG-100) is made of 86% polyester/14% spandex, offers UPF 50+ sun protection and comes in sizes up to 3XL and a range of color options.

Selling Tip: Protective rash guards are great choices for resort or recreation staff uniforms, swim schools, life guards and company getaways.

Q: Where can I get seersucker caps and shorts?

A: Head to Mega Cap Inc. (asi/70434); www.megacapinc.com; for the Ladies' Striped Seersucker Cap (6540), which features a stripe design, a self-fabric bow tie closure and white lining; three color combinations are available. Or, check out the Unstructured Low-Profile Cap (303) from Fahrenheit Headwear/Century 21 Promotions (asi/44485); www.century21promotions.com. Made of cotton and seersucker fabric, it has poplin layered front panels and an adjustable slide-tuck closure.

As for the shorts, slip into the Oyster Bay Seersucker Mini-Check Shorts (M039834) from Sportailor Inc. (asi/88796); www.sportailor.com. Consisting of 100% cotton yarn-dyed seersucker fabric, they feature a flat front with deep front pockets and secure back pockets.

Selling Tip: Comfortable, casual and classy, seersucker is great for warm-weather promotions. Think caps, bags, visors and even suits.

July 14-16, Chicago, IL
ASI Show
(800) 546-3300; www.asishow.com

Aug. 5-6, Long Beach, CA
The SAAC Show
(805) 484-7393; www.saac.net
Aug. 7-8, Nashville, TN
Embroidery Mart – NASHVILLE
(800) 866-7396; www.nnep.net

Aug. 12, Nashville, TN
PPAMS Nashville Road Show
(615) 465-8109; www.ppams.com