Nominations for "Wearables Trendsetter" Award

We are pleased to announce the launch of our first-ever "Wearables Trendsetter" award. We are seeking to recognize the creative minds that produce the leading fashions in our industry. Who is eligible for the award?



Distributor owners or employees who routinely produce dazzling decorated garments or retail-worthy custom clothing.
Supplier designers with an innovative streak who craft the trendiest items in their companies' lines.
Decorator owners or employees with a penchant for creating brilliant decorations.

To be eligible, send in a nomination for yourself or someone else in the industry to Editor C.J. Mittica at cmittica@asicentral.com. Please include the person's name, company, qualifications and (when possible) examples of their high-quality work. Winners will be profiled in our annual "Style Issue" this September.
Hanes Exits Private-Label Business
HanesBrands (asi/59528) has announced it is exiting the private-label apparel business in the U.S. and it plans to divest the Outer Banks brand. As part of the division's planned restructuring announced last Tuesday, Hanes will rename its Imagewear division Branded Printwear, which will be focused solely on Hanes and Champion branded products in the United States.

"We are committed to the promotional products market," says Matt Waterman, director of marketing for HanesBrands. "We remain committed to our two strongest brands, Hanes and Champion."

Also, the company signed a definitive agreement on May 25 to sell its European imagewear division to an affiliate of Smartwares B.V. for approximately $20 million, and it expects to close on the sale soon.

"We are a branded company. That includes being committed to branded printwear in the United States where we can partner with our wholesale customers to take advantage of our strong consumer brands and product differentiation," Hanes Chairman and CEO Richard A. Noll said in a statement. "With our exit from Europe, we can devote all of our energies to growing our branded portfolio in core geographies in the Americas and Asia."

Waterman confirms that "We're actively looking for a buyer for the OuterBanks brand," adding that Hanes is striving to minimize service disruptions during the transition.

In its public filing, Hanes (NYSE: HBI) said that its Imagewear division accounted for about 8% of its overall sales before the company's recent actions. Moving forward, the company expects its new Branded Printwear division to account for about $150 million in revenues in 2013.
Q&A: SanMar's New Brands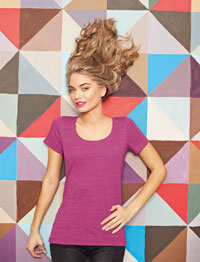 This ladies' textured scoop tee (DM471), part of the relaunched District brand from SanMar (asi/84863), is a blend of 50% polyester, 25% ringspun cotton and 25% rayon. The trendy tee is available in charcoal, purple, pink raspberry, new red and evergreen.

SanMar (asi/84863) has just re-launched its District Threads line as two new brands: District and District Made. Featuring relaxed apparel with trendy detailing and fabrics, the new brands are designed to meet the needs of those seeking casual clothing in a stylish fit. Rhea Aslin, senior brand manager, recently offered insight into both District and District Made.

Q: Why did SanMar decide to re-launch District Threads as two new brands?

Rhea Aslin: We recognized the need for great juniors' and young men's styles, as well as men's and ladies' styles with the same fashion DNA. These are underserved markets in our industry, and we saw an opportunity to deliver something different. SanMar brought me on board about a year and a half ago to take on this exciting challenge, and it's a thrill to finally introduce the new brands to the industry. We've had great success with many of our District Threads styles, which will continue to evolve as we add even more color, fabric, detailing and accessories to District and District Made.

Q: What markets do you see the two brands selling best in?

RA: We think District and District Made are ideal for virtually all markets. Our District styles are ideal for student organizations and activities, spirit groups, concerts, the beach, etc. District Made styles are perfect for running around town on the weekends, casual office wear, community and philanthropic events – and a little bit of everything in between. It's important to understand that these brands truly are designed for everybody and everyone, and are meant to be personalized by the wearer. 

Q: What makes the brands unique?

RA: The two brands are designed independently, but share the same fashion DNA. District is a youthfully-minded brand with fashion-forward style, slim cuts and eye-candy colors that keep pace with the constantly updated lifestyle from campuses and coffee shops to clubs and popular hangout spots. District Made was inspired by customer requests for stylish, relaxed cuts so everybody can look good. 

Q: What are some of the leading styles in the brands?

RA: The District Juniors' Extreme Heather cap-sleeve crew tee and District Young Men's Extreme Heather crew tee. Both are available in grey, blue, deep berry, yellow and green. There's also the District Made Ladies' Textured scoop tee (50/25/25 poly/ringspun cotton/rayon), available in charcoal, purple, pink raspberry, new red and evergreen. Plus, we offer District accessories, which include the District rucksack, District overnighter and District Herringbone fedora.

Q: What selling tips can you give distributors to help them pitch the brands to end-buyers?

RA: District and District Made are fashion lines that offer on-trend styling, custom fabrications and impeccable fits. Many of these styles were developed specifically for District and lead fashion trends – whether in the consumer world or in our industry. And, these are styles that people want to wear. District and District Made clothing provides a great foundation, allowing end-users to express their creativity. 


Big Bear/An Algonquin Services Co. (asi/40494), a Buffalo, NY-based supplier, has joined ASI as a supplier decorator member.

Carhartt, in collaboration with TenCate Protective Fabrics North America, has announced the adoption of TenCate Tecasafe Plus, a flame-resistant fabric. It will be offered by Carhartt starting this August.

Carhartt Workwear & Haws USA (asi/43861) has announced that, due to a system upgrade, all orders received and finalized between May 24 and June 4 will be held for processing until the final upgrade is complete. Orders received in this time frame are expected to start shipping between June 6 and June 11. This order delay does not affect products shipping from Haws USA's warehouse in North Carolina.

Club Colors (asi/163432) announced it has hired Vu Chan as collegiate sales manager.

Graphic Solutions Group has released its new full-color, 31-page supplemental Spring 2012 Commercial Sign catalog. The product brochure offers a full line of digital vinyl, overlaminates, wrap films and papers, as well as other sign materials. To download a PDF version, click here.

Pacific Western Sales (asi/75731) has named Michelle Hirn its new Western Region Account Executive covering California, Central and Northern Nevada and Wyoming.

River's End Trading Company (asi/82588) has been awarded the Clarksville-Montgomery County (CMC) Green Certification for its Clarksville, Tennessee Decoration and Distribution Center. The CMC Certification Program helps businesses learn and apply best practices in environmental duties and sustainability.

The Quality Certification Alliance has created a Distributor Advocacy Council (DAC) Charter that allows distributors to formally pledge their support for the organization and its supplier members. For more information, click here.

Thinc Actionwear (asi/91120) held an Open House on April 20 at its Portland, OR, headquarters. Customers viewed the company's 2012 collection and donated a total of $1,632 and 830 pounds of food to the Oregon Food Bank.

Transfer Express (asi/91804) is now offering custom transfers that cater to running groups, race directors and organizations. The running-related design templates and typeface transfers can be screen-printed or full-color digitally transferred, depending on the shirt type and amount of colors in the design.

Cheesecloth: This is a plain woven, soft, fragile, low-count cotton fabric that is similar to tobacco cloth. Also known as gauze.

Findings: Any extra items attached to a garment during the manufacturing process. This can include trims, buttons, hooks, snaps or embellishments.

Geotextiles: Manufactured fiber materials made into a variety of fabric constructions, geotextiles are used in a variety of civil engineering applications.