Sales Challenge: Estimating Stitch Count
When it comes to quoting embroidery stitch count, apparel distributors can feel caught between the proverbial rock and a hard place. On the one hand, you want the estimate to be as accurate as possible. On the other hand, you don't want to pay for digitizing costs on a job that may or may not come to fruition. What to do?

For starters, distributors can consider investing in stitch calculating software, such as Best Estimate from North Carolina-based Capital Resource Group, says Andrew Shuman, general manager of Topton, PA-based Rockland Embroidery (asi/734150). The software enables users to get a stitch count and price per thousand stitches by plugging in three measurements of a client's artwork. While there is an up front cost for the software, you could potentially come out ahead over time through saving on digitizing costs.

Embroiderer Mike Miller, owner of Passaic, NJ-based ProImage Apparel, says distributors can learn the stitch count ranges that apply to designs of certain sizes and use those as a basis for estimate. A general rule of thumb, decorators say, is that one square inch of solid embroidery equals between 2,000 and 2,500 stitches. Martini Creations, a St. Petersburg, FL-based embroider/screen printer, provides a free grid (http://bit.ly/j25noV) that decorators can print out and use to help estimate stitch count. The grid is divided into one-inch squares and can be laid over logos and lettering to get an approximate stitch count.

Of course, notes Miller, the exact stitch count for a design varies based on things like fabric, colors and artwork detail. "They're going to have to do some serious extrapolation, but it will give them a ballpark," he says.

Distributors can also consider adopting a flat rate system like the one used by Sawgrass Technologies. "We developed a flat rate system where we used a factor of 7,500 stitches for all small chest and cap logos," says Jimmy Lamb, communications and education manager for Sawgrass. "This was based on our production data, which indicated that the average stitch count for all of our jobs in those categories was 7,500 stitches.  Of course some were more and some were less, but by taking out this variable, we could easily quote and write orders on the spot."  

Additionally, Miller advises distributors to keep a database or catalog of embroidered designs they've done in the past for reference. He says to group the designs by stitch count – say, 0 to 2,000 stitches, 2,001 to 4,000, etc. – and use them to compare to the design a client is requesting. "It's a good way to calibrate your eye and help you get an idea what it will take to stitch the artwork you're looking at," he says.

When estimating, keep in mind it's always better to quote higher than lower, says embroider/screenprinter Howard Potter, owner of Yorkville, NY-based A&P Master Images. "If the design is shaped a little strangely and you think it might be 4,500 stitches, bump up your guess up to 5,000 to be safe," Potter says.
ASI Radio: Avoid A Summer Sales Slump
The Tuesday Morning Show on ASI Radio provided listeners with answers to questions about how they can ramp up sales during the next few months – and avoid the dreaded summer sales slump. Plus, the hosts shared their "Favorite Things," provided ideas for how they can send the most effective e-mails, and offered eight ways to boost your bottom line.

If you missed the show, a recording is now available at www.asicentral.com/radio. And, don't forget to join us every Tuesday at 10:30 a.m. ET to listen to the show – and give us a call at (215) 953-4979 to hear your voice on the air.
Q&A: Stain Imaging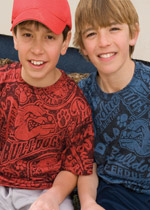 Stain Imaging, an eco-friendly imaging technique developed by Tim Lunt Designs, Inc., was used to create the designs on these tees.

Stain Imaging is one of three so-called "sgreenprinting" techniques created by Tim Lunt Designs, Inc., a Salt Lake City, UT-based supplier of imaging techniques for jersey knit apparel. As the term implies, sgreenprinting is an eco-friendly alternative for creating images on apparel. Not only is it water-based, but no acetones or related chemicals are involved. You can learn more at www.stainimaging.com. Tim Lunt recently answered questions about his creation.

Q: What is stain imaging?

Tim Lunt: Stain imaging is an eco-friendly imaging alternative for T-shirts and jersey knit products. Stain imaging is unique to us; I came up with the technique about 20 years ago. It's fully customizable and cost effective in a time friendly way.

Q: What applications does stain imaging have?

TL: Anyone looking for a way to create something personalized, quick and unique can benefit from stain imaging. Many clients see it as an easy way to further embellish their products. I think we really wow people when they find out we can do this on clothing like polos and woven knit shirts.

Q: What markets is stain imaging best suited to?

TL: We aim for anyone looking for unique promotional products. We also market it to screen printers, embroiderers and decorators as a supplemental tool to expand their arsenal. People who have niche marketing, schools, colleges, rodeos and daycares tend to use us a lot also. Stain imaging is marketable to anyone looking to create their own distinctive product.


Charles River Apparel's (asi/44620) President/Owner Barry Lipsett and members of the Wellness Warriors (www.wellnesswarriorsboston.org) were honored at the 4th annual Massachusetts General Hospital's "The One Hundred Benefit" gala this June. The event honors groups and individuals whose work continues to help the fight against cancer.


Graphics One announces its newly revamped website: www.graphicsone.com. The site features enhanced graphics and colors, streamlined searching for more focused navigation.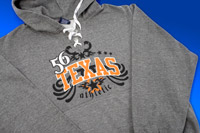 STAHLS' ID Direct (asi/88984) has introduced their newest heat transfer material: CAD-CUT Premium-Plus. The material was created to be the best-performing material on technical fabrics, for use with a heat press and vinyl cutter.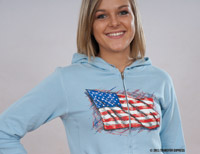 STAHLS' Transfer Express(asi/91804) introduced their newest product: Transfer Express. In four color simulated process transfers, Transfer Express yields high-quality, sharply detailed images with the ability to be heat pressed to a garment in four seconds. The new product comes in 10 different designs.

Tonix Corporation (asi/91440) has introduced a new ladies jacket, the 1175 Vertex, based on its best-selling men's jacket, the 988 Starter. The ladies jacket is made of 100% SoftCool performance fabric shell.


Knowing these terms will make distributors who just started sound like they've been in the business for years.

Abrasion Resistance: The degree by which a fabric is able to withstand loss of appearance through surface wear, rubbing, chafing and other frictional actions.

Back Waist Length: The dimension on a body taken from the top of the back bone at the base of the neck to the waistline.

Core Yarn: A yarn in which one type of fiber is twisted or wrapped around another fiber that serves as a core. Core yarns are often used to make stretch fabrics where the core is spandex or rubber, and the outer wrapped fiber is a textured manufactured fiber such as polyester or nylon.