iPadding Your Sales
The explosion of iPad and Kindle sales has spurred a whole new wave of bags and technology accessories. Wearables Editor C.J. Mittica has the scoop on these new items in this edition of Wearables Monthly Trend. Click here to watch the video.


What did you think of this video? Send your feedback to cmittica@asicentral.com.
Trend Alert: Summer Scarves
ADVERTISEMENT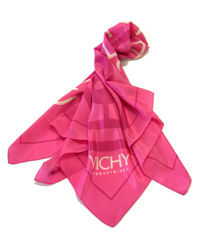 This custom silk crepe de chine scarf, available from Buffalo Bay (asi/42416), is an inspired choice for a summer accessory.

People want to buy clothing and accessories that are multi-purpose – that way, they feel they get their money's worth. The popularity of scarves has grown over the years because people know about the countless ways to wear them. As always, scarves are a popular choice in the cooler months, but the ubiquity of the accessory has spanned the seasons to make it a top choice during the warm days of the year.

In spring and summer fashion, scarves are often used as a pop of color, with an interesting pattern, bright color or both. In addition to being neckwear, scarves are used as headwear, wraps and even as belts, especially when it's warm. Plus, a lighter fabric like silk is an excellent choice for this time of year; it's comfortable without feeling too heavy or stifling.

"We've found that women are not only accessorizing their wardrobes by wearing scarves around their necks, but also using them as head scarves or around their waists as sashes," says Kelly Holmes, trade show coordinator for Buffalo Bay (asi/42416). "For an extra bit of color, they are also tying them on the handles of their purses or bags."

Promotional scarves are perfect accessories to give clients because they're something fashionable that people will actually wear. Scarves are set to be a must-have corporate apparel accessory this summer, and can work as a fun fashion giveaway for retail stores and boutiques. Not only will scarves make a wonderful accent to an outfit – they might be the one item that brings the whole outfit together.
Sales Challenge: Beat the Summer Heat


As the summer months present the challenge of slower sales, various tactics come into play for distributors seeking to stay out of the revenue doldrums. Sunrise Identity (asi/339206), for example, values proactive work to gain summer sales. Nelson Jay, VP of marketing and creative services for Sunrise, says the key to a successful summer starts during the winter when the company begins preparing for different ways to connect with clients in the warm months. "Sometimes people get so stuck in the day-to-day [mindset] they don't spend the necessary time to prime the pump for the next season, and the sales pipeline is not like a faucet you can turn on and off," says Jay.

Companies can also optimize the quality of their services to encourage the return of customers and create new clients. Michael Kaufman, owner of Wear It's At (asi/356021), says his diligence in tending to referrals assures him summer sales. Wear It's At receives many clients through word-of-mouth, which allows Kaufman to direct the majority of his time toward quality assurance and service. That attention, in turn, leads to more referrals and sales. "We aim for content customers and being a reliable go-to source," says Kaufman.

Susan Gagainis of Pro-Visions Inc. (asi/299966) says distributors should consider fluctuating prices, inventory options and focus on improving production time to help boost sales. "Ask 5-Star rated suppliers for assistance in boosting summer sales," Gagainis says. "They have creative ideas to share and consider." Pro-Visions uses the season to educate clients on industry news and products for the summer and busier autumn.

One thing to avoid is an overly aggressive approach in which distributors try to pressure clients into buying items they don't need just to boost summer month revenue. All three distributors agree that a negative approach sends mixed signals. Such pressure can wither relationships and erode your client base. "This short-term approach may occasionally result in a sale, but most likely not any repeat orders," Jay says. "Any pressure from you to clients should be about [pressing issues like] compliance and safety."


Apparel Decorators Concerned Over CA Regulation


California-based apparel decorators are outraged that they are being made to register as garment manufacturers with the state, a requirement that includes taking a $25 exam and paying an annual fee of $750 to $2,500. Worried that the California requirement will set a dangerous precedent that other states will follow, some decorators are taking the battle to superior court, arguing that they shouldn't be classified as manufacturers.

"If they can get away with this here they can get away with it anywhere," says Paul Heully, owner of Lightning Ridge Screenprinting and Embroidery in Ventura, CA. Heully was fined $300 – $100 per employee – for failing to have a garment registration certificate. The state is also empowered to confiscate garments of unregistered manufacturers, though that didn't happen to Heully.

Labor officials rejected Heully's appeal of the fines at an administrative hearing, and now he's taking the fight to the courtroom. Heully and other decorators contend that they should not have to register as garment manufacturers because they are not making clothing or related accessories. "No one would say that someone who puts a vinyl sticker on a car is manufacturing the car," says Don Tillquist, an embroiderer/screenprinter who was fined recently for failing to have a garment registration certificate. "It's the same thing with us. We're just putting an image on something that is already made."

State labor authorities say the labor code states that "finishing" a garment constitutes manufacturing. What apparel decorators do is finishing, and thus they must register, says Debbie Jimenez, a deputy labor commissioner. "They're doing something to the garment," Jimenez says. "It's not a finished product until they do something to the t-shirt."

For more information, check out the full report at: http://bit.ly/kTwryj.

Poly-Cotton T-Shirt




This 65% polyester/35% cotton blend Tultex T-shirt with side seams and double-needle sleeve and hem is now available in heather hues from TSC Apparel (asi/90518).

Wearing a black T-shirt is fine for any time of the year, but now's the season to unleash some color. Tultex has done exactly that with a trio of new heather hues for its blend tees: Heather Athletic Blue, Heather Green and Heather Fuchsia. These vibrant colors are perfect for the summer, and the 65% polyester/35% blend gives it a soft hand that will be instantly loved by clients. Available from TSC Apparel (asi/90518).

Selling Tip: The vintage look of heathered colors makes them a natural choice for retro designs and distressed screen-prints. Go for an all-out retro vibe with these shirts.

Broder Bros. Co. (asi/42090) announced that it recently hosted a "Selling What Sells" two-part webinar, which highlighted how to sell the best in imprintable apparel. A recording of the webinar can be viewed at www.alphashirt.com/swswebinar.

Brother International Corporation announces their sponsorship of two new sewing shows, "Sew It All" and "It's Sew Easy," on PBS. Also, the company recently received the "Best Marketing" award from Laura Ashley Inc. Lastly, the company has teamed up with Couragent Inc. to offer the Flip-Pal mobile scanner, which is compatible with PE-DESIGN software and facilitates turning scanned images into embroidery-ready designs.

Cintas Corporation (asi/162167) released its 2011 Uniform Book for the Hospitality Industry on June 1. The book features more than 270 new styles, fits and colors.

Graphics One, LLC, announced that it has released its latest dye sublimation printer: the GO RIO PRO 54. The company also recently launched its newly designed and enhanced website at www.graphicsone.com.

Heritage Sportswear (asi/60582) announced that Rachel Hare has joined the company's sales force to represent the supplier in the Illinois market.

Leed's (asi/66887) announced that it will maintain its current prices through the end of 2011.

Penn Emblem Company (asi/62485) has been certified as a Women's Business Enterprise by the Women's Business Enterprise National Council.

SanMar (asi/84863) updated its 2011 Apparel Bags & Caps catalog this week. The catalog features nearly 1,000 styles with over 60 new options.

Stahls' ID Direct (asi/88984) announced that Ted Stahl, chairman of the GroupeSTAHL companies, was inducted into the Sporting Goods Hall of Fame for 2011 on May 3. The company also introduced its newest material, CAD-CUT Premium Plus heat transfer material.

Sweda (asi/90305) announced that it has launched a newly redesigned website at www.swedausa.com. The new site features a Google-like product search tool on the home page.

Vitronic Promotional Group (asi/93990) has sent 3,500 raincoats and rain suits to be used by relief workers in Tuscaloosa, AL, following the tornado that hit the area. It also donated over 500 backpacks to be given to school children whose homes were destroyed.



Knowing these terms will make distributors who just started sound like they've been in the business for years.

Calendering: A process of passing cloths between one or more rollers (or calenders), usually under carefully controlled heat and pressure, to produce a variety of surface effects or textures in a fabric. Effects include high luster, glazing, embossing and moiré.

Coated Fabrics: Fabrics that have been coated with a lacquer, varnish, rubber, plastic resin of polyvinyl chloride or polyethylene, or another substance to make them longer lasting or impervious to water or other liquids.

Dotted Swiss: A lightweight, sheer cotton or cotton blend fabric with a small dot flock-like pattern either printed on the surface of the fabric or woven into the fabric. End-uses for this fabric include blouses, dresses, baby clothes and curtains.