SPONSORED BY


PODCAST 
Wearables Staff Writer Matt George talks to Bob Goshen about his new article, "Finding True North When Things Seem to be Going South," where he addresses five principles for creating growth in challenging times. Click here to find out what those five principles are.

What did you think of this podcast? Send your feedback to cmittica@asicentral.com.

 
Listen to ASI Internet Radio [asicentral.com/radio]
A team of ASI editors have launched the first-ever ASI Internet Radio show. For a half-hour each Tuesday, we debate the most important topics facing the industry, as well as offer an off-beat look at the market.

If you missed any of our shows, don't worry. Recordings are available at asicentral.com/radio. And, don't forget to join us every Tuesday morning 10:30 a.m. Eastern time when we broadcast our radio show live. We'll be taking calls from the audience, so please call us at (215) 953-4979 to hear your voice on the air.
Trend Alert: Ladies Vests


Reality TV star Kim Kardashian shows off her curves in this super-fitted vest buttoned over a white tank top. 

There are quite a few things women take from a man's closet when it comes to fashion, and the vest is no exception. After years in the shadows, the vest is making a showing this season. Whether clients are looking for a patterned sweater style or a tailored menswear version, business owners should consider adding plenty of vest options to their inventory.

"We offer a number of ladies vests because it's a style statement that seems to often come and go," says Taraynn Lloyd, director of marketing at Edwards Garment (asi/51752). "And because they attract a variety of different marketplaces – high-end restaurants, car rental business, hotels, etc. – it's an item you can keep in stock year-round."

So why is this throwback trend becoming popular again in the retail market? Lloyd says it's for two reasons: It flatters a woman's body shape and it's a great alternative to wearing a suit coat. If you're working in an office environment where it's mandatory to wear business attire, those hot summer and fall months don't look too appealing. But wearing a lightweight vest can ease that burden.

Another reason for this predilection toward the vest is the mere reason that celebrities are wearing them. "Consumers will continue to be attracted to what's on the back of their role models," Lloyd says. "You wear what you see. And with more celebrities wearing vests, look for your costumers to request this revived trend in the near future."

ADVERTISEMENT
Healthier Sales in Food Service Uniforms

 

Fed up with restaurant and food service uniform sales? Don't be. Restaurant sales have been consistently healthier in 2009. In the May edition of its Restaurant Industry Outlook, the National Restaurant Association says the industry recorded its fourth consecutive month of gains and that its index was the highest it has been in 11 months. Moreover, its outlook index jumped over 100, "a level which indicates expansion," says Hudson Riehle, senior vice president of research and information services for the Association. "Although the current situation indicators are still in a period of contraction, the solid improvement in the forward-looking indicators suggests that the end of the industry's downturn may be in sight."

Not that the industry hasn't been without its difficulties. Restaurants have still had to weather the storm like everyone else. "Food service operators are getting hit from two different sides," says Joseph Carbonara, editor of Food Service Equipment and Supplies magazine. "The way consumers are spending their dollar is starting to shift, and then on the other side, food service operators are continuing to get hit with higher commodity costs. It costs more for food. You name it, it costs more. It's the highest amount they've seen these costs rise in 20 years."

But shifting spending patterns does not necessarily mean that the American public is going out less. Carbonera says consumers are trading down and seeking out more value-menu items. Scott Thackston, executive vice president of Aprons, Etc., says that restaurants at the middle of cost are getting hurt the most; consumers are eating cheaper, but those with money to spend will still frequent their favorite pricier locales.

"We're not going to adjust our product mix," says Thackston. "But we'll adjust inventory levels within that product mix. Maybe increase the high-end restaurant apparel and also some of the more standard basic uniforms. But with some of the normal mid-selling levels, we might decrease some of the stock levels to offset the increases in the other two."

Meanwhile, cafeterias and serveries continue to benefit from the shifting buying patterns of diners. "Places where people work and go to school all day and have the opportunity to eat are really doing quite well," says Sharon Olson, president of Olson Communications. "Maybe part of it is people eating in those kinds of environments instead of going out to commercial restaurants as much as they had previously been."

The best news is that staffing levels have remained relatively immune while the food service industry waits out the economy's bust and pending boom. A study by Food Service Equipment and Supplies last year found that 61% of establishments were keeping staffing levels consistent with previous years, and less than 28% felt the need to decrease staff size. "Everybody who wants a job has a job," Olson says conclusively.

Hot At Retail: Layers, Layers, Layers

 

When fall changes into winter this year, layering will be even more important than in years past. With less disposable income to spend, everyone from the fashion conscious to the average Joe will be looking to make their wardrobe stretch further with mix-and-match layering staples like cardigans and blazers. When the summer swimsuits and shorts start heading toward the clearance section at your favorite retailer, you'll see layering pieces become the main staple for the cooler fall and cold winter weather.

So how can you capitalize on this hot retail trend? "A lot of the brands that we carry have been designed around the concept of a collection," says Andrea Engel, vice president of merchandising for Broder Bros. Co. (asi/42090). Layering is a great way to add on to sales in the branded apparel industry, and it can help the end-user feel more comfortable with a uniform program. It's also an issue of comfort.

"For example," Engel says, "many women aren't comfortable in woven shirts and prefer to layer them over another shirt, more like a jacket." Layering can also help show off your client's brand. "Jackets, sweaters, polar fleeces and outerwear will be worn more often than a polo or woven, giving your client's name more visibility," says Engel.

Instead of dressing everyone in a cookie-cutter uniform that only a few feel comfortable in, propose to your customer several layering options that allow their employees to mix, match and find the option that fits their preferences, but still provides a uniform look. Don't forget that accessories are part of the layering look; propose a scarf or bag as another add-on option that can help employees customize their outfit and show off their company pride.

ASI has announced the winners of its Virtual Trade Show sweepstakes. They are: Ashley L. Wagner, Consolidated Printing (asi/166952) – $2,500 toward mortgage; Dina Gomez, Carretta USA, Inc. (asi/158700) – $2,500 toward mortgage; Kerry Hanslits, Six Element Connection (asi/328373) – $2,000 credit card payment; Ned Spencer, TCB Graphics (asi/341007) – $1,000 toward hotel stay.
 
Bodek and Rhodes (asi/40788) has expanded its line to include TaylorMade and adidas Golf accessories and caps.
 
Boxercraft (asi/41325) has debuted Boxercraft TV, a collection of videos available on its Web site and a YouTube channel. Viewers can see new products, watch manufacturing processes, take video tours and get behind-the-scenes glimpses of catalog photo shoots.
 
Brother International Corporation will begin shipping its new on-demand digital inkjet garment printer, the GT-782, by early July.
 
Sweda Company (asi/90305) has announced that 100% of its guaranteed orders (24-hour service) and 98.3% of its regular product shipments have been sent on time during 2009.






Getting familiar with these terms will make any ad specialty distributor look like an apparel expert.


Complex Fill: Refers to a digitizing capability that allows areas to be designated as void at the same time the design's edges, or perimeter points, are defined. The design can thus be digitized as one fill area, instead of being broken down into multiple sections.

Fancy Fills: A digitizing function that automatically incorporates special patterns or textures into fill areas. Also known as specialty fills.

Foil: Comes in several colors, with the most popular being red, gold and silver. To use foil, screen print the garment as usual, place the foil over the wet ink, remove the garment from the platen, and cure it with a heat press. The printed and foiled garment can be flash-dried before it's removed from the platen, and other colors then can be printed on top of the foil.

Pad Printing: Pad printing utilizes a flexible silicone rubber transfer pad that picks up a film of ink from a photo-etched printing plate and transfers it to an item. Pad printing is usually used for 3-D items.
| | |
| --- | --- |
| | TOP |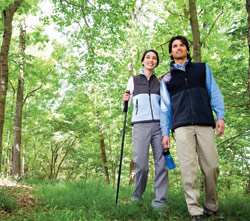 Cienna: Ladies Vest (7410)
Available From: Tri-Mountain (asi/92125); (626) 214-2230; www.trimountain.com
Sell To: This fashionable ladies vest is ready for any of your clients who are hungry for an outdoor adventure. It's made of 10.2-oz. heavyweight 100% spun polyester Panda fleece with anti-pilling properties. 
Style Tip: Stylish accents include nylon panels on the front and back yoke and along the bottom, chest and side zippered pockets. It's specifically designed for embroidery, offering the EmbAccess system, which makes it easier to hoop.
| | |
| --- | --- |
| | TOP |
Question: Hi there! I've noticed that "slub cotton" – I believe that's what it's called – is all the rage this summer. I see it everywhere, except the wholesale world. Do you know who carries blanks? Thanks! 
Answer: There are a few companies that offer "slub cotton." But you're right, it's not common in this industry. Try Continental Clothing USA (asi/46410); (323) 460-7300; www.continental-usa.com; product N64. This is a blank women's T-shirt made of 100% combed slub cotton.
Or, try Rothco (asi/83708); (800) 645-5195; www.rothco.com; product 8175. This is a heavyweight 100% slub cotton T-shirt. 
S & S Activewear (asi/84358); (800) 523-2155; www.ssactivewear.com offers slub cotton, but it's blended with other fabrics. Product 0532 is a ladies soybu organic slub short-sleeve T-shirt. It's blended with cotton, bamboo, soy and spandex.
Selling Tip: Slub cotton gives T-shirts an extremely soft hand, making virtually anyone a target. And gifting a blank T-shirt, rather than a certain design, will also fit the needs of more customers.
Question: Hi! I'm wondering if you can help me locate a sweatshirt/apparel vendor. I'm an ASI distributor and I have a client who's looking for a particular sweatshirt to put their corporate logo on. The only thing I know about this particular vendor is that their logo has three Cs that are overlaid over each other, sort of like a triangle. Have you ever seen a logo like that? Thank you!
Answer: Try Continental Clothing Company – this supplier's logo meets your description! Their contact information is: Continental Clothing USA (asi/46410); (323) 460-7300; www.continental-usa.com.
Selling Tip: Sweatshirts are a great year-round gift. Whether your employees are looking to keep warm while shoveling snow or are enjoying a summer day on the boat, gift them a company-logoed sweatshirt.
Question: I'm looking for a tan-colored, ladies sleeveless sport shirt with a collar. I can't find this anywhere. Can you please help?
Answer: This one was easy! Try Ash City (asi/37127); (866) 274-2489; www.ashcity.com; product 75050. This is a ladies sleeveless polo with a two-button placket, available in tan. 
Or, try Cutter & Buck (asi/47965); (800) 929-9299; www.cbcorporate.com; product LCK08542. This is a ladies classic sleeveless polo shirt with feminine shaping and details that include three-button placket, dyed-to-match buttons, pieced shoulder and side vents. It's available in tan.
Finally, try PremiumWear (asi/72725); (800) 347-6098; www.premiumwear.com; product 21709. This is a ladies sleeveless polo shirt that's available in tan.
Selling Tip: Sleeveless polos make a great gift idea for the female client who's constantly hittin' the greens. Personalize it with her name on the left chest to make it more significant.