Innovation Report: JINS SCREEN
| | |
| --- | --- |
| | |
| Starting Aug. 8, square-shaped, pre-packaged JINS SCREEN glasses will be available in eight colors for $60. | |
| | |
| | |
How many of us routinely check our smartphones before bed – needing one last Facebook fix or email update before shutting off the lamp and closing our eyes? It seems innocuous enough, but the increased exposure to so-called "blue light" put out by such devices could be adversely affecting your health, according to Japanese eyewear company JINS. Blue light – also emitted by the sun – helps activate the body, says Ryosuke Kimura, manager of corporate strategy and planning for JINS. Prolonged screen exposure at night could be confusing our circadian rhythms, he adds.

The JINS SCREEN, a new type of eyewear, uses a "double-block technology" – using both a special coating and substrate – to cut blue light exposure by 25%, Kimura says. JINS launched the technology four years ago in Japan and plans to bring the product state side in early August. "In Japan, it's almost the custom that if you work with computers and play with your smartphone at home, you wear the JINS SCREEN, just like you wear sunglasses when you go outside," Kimura explains. "It's the new norm in Japan now, and we hope it's going to be in the U.S. too."

The SCREEN will be available in both prescription and nonprescription versions, with the technology able to be added to any of its many frame styles for $60. Offering a pre-boxed nonprescription model is part of what made the product a "smash hit" in Japan, with 5 million pairs sold, Kimura says. Another factor is that the glasses don't have a telltale yellow tint, like other blue-light blocking products on the market.

JINS is still hard at work on another tech product, planning to launch its MEME smartglasses this fall in Japan and sometime in 2016 for the U.S. Packed with biosensors, the MEME is designed to monitor fatigue, track posture and catalog calories burned. "We're trying not to stick with regular eyewear," Kimura says. "We're trying to push the boundaries."
ADVERTISEMENT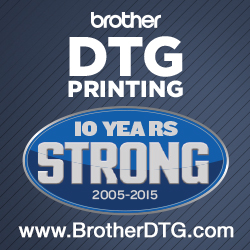 What Makes You A Wearables Dream Shop?

Wearables is creating the ultimate screen-printing shop, and we want you to be a part of it. Do you have a killer screen room? Impeccable ink system? Production area workflow that's second to none? If so, we want to hear from you. Share the physical feature of your shop that you are most proud of and tell us why it's the best. You could be featured in our "Dream Shop" project in an upcoming issue of Wearables.

Please send your information to Wearables Editor C.J. Mittica at cmittica@asicentral.com.


Sales Challenge: Ensure Safe Products

With a recent increase in state and federal regulations, promotional product safety is as important as it's ever been. What's more, distributors may bear greater responsibility for an unsafe product than they think, according to Shamini Peter, director of compliance and imports for Axis Promotions (asi/128263). "If you're a distributor and you buy apparel from any company, and then move it to a decorator, who's the manufacturer in that process?" she asks. "Is it the supplier, the decorator, the client?" The answer, according to Peter, is the distributor.

U.S. federal safety regulations that pertain to promotional items are primarily geared toward children, according to Peter. The most notable is the Consumer Product Safety Improvement Act, passed by Congress in 2008 and enforced by the Consumer Product Safety Commission (CPSC). The act introduced new standards for the acceptable level of certain substances in apparel, personal care products, toys, school supplies and a number of other items. State regulations on safety, like Proposition 65 (known as the Safe Drinking Water and Toxic Enforcement Act of 1986) in California, are also important to know.

Learn as much about the intended audience of the products you are selling, Peter says. Even items not intended for kids may still wind up in a child's hands at certain end-buyer events. Michael Bowers, account manager for Bowers & Associates (asi/144035), agrees that it's essential to track products. "With that comes labeling requirements and making sure that you have the country of origin and tracking information on the product, should there ever be a recall issue," he says. "I think that's a big thing that a lot of the industry is missing. On the child products, they blow right by that one."

It's the distributor's responsibility to ask suppliers – especially those who operate overseas – for the necessary safety documentation before placing an order, Bowers says. Larger distributors, he adds, probably have an overseas office that can closely monitor and review safety protocols. But 90% of industry distributors don't have that luxury. So what can be done? "The first step is to find a trusted domestic supplier partner who has gone through QCA certification," Bowers says. "Then develop a questionnaire sheet for them on how to source responsibly."

Bowers says many of his clients, particularly the larger ones, aren't satisfied with pre-production product safety testing. "What can happen is the factory puts all its bells and whistles into the pre-production sample, and that slides through testing fine, but then you have to have some checks and balances on the back end," he says. Bowers uses independent lab testing on the back end to ensure items in the production run are as safe as the pre-production sample. "Some of the big ones are SGS and Intertek – third-party, independent laboratories that will set standards for a product," he says. "That way, you have something outside your supplier and outside the butor."

Anajet (asi/16000) announced it will debut the next generation of its mPower iSeries printers at NBM Long Beach from July 23-25. More information is available at anajet.com/blog-mpower-gen2. The new mPower printers are slated to begin shipping to USA customers in late August and are now available for pre-order with a $2,000 deposit.

Engineered Printing Solutions (asi/16010) announced it now offers true Variable Data Printing within the ColorPrint RIP software for the fJET-24 and the new fJETXL industrial inkjet flatbed systems. Visit www.epsvt.com for more information.

FIEL-Fairdeal Import & Export Ltd. (asi/53509) offers its July and August "Summer Rush" program, during which approved orders will ship in as quickly as two days at no extra charge. Visit www.fiel.com/summer-rush for more information.

Goodhope Bags (asi/57702) and Preferred Nation (asi/79384) announced they will end their mutual Sales and Marketing Agreement, which has been in effect since 2010. The companies will no longer be restricted as to whom they sell merchandise or where they choose to sell it.

Hirsch Solutions announced new sequin digitizing features added to the Tajima DG15 by Pulse that help with production. New features include the ability to lock stitches, a new Automatic Gap feature and updated onscreen details. Learn more at www.hic.us.

Hit Promotional Products (asi/61125) has acquired supplier firm Admints & Zagabor (asi/31516). Financial terms of the deal were not released, but the companies said that each will continue to operate independently.

Ink2Image launched a new website for producers of digital screen separations, based around the company's Absolute Black and Clear inks for printing inkjet screen positives, with various features and accessibilities. Go to Screenpositive.com to learn more.

Jetline (asi/63344) announced it has hired Greg Mastro as its new senior vice president of manufacturing. Mastro comes to Jetline from Leed's, where he spent 14 years in operational roles, most recently as vice president of manufacturing.

PolyOne announced the addition of new high solids, aqueous ink series to its Wilflex Oasis non-phthalate, non-PVC screen printing ink portfolio.

Sanitized Inc. appointed Scott Rosenzweig as the new president of the company.

Sawgrass Industrial announced it has joined the JK Group, which offers the Kiian Digital and J-Teck brands to form the largest industrial digital sublimation group. Sawgrass Technologies will continue to operate as an independent company serving digital printing applications on printers less than 42 inches addressing non-industrial customer needs.

SGIA has recently released its 2015 Wage, Salary and Sales compensation report to all survey participants and SGIA members in the imaging industry. View the full report here.

Stahls' (asi/88984) has released its July-September 2015 TV Guide issue filled with tips and decorating trends for the industry. Click here to view the issue.

World Emblem (asi/98264) released its new mobile application for smart phones and tablets that allows clients to upload images and create designs instantly.